J20: Counter-Inaugural
Part 2
At the end of the rally, everyone, estimated at 10,000 according to reports on DC Indymedia, proceeded out of the park for the march, and took to 16th Street NW for the march to McPherson Square.  Those participating in the separate-but-related die-in event were asked to stay.  Those carrying coffins picked up their coffins to carry at this time as well.
---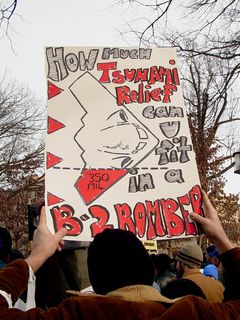 The poster this person carries compares the $350 million that the United States sent for tsunami relief to the price of a single B-2 plane.
---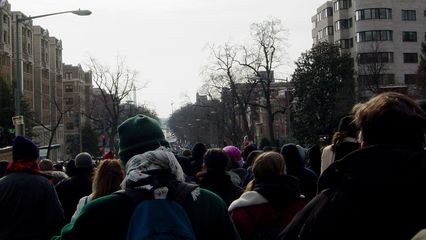 The march is underway!
---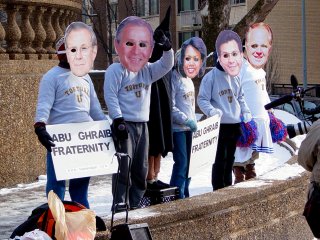 At a street corner, I encountered people wearing large cutout masks representing George W. Bush, Donald Rumsfeld, Condoleezza Rice, and other members of the Bush administration.  Another person was also dressed as the hooded Abu Ghraib prisoner that was shown in a photograph first made public in May 2004.
---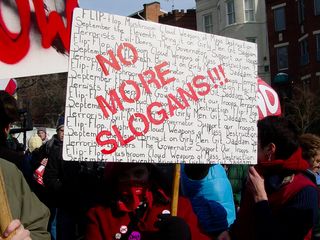 In the march, I soon met a woman wearing all red and a red bandanna holding up a sign saying "NO MORE SLOGANS!!!" with various slogans we've all heard penned in behind it.  The slogans that the poster decries over and over again are "Flip Flop", "Bring It On", "Girly Men", "The Governator", "Mushroom Cloud", "Weapons Of Mass Destruction", "Git Saddam", "September The Eleventh", "Support Our Troops", "Evil Doers", and "Terrorists".
---
At 12 noon, the march stopped momentarily.  It is unknown whether this was intentional or out of necessity, but it was symbolic nonetheless, as noon is when the President is sworn in, and this was noted amongst the marchers.
---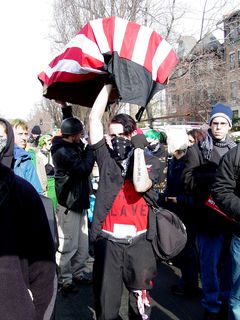 A man carrying a flag-draped coffin shows off a tattoo on his forearm, which reads, "INFIDEL".
---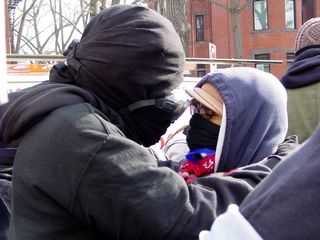 Two black bloc demonstrators share an intimate moment along the march route while we were stopped briefly.
---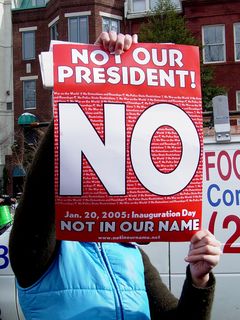 Someone holds up a poster reading, "Not our President!" and "Not in our name".  The poster also shows the URL for the Not In Our Name Project.
---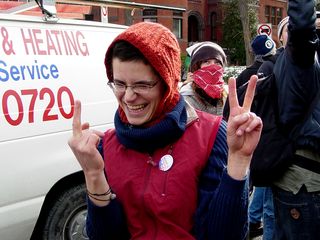 This woman shows off two trains of thought with her hands.  On one hand, she gives George W. Bush the one-finger salute.  And on the other hand, a peace sign.
---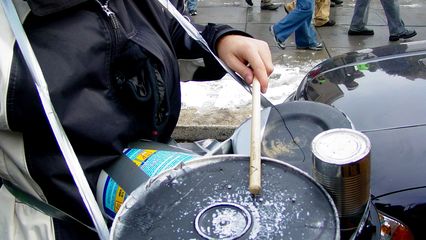 A person carrying a set of makeshift drums makes a beat for the marchers.
---
Marching down 16th Street NW.  Dig the awesome music!
---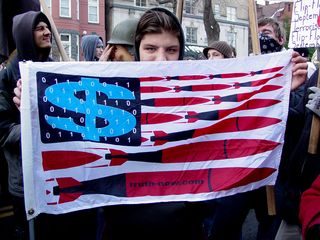 This person holds up a flag showing a twist on the United States flag showing what is perceived as the real truth behind the war on terror.  The flag also advertises truth-now.com.
---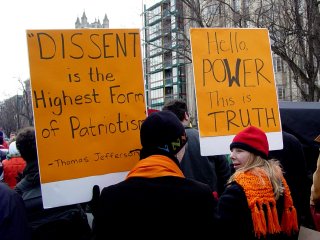 As one sign reminds us what patriotism really is, the other speaks truth to power.
---
I separated with the person in red when the march separated.  At the intersection of 16th and P Street NW, the black bloc separated from the main march to head towards Logan Circle.  The woman in the red and the rest of her group gathered to decide what to do.  At Logan Circle, there was to be an anti-authoritarian bloc meeting up, and this group was heading there.  According to reports on DC Indymedia, about 200 people broke off.  The breakaway march was unpermitted, and so anything could happen, while the regular march had a permit.  The group decided to go to Logan Circle.  I bid them a fond farewell, as I had an uneasy feeling about that breakaway march, fearing things could get ugly down there.  Thus I continued on with the main march.  It turned out to be a good idea to stay with the main march, but I'll go into more detail about that later.  Jen from Potomac Hall, on her bicycle, rode off with the breakaway march group.
---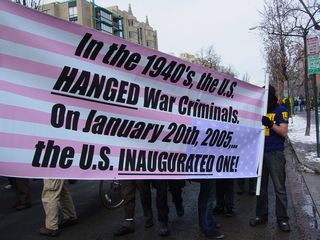 This banner, designed as an upside-down flag, which is generally viewed as a distress sign, indicates how times have changed since World War II…
---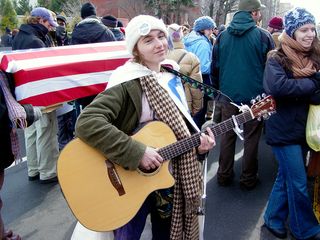 A guitar!
---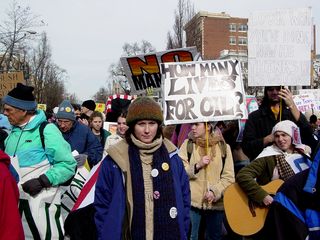 With much of the black bloc demonstrators splitting off, the amount of masked faces in the crowd dropped considerably.
---
"Rise up with the people of the world!"
---
Beyond here, I found a sign that I found particularly amusing, and caught up to the woman carrying the sign.  I said hello, and got her to hold it up for a photo.
---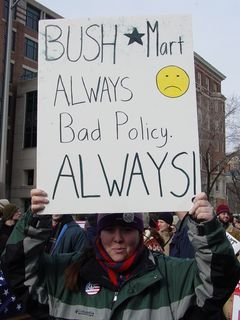 I ended up spending the rest of the march with this woman and her friend, as the march continued.  She carried her Bush-Mart sign, and I marched alongside.
---
Continuing down 16th Street, we reached Scott Circle.  Scott Circle, like others in Northwest DC, has a pair of tunnels running underneath it to allow through traffic to bypass the circle.  At the time of our demonstration, the tunnels were undergoing refurbishment.  The northbound tunnel was closed for construction, while the southbound tunnel was striped for traffic in both directions to utilize the tunnel.  Our demonstration marched through the southbound tunnel.
---
Marching through the Scott Circle tunnel.  Note the people gathered above the tunnel cheering us on.
---
I had also shot a two-minute movie of the march in the tunnel, with the group's seeming louder by virtue of being boxed in by the tunnel walls, but due to a technical problem with Big Mavica, the movie was lost.
---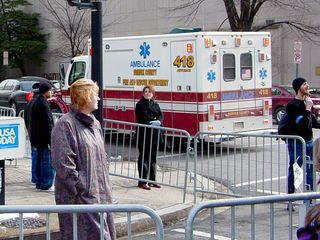 At L Street, our march was temporarily broken in two, as we separated to allow an ambulance to pass through.  The march quickly got back together after the ambulance was clear.
---
"One, two, three, four, we don't want your oil war!"
---
"What do we want?  PEACE!  When do we want it?  NOW!"
---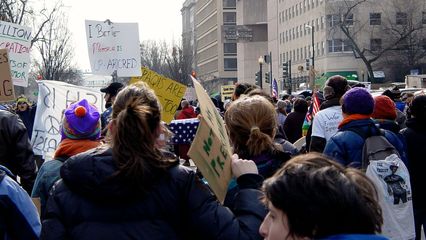 And the march continues…
---
Beyond Scott Circle, it wasn't long until we reached Eye Street, next to AFL-CIO headquarters, where the group made a hard left turn to reach the southern end of McPherson Square.  Here, we encountered a bit of a bottleneck, as we were stopped on Eye Street for some time.
---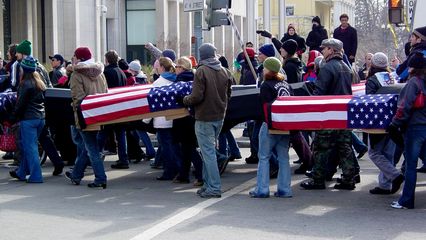 Turning the corner onto Eye Street…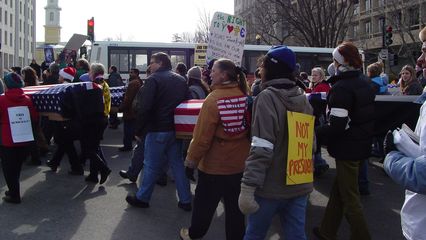 ---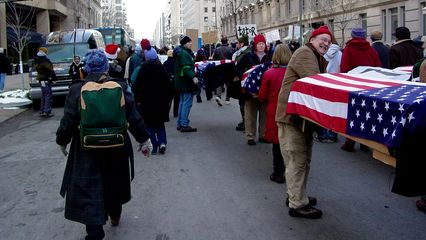 Waiting on Eye Street.
---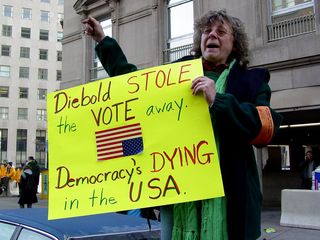 This woman, standing on her car, shows a poster criticizing Diebold, a manufacturer of election equipment.
---
For reasons unbeknownst to me, an unmarked police car was trying to get down Eye Street against the normal flow of traffic.  Some demonstrators were shouting "WHOSE STREETS?  OUR STREETS!" as the police car sounded its siren as if to say, move it.
---
The police car blows its siren, and demonstrators are blocking its path, shouting "WHOSE STREETS?"
---
Metrobuses, Flxibles in this case, were strategically parked for use as roadblocks to keep traffic out of certain areas.
---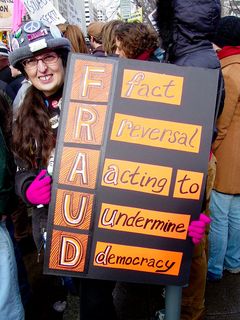 This poster turns "Fraud" into an acronym: Fact Reversal Acting to Undermine Democracy.
---
Once the police car got cleared, we finally got to McPherson Square.  There, the first order of business was breaking down coffins.  The woman with the Wal-Mart sign and her friend ended up carrying one of the flag-draped coffins before it was all over, and so they broke down their coffin.
---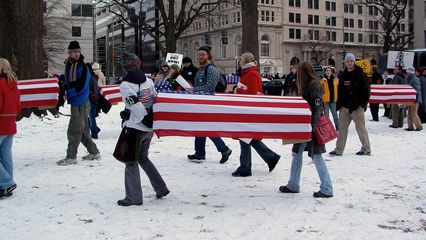 Demonstrators bring the coffins into McPherson Square.
---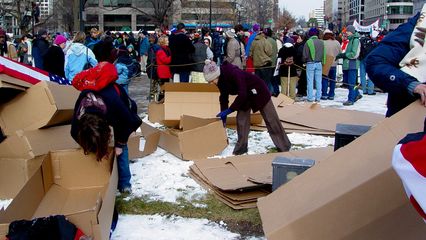 Breaking down the coffins immediately upon arrival at McPherson Square seemed a bit anticlimactic, as one would expect that these coffins would be displayed in some way as a group upon their arrival at the square.
---
The coffins were one thing I found to be somewhat odd in this particular demonstration.  I'm unsure about whether these were the same cardboard coffins that were carried on October 2, 2004 (see my Day of Activism photo set for more information on that event), and displayed on October 23, 2004, but they seemed a bit out of place to me at this particular march.  First of all, the anti-war groups had done it already, with coffins being the centerpiece on October 2.  Then considering that at McPherson Square, the first order of business was to break down the coffins, it didn't allow for an opportunity to see the war death toll mounting as the coffins arrived, since they weren't displayed whole.  Just piles of cardboard, clips, and fabric.
After getting rid of the coffin, the three of us sat down on a bench at McPherson Square.  They enjoyed some celery with peanut butter, and I unmasked and enjoyed one of my waters.  That really hit the spot.
After we enjoyed our respective refreshments, we went our separate ways.  I mingled around McPherson Square for a bit, while they headed out, unsure of what they would do next.  Great people, indeed.
Elsewhere at McPherson Square, other participants were enjoying refreshments that had been provided, and others were demonstrating on the edges of the square.
---
As has become a staple at many of these kinds of marches, likenesses of George W. Bush come out.  This one showed Bush with a Hitler mustache, a substance that's supposed to resemble cocaine on his nose, and a big wad of cash penned into his hand.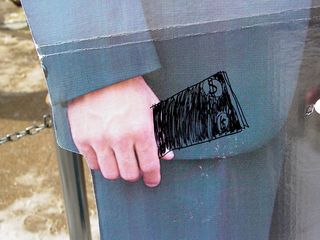 ---
In another instance, two people dressed like George W. Bush and Dick Cheney.  The man in the Bush mask wore a gold crown saying "666", held an inflatable globe and a bottle of motor oil, and had strings attached to his arms.  The strings were to make Bush look like a puppet, and they were held by another man wearing a Dick Cheney mask.
---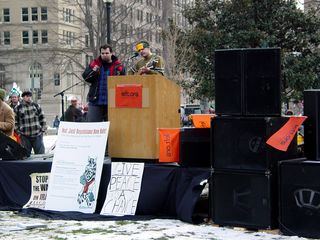 At McPherson Square, sound equipment and a stage had been set up and musicians were playing, with left.org as the primary sponsor.
---
Banners held at the edges of McPherson Square advertise the next big demonstration, and also take a stand on spending.
---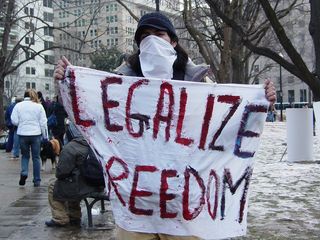 A man wearing a white mask holds a hand-painted banner: LEGALIZE FREEDOM.
---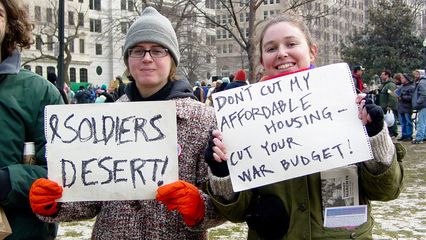 With double-sided signs, these people have a message, and they mean it!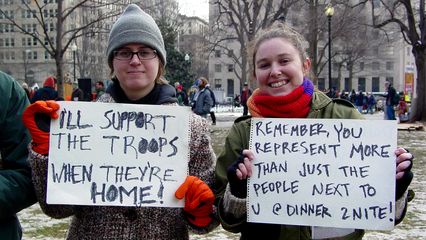 ---
And after a bit more wandering around McPherson Square, I left and went into the McPherson Square Metro station.  I had determined I was going to go to the Critical Mass meetup at Dupont Circle, since I learned that everyone was going there, with the intention of dancing in the street or thereabouts.  But before then, since Critical Mass wasn't until 4:00 and it was still a ways off, I ended up going to The Promenade at L'Enfant Plaza for a pit stop, and more sitting down.  I actually ended up speaking with a gentleman who had come from New Mexico, and was a Bush supporter.  We talked about the inauguration – specifically, his experience, since I wanted to hear how it went.  He had a good experience, and I'm glad he enjoyed it, even if we differed politically.
Going into L'Enfant Plaza station afterwards, I took the Yellow Line up to Gallery Pl-Chinatown, and then caught a CAF train on the Red Line to Dupont Circle.  Around now is when I figured out that Washington was basically crawling with two types of people on this particular day: Republicans and activists.  I saw a few people from the march in the Metro getting from here to there, and actually spoke for a while with one person who was also going to Dupont Circle station.
At Dupont Circle, I found some bicyclists, though not Jen from Potomac (who I have a feeling dropped out after the anarchist breakaway march), and a lot of people dressed in all black.  But first, I stopped on the outskirts of the circle, I said hello to some people I remembered from the march who had cameras and such, ready to immortalize the moment.  Then I heard a familiar song: "Sakura Saku" from the Japanese anime Love Hina.  Translated, it meant my cell phone was ringing.  Turns out it was Mom, wanting to know how things went.  She and some of her fellow teachers were very pleased to hear that things were going well for those of us protesting George W. Bush.  After that was done, I put my phone back in my backpack, and put the backpack back on.
And then back to talking with these people on the bench.  Or so I thought.  I got everything all situated, and then I heard "Sakura Saku" once again.  Who now?  It's Dad.  Both parents thought to call me at the same time, wanting to know the same thing.  I also called my friend Oren, who had called me earlier, but I hadn't heard the phone ring.  He was reporting a sighting of an eight-car Rohr train on the Red Line.
Then it was into Dupont Circle for me.  I put my hat back on, and fixed my bandanna again.  Tied, but pulled down.  I ended up pulling it back up later for warmth more than anything else.  So I mingled for a bit.  Talked to a number of the other black bloc people around.  In talking with them, I soon found out why my staying with the main march when the black bloc broke off at P Street was such a good idea.  As it turned out, there was a confrontation with police!  As I understood it, what happened was that some people were throwing snowballs at the police, and the police were getting hit by some stuff.  The end result was that pepper spray was used by the police to try to control the crowd.  Glad I wasn't there.
At Dupont Circle, I ended up talking for quite some time with a group, where two people were wearing ski masks, and the other had a bandanna pulled down.  They were from Florida, and said that this was really cold, since it's usually in the 70s where they're from.  That group and I parted ways when they went to join a march.  It was unpermitted, and I believe it was headed to Union Station, which would have made sense.  The police, meanwhile, set up a staging area across the street from Dupont Circle.  I stayed behind at Dupont Circle, and got a photo of the group leaving.
---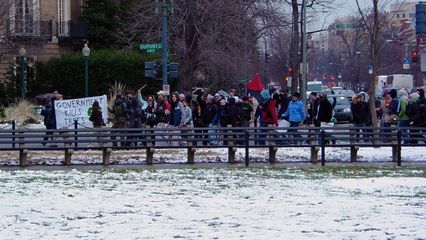 The group leaves Dupont Circle, believed to be en route to Union Station.
---
I then ended up talking to a girl wearing a black bandanna mask like mine and sitting on a bench who called herself "Krissy".  We ended up talking about the day, the events, and just about everything else.  Turned out that she was at the April 12 ANSWER demonstration, which I covered here as A Protest Against the War in Photography.  She went as black bloc there, too.
---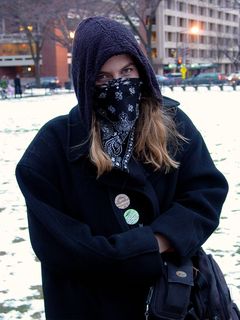 This is Krissy.  She was a lot of fun to talk with.
---
After a while, her group came back, and the four of us went off in search of refreshments.  Krissy and I kept our masks on for warmth, only pulling them down once we got inside somewhere, and then remasking when we left.  First stop?  CVS at Dupont Circle.  The two of us didn't get anything, but others in the group did.  We then went in search of a seat, if nothing else.  First stop was a Starbucks, which had no available tables.  We then went across the street to Kramerbooks & Afterwords, in search of refreshment.  The kind of greeting we got was to come on in, but that there was a $7.50 minimum order per person.  I don't think so.  We left.
We ultimately went to Books-A-Million at Dupont Circle, where we sat on the floor near the reading area chairs, and talked for a while.  After I took my hat off, fixed my hair, and put my glasses back on, I got an unusual comment.  They thought I was older than I was.  They said that without the glasses, I looked early 20s.  But then with my glasses on, they said I looked much older.  Weird.  Turned out that they were right with the non-glasses age, since I'm 23.  Still, we had fun, but soon it became time for us to go.  Krissy and I had places to go, as did the others.
So Krissy and I went to the Dupont Circle Metro station via the Q Street entrance.  And once in the station, I made a big mistake in navigation.  She needed to get to Metro Center to make a transfer.  I was going to Union Station for yet another demonstration.  Both of these were reached by a Red Line train to Glenmont or Silver Spring.  Without thinking, I led her to the Shady Grove platform, and we got on a train to Shady Grove.  I realized I'd goofed when I was talking to Krissy while we were on the train, and a passenger mentioned that this train wasn't going to Metro Center.  So we fixed that error at Woodley Park-Zoo, and caught a Red Line train to Silver Spring.  At Metro Center, we exchanged hugs and contact information, and then she got off the train to transfer.
I continued to a third demonstration, outside Union Station, site of one of the Freedom Ball, one of several inaugural balls being held around the city, advertised to start at 6:30 PM.  The demonstration outside of Union Station was sponsored by Code Pink, and featured most of the same masked activists from Dupont Circle and Malcolm X Park.  Quickly finding the group after getting out of the Metro station, I masked up and joined them.
Union Station looked beautiful on the outside (I didn't go in).  Red and blue lights were rigged up to shine on the building, making it just gorgeous on the outside.  And I must admit that the people going in were very well dressed.  But that didn't stop us from demonstrating outside.
---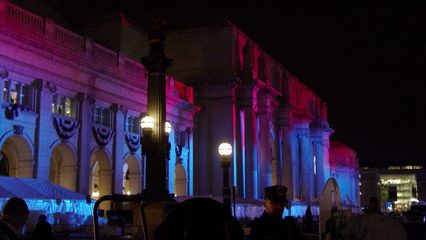 Union Station was indeed looking beautiful for this inaugural ball, with the red and blue lights shining across the front of the building.
---
The person who seemed to be the icon of our demonstration was a small woman wearing the standard black mask, holding up a large black flag nearly as tall as she was.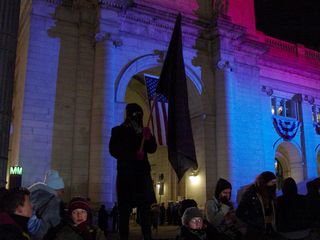 ---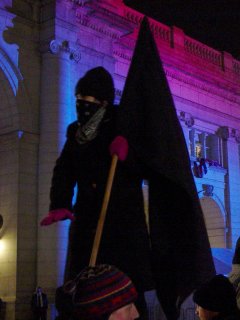 This same woman also shouted at an inaugural partygoer at one point, giving them quite a piece of her mind.  When she hopped down from the wall, I told her how awesome it was that she did that.
---
One demonstrator a few feet in front of me sparked a small confrontation between himself, a man in a tuxedo, and a police officer, as the demonstrator tried to rough up the man in the tuxedo.  A whole bunch of us ended up getting pushed back, either by an intentional shove, or a number of people quickly backing up – I don't know which.  Either way, the end result was Big Mavica getting mashed into my chest momentarily.  A quick on-the-spot check revealed that both Big Mavica and I were just fine.
---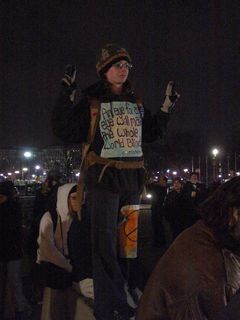 This demonstration at Union Station was full of familiar faces from earlier in the day, like this woman with her "An eye for an eye will make the whole world blind" sign standing on top of a concrete barricade.
---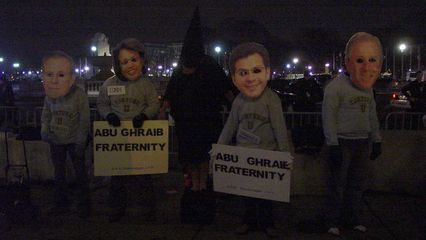 The "Abu Ghraib Fraternity" also made another appearance, with their "Torture U" sweatshirts.
---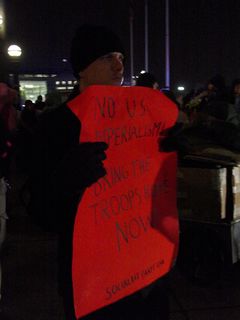 Other carried posters and signs, though you could tell that by this time, those signs had been carried around for a LONG time – many since 9 AM (and it's now after 6:30 PM).
---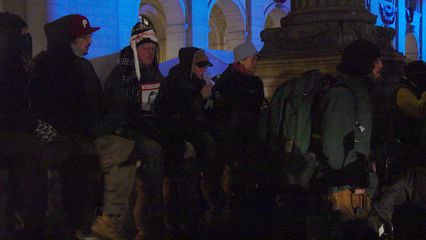 Quite a few people also sat along the retaining wall where our demonstration was being held.
---
Otherwise, the big thing here was yelling, "SHAME!  SHAME!  SHAME!  SHAME!  SHAME!" as partygoers passed by in their tuxedos and evening gowns.  At a few points, some members of the group also yelled "TOGA!  TOGA!  TOGA!  TOGA!" at some of the partygoers, in reference to the movie Animal House.  After the confrontation, I met "Lauren", whom I found out had been pepper sprayed in the earlier confrontation, and was having problems with her mask (a green winter scarf), since it had a spot of pepper spray on it, and thus was causing irritation.
---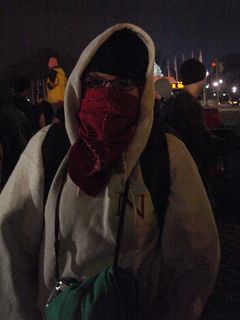 So, since I had an extra bandanna, I lent one to her.
---
We talked about all kinds of stuff, and eventually went to a traffic island to heckle the partygoers as they came in.  Not a bad place to stand, either.
---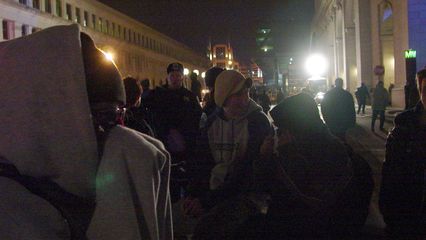 While Lauren attempted to warm her hands, others on the traffic island continued to watch for people coming by, and shouting, "SHAME!  SHAME!  SHAME!" at them.
---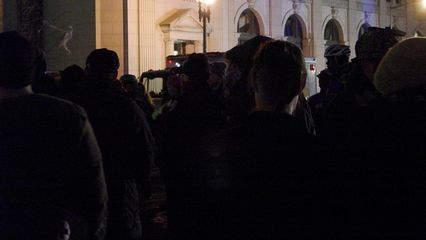 There were quite a few people demonstrating on the traffic island!  And there was lots of light, too.
---
Lauren and I, after putting up a good show of resistance to all that is GOP, finally decided that enough was enough.  Since she had to get back across town and had gotten much of her stuff scattered at the earlier confrontation, I, being the nice guy that I am, helped her out and paid for Metro fare to get her back where she needed to go.  However, Lauren and I decided, being masked up and all, that going into the nearby Union Station Metro station was probably unwise, since that would mean crossing some police lines, and we didn't want to go there.  So we ended up walking away from Union Station, still wearing our masks for warmth, and headed towards Capitol South on the Blue and Orange Lines.  As we walked away from the demonstration, it was a strange feeling to hear the quiet again after spending all day in noisy demonstrations.  We ended up crossing north of the Capitol's Senate wing next to a few office buildings, and then went to the Metro station via First Street NE/SE in front of the Supreme Court and the Library of Congress.  At the Metro station, we unmasked for good before going in, and that was the end of our protest day.  We got off at Foggy Bottom-GWU station, where we talked for a few minutes, and shared a big hug.  Then she went on her way, and I went back into the Metro.
---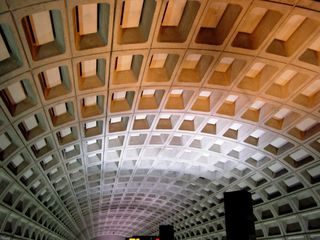 Foggy Bottom-GWU station received some new lighting since the last time I'd visited.  Note the reddish color of the lighting, which is normally only found at Glenmont, on the Red Line.  It does, however, provide more lighting, which is good, since Foggy Bottom is one of Metro's darker stations.
---
Where was I headed?  Pentagon City Mall, which is my usual end-of-the-day hangout.  So I took the Blue Line from Foggy Bottom to Pentagon City and headed into the mall.  But not first before encountering one last remnant of the day's demonstrations…
---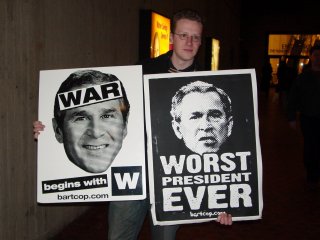 This person, as it turned out, went to the ANSWER march.  I liked those signs, though.
---
At the mall, I got a "fruity freeze" from Mr. Smoothie in the food court, and then called my friend Katie, to tell her how things went.  She also warned me of snow in our area, which I was unaware of at the time.  I'm thinking, oh, joy, snow.  Just what I need.  Ah, well.
After that, I did a little railfanning, going down to Huntington to try to get a better angle of the top-of-the-parking-garage view at night than I got before.  I was shooting for a slightly lower angle without being too low, and without a tripod, since my tripod is a bit of a bother to carry all day, plus returning to Vienna to retrieve it would have taken far too much time.
---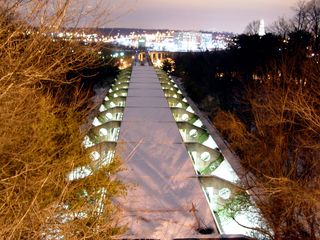 As you can see, I was mildly successful, sticking a glove under the camera to provide the right kind of "tip" I needed to get the angle down to where I needed it.
---
After Huntington, I took the Yellow Line up to L'Enfant Plaza.  While on the train, I was starting to doze off, and was awakened by the movement of the train at each stop.  I even jumped out of my seat when we stopped on the bridge, thinking I was about to miss my stop at L'Enfant Plaza.  Once I realized I was on the bridge and not in the station, I sat back down.  It was weird, though.  In dozing off like that, I dreamed about the day's protest.  I'm on the train, and all of a sudden I start seeing images of black blocs, and other protesters in the street (meaning I'm dozing off).  Then all of a sudden I'm on the Metro again.  Then I see more activists.  Then I'm back on the Metro.  Weird.  After getting off at L'Enfant Plaza, I caught an Orange Line train to Vienna.
On the Metro on the way to Vienna, I realized that the system was just crawling with Republicans.  Seriously.  At every station, someone got on or off wearing a tux or an evening gown.  And they must have been able to smell "dirty rotten leftist" on me, since they all turned their noses up at me.  This, by the way, is one reason to wear a mask to demonstrations, because even if they had been at the ball at Union Station where we demonstrated, they would have had no idea that I was one of the people raining on their fun, since I was wearing the bandanna.
Finally arriving at Vienna, I went up to my car in the North Garage, but not before first taking note of some pertinent information.
---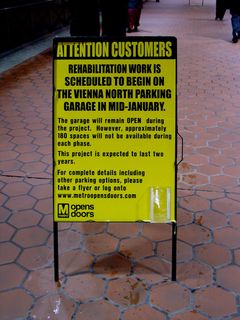 That's important, because that's where I like to park, and it seems that a lot of spaces will be closing for a while.  We'll see how that works for my parking situation.  I might just have to park in the South Garage for a while.
---
Otherwise, though, the snow I'd encountered on the roads at Vienna in the morning had melted, and the parking garage was clear.  So I was just able to roll right out.  Virginia Center Boulevard was also clear, as was the Interstate.  Good stuff.  And with that, I started the journey home.
I didn't encounter any fresher snow (i.e. what Katie warned me about) until reaching Warren County on I-66.  There, I noticed some possible slush on the road, and slowed down as a precaution.  Stopping at Woodstock, I found the local roads to be covered with snow, especially the parking lot at Wal-Mart, where I made a pit stop, and also took a quick nap in the car.  After that, it was straight home.  I-81 was good traveling, but I-64, which I took for about four miles from Staunton to Fishersville was a bit snowier due to its being a less traveled road than I-81.  After getting off the freeway, I found that local roads to Stuarts Draft were terrible.  But I made it home.
And that was my Inauguration Day.  What a day it was, too.  It left me sore all over, but quite satisfied.  I think that we definitely got our message out, even if there were a few scuffles here and there.  You meet so many interesting people at these demonstrations, and get to do so many interesting things.  And I wouldn't trade this experience for the world.
Part 2