Boston Megaraid
Part 2
Sunday, I got up around 8:00.  I had breakfast at the hotel restaurant, and then we got going around 11:00, taking the hotel shuttle to the T.  For the ride, HT was already fully steampunked out, complete with steampunk-style mask.  We rode down to Park Street station, where we joined the event at Boston Common.  Here, we would be hearing speeches by ex-Scientologists and others, and hopefully doing a little bit of outreach while we were at it.  I packed my Guy Fawkes mask, and I made sure I had my stack of You Found The Card cards, as I hoped to give a good number of them away.  The zentai stayed at the hotel, because I would not be needing it for this event.
---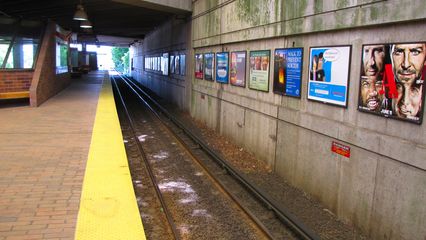 Quincy Adams station.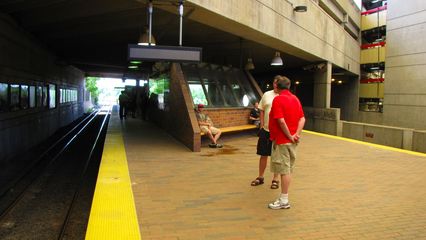 ---
Our train arrives at Quincy Adams station.
---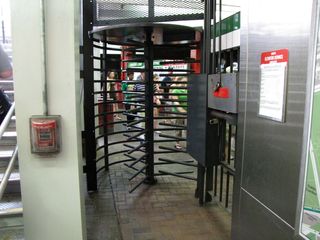 Iron maiden at Park Street.  I always consider this a novelty to see on transit systems, since WMATA can't have them due to their pay-on-exit model.
---
Arriving at Boston Common, we quickly found the Anons at Parkman Bandstand, where the speeches were already underway.  We heard speeches by ex-Scientologists Larry Brennan and Nancy Many, as well as former Moonie Steve Hassan.
---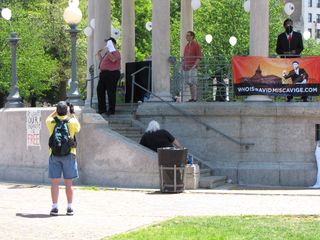 When we arrived, Larry Brennan was already speaking.
---
---
The speeches were quite enlightening, presented here thanks to AnonSparrow from DC, who got the speeches on video.
---
Larry Brennan
---
Nancy Many
---
Steve Hassan
---
During the speeches, a known Scientologist was spotted taking pictures of the Anons (for future fair gaming, perhaps?), and after the speeches were done, was called out from the stage and properly outed.
After the speeches, the action from the stage took a break.  A donkey piñata was hung, which would be smashed later by punching, a play on the term "donkey punch" (no, I'm not going to link to the term – look it up if you want to find out).  Additionally, a Halifax Anon came out with cupcakes, which many enjoyed.  I generally don't do protest food, mainly because of lack of readily available hand-washing facilities, and this was no exception.  I don't want food residue on my hands when I'm trying to work the camera, you see.  We also got some silly pictures of Blue Wig Girl and the Anon from Halifax posing with ThetanBait, a particularly muscular Anon from St. Louis.
---
Cupcakes!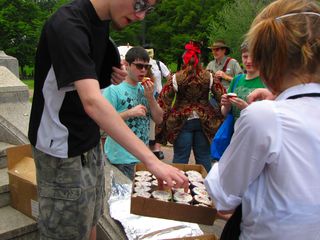 ---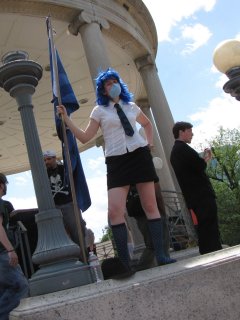 Blue Wig Girl poses for my camera.
---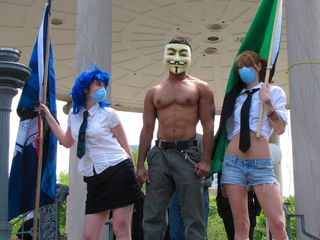 Contemplating how to pose with ThetanBait…
---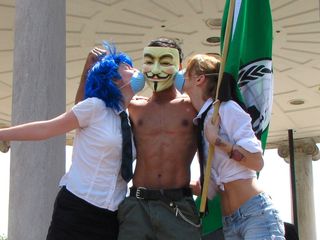 The pose: A kiss!
---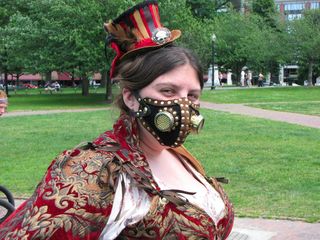 HT smiles (we'll take her word for it on that) for the camera in her steampunk hat and mask.
---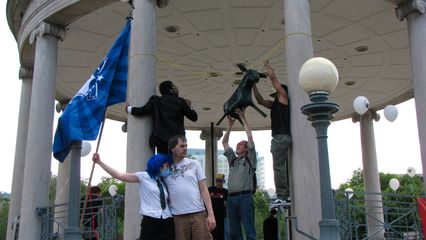 Hanging up the donkey for later.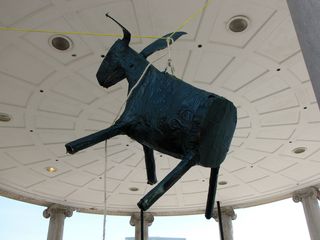 ---
I also got a chance to meet Nancy Many.  We discussed a pic that I took of an Anon back at the Ideal Org opening in October, where the subject was looking at Many's book, My Billion Year Contract.  I also got a signed copy of her book.
Then after that, Blue Wig Girl presented Larry Brennan with her original blue wig.  This was the culmination of some events that occurred at Why We Protest.  Brennan ended up winning the auction with a $50 bid, mainly to keep it out of the hands of some other Anons.  Then Brennan offered to double his bid if a press release about it went out on time (it did).  She presented Brennan with her original wig, complete with certificate of authenticity.  Then, in a surprise move, she pulled the blue wig off of her head, and presented that to Brennan as well, complete with a second certificate of authenticity.
---
The presentation of the wig to Larry Brennan, complete with certificate of authenticity.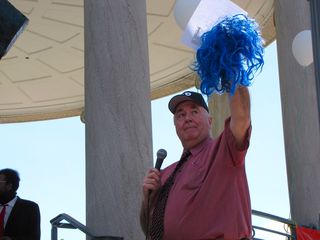 ---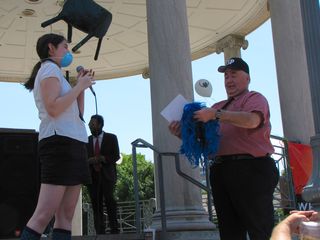 Surprise!  Blue Wig Girl also hands Brennan the wig right off her head!
---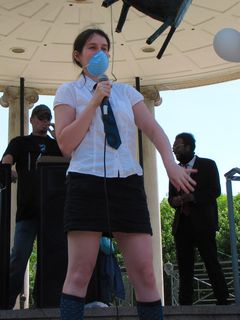 Very strange seeing Blue Wig Girl without her trademark blue wig…
---
After the wig presentation, people pulled out a whole bunch of colored balls, and started playing dodgeball with them.  Blue Wig Girl, meanwhile, had a third blue wig in reserve, which she proceeded to put on.
---
Dodgeball!
---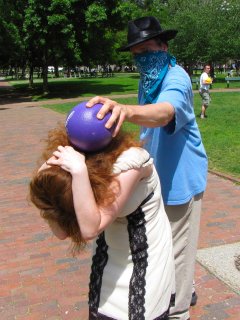 Tag!
---
Following dodgeball, all of us from DC decided to head out.  We got our goodbyes with the other Anons, and went to spend a little time on the town in Boston.  After all, we traveled all this way to get to Boston, and so we might as well see some of it, right?
Heading out of Boston Common, we encountered a man who was very much a one-man band, playing music for change.  This was Ramblin' Dan of Professor World Band.  He played "With A Little Help From My Friends" by The Beatles.  Two of our Anons put on their masks and joined him, along with a few other bystanders.
---
Ramblin Dan's one-man Professor World Band.
---
Two DC Anons (in masks) and other bystanders join in with Ramblin Dan, playing "With A Little Help From My Friends" by The Beatles.
---
After leaving Ramblin' Dan, we spotted some people in pink across a pond.  A few people were wondering what the group was, but we were too far away to get a good look.  Enter the Canon and its optical zoom.  I was able to zoom in, snap, and then zoom in on the shot in playback mode.
---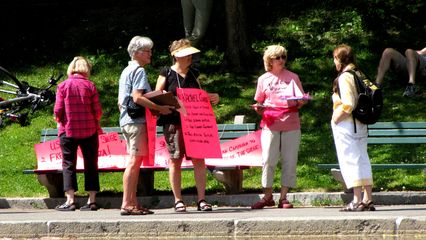 As it turned out, it was Code Pink.  I'm used to seeing Code Pink in DC, and am friends with a number of the DC Code Pink folks.  Seeing them in Boston was a new experience, though I'm not surprised that they're active in Boston as well.
---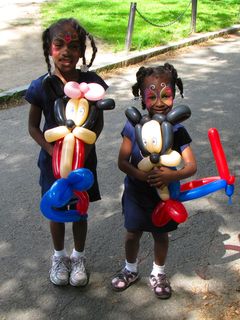 Two very adorable children with really awesome face paint, holding what are most likely the most complex balloon animals that I've ever seen.
---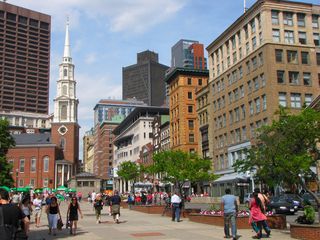 And now… time to explore the city!
---
Leaving Boston Common, we walked some of the Freedom Trail, a red brick path through parts of downtown Boston.  We swung past the Massachusetts State House, and then spent a considerable amount of time at the Granary Burying Ground.  And unlike our last time walking around a cemetery, no one got chased out this time.
---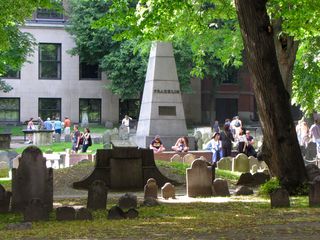 The Granary Burying Ground.
---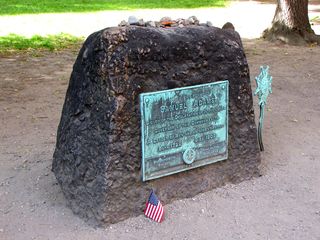 The headstone for Samuel Adams, and the stones and coins placed atop it.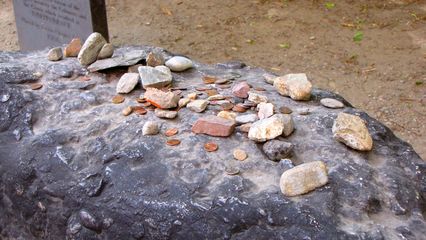 ---
Then Anonymous added a Guy Fawkes mask to the mix.  However, we took the mask back with us when we were finished photographing.
---
The sights of the Granary Burying Ground.  Buried here, among others, are Paul Revere and Mother Goose.
---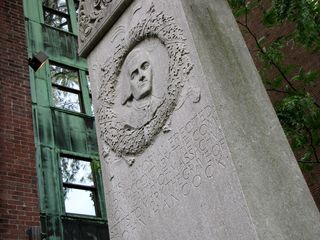 Memorial to John Hancock.
---
Leaving the Granary Burying Ground, we followed the path to nearby King's Chapel.  The suggested donation was $1.00, which we each made.  The idea there was that we should support religious groups that rely on voluntary donations to support themselves, rather than Scientology's pay-to-play "fixed donation" structure.
King's Chapel was beautiful, and looked very "high church" in its appearance.  One thing we found interesting was that the pews were not arranged in rows.  King's Chapel used box pews, with seating on three sides of said booth, and a door on the fourth side.
---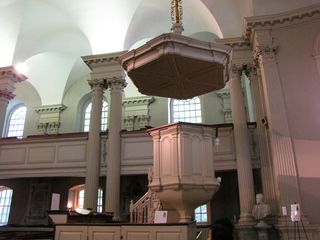 ---
After this, we ended up at the Old City Hall, which featured a statue of Benjamin Franklin in front.  The most prominent tenant in the building now was a Ruth's Chris Steak House, and we weren't buying.  Out front, however, was a statue of a donkey, which Cruci's girlfriend used to troll around with.
---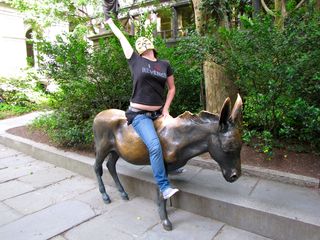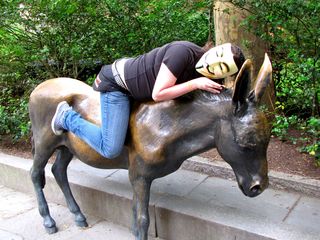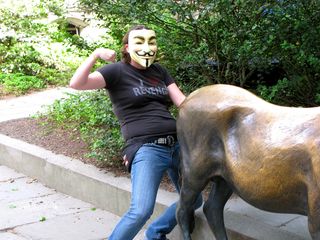 ---
By the way, whenever you see Anons in groups putting on their Guy Fawkes masks when nowhere near anything related to Scientology, you know that we're about to do something silly and get it on film.  Let's not forget when we frolicked in Philadelphia, after all.  Gotta love it.
We eventually made our way over to State station, where we caught an Orange Line train to Chinatown.  Since we had a bit of a wait until our train arrived at State, I got to work taking photos of the station.  After all, I was determined to also expand Transit Center on this trip, adding a section about the MBTA in the rail section.
---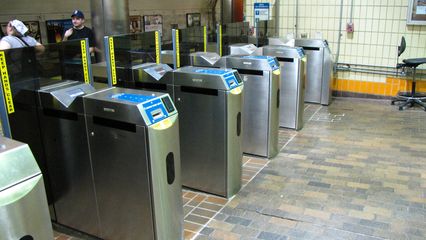 Faregates and Orange Line platform at State station.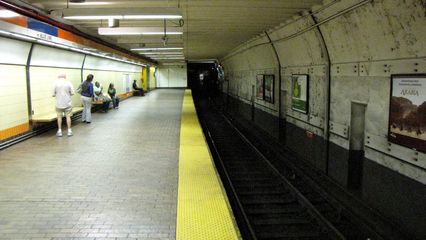 ---
It was at this time that HT learned that it was my birthday.  I believe one of the other Anons mentioned it in passing, and that's how HT found out.  Her reaction was, "Why didn't you tell us it was your birthday?"  Well, I didn't because I was really trying to make this a low-key event.  But it was okay.  We determined that we would celebrate, but later on.
Then the train arrived – a bright orange train, consisting of cars made by Hawker Siddeley (these cars' days, by the way, are now numbered).  The train definitely looked old – much older than the Red and Green Line trains we had been used to riding on this trip (the walls were simulated wood!).
---
An Orange Line train arrives at State station.
---
Riding Hawker-Siddeley 1226 on the Orange Line.
---
As we pulled into Chinatown station, I heard the distinct sound of a Wheelock electronic horn.  I figured it was being used for some sort of general signaling application, as Wheelock uses the same tones on both its fire alarm and general signaling products.  However, once the train got stopped, I noticed a pattern: EEE-EEE-EEE (pause) EEE-EEE-EEE (pause – you get the idea).  Fire alarm!  So I switched the camera over to video mode, and got a video of the commotion as we got off the train.
---
Fire alarm at Chinatown station!
---
That was certainly a fun surprise, to say the least.  And the train just let us off into this station where the fire alarm was going off, like nothing unusual was going on.  And I still got photos of the station, despite the fire alarm's going off.
Entering into the station mezzanine, I found the source of the alarm.  Turns out that someone had pulled the alarm outside fare control, as I found a Fire-Lite BG-12 pull station in the activated position, and underneath a Stopper cover, no less.  That had to take some guts to do, especially when you consider that Stopper covers usually have alarms of their own that sound when the cover is removed, regardless of the state that the fire alarm system is in.
---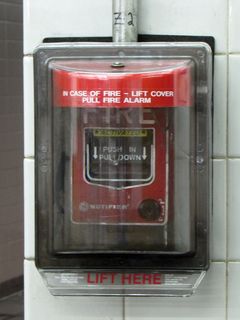 The source of the alarm – a Fire-Lite BG-12 pull station.
---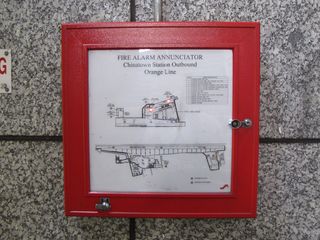 The fire alarm annunciator, showing the source of the alarm over a map of the station.
---
One surprising thing – all the faregates were wide open.  I presume that these things are set to open and stay open whenever the fire alarm system is activated, likely to aid in evacuating the station.
You could hear the fire alarm in the station from more than a block away.  We didn't get out of earshot of the fire alarm until we were down the street and around the corner (or perhaps someone killed the alarm – also a possibility).
---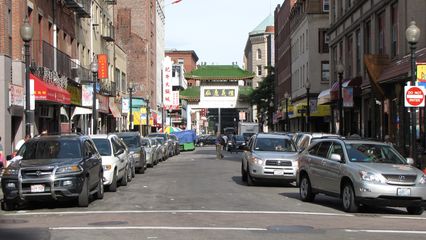 Chinatown!
---
We ended up at a Chinese restaurant, where we had dinner, though for the life of me, I couldn't tell you which one it was, unfortunately.  It was a great place, though.  We sat at a large table, which had a giant turntable at its center.  Everyone ordered, and then in typical Chinese restaurant style, everyone shared the dishes.  It was pretty good, too.  We had duck, we had various vegetarian dishes, we had various styles of chicken, etc.  Pretty good, if you ask me.
Leaving the restaurant, we discovered that Scientology had been busy, leaving literature under people's windshields (which I consider to be a form of littering, no matter what organization does it).  We removed any flyers that we could see, but before removing the flyer on one car, we put one of our own cards next to it, and a Guy Fawkes mask, in order that we could get some photos of it.
---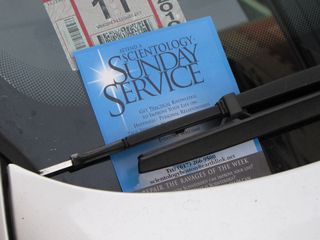 One of the Scientology flyers that we spotted on a car windshield.
---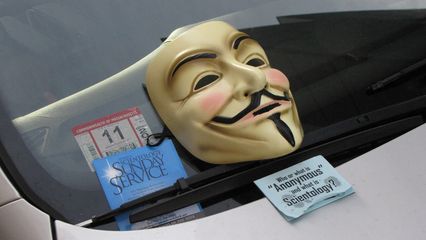 The windshield after we were finished with it.  After the photo-op, we took all three items off the car and properly discarded the Scientology flyer.
---
Afterwards, people wanted to go see a movie.  I wasn't too keen on the idea of a movie, and so I decided to head back, which ended up working out.  But first, however, there was some time to kill before the movie started, and so we all headed over to Boston Public Garden for a bit.  We had walked through there during the zombie walk the day before, but due to that event, we couldn't stop.
The Public Garden was beautiful, now that we had a chance to stop and smell the roses (literally!).  Anon612 and I got a chance to take photos of the roses in the garden.  It's too bad we didn't go earlier in the day when the sun was out, though.  The onset of the evening's shadows muted much of the color in the flowers.
---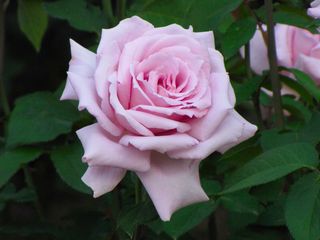 ---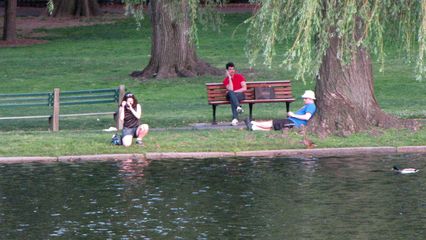 ---
After exploring the Public Garden for a bit, everyone headed to the theater, and I headed back to the hotel.  It worked out, since I would (A) get a chance to ride the subway by myself for a bit, and really get to know it a little bit better, (B) I had a chance to chill out a bit, and (C) it was time for a little birthday cake shopping, which HT promised to reimburse me for.
So I got on the T at Boylston, took the Green Line from there to Park Street on a Breda Type 8, and then I caught the Red Line back to Quincy Adams, and caught the hotel shuttle from there.  It was good that the Anons all went to the movies while I went back to take care of some stuff.  I hadn't yet really had a chance to experience the T as I would like, since everyone else wasn't in the mood to savor the system.  They saw it as just transportation, and it was all about getting there.  This was fun.  If I had more time in Boston, I would definitely spend a day touring the T, but that will have to wait for another day…
---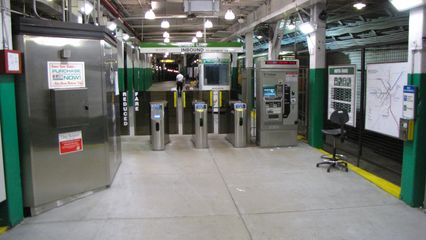 Faregates at Boylston.
---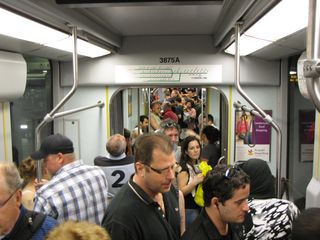 Breda 3875, the Type 8 LRV that took me to Park Street, was pretty crowded!
---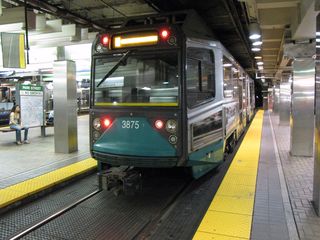 Breda 3875 at Park Street.
---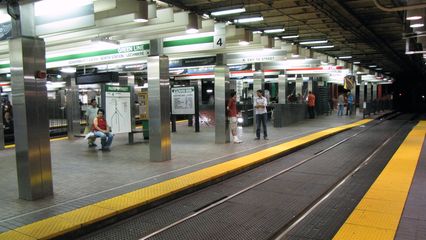 Green Line platforms at Park Street.
---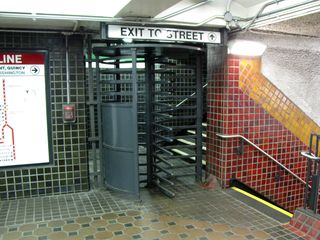 Iron maiden at Park Street.  The stair to the right leads down to the Red Line platforms.
---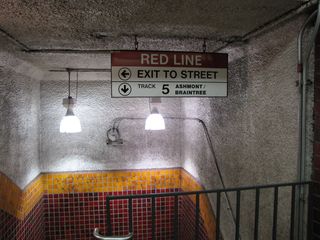 Stairs down to the Red Line platforms.
---
Red Line platforms at Park Street.
---
A Red Line train, and my final MBTA train for this trip, arrives at Park Street station.
---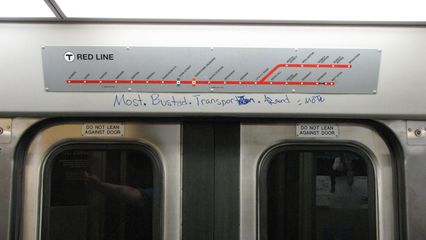 On board Bombardier 1830, I soon discovered that some people have complaints about the MBTA, with this "Most Busted Transportation Around" message.  Obviously, they've not seen WMATA lately…
---
Having alighted from the train, the train departs Quincy Adams station on the way to its final destination – Braintree.
---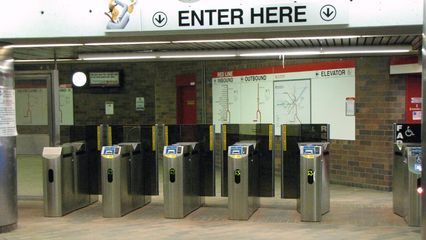 Taking a last look at the faregates at Quincy Adams before heading back to the hotel.
---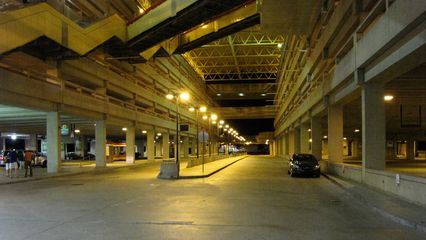 The bus loop, where the hotel shuttle picked up and dropped off its passengers, under the giant parking garage at Quincy Adams.
---
Arriving back at the hotel, I quickly located a grocery store.  Turns out that there was a 24-hour Stop & Shop store located somewhat nearby.  Going into the store, that was a bit surreal.  I knew that Stop & Shop was run by the same company that owns Giant, and they share the "fruit bowl" (or whatever that is supposed to be) logo, but I honestly did not expect the store to look identical to Giant.  Seriously – identical, even with the same save-at-Shell promotion.  But hey, at least I kind of knew my way around in there already due to the store's basically being Giant.  However, my Giant Bonuscard didn't work.  But the cashier took care of me nonetheless on that front.  I ended up leaving Giant with a cake, a small pack of disposable plates, and a small pack of disposable silverware.  We couldn't get any beer, though.  Massachusetts has a law on the books where you cannot bring your own alcohol into a facility that has its own liquor license.  The hotel had a bar, and so we were prohibited by law from bringing our own alcohol into the hotel.  Basically, if you wanted to have a drink at the hotel, you had to purchase it from the hotel.  I wonder how much money the hospitality lobby had to pay to get that law passed.
---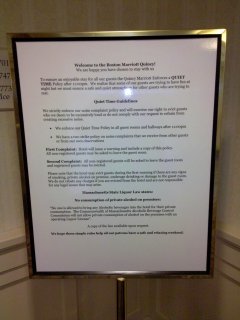 The sign explaining quiet hours at the hotel, and the applicable liquor laws.  I wonder who the hospitality industry paid off (and how much) to get that law enacted.  Seriously.  If you want to drink at the hotel, you have to buy it from them.
---
Getting back to the hotel, I put all the stuff down, and then I got the call from HT that they were ready for pickup.  I was correct in my belief that they would miss the last shuttle run from the hotel.  I figured that I'd do two trips – one for half the group, and a second to pick up the rest.  So I pulled into Quincy Adams like the hotel shuttle did, and unlocked my doors.  That's when I got the surprise of the night.  3rdman opened the back hatch and climbed in there.  Purple took the front seat.  HT, Itsonlyme, and Cruci took the back seat.  And Cruci's girlfriend?  Across the laps of Cruci, Itsonlyme, and HT.  Needless to say, I broke a record for the number of people I've carried in the Sable.  And hopefully, I'll never eclipse it.
We parked in the hotel's garage, and when we got out, we noticed this teenaged girl standing near where we parked, looking over the wall at the edge of the garage.  So we all peeked over to see what she was looking at.  Turns out she was watching a bunch of teenaged boys acting like teenaged boys.  The boys were surprised to suddenly see eight heads peering over the wall at them instead of one.  The general consensus was that the girl was wise to stay up there while the boys acted like boys do.  One of the boys commented, "We have two cups!" referring to the online viral video, "2 Girls 1 Cup".  After all, there was one girl on the level above, and two of the boys were holding what looked like empty wine glasses.  Everyone got a laugh out of their comment, and then we went in.
Back in the room, we got ready to serve up the cake.  The Anons sang "Happy Birthday", and someone produced a cigarette lighter to blow out in lieu of candles (which I forgot to get).  One Anon went down to the hotel bar to get a drink to bring up, only to discover that the bar was closed (it was a Sunday night, after all).  Discussion about puritanical alcohol laws in Massachusetts and the no-private-alcohol law ensued when they got back.  All in all, though, we had a good time, eating cake and kind of chilling out for a few hours up in HT's room.
And then those of us in the other room headed over there, and hit the sack.  Big drive on Monday…
---
Monday morning, I was up at 7:00.  3rdman and I had breakfast down in the hotel restaurant, and we got packed to go.  My plan was to hit the road by 9:00, however, that was thwarted by Cruci and his girlfriend, who tried to get as much sleep as they could.  I ended up getting HT's help in getting them up, since she had a certain way with these kind of things, plus she was their driver.  That involved her saying, "Good morning!" and then jumping onto the bed between them.  Needless to say, they were up.  We needed to get them up and at 'em in order to settle the bill for the room, and then they could do whatever they still needed to do in HT's room.  The bill ended up being really reasonable when split four ways, with each paying around $100 for the accommodations.
---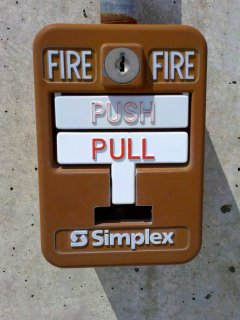 Surprise find in the parking garage – a Wheelock pull station branded as Simplex.  I suppose this is because the Wheelock station is all-metal construction (better for an outdoor installation), whereas the standard Simplex pull station is mostly plastic.  Note, however, that weathering has caused the paint on the station to fade to a rust color from the original red.
---
Then I bought the car around, and 3rdman, Itsonlyme, and I loaded our luggage in.  And then after getting our goodbyes with the other car, we were on the road.  First stop, however, was a gas station, since I was down to about a third of a tank.  We ended up going to Water Street Petroleum, which was a former Citgo station, and, to my surprise, was full service.  After the attendant filled us up, we were on our way!
On the return trip, the GPS sent us on a path that was mostly I-95.  From the gas station, we took I-93 for a short distance to its southern terminus at I-95, and from there, some 400 miles of I-95 awaited us.  Things were uneventful for the most part.  The biggest thing was, considering it was Memorial Day, looking for "bears" (i.e. police).  We zipped through Providence and its ridiculously low speed limit for an Interstate highway, and then crossed into Connecticut.  The eastern half of the state was still boring as hell, and so to break the monotony, we made a pit stop at the first service area we found.
Along I-95 in Connecticut, McDonald's is the main thrust of the rest areas.  The building looks like a 1980s style McDonald's on the outside, and the dominant feature inside is a McDonald's restaurant.  Either way, though, it was good to get out of the car and walk around for a bit.  Driving through eastern Connecticut is just boring, and so this broke the monotony quite well.  Additionally, it made a good transition between the more rural areas we were driving through and the next phase of the trip, where we would be approaching New York City.
The road got bigger and busier as we continued, going through New Haven and Bridgeport, and finally crossing into New York state.  We passed what is likely the largest Interstate highway shield on the Interstate system at the New York northbound toll (which we inadvertently shunpiked on the way up through our GPS-determined detour), and then entered New York City, going through sections of the Bronx on our way towards the George Washington Bridge to take us to New Jersey.  Here, I was determined to take the upper level this time, and was successful.  We were rewarded with a much more scenic view over the river than we had on the northbound trip.  Entering New Jersey, we located the turnpike, and then made a pit stop at the Vince Lombardi Service Plaza, which we also visited on the northbound trip (the only service plaza that we visited both ways).
After we finished our pit stop, we got our ticket for the turnpike, and we were on our way.  Up until this point, we had good weather.  Now, the weather started to look threatening, as dark clouds formed ahead of us.  We also saw lightning in the distance.  However, we did pretty well in avoiding rain, until we hit it somewhere in South Jersey.  All of a sudden, we were in heavy, pouring rain.  Not fun.  Thankfully, though, it didn't last too long, but it lasted long enough to be a pain.
Meanwhile, the New Jersey Turnpike heading south was the only time where I really feared for my life at times on this trip.  There were a number of people on the turnpike who were really gunning it going down the road.  We were going 70, which technically was speeding as it was (with a speed limit of 65).  There were people passing us who were easily going 90 mph, just darting in and out of lanes to get where they were going.  We could actually feel their wake when they passed us.  Eeek!  It was enough to where, at our final pit stop (Clara Barton Service Area), I tweeted, "People on the New Jersey Turnpike drive like maniacs…"
On that last pit stop, I gave my mother a buzz.  She called while we were on the New Jersey Turnpike, and I was not about to take that call with people zinging past me going a million miles an hour.  Turns out that Mom had school, and didn't realize I was traveling that day.  But all was generally well.
And after the pit stop, the plan was to go nonstop back to the DC area.  But first we had to get off the New Jersey Turnpike, which was easier said than done.  I don't know if they were having a shift change or something, but the southbound barrier toll was a mess.  There were more lines than there were open booths, and it was ambiguous as to what went where.  Additionally, which booths were open was changing, as lanes were closing and opening back up, adding to the confusion.  We had the windows open here, and I nearly learned the hard way about why one should mind one's mouth when the windows are down.  See, I called a driver an a–hole for cutting me off to 3rdman and Itsonlyme, but then realized the windows were down.  However, the driver (the alleged a–hole) thankfully didn't hear me.  Once we actually did get to the tollbooth, we paid our toll with a little bit of Rick Astley.  Yes, we Rickrolled the man.
Then from there it was a quick drive to the Delaware Memorial Bridge, and another toll – $3.00.  One thing we noticed about the Delaware Memorial Bridge is that their overhead LED message signs were displaying the number of a suicide hotline.  I guess that's a good thing to have for those who need it, but it was slightly off-putting to see that otherwise.
And then the rest of the ride was pretty uneventful.  We sailed through Delaware (seriously, it's blink-and-you'll-miss-it if you're going to or from New Jersey, but make sure you pay that $4.00 toll), and then Baltimore was pretty straightforward, too.  We found our exit for what eventually becomes Norbeck Road, and then took Layhill Road around to Glenmont station.  Arriving at the Metro, I got 3rdman and Itsonlyme unloaded, we said our goodbyes, and then I headed home.
The Boston Megaraid was definitely a lot of fun.  We got to meet and raid with Anons from all over the place, bond with our own DC Anons, and, of course, troll a city other than our own.  Even the eight-hour drive was a lot of fun, with the right travel companions in the car.  And I'd never been to Boston before, and now I had.  The question now becomes, where will Anon go next?
Part 2