A Protest Against the War
Part 1
Freedom Plaza was the official meeting place for this protest.  This area was set up with a temporary stage, and sound equipment for the speeches that various people gave.  In addition, the media was all set up to cover it, with communications trucks and communications antennas ringing the perimeter, just outside the plaza's retaining walls.  On the perimeter inside the retaining walls, there were various booths set up.  Some were selling items like shirts and such, and others were distributing literature.  The protesters themselves initially milled about before the speeches began, and then those watching the speeches gathered up close to the stage once the speeches began, while those who continued milling about did so in the back half of Freedom Plaza, before the march began.  So let's go in, and open our eyes to a plethora of different viewpoints…
---
The most prevalent signs around were those made by International A.N.S.W.E.R., which stated such things as "End the Occupation of Iraq", "Act Now to Stop War and End Racism", "Fight the New Colonialism", "No War For Empire", "Vote No War", "Money for Jobs Not War", "No War on Iraq", etc.
---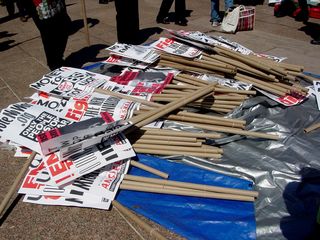 These International A.N.S.W.E.R. signs were also free for the taking, and in plentiful supply.
---
Those protesters who brought homemade signs, however, were much more memorable.  One theme was patriotism.  Peace is patriotic, and protesting is patriotic, according to these signs.
---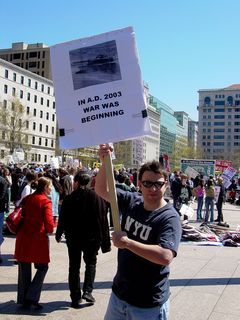 This protester had a number of different signs clipped onto a large pad.  This was the first of the series.  "In A.D. 2003, war was beginning."  Some may not get the reference, but this is indeed a reference to the All Your Base Are Belong To Us Internet meme.  I encountered this guy later, and his sign read "All Your Base Are Belong To Us".
---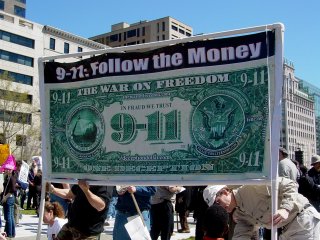 This sign of an altered $1 bill was part of another theme – money, claiming that the war on terrorism was a matter of following the trail to the money.
---
Following this "money" theme, we found protesters carrying American flags altered to show corporate logos instead of stars, a man dressed up as Uncle Sam (the hat also carried this corporate-logo theme), and one man went all out and wore a suit and a George W. Bush mask, holding a modified $1 bill similar to the large sign.  His companion had a number of news logos all over her person.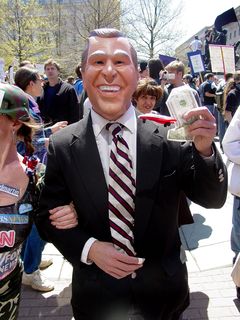 ---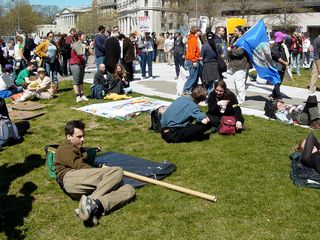 Freedom Plaza has a green area in the center of it.  This area was used on this particular day for those protesters who wanted to sit down or lie down, and relax, nap, or watch the speeches that were to be given.
---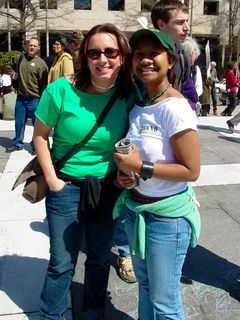 Look who I ran into!  Two friends of mine, Arianna and Linda, of Potomac Hall at JMU.  They decorated shirts for the occasion, with Arianna having "NOT MY WAR" written on the back of her shirt, and Linda having WWND on the front of her shirt stating "What Would Nixon Do", and on the back, had the "oil logo speech" parody ironed onto the back of her shirt.
---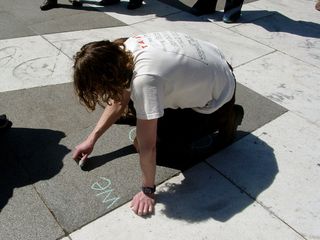 This particular protester doodled his message onto the sidewalk using a piece of green chalk.
---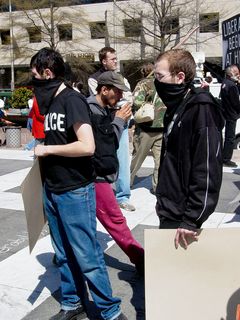 Just up from the chalk writer, I ran into two masked protesters using black bloc techniques.  These two gentlemen were milling about like everyone else.  Those demonstrators in black bloc eventually gathered at the west end of the plaza.
---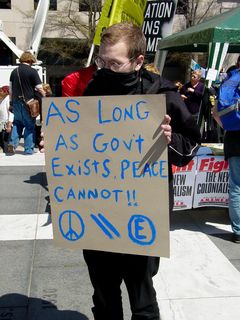 Black bloc is often used by the anarchist movement.  The poster here pretty much sums up the sentiment.
I, however, contest the accuracy of the statement after having studied the political theories of Thomas Hobbes, where without government we are all in nature, which is essentially a state of war of all against all.  That doesn't sound like peace to me.  But I digress.
---
Another prevalent theme was messages about George W. Bush himself, with references to Where The Wild Things Are by Maurice Sendak, plays on Bush's name (some with a sexual tone), and subtle references to true motives…
---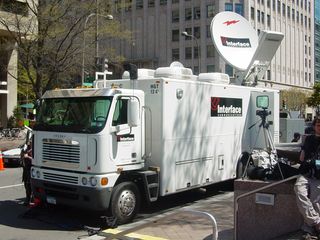 The news media was out in force, as to be expected.  Along the perimeter, a communications truck has all kinds of equipment including a big satellite dish, and among the crowds, we found an NBC cameraman shooting video footage.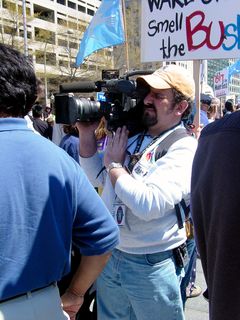 ---
While the media covered the protest, protesters also criticized the media.
---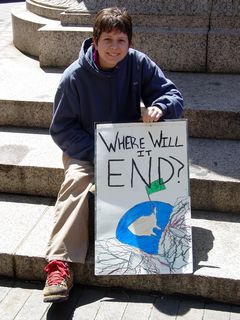 This woman's sign questions where this whole war on terror will end, a recurring theme throughout the day.  By this poster, it implies that Bush won't stop until we're the only country left.
---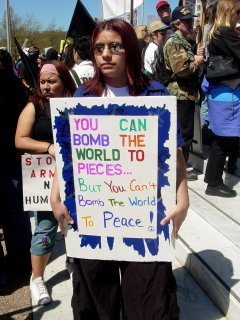 "You can bomb the world to pieces… but you can't bomb the world to peace!"
---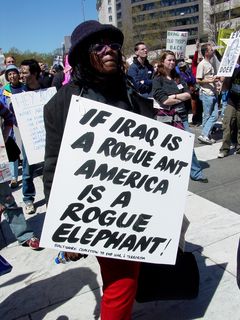 "If Iraq is a rogue ant, America is a rogue elephant!"  A new way of saying that people in glass houses shouldn't throw stones.
---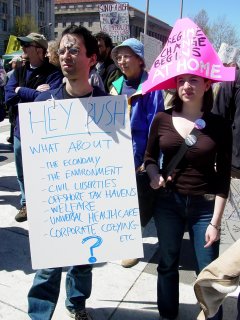 A number of more pressing issues are at hand, as evidenced by the sign held by the gentleman at left.  Additionally, he has a peace sign painted on his forehead.  The woman next to him has an oversized hat, stating that regime change begins at home, implying that Bush should resign.
---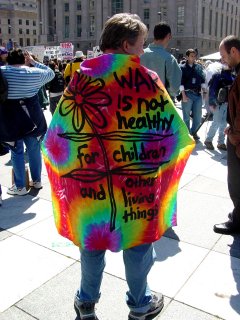 This protester, through his very own "Technicolor Dreamcoat", reminds us to think of the children…
---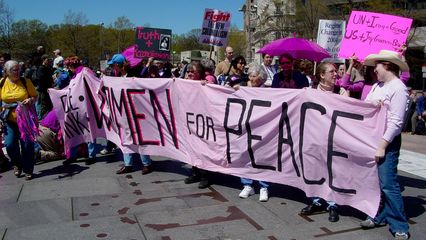 As first seen at our White House visit back in February, Code Pink was out in force with a large complement of its own pink-clad protesters.
---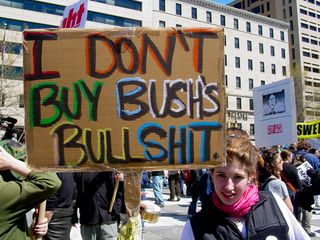 Now some of us simply don't go for the information that Bush provides…
---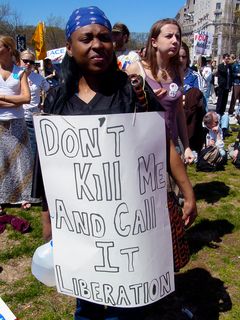 This is what liberation is NOT… occupation is not liberation, and even more importantly, don't kill me and call it liberation.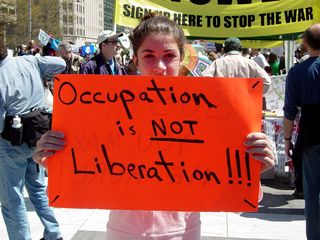 ---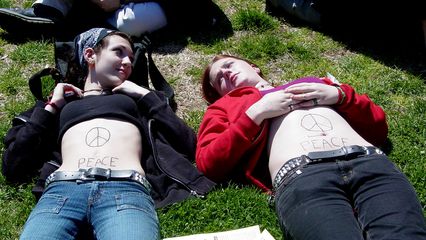 Creativity!  These two women used their own natural canvas to draw peace signs on themselves.
---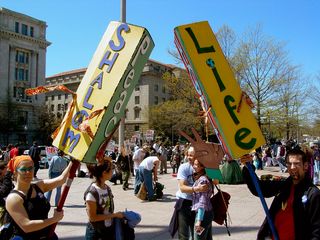 These two protesters made three-sided signs.  The left sign said "Shalom", "Peace", and "Salaam", and the right sign said, "Life", "Peace", and "Hope".
---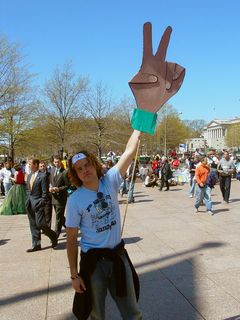 A simple sentiment, in giant size…
---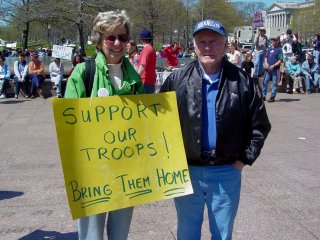 These protesters' signs reflect my own personal sentiment regarding the war.  We support our troops, who are doing their best defending our honor.  Now, the President and his folks on the other hand… that's another story.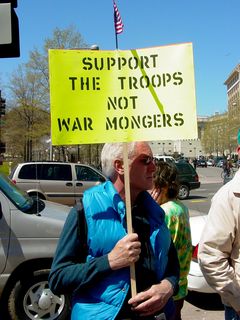 ---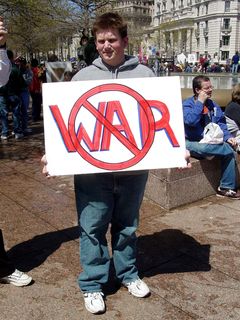 Another protester follows the KISS principle (Keep It Simple, Stupid), and projects a simple message – no war.
---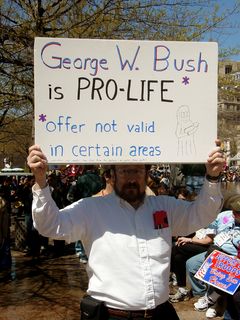 Here, we find an interesting contradiction in philosophy.  Republicans are generally considered to be "pro-life" when it comes to abortion.  Yet now, they're going in to Iraq, and killing people.  Hmmm…
---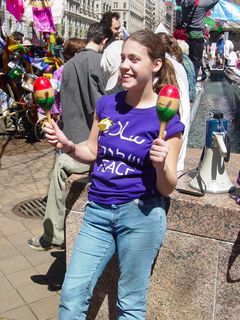 This woman wears "PEACE" prominently, while rattling a set of maracas.
---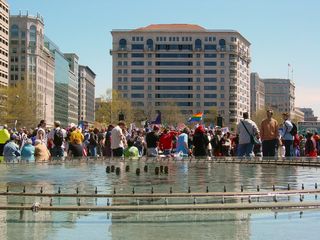 Along the fountain in Freedom Plaza, people lined up and took seats to watch the speakers.  As you can see, this was a packed event!
---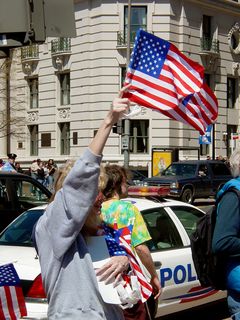 On the outer perimeter, a woman hands out American flags.
---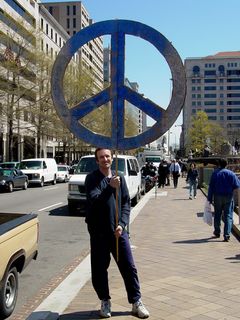 My first comment upon seeing this was, "That's the biggest peace sign I've ever seen!"  It certainly gets the point across,that's for sure!
---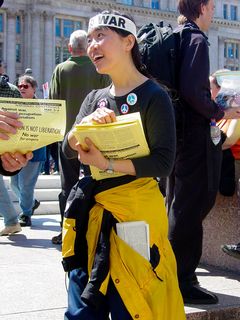 A woman with International A.N.S.W.E.R. hands out leaflets explaining both International A.N.S.W.E.R.'s position, as well as upcoming events.
---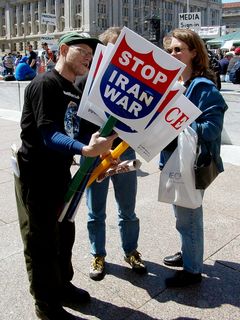 This protester distributes signs expressing some of the uncertainty at this protest, since Saddam Hussein's regime had unexpectedly fallen just before this protest went on.  These signs, originally reading "STOP IRAQ WAR", now read "STOP IRAN WAR" after some quick cut-and-paste work.  I observed several different kinds of modifications made to this style sign throughout the course of the day.
---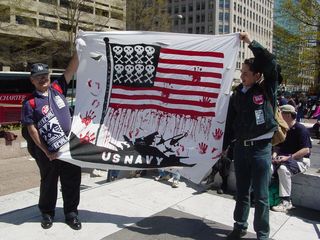 These two demonstrators portray the Navy as the ones with blood on their hands, with the flag's stars being replaced with skull-and-crossbones images.
---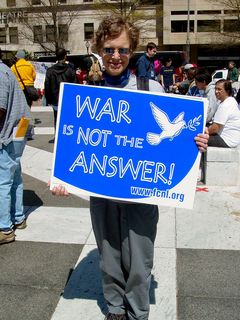 War is not the answer!  The Web site advertised on the poster is that of the Friends Committee on National Legislation, described as a Quaker lobby in the public interest.
---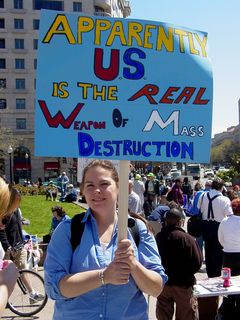 The United States as the real weapon of mass destruction?
---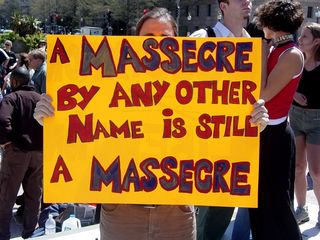 Call it what you want, but a rose is still a rose, or in this case a massacre is still a massacre.
---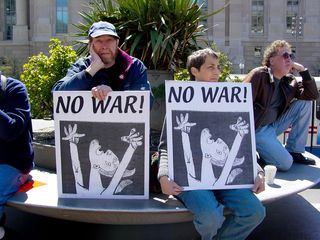 Images of Picasso's Guernica were another recurring theme throughout the day.
---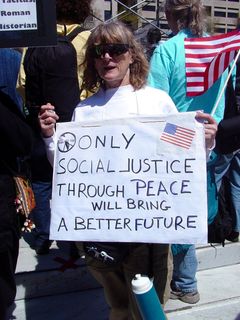 The bottom line?  Peace!  Give us peace, and the rest will fall in line from it.
---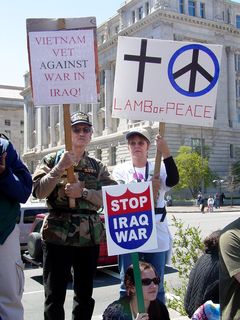 A Vietnam veteran protests the Iraq war, along with a companion.  Also note the "Stop Iraq War" sign being held by the protester in front of them.
---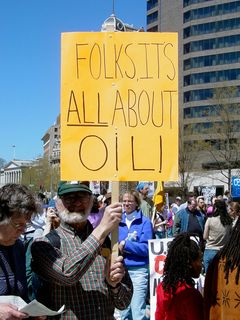 When you have two former oil company executives as the President and as the Vice President, this is quite an easy connection to make.
---
Among the more disturbing images seen during the course of the day were those that showed casualties suffered by innocent Iraqi civilians as a result of bombings and other attacks.
---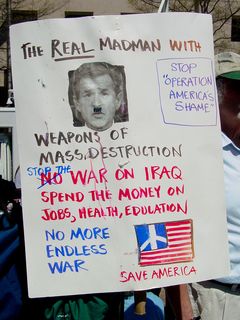 Since when did George Bush have a mustache?  Well, no, but look at what style of mustache that it is.  It's a Hitler mustache.  This was one of a number of posters which denounced Bush as a madman, with a Hitler mustache.  The mustache theme was also shared by a number of posters supporting impeaching Bush.
---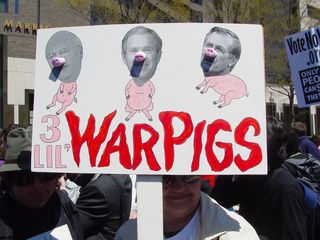 With this new twist on the "Three Little Pigs" story, this poster depicts President George Bush, Vice President Dick Cheney, and Defense Secretary Donald Rumsfeld as "War Pigs".
---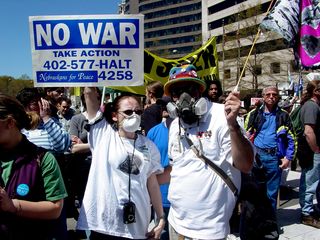 These two protesters I didn't quite understand.  They seemed totally mainstream, and indeed after checking the Web site of the Nebraskans for Peace organization named on their flyer, it was quite a mainstream organization.  Yet they appeared at the protest masked.  Who knows… nice people, though, and I really loved their flag.
---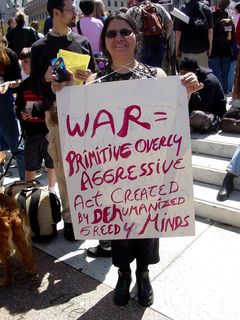 "War = Primitive Overly Aggressive Act Created by Dehumanized Greedy Minds"
---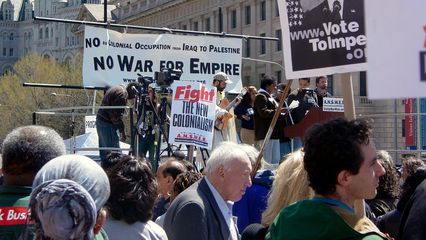 On the stage, there was a little of everything, with people speaking, and playing music.
---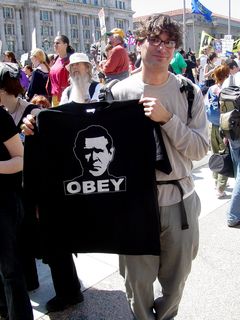 This gentleman holds up a black shirt showing Bush with the single command: OBEY.
---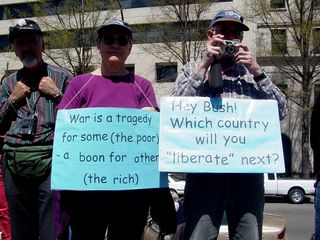 It has appeared to many since the fall of the Taliban that the war on terror is a matter of hopping around from country to country believed to harbor terrorists.  So everyone's wondering what Bush's next move will be – which country we will "liberate" next.
---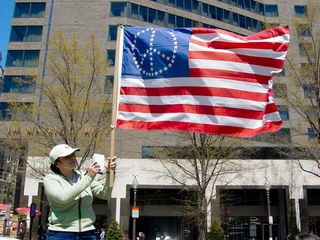 With the fifty stars rearranged to form a peace sign, the whole idea behind this protest comes together.  Peace is patriotic.
---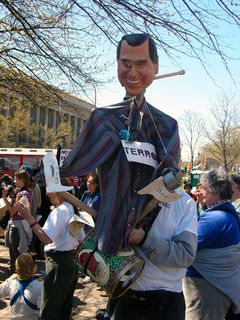 Near the west end of Freedom Plaza, this person holds an effigy of George Bush and beats a drum.
---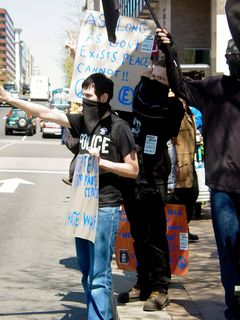 At the corner of 14th Street and Pennsylvania Avenue, just outside the JW Marriott Hotel, a black bloc had assembled.  Here, two of these masked protesters, which you may recall are the ones we encountered earlier, are holding up their signs in front of 14th Street traffic.  One of the most memorable things to happen while covering the black bloc was when a man riding in a passing car yelled out the window, "Why don't you love America?"
---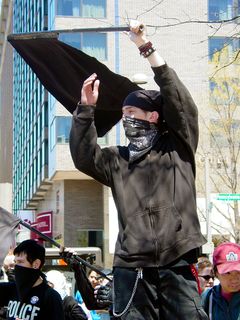 Quite a few black bloc protesters waved black and red flags, though black flags tended to predominate.  This protester is waving his flag in front of cars on 14th Street.
---
Now to get the picture of these two masked protesters, I had to answer a few questions so that they would be comfortable with how I intended to use the picture.  Remember that masked anarchists are people, too.  The first question was, "Are you with the police?"  Answer was, of course, no.  Second question was, "Are you affiliated with corporate media?"  To that, the answer was also no.  So they let me take their picture contingent on its being used only for noncommercial purposes.  Thus we're clear for Schumin Web, and they flashed the peace sign for the camera.
---
Soon after the last photo was taken, the black bloc expanded their presence out into 14th Street, essentially blocking traffic, to the chant of, "Whose streets?  Our streets!"
---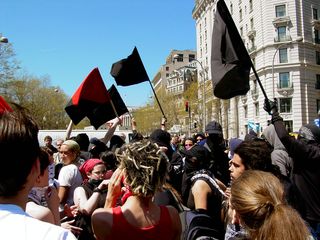 In the street, some protesters waved their black flags high as a chant of "Ain't no power like the power of the people, cause the power of the people don't stop!" rang out.
---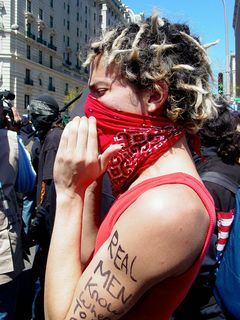 This masked protester, dressed in red, had "Real men know when to stop" written on his left arm, and something else regarding empire on his right arm, but I was unable to make it all out.  All the while, he was shouting, along with the group, "Hey, Bush, we know you!  Your daddy was a killer, too!"
---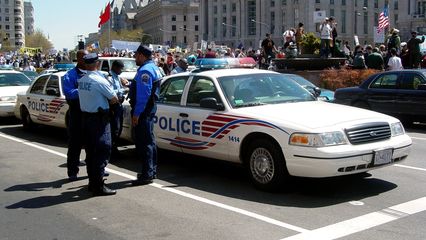 Meanwhile, the MPDC takes up station on Pennsylvania Avenue at the northwest corner of Freedom Plaza.
Part 1