A Protest Against the War
Part 2
After leaving the protesters at Freedom Plaza, I did some urban scene photography in Northwest DC along Eye Street, did some photography in Rosslyn, and also took a moment to relax.  My next task was to catch up to the protesters again.  I ended up catching up with them at the corner of H Street and Vermont Avenue NW, as they were passing as close to the White House as security considerations would allow (about a block or so further than usual).
At this location, we saw a number of new signs and new messages, and we also saw some of the people we met at Freedom Plaza.
---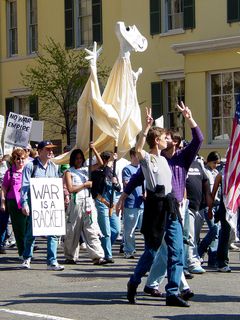 Near the White House, Guernica made another appearance, with these large reproductions of elements from the painting.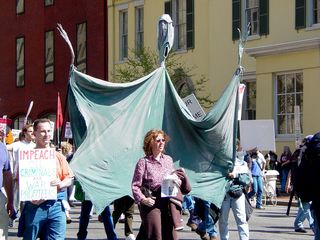 ---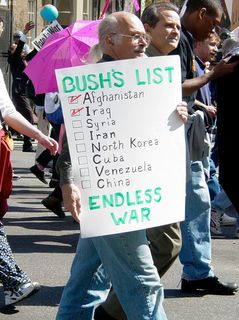 This protester's sign expresses straight up what a number of protesters were afraid of.  That being the thought that it seems like Bush has a laundry list of nations to invade and conquer.
---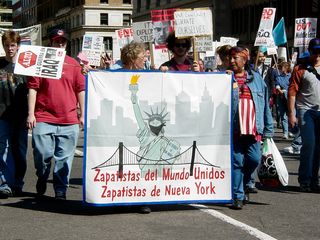 Zapatistas of New York?  Interesting…
---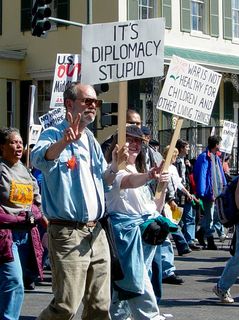 The peace sign flashed by this gentlemen goes very well with his "It's diplomacy, stupid" sign, as he encourages using diplomacy vs. military action.
---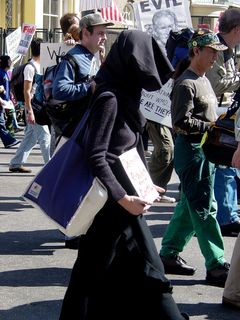 One woman simply dressed in mourning and carried a sign while marching.
---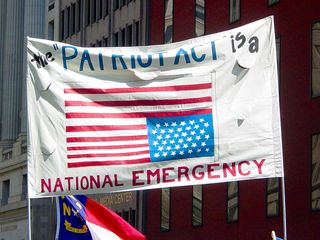 Flying the flag upside down is considered a distress signal, and according to the makers of this sign, the Patriot Act's being in place is indeed an emergency.
---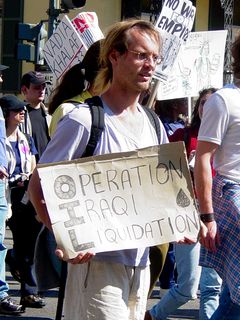 Operation Iraqi Liquidation… as mentioned by many before, it all boils down to oil…
---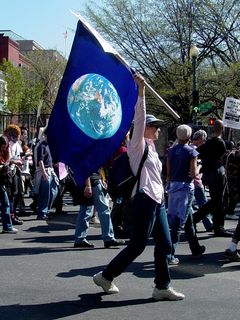 This protester carries a flag… this one simply showing the Earth on it, reminding us that we are not only citizens of our respective countries, but also citizens of the world.
---
Protesters continued along in a constant stream down the street, carrying all manner of signage…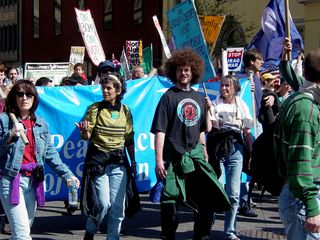 ---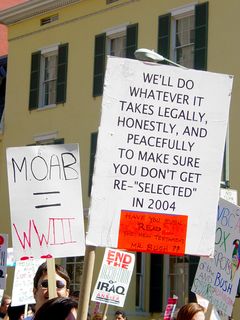 While some may want to impeach Bush, others would rather that George Bush simply not get elected again in 2004.
---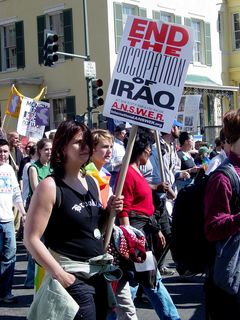 More and more protesters pass by, making their messages known to everyone around…
---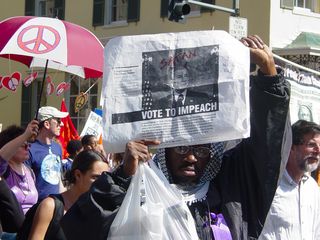 This man holds up a sign saying "Vote To Impeach", with Bush decorated up not as Hitler, but rather as the spawn of Satan.
---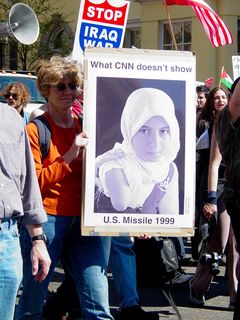 We've seen this face before, but now it's being taken with a different spin.  Instead of being framed as something to make you think again about war, this time it's being framed as the stuff the news doesn't want you to see.
---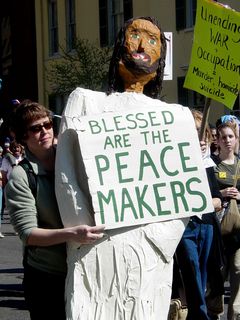 Another protester holds up a large sculpture of Jesus, holding a sign saying "Blessed are the peacemakers".
---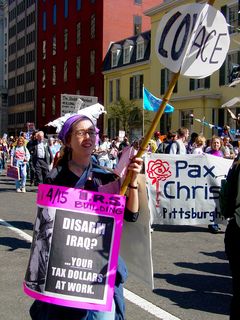 This woman gives us a reminder about where the lion's share of the funding for the war in Iraq came from – taxes.  And in studying Public Administration, I can tell you that a good-sized chunk of the federal budget does indeed go for discretionary military spending.
---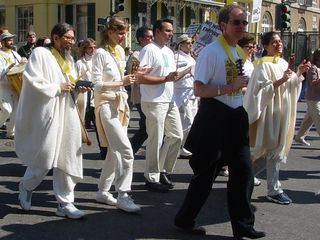 These people, dressed in white, don't even need signage.  By their flowing outfits alone, they state "Peace".
---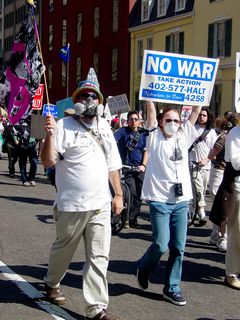 And now we again run into our masked protesters with the cool flag.  While they may not wish to show their faces, their call for peace does indeed say a lot.
---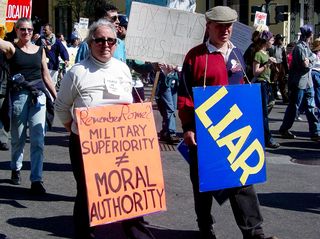 After the Clinton-era sex scandals, the notion came up of the president's need to be a moral leader as well as a political leader.  This protester simply reminds us of Rome, and how military superiority does not make moral authority, while her companion simply carries a sign stating "LIAR".
---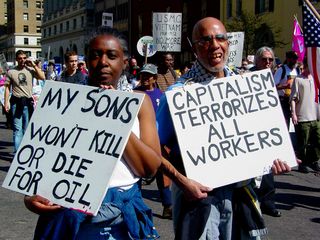 Finally, this couple protests not only the war in Iraq, but also injects a touch of Marxism to the protest, reminding us of Karl Marx's conflict theory, where the world is characterized by inequality.
---
The last phase of my protest coverage was at the corner of 18th and K Street NW, a block away from the Farragut West Metro station, near the end of the protest route (the route ended at nearby Farragut Square).  The character of this stage of the protest was significantly different than earlier in the day at Freedom Plaza and near the White House.  I guess it was because it was late in the day, as well as the increased police presence that created that feeling.  At this location, we encountered a number of protesters from Freedom Plaza, a lot of new faces, and also some new signs.
After the march, some protesters then descended into the Farragut West station, heading towards Stadium-Armory station, to board buses parked at RFK Stadium to go home.
---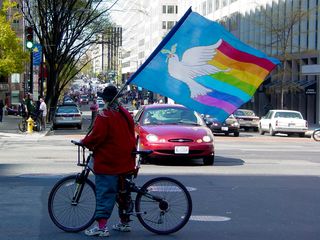 Ahead of the group, a woman on a bicycle holds a flag featuring a dove with a rainbow streaming behind it.
---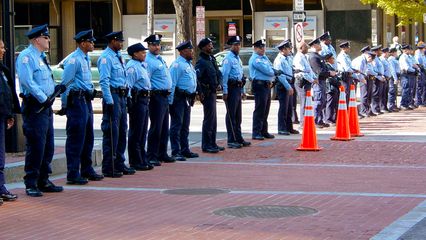 At intersections, DC Police formed lines to keep the protesters on the correct route.
---
And here comes the protest group, shouting, "No blood for oil!"
---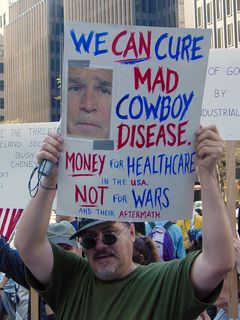 This protester is holding a sign with an idea that I was surprised didn't surface a long time ago… the whole idea of George Bush being like a cowboy.
---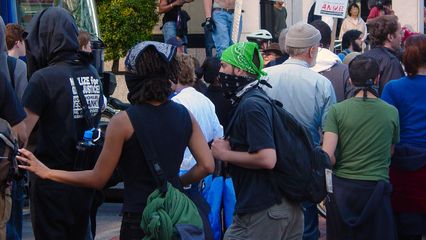 Early on, the masked black bloc protesters passed through the intersection…
---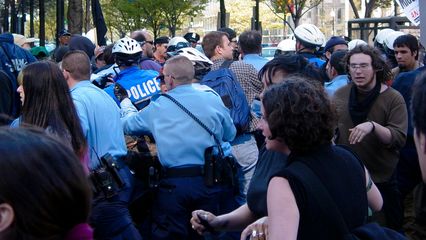 Soon after the black bloc demonsrators passed through, the police decided to bust a move and converge on someone or something.  I don't know what caused the action or what the action was targeted against.  I was facing the other way when it started, photographing something else.  Protesters yelled out, "Shame!  Shame!  Shame!" as the police did their thing.
---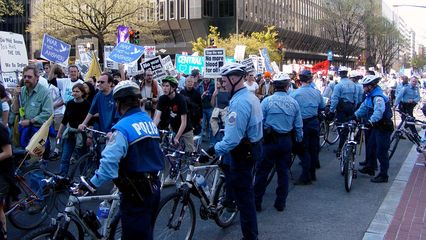 Soon after, however, order was restored, and the police with their bicycles were again lining the streets.
---
At the end of the protest route, the crowd of protesters marching was still quite thick, as they spread their message throughout the land.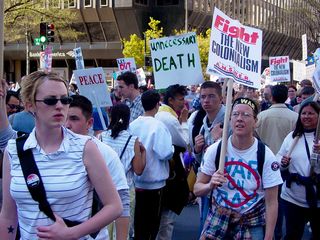 ---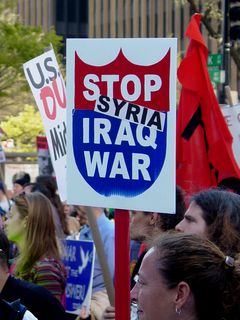 A protester with one of the aforementioned "Stop Iraq War" signs has this time added the word "Syria" to the sign, wondering whether this was the next stop in the war on terror.
---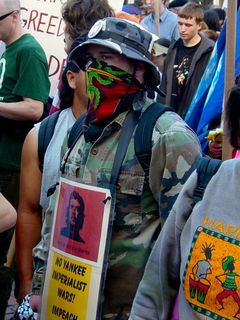 This masked protester, dressed in army fatigues, advocated no imperialist wars, displayed a picture of Che Guevara, and called, like a number of others, for the impeachment of George Bush.
---
Along with the Earth flags, another flag that got flown at this protest was a United Nations flag, reminding us once again that we are also citizens of the world, as well as our respective countries.
---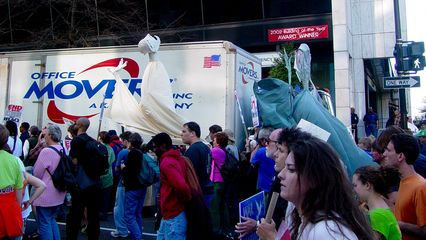 The two figures from Picasso's Guernica again made an appearance at 18th and K.
---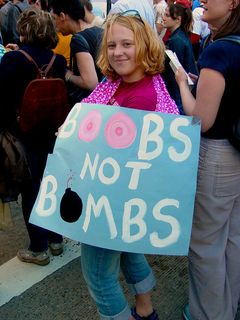 One of the more humorous posters was by this woman, who, simply put, advocated boobs over bombs…
---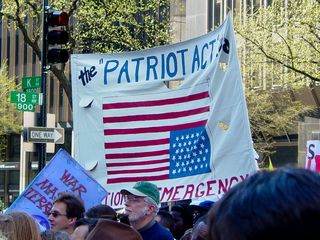 Other familiar scenes make their appearance, as the Patriot Act banner and corporate logo flag finish the protest route.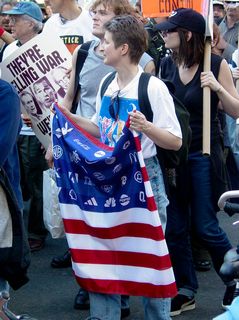 ---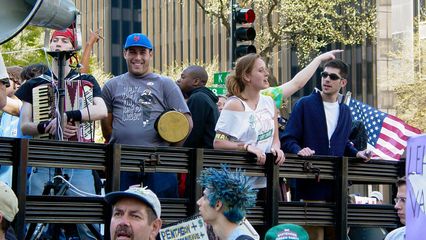 Towards the middle of the marching group, people from International A.N.S.W.E.R. rode in a truck wired for sound, playing canned music through the large speakers, and some of the people on board were making their own music.  The word on the street at this time was "The people, united, will never be defeated!"
---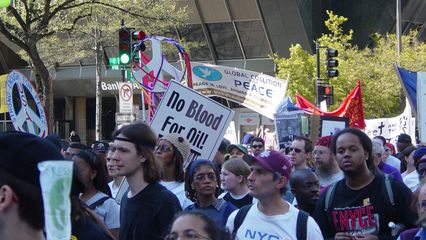 One of the places where people's creativity really came out was in the decoration of peace signs.  Just behind the "No blood for oil!" sign, a protester decorated their peace sign with colorful streamers!
---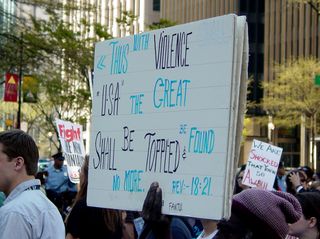 This protester's sign shows the text of Revelation 18:21 from the New Testament.  The full text of the verse, according to the King James Version of the Bible, reads:
And a mighty angel took up a stone like a great millstone, and cast it into the sea, saying, Thus with violence shall that great city Babylon be thrown down, and shall be found no more at all.
---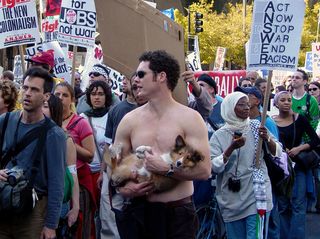 I have nothing but respect for this gentleman, who was so kind as to carry his dog when the dog began to tire.  Kindness to animals is always important…
---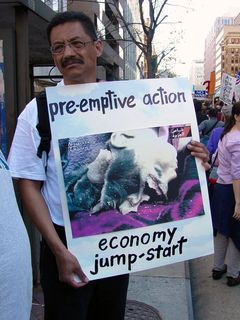 Among the more disturbing images presented, this protester holds a photograph of an innocent Iraqi citizen injured after attacks.
---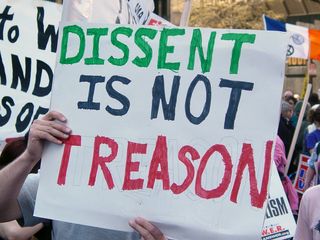 This is an important distinction!  Yes, treason is a crime according to the Constitution (and the only crime specified in the Constitution).  However, disagreeing with the government's actions is not akin to selling out your country to the enemy.
---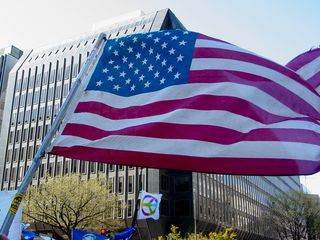 Seeing a full, traditional American flag was a rarity today, as the flag took on many forms as an expression of various ideas.  But simply put, we all support America, and fly its flag proudly.
---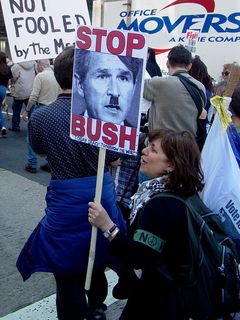 This protester decorated a picture of Bush to appear like Hitler, adding a bit of hair that Bush naturally doesn't have to increase this appearance.  This was not the only case where Bush was likened to Hitler, but by far the most dramatic illustration.
---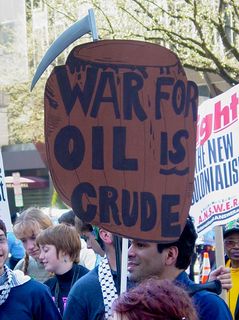 Finally, with a play on the term "Crude Oil", this protest sign tells us that war for oil is crude.
---
After the protesters finished going through, I headed down into Farragut West station, and headed off to Rosslyn.  What a day!
Part 2