Project Chanology in the Nation's Capital
Part 2
August 16, 2008
Global Raid
August saw some changes to the way we ran our raids.  Most notably, we changed the time of our raids.  While we previously held our raids from 11 AM to 3 PM (admittedly a shade early), with this raid, we began holding our raids from 5 PM to 9 PM.  This came about as a reaction to the oppressive heat that we experienced during Over 9000, and our wish to avoid the worst of the heat for the summer.
However, you can't just move the raid time without having something going on during the day.  As a reaction to moving the raid to the evening, a number of Anons wanted to also have something during the day at a different location.  Thus we held a midday raid at McPherson Square around midday until 3:00, broke for two hours, and then met up at the Org for the global raid.  While the evening raid went as one might expect it to go, the afternoon raid had a twist, as we kind of spontaneously decided to raid the White House.  The attitude was that we were only two blocks away, so why not?
Raiding the White House unannounced had its own challenges, mostly from the Secret Service, who came over to check us out and see what we were up to.  After we explained what we were up to, all was well.  John McNonymous put it best, saying that "we weren't protesting [Bush's] dumb ass."  Additionally, I reminded people that in the "picture postcard" area on the sidewalk directly in front of the White House, protests cannot stand still, and must be constantly moving.  But it went well, and much to everyone's delight back at McPherson Square, no one was arrested, but this did lead to a new guideline: "Don't flash raid the White House!"
---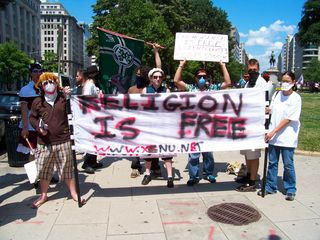 A spirited bunch raided McPherson Square.
---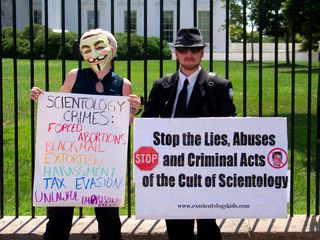 Beret and John McNonymous pose for a photo in front of the fence during our impromptu White House raid.
---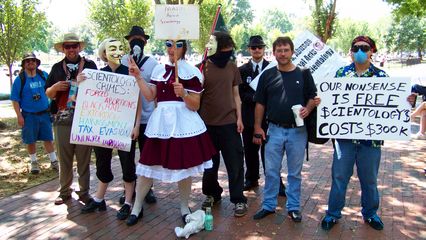 There were about ten of us who raided the White House unannounced.
---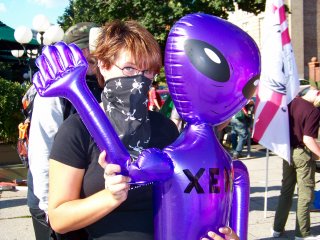 Later, at our full raid at the Org, a masked woman waves with an inflatable Xenu.
---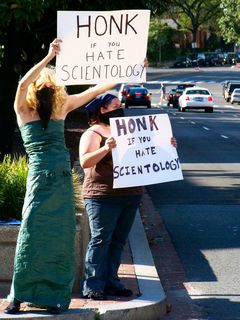 Two Anons stood in the median of Connecticut Avenue encouraging motorists to honk if they opposed Scientology.  The wording of these signs, which read "Honk if you hate Scientology" later led Scientology spokesmodel Sylvia Stanard to accuse our group of being a hate group.  We really don't hate Scientology or Scientologists, but rather oppose the organization's practices, and as such, we toned down this wording in later raids.
---
Dancing to the music of the raid…
---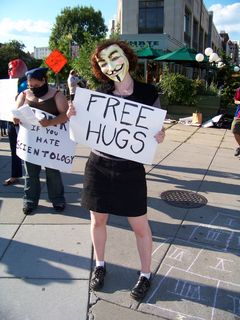 Beret offers free hugs to anyone who wants them.
---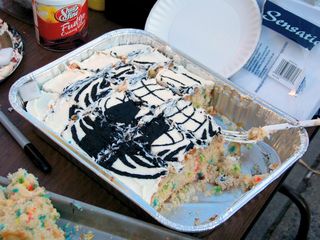 And as always, Anonymous brought cake.
---
Kirvo had just turned 18 ahead of this raid, and so in proper Anonymous form, Vendetta administered Kirvo's birthday spanking before announcing, "You are now a man."
---
SomeOldGuy speaks to the assembled crowd.
---
After SomeOldGuy spoke, Heidi took the mic for a few minutes.
---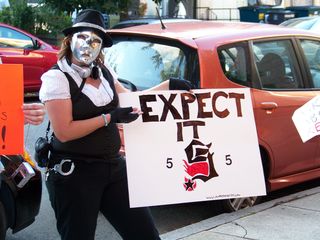 AnonGurl holds up a sign: "EXPECT IT", referring to "Project Five".
---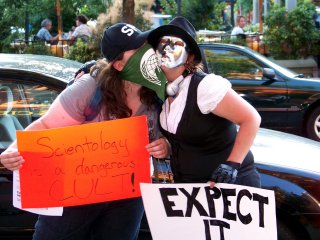 Awwww…
---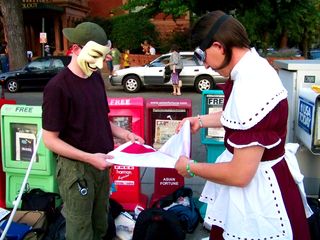 MisterTastee and Vendetta fold the Anonymous DC flag.
---
As it started to get dark outside, we broke out glow sticks.  Thus we had fun with glow sticks, both in playing with them, as well as wearing them.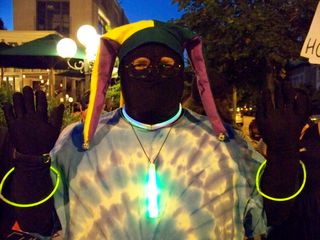 ---
Fun with glowsticks.
---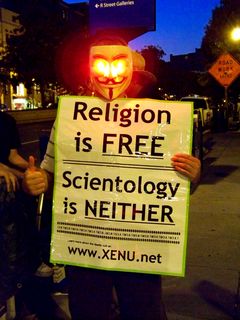 Now, added to the light-up eyes is a small laser, for extra lulz.
---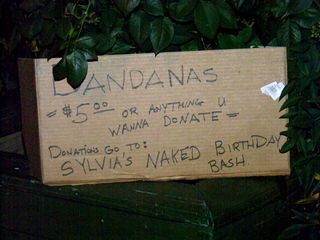 Trolling for donations, and making sport of Scientology spokesmodel Sylvia Stanard at the same time.
---
September 13, 2008
Global Raid
September's raid followed the same format as August, where we raided somewhere else in the afternoon, and then raided at the Org in the evening.  In planning the afternoon raid, we built on our success raiding the White House, and actually filed for a separate permit for Lafayette Square.  Thus we were able to get the word out to the White House tourist crowd before having our full raid outside the Founding Org.  The theme was loosely defined as "School's Out", but in practice, very few actually followed that theme.  Nonetheless, though, lulz were had by all.
---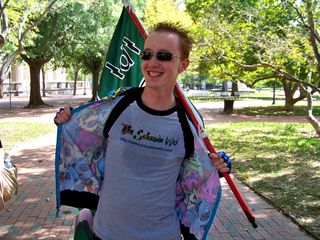 As outfits go, Wutman definitely had the best outfit by far, at least as much as I was concerned.  I was very surprised to see him wearing a Schumin Web raglan tee from my Online Store.  Was I worried about being named at the raid?  Scientology has proven that they already know who I am, so no worries.
---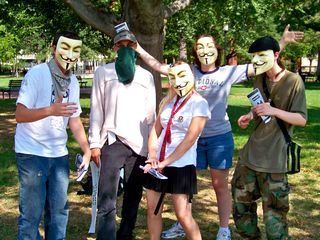 This raid also marked the first raid for JB (center), Anyman (far right), and a few others.  Here, everyone's all smiles in Lafayette Square behind their Guy Fawkes masks.
---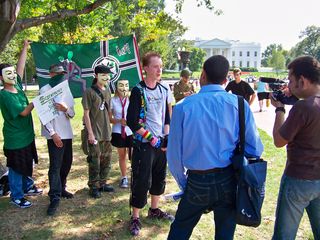 Later, Wutman gave an interview to some filmmakers that encountered us in Lafayette Square, with one of our Anon flags in the background, and of course, Schumin Web on his chest.
---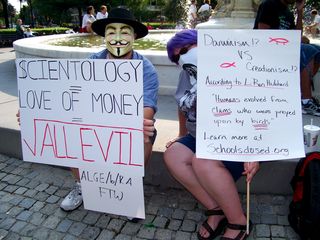 Enturb and Purple Hair Anon hold up their signs in our pre-raid meeting point at Dupont Circle.  This would be the last raid where we went through the formality of meeting off-site before the raid and then marched the two blocks from Dupont Circle to the Org to make our appearance.  Future raids would just meet up at the Org.
---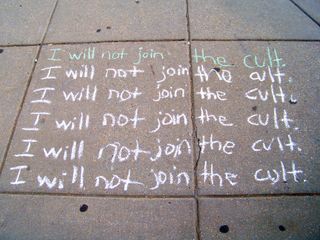 This time around, the sidewalk chalking took a school-like theme, as we wrote sentences saying, "I will not join the cult."
---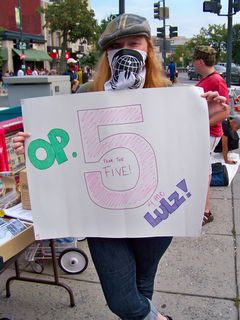 Another Anon holds a Project Five sign.
---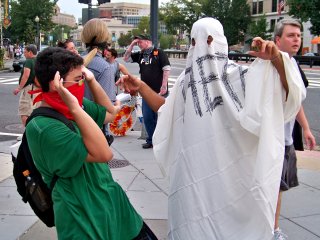 While one Anon dressed as a thetan, another pretended to act scared by the thetan's presence.
---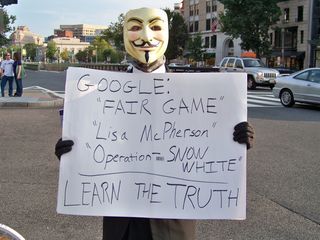 One Anon, covered from head to toe, encourages passers-by to do their own research regarding former Scientologist Lisa McPherson and Operation Snow White.
---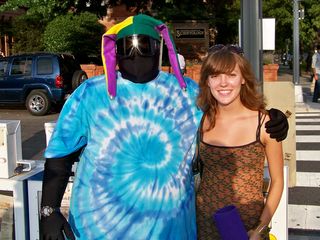 A coworker of mine happened to pass by our raid on the way back from a yoga class.  So we got a photo together.  How cool is that!
---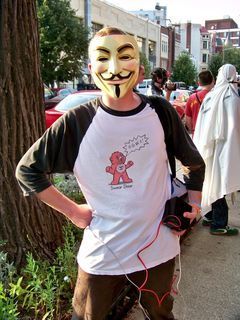 Tastee wears a "Swear Bear" shirt, showing a Care Bear cursing up a blue streak.
---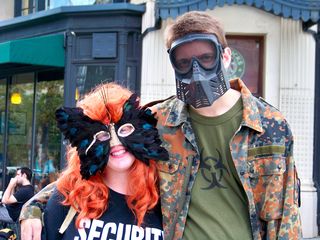 Say "cheese"!
---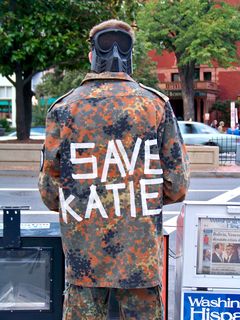 The back of this military-style uniform has "SAVE KATIE" written in tape on the back, referring to Katie Holmes, wife of actor and famed Scientologist Tom Cruise.
---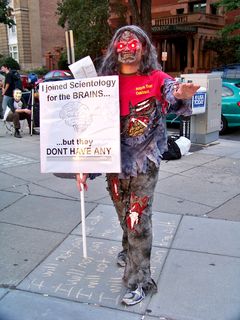 With a new twist on the lighted-eyes theme, this Anon dressed as a zombie, with a sign saying, "I joined Scientology for the BRAINS… but they DON'T HAVE ANY."  The shirt says "Billion year contract" on the front, and "Die-enetics: Get it… read it… brainwash it!" on the back.
---
More fun with glowsticks, courtesy of MisterTastee.
---
This raid also marked the first time we raided on the sidewalk directly in front of the Org, which became a regular place for us to enturbulate, perhaps even more so than the larger triangle across the street.
---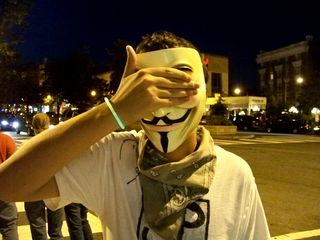 "If I can't see you, you can't see me!"
---
October 18, 2008
Zombie Apocalypse
For October, we continued having our raid at night, but didn't have a daytime raid.  The raid this time took the theme of "zombie apocalypse" for Halloween.  Thus everyone dressed with an "undead" theme, with that I-just-rose-from-the-dead look, and lots of blood.  We also carved a pumpkin with a Guy Fawkes face, and had gelatin dessert that looked just like brains.  And to top it all off, we parodied Scientology's "free stress test" recruitment tool with our "free brains test", complete with homemade E-meter!
Unfortunately, however, due to a misunderstanding relating to our permit for this raid, we got shut down an hour early, and so instead of breaking it off at 9:00 as planned, we were ordered by police to disperse around 8:00.
---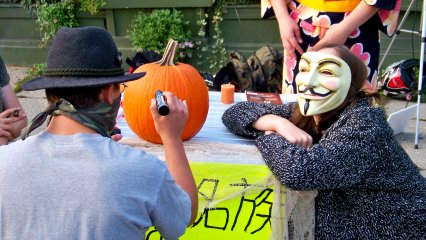 Drawing the Guy Fawkes face on the pumpkin.
---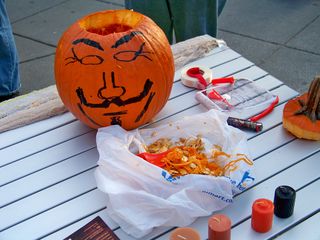 With the face drawn, the carving could begin!
---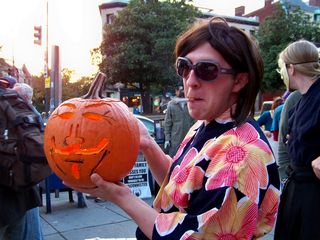 Vendetta holds up the completed pumpkin for all to see.  Pretty good likeness, if you ask me!
---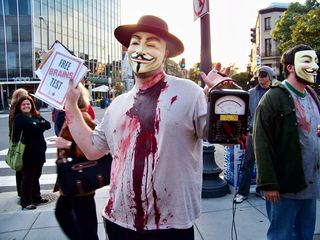 With the theme being the undead, one common sight was fake blood, and Enturb had the blood concept down quite well.  Enturb is also holding the equipment for the "Free Brains Test", which parodied Scientology's "Free Stress Test" recruitment tool.
---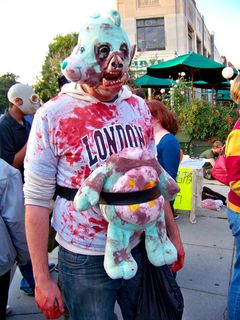 One Anon gorily dismembered a Wish Bear stuffed toy.
---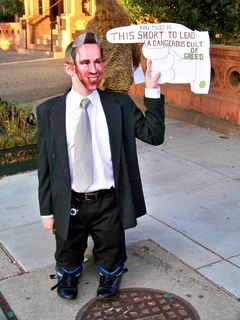 This raid also saw the premiere of the David Miscavige mask, as well as poking fun of Miscavige's below-average height.  Miscavige is chairman of the Religious Technology Center, the company that controls Scientology's intellectual property, and is also officially described as the "worldwide ecclesiastical leader of the Scientology religion."
---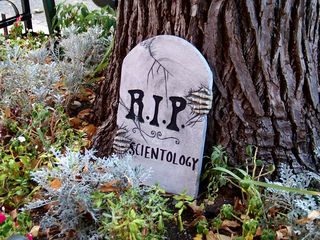 "R.I.P. Scientology" on a fake tombstone placed in a small garden directly in front of the entrance to the Founding Org.
---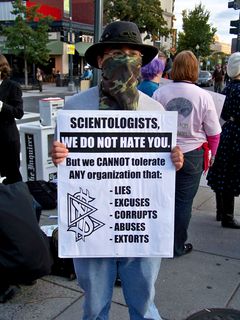 This sign points to where many of us stand in regards to Scientology.  We do not hate anyone, and in fact, would welcome any Scientologist who left the cult with open arms.  However, the organizations that comprise the Church of Scientology are hopelessly corrupt.
---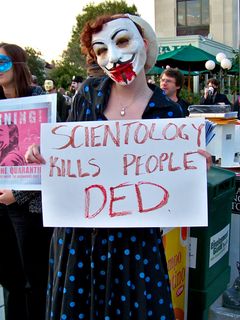 In keeping with the "undead" theme, Beret holds a sign saying, "Scientology kills people DED (sic)".
---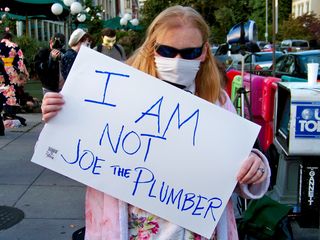 With the 2008 presidential election coming up in just a few short weeks, Nomnom couldn't resist throwing in a Joe the Plumber reference.
---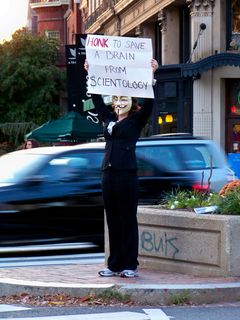 MaidofWin holds a sign for the cars that says, "HONK to save a brain from Scientology".  The wording was my idea.
---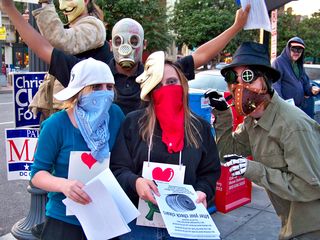 A group stops to pose for a photo in the midst of handing out flyers.
---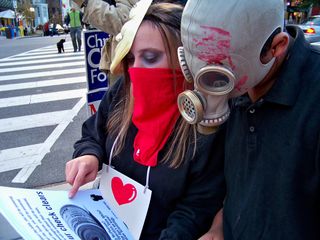 Discussing one of the flyers.
---
"Free Brains Test" in action.  The "preclear" holds the cylinders on our faux E-meter, while the "auditor" asks questions of the preclear.  The photo at right illustrates the final step in the Free Brains Test, where he asks, "May I feel your brain?" and then feels the preclear's brain.
---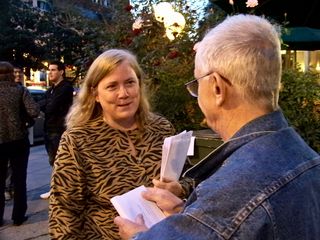 Meanwhile, Scientology spokesmodel Sylvia Stanard was handing out press releases in an attempt to intimidate Anonymous.  Here, she is handing a press release to Boris Korczak.  Here is the full text of the press release.
---
AnonGurl sings a song about zombies "in your Org".  The song highlights the concept that the Church of Scientology essentially turns their followers into brainwashed zombies.
---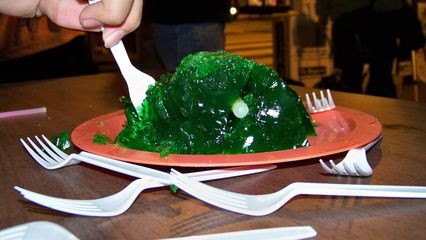 A person takes a piece of the gelatin mold shaped to look like a brain.
---
November 8, 2008
IAS Awards Ceremony
In DC, the November global raid coincided with the International Association of Scientologists (IAS) awards ceremony at the Marriott Wardman Park hotel in Woodley Park.  Thus this raid would follow a little bit different pattern than most Anonymous raids.  Since the Scilons were leaving the Org for an event, so were we.
However, if we had followed the original plan, this raid would have been an epic fail.  The permit had us raiding at Sheridan Circle for a while, and then raiding the hotel from near the Woodley Park-Zoo station.  However, sensing a bad plan with the permit, we broke out and did our own thing.  We started at the Org, and then walked up to the Wardman Park hotel just in time to get the crowd going in.  There, at the Wardman Park, is where we did most of our enturbulating this time around, and while our crowd was a bit smaller than at most raids, we had WAY more fun.
This was supposed to have been our first daytime raid following our temporary switch to nighttime raiding, but with the Scilons' event being the same day as our raid, this raid became a nighttime event.  I also put the zentai away for the winter starting with this raid, and thus went in a simple Guy Fawkes mask.
---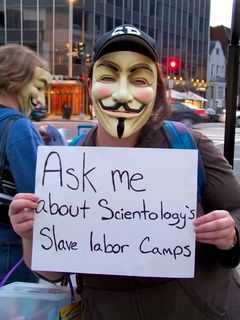 Raiding at the Org just as the sun started to set.
---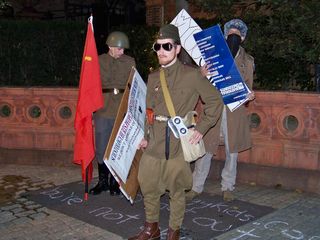 Guarding the chalk messages.  Scientology is quick to hose off our chalked messages, and so a few people decided to guard the message and prevent them from hosing it off right away.
---
Welcome to the Marriott Wardman Park!
---
---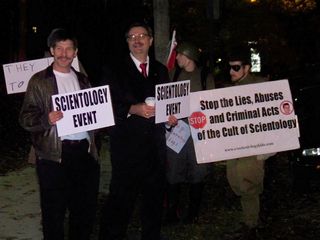 Enturbulating "Borat" (the guy at left, so nicknamed because he bears a strong resemblance to Borat) and another gentleman holding signs to direct other Scilons to the event.
---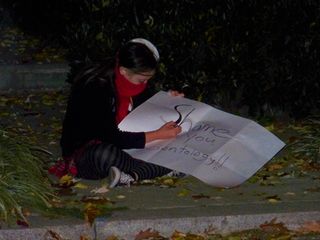 JB takes a moment to work on a sign.
---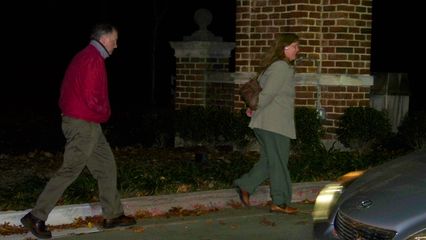 Scientology spokesmodel Sylvia Stanard and another gentleman enter the Wardman Park.  With Sylvia holding her hands behind her back like that, it reminded me of the perp walk.  Perhaps one day various Scientology officials will be doing the perp walk for real?
---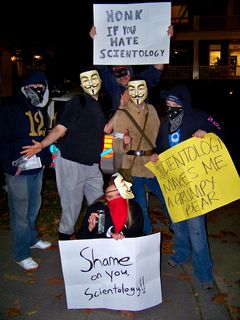 As you can see, we were a spirited bunch outside the Wardman Park, and this raid was definitely a win.
---
December 13, 2008
Snow White Christmas
In December, the global raid in DC returned to the Org, and took on a Christmas theme.  The name is a play on Operation Snow White, a project by the Church of Scientology to purge records on Scientology and founder L. Ron Hubbard that the church viewed as unfavorable from 136 government agencies, foreign embassies and consulates, as well as private organizations critical of Scientology, across more than 30 countries.  The operation was described on Wikipedia as, "the single largest infiltration of the United States government in history with up to 5,000 covert agents."
This was our first daytime raid since July, though now we were raiding from 1 PM to 5 PM rather than the previous 11 AM to 3 PM.  And as always, we had a blast.  We had music, dancing, a "Fail Santa", a baby Raptor Jesus, and of course, we made sure to enturbulate the Scilons.  All in all, I'd say that we ended 2008 with a bang, as we pulled off one of the more fun raids of the year.
---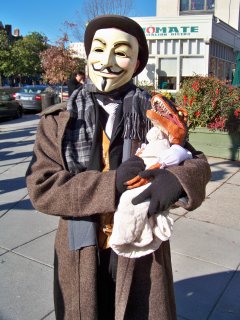 Tastee holds baby Raptor Jesus in his arms.
---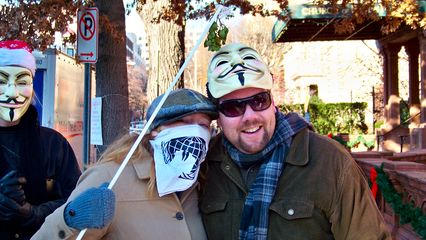 Sharing a mistletoe moment.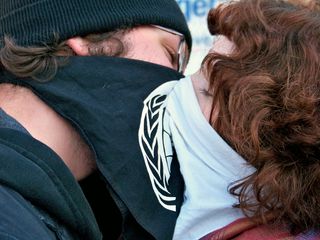 ---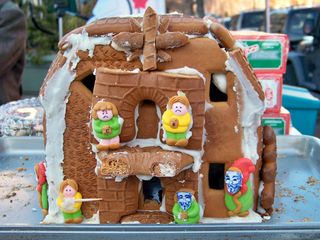 And what goes well with Christmas?  Gingerbread houses!  This was our gingerbread Scientology Org, or as we called it, the "Fail Org".
---
Fail Santa gets dressed…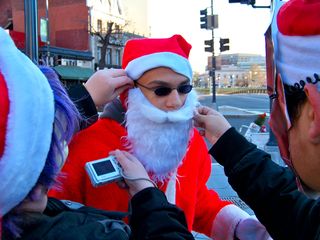 ---
---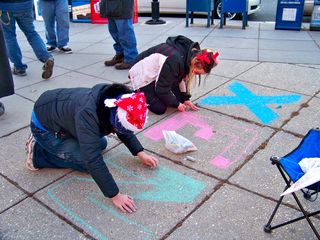 MaidofWin and JB chalk the sidewalk.  This message would ultimately spell out XENU.NET.
---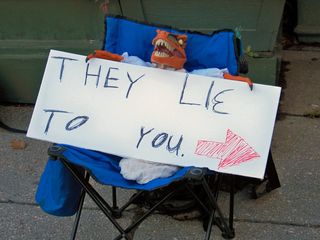 Raptor Jesus holds a sign saying, "They lie to you", with an arrow pointing at the Org.
---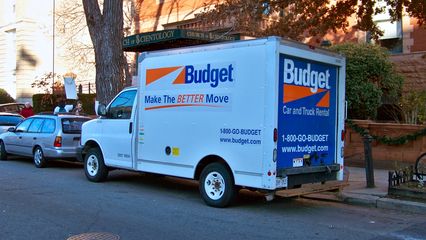 During our raid, a moving van was parked in front of the Org.  Were the Scilons leaving town for good?  Unfortunately, no.  One can hope, though…
---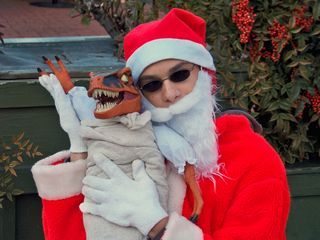 Fail Santa poses for a photo with Raptor Jesus.
---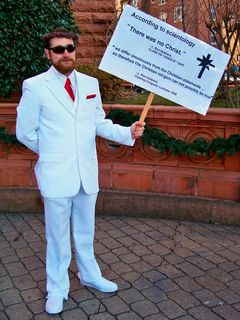 John McNonymous dressed in a white suit and held sign saying, "According to Scientology, 'There was no Christ,'" attributed to Scientology founder L. Ron Hubbard.  The sign also quotes a 1958 lecture where Hubbard stated that, "we differ enormously from the Christian statements … so therefore the Christian religion cannot possibly be true."
---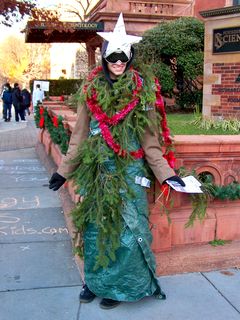 One Anon went as a Christmas tree.  However, I think be more closely resembles Super Zeo Zord V from Power Rangers Zeo.
---
"Tom Cruise" is down for the count!
---
Anonymous dancing!
---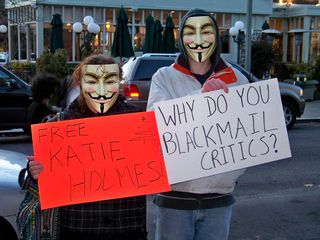 ---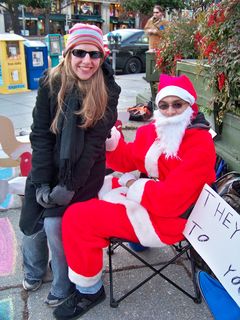 Posing for a photo while sitting on Fail Santa's lap.
---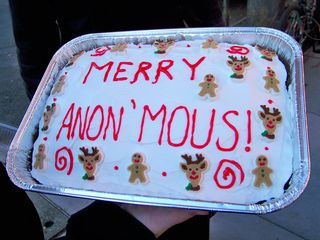 The cake was Christmas-themed, and very festive.  And quite tasty, too!
---
Destroying the gingerbread Org on the sidewalk in front of the Founding Org.
Part 2