I'm looking up my old stomping grounds
August 31, 2004, 12:11 AM
I went online and did a little Rogers-hunting here. As I found out that a former coworker of mine at Wal-Mart used to live in Rogers, it was interesting to share stories, as her family knew Mrs. Carmical, the principal at Grimes Elementary at the time, Wal-Mart store #1 (though I knew it as a regular Wal-Mart, and she knew it as a Supercenter – the 1991 store was converted), Beaver Lake, and all that. That was just cool. So I went online this evening and went to Rogers.
I actually was somewhat drawn to the parks and rec pages this time around. I found a page about Lake Atalanta in there. Although that name has four A's in it, making it "Lake At-a-lan-ta" (to break it up by syllables), the common pronunciation in Rogers was "Lake Atlanta" (like the city in Georgia). You pronounce the extra "a" in there and I think that people will look at you strangely. But anyway, they show it as two parks. You have "Lake Atalanta" and "Lake Atalanta Dam Site". Now I'm confused. I remember there being two major Lake Atalanta recreational areas, straddling Walnut Street. The older area was adjacent to Lake Atalanta itself, which had a large playground made mostly of large wooden beams (nice to play on, but watch for splinters!). They don't make 'em like that anymore. They also had a skating rink which closed not long after we moved there. I think I went in that building once when it was a skating rink, and I was still not comfortable on roller skates, so my memories are of falling down in there. Most of my memories of the skating rink are of it as an abandoned building. I'm told it's since been renovated and converted into banquet space. There was and still is a pool at Lake Atalanta, which I remember as being a really cool pool. Had two water slides. A small one for the kiddies (which I used as one of those little kiddies), and a big one that was like huge (but remember I was like eight). That was cool. Then there was the bait shop. There you could not only buy bait, but also rent paddleboats. Those were fun, as I got to drive and pedal the boats with Mom. When we left Rogers, the bait shop had closed. Presumably it's opened back up since then, since the Web site mentions it.
Then there's the second Lake Atalanta park. I remember when that opened, and it was a modern park by late 1980s standards. Fun park. It was fun, and mostly metal construction. It had a great merry-go-round. Though the older side was better, with the see-saws. I remember as a child trying to figure out how to get myself and the other kid off without sending the kid on top crashing to the bottom, and as a result sending the other kid crying to his mommy. See, back when I was a kid, kids just didn't get hurt on this equipment. Sure it was vintage, and if you listen to the lawyers, probably dangerous. But we knew a good thing when we saw it.
Still, though, a few rough landings on those seesaws probably kept me from getting a really deep voice. But we figured out how to get the kid off safely. The kid on top shimmies down the seesaw to the center, then climbs off. Then the kid on the bottom climbs off and you're done.
One thing I remember about Lake Atalanta also is all the little nooks and crannies in the place that you could go into. Near the old playground was a trail to go up the big hill to an area overlooking the whole area. Nice area. And again, I may be exaggerating the size. Remember, I was a kid. Then there was the "back way" to the new playground across the street. What we used to do was to cross under Walnut Street with the stream that would become Lake Atalanta. See, the stream didn't fill the whole thing. Part of it was rocky. So I just passed over the rocky part to the other side. Ta-daa! Then there was the trail around the lake, with so many things to see around there. That was also a jogging trail, with various exercise stations located around the trail. That was fun, and we used to drive it and also walk it.
And then Lake Atalanta was also the place to go to see fireworks on July 4. Everyone would sit out in lawn chairs and such facing the lake, and they'd blow off fireworks over the lake. Those were cool.
And now they say that the Lake Atalanta parks have ADA-compliant restrooms! I just hope that these aren't the same ones they had from when I remember the park. Back then, they had two porta-potties, one marked "MEN" and the other marked "WOMEN". They had wheelchair symbols on them. And they were a bit stinky.
And how do we pronounce Lake Atalanta's name? "Lake Atlanta". Never forget that.
And then there's Tower Park. It was called "Tower Park" because it was built on the land surrounding a water tower. I want to say the park was built in 1988 or 1989 or so (the water tower was there before we moved there). It was actually not far from our house – about three blocks, and I could see it from my bedroom window. Back when E.T. was all the rage, my mother told me that it was actually E.T.'s spaceship, and that he had painted "ROGERS" on the side of it so it could blend in better. I believed it, because I was like five, and was just SO into E.T., even though I'd never seen the movie. There was also a big fence around the water tower itself to keep miscreants out. One day when they had the fence gates open presumably to mow, and we went down that way, I dashed in and grabbed onto one of the legs of the water tower, and thinking, "How am I going to get up to E.T.'s spaceship?" Very anti-climactic. I finally got to touch the spaceship, but then couldn't do much else. I was disappointed.
But anyway, though, the park was constructed in 1988 or so, and was a handy addition to the neighborhood. There were two play structures within close reach of each other. The larger one was definitely the cooler of the two, having a big tire swing and a curlicue slide. However, beware – the curlicue slide was yellow and made of plastic, and had a lot of static electricity on it, and was ready to shock little unsuspecting kids. It's like this… "Wheeeeeeeeeeeeeeeeeeeee… YOW!" And they were painful shocks, too. It was kind of like, nice slide, if you don't mind getting shocked. Beware the slide.
Now I don't remember what the other play structure had on it. I just know that the other one was much, much cooler. Though that slide was troublesome.
Then there's Dixieland Mall, which I'm told is now known as Frisco Station Mall. But when I was there, it was called Dixieland Mall, and so that's what we'll call it. It was on the corner of Dixieland Road and Walnut Street. It technically had three anchor stores, but realistically had more like two. When we moved there, Dixieland Mall was so-so in activity. It had a Kmart, a Beall-Ladymon, and a Campbell-Bell. Then Campbell-Bell closed. That was pretty much the end of that side of the mall, as all the stores on that side pretty much dried up. That anchor store space was reinvented twice as a furniture store, once opening up as Brandon House Furniture, and then later as Marc Alan furniture. The conversion from Brandon House to Marc Alan wasn't much – just a paint job, it seemed. And both folded relatively quickly, leaving that end without an anchor.
Meanwhile, the center anchor store, Beall-Ladymon, expanded at some point. Beall-Ladymon was your typical regional department store, with clothing and such. I just liked that name, "Beall-Ladymon". Something about it was just fun to say. I don't know.
There was also a large restaurant space that was constantly reinventing itself. It was this restaurant. Closed. Then it was this new restaurant. Closed. You get the point. What it is now, I don't know. I also don't know if the space even exists anymore. But anyway…
By the way, let me really quickly give you a crude map of Dixieland Mall to show you kind of where things were back then.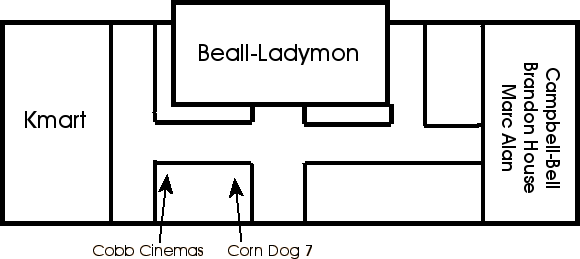 And when I say crude, I mean crude. This map took me less than five minutes to do. But anyway, the Campbell-Bell end of the mall was practically dead. The Kmart end of the mall did decent business. There was decent business around Beall-Ladymon.
Now the Kmart at Dixieland Mall was definitely an old store. Had the old red-and-turquoise logo on it, and was brown and orange on the inside, with, as a Web site about vintage retailing said, giant air vents in the ceiling. Still, very vintage. But to me, the store gave a feeling of closed in. This was not a good choice of an anchor store for the mall in my opinion, though I'm sure it was fine at the time. There were no windows on this Kmart. There were also no direct entrances from the outside unless you counted through the auto center. The only way into Kmart was through the mall. Beall-Ladymon and Campbell-Bell had large outside entrances. Kmart didn't.
Note on the map how I've marked Corn Dog 7 and Cobb Cinemas. The Cobb Cinemas was a big deal when it opened. A multiplex! Six screens! I saw movies in about four of them, I'd say. The first three, then the last one, which was a small theater. We saw countless movies in the first three, but then in the last one, we saw The Care Bears' Adventure in Wonderland. Why do I remember this? I don't know! But they were decent, though not as comfortable as the Malco Twin Cinemas on the back side of Wal-Mart down the road. Though unlike Malco Twin, Cobb Cinemas was first-run.
Now Corn Dog 7 was just cool. Small store, but it was great. Had lemonade, if I'm recalling correctly, and had lots of corn dogs. Blue tile and mirrors on the walls, if I'm not mistaken. Great place. Hope it's still there.
And of course, I'm told that Dixieland Mall took off after we left. When we left, it looked like it was heading for a spot on DeadMalls.com, having recently lost its third anchor store in seven years, Marc Alan. I think that last anchor store was empty longer than it was in use while we lived in Rogers. Then Kmart moved to a freestanding store (though I'm told that's gone now), and the mall is now full or getting up there. Beall-Ladymon was acquired by a company called Stage in 1994, is still there as Stage. To take a stab at what the other anchor stores are based on their store directory, I'd say that the other anchors are probably Goody's and Hibbett Sporting Goods. No telling who's in which spot, but Beall-Ladymon's still there, albeit now as Stage.
Ah, what I'd do to take a trip to Rogers again. Just to see the place again, since I've not been back since we moved in 1992. I'm told it's grown up, and according to my father, who has been back, "You wouldn't recognize the place." I highly doubt it's unrecognizable, but the place has definitely done a lot of growing up since I lived there. Lots of new development.
Still, I'd love to go visit again.
Web site: Rogers, Arkansas official Web site
Song: "Rise and Shine" from aforementioned Care Bears movie
Quote: "You mean it's not Dixieland Mall anymore?" - Me to Emma at Wal-Mart, the former coworker who used to live in Rogers more recently than I did