I bought myself a toy…
September 19, 2020, 2:12 PM
Soooooooooo… I recently got myself a toy.  I went on Etsy and bought myself a full-size retro arcade machine.  Check it out: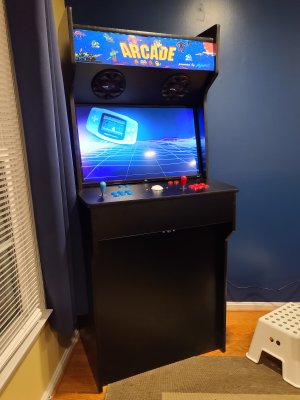 This is something that I had wanted to get for a long time.  I have been interested in retro gaming ever since the nineties, when I first found the Stella emulator for Atari 2600, which reunited me with the games that I used to play in early childhood, like Freeway, Space Invaders, Warlords, and the infamous E.T. game (which I enjoyed, thank you very much).  I also got some other emulators over the years, which have enabled me to play my favorite games from various other systems again.  But through all this, I had always wanted an arcade machine in that arcade-style form factor.  However, those things are expensive, and my funds were quite limited.  I also didn't necessarily want to only run one game, as most arcade machines tend to do, and at the time, that's all I could find online – the purchase of a traditional arcade machine, set up for one game.  That's what also kept me from buying some of those Arcade 1-Up machines that they sell at Walmart, because they're essentially unitaskers, and I didn't want a full arcade room to play my various games.  I just wanted one machine that did everything.  Thus I figured that I would forever be doing retro gaming on my computer rather than on proper arcade-style hardware.
More recently, I realized that I could afford such a thing, plus there are now people out there who make custom arcade machines specifically for retro gaming.  And the place where you find those things tends to be Etsy.  I love Etsy, because it has so many niche items from individual sellers, like this calligraphy piece that says "Hocus Pocus Alimagocus" on it.  And in the case of arcade machines, there were a number of different varieties, such as tabletop, wall mount, pedestal, slimline, and even one where the controls are built into a coffee table.  I ended up settling on this one by The Arcade Guys.  I had a couple of customizations done, getting it with bat-top joysticks rather than the ball-top ones because I like the way that bat-top joysticks feel over the ball-top ones, and also selected the trackball option at Elyse's request in order to be able to properly play bowling games.
I also got photos of the delivery: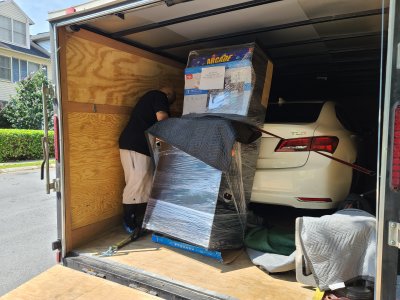 The delivery guy gets the machine off of the truck.  I was surprised to see that it traveled next to an Acura TLX.  That car was going to Florida.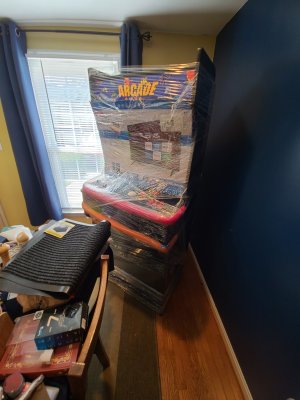 The arcade machine, safe and sound in the living room, still wrapped up.  And yes, those are pool noodles being used as bumpers.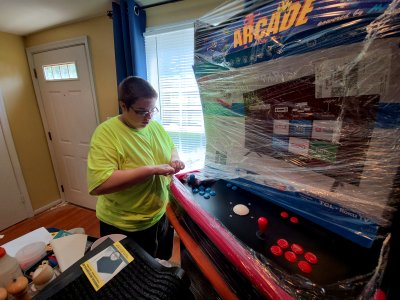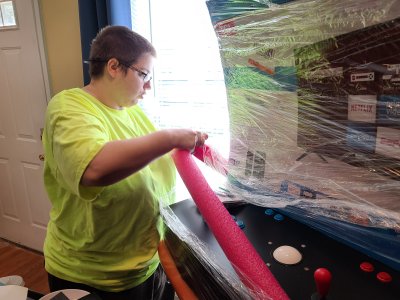 Elyse gets to work unwrapping the arcade machine.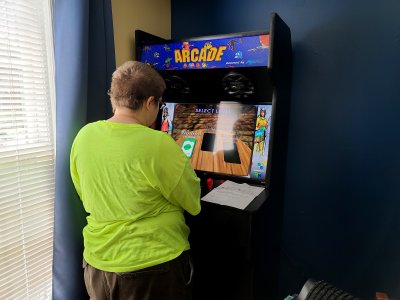 And I didn't even get to play with it right away.  Elyse was the first to take it for a spin.  I played it later on.
Note the orientation of the machine in that last photo, where it is completely in the corner.  We went with that initially, but later realized that was not conducive to two-player action.  So I angled it out a bit, which also gave me a little bit more distance from the window and reduced glare.  So that was a win-win all around.
Under the hood, this thing is powered by a Raspberry Pi 4, and it runs RetroPie with Emulation Station as the front end.  And it has thousands upon thousands of games on it.  I've found most of my favorites, and I've also discovered a bunch more that I'd forgotten about, and discovered a few that I'd never played before.  Check these out: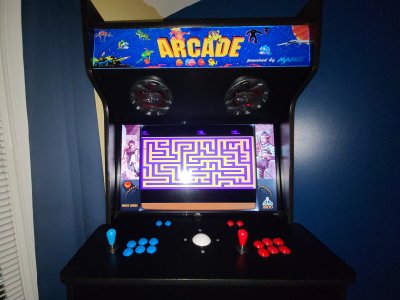 Maze Craze for Atari 2600.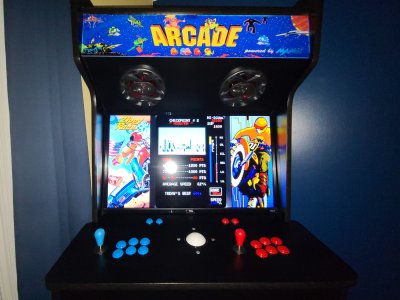 MotoRace USA for arcade, also known as Traverse USA and Zippy Race.  I used to enjoy playing this game as a child at the Land of Oz arcade at Northwest Arkansas Mall in Fayetteville, Arkansas.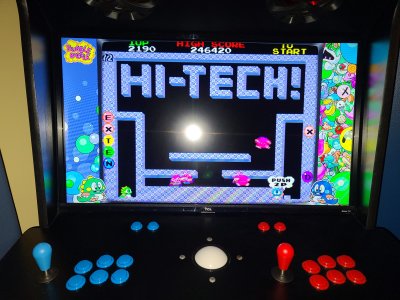 Level 72 of the arcade version of Bubble Bobble.  I soon learned that you can get unlimited continues on this game as long as you keep the other character alive.  I used to play the DOS port for this game back in the nineties.  Mom and I made a special trip to Northpark Mall in Joplin, Missouri to go to Babbage's (a predecessor to GameStop) to get that game.  Totally worth it, though, since I had many hours of fun with that game (even though it didn't have unlimited continues, much to my dismay).
Meanwhile, I know that this machine has so much potential, and I also know that I've barely scratched the surface on what this thing can do.  I've added a USB hub that I got on Amazon in order to be able to play console games on it with console-style controllers, but there's still so much more to figure out on this.  I haven't figured out how to remap the buttons for certain systems yet, and that will make playing those games far more straightforward than it is now.  For instance, for the Sega Genesis and related consoles, the controller is laid out with the A, B, and C buttons in a row, and in the six-button variant, the X, Y, and Z buttons in a second row above that.  The current controller layout for Genesis games puts A in the top left position, B beneath that at bottom left, and C in the bottom middle, which is a very weird layout.  I want to remap the controller for Genesis games in order to match what they do in real life, with A-B-C and X-Y-Z.  I have no doubt that there's a way to do it, but I don't know what it is.  Similarly, I don't know how to change what controller is what player.  When I plug a console controller into the USB hub, it is automatically assigned to the second player position, which doesn't help me for one-player games like Sonic the Hedgehog.  As with the controller mapping issue, I'm sure that there's a way to do it, but I just don't know how yet.  I also don't yet know how to set dip switches with the arcade games.  For those not familiar, dip switches are how game options are set by arcade operators that do things like determine how much a game costs to play, access certain debug functions, and configure certain game options.  Here's what the dip switch settings for Pac-Man look like.  I've played with dip switches before in other MAME programs, so I know how they work for the most part, but I just don't know how to access it for this system.  I also don't know how to add additional games, as there are a few games that I have that aren't on here, that I would like to put on here.  Like everything else I've mentioned, I'm sure that there's a way to do it, but I just don't yet know how it's done.
I suppose that it also doesn't help for my being able to figure things out that this thing is Linux-based.  Out of the three major desktop operating systems, i.e. Windows, Mac OS X, and Linux, I am least familiar with Linux.  I've fooled around with Linux a little bit here and there, but I've never been able to take the time to really get a great understanding of the way that Linux works and become familiar with it like I am with Windows and MS-DOS.  So I feel like a novice around this thing, treading very lightly because I have no confidence that I can fix it if I screw something up.  However, I have backed up my system image as recommended and have it safely stored on my network drive, so in a worst case scenario, I suppose that I can just blow it all away and restore from the backup.
But in the meantime, even though there is still much to learn about this device, I'm having tremendous amounts of fun with it.  And that's all that matters in the end.