January 21, 2023, 10:17 AM
On January 5 and 6, while Elyse was at National Harbor attending MAGFest, I did a little overnight trip up north while I was unsupervised.  This was to be a quick adventure, since this wasn't one of my long weekends, and the goal was to pack as much fun as I could have into two days' time.  The plan was to leave home in the late morning on the 5th, go up to Philadelphia that day and stay at the Courtyard by Marriott in Langhorne, Pennsylvania, which would stage me for the second day, where I would head over to Trenton and then take the train up to New York.  I would spend about eight hours in New York, ride the train back to Trenton, and then head home from there.  Interestingly enough, this was an adventure where I put more focus on the logistics of the travel than I did on what I would actually do at the destination.  Thus, the execution didn't go as well as I had intended, as I ended up getting there and then was like, well, now what? as I more or less played it by ear with less direction than I usually like to give myself.  I also knew that this would need to be a more indoor-focused trip, because it was going to be rainy or overcast all day both days.  This adventure was also unusual because on this adventure, the drone stayed home.  The Philadelphia day was not going to be conducive for flying, and New York, forget about it – too many people to worry about.
For the "Philadelphia" day, I actually put more of my efforts into the Wilmington area than I did in Philadelphia.  I have a list of photo shoot ideas on the computer, which I jokingly refer to as "the place where photo ideas go to die", and initially pulled out the Cathedral Basilica of Saints Peter and Paul, which a photographer friend had previously photographed.  However, I wanted to do the interior, and they also closed at 5 PM, so that would have to be a first stop since it closed relatively early.  So while I wanted to do it, I put it into the "we'll see" pile, because I wanted to do some stuff in Delaware, which would have to come first because of its location.  I ended up spending a lot of time at Christiana Mall, since I'd been going past it on 95 in 15+ years of adventures up north, but I'd never stopped there in all of that time.
When it came to Christiana Mall, I sort of knew what to expect.  Christiana Mall was a one-story mall, and, unlike a lot of malls these days, was doing well.  As such, I didn't go in expecting something massive like King of Prussia and then experience disappointment when I got a one-story mall.  Even for a one-story mall, the facility was smaller than I expected, being arranged roughly in a loop.  It had five anchor spots, and they were all filled.  I think that the biggest surprise there was the way that Target was attached to the mall.  In most cases where I've seen Target at an enclosed shopping mall, the store is either adjoining the mall but otherwise freestanding (i.e. no mall entrance), or the mall entrance is located at the front of the store near the regular exterior entrance.  Not so at this store.  At Christiana, the mall entrance for Target was in the back of the store.  From the perspective of the store, there was a row of self checkout machines in the random location in the back of the store, and there was a mall entrance nearby.  If it tells you anything about how random the mall entrance's location is, after I finished up at Target, I had to hunt for that mall entrance in order to get back to the mall.  It is very non-obvious in its placement.
Continue reading…
December 21, 2022, 10:54 AM
You may remember that in my last Staunton Mall update, I said, speaking of the mall as it might appear in December, "I would not be surprised if the demolition was complete by then, and we're looking at an empty slab plus Belk at that time.  I suppose that we'll all find out together whether I'm right or not."  Now that the December trip down that way is over with, I can say that I was not correct.  The demolition has certainly progressed, but as of December 16, the work is still by no means complete, though there is now more rubble than there is intact structure.
For this update, I once again did a flyover of the mall with the drone to get both overview and detailed shots of the former Staunton Mall.  I started with the overview: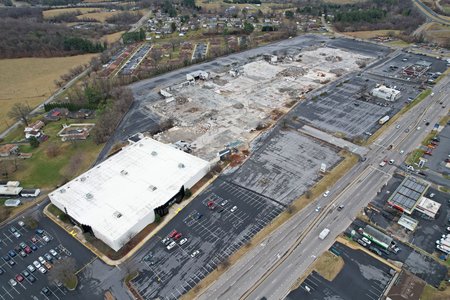 Continue reading…
November 3, 2022, 8:09 AM
On October 26, Elyse and I took a one-day trip down to Augusta County in order to change to the "permanent temporary solution" for my car problem, i.e. Mom's Scion xB, following the HR-V's untimely demise in an accident two and a half weeks prior.  I don't necessarily like doing these sorts of trips in a single day because it's a lot of driving and I'm not 25 anymore, but that's all I had time for based on my schedule.  I also couldn't really postpone this trip, because things were going to get a bit more expensive for me if I didn't do this trip when I did.  For those not familiar, when you have Progressive for your insurance and your car is totaled, your rental coverage ends three days after you are notified of your car's total loss.  That notification occurred while Elyse and I were on a weeklong trip to Tennessee, and so Progressive, taking my length of time as a customer (18 years!) into consideration, they extended my coverage until the day after we got back from our trip.  Then Enterprise Rent-A-Car would let me pay the insurance rate for my rental for another week beyond that, after which I would have to pay the (much higher) retail rate.  My original plan was to switch cars on the way back home, returning the rental car in Staunton, and then doing the last leg of the return trip in Mom's car.  As the trip continued on, though, I soon realized that we would be cutting it far too close with that plan, considering that it was also our Roanoke day, so I opted to postpone the car swap by a week and do the visit with my parents on the way home as we had planned to do it prior to the accident, i.e. it would just be a visit.  So the primary focus of this trip was just to swap cars, on the day that the retail rate would have gone into effect, i.e. if you don't return this car right now, you will be paying a lot more for it going forward.  The addition of this new trip down also changed the plans for the last day of the Tennessee trip.  Since there would now be an extra trip down to Staunton, I skipped a Staunton Mall update that I had planned for the return trip to save time, since I would be going right there the following week.
For this particular Staunton Mall visit, noting the pace of the progress that I had observed in June, August, and September, I already had a decent idea about what to expect.  I figured that by my next visit, the remainder of the mall's interior would be gone, and they would probably then start working on demolishing the exterior walls, which had remained mostly intact up to this point, which meant that Staunton Mall still largely looked like Staunton Mall from the road during most of the demolition up to that point.  I also knew that I didn't have much time on site this time around, and that the demolition crew would more than likely be on the property.  Therefore, this was to be a high-level visit solely by drone, flown from well above the property where I could see my vehicle around the entire mall without having to reposition myself, and staying well clear of the demolition crew, since I didn't want to get in their way at all, and I also didn't have any time to discuss any special access with them, as I did in September to photograph what remained of the mall's interior.  All of that said, I made a quick ten-minute flight where I flew from the Orchard Hill Square shopping center across the street, and made a pass across the front of the mall, looped around the entire property, and then dipped down near the Belk entrance where there were no workers present for a momentary peek at that area before returning to the launch site.
Continue reading…
October 20, 2022, 8:32 AM
In the early morning on October 9, I was involved in a car accident on the way home from work.  At the intersection of Montgomery Village Avenue and Christopher Avenue/Lost Knife Road in Gaithersburg, the driver of a red Nissan Pathfinder on Christopher Avenue ran a red light at what appeared to be full speed as I was going through the intersection, and despite my slamming on the brakes, there just wasn't enough space to stop in order to avoid a collision.  As a result, my car got T-boned on the left side on the front fender and the driver's door, with enough force to deploy the side curtain airbags and knock my car about 150 feet before it came to rest next to a curb.
After the impact, I remember that I was sitting in the car and noticed that the airbags had gone off, and also noticed that the windshield was shatered at the bottom left.  Then I remember hearing a male voice telling me that I needed to get out of the car.  I quickly realized that would probably be a good idea, because considering that the car had just gone through a pretty hard collision, for all I knew, it might be on fire.  I tried to open my door, but I couldn't get it open, so I ended up climbing out through the passenger side door.  I was quite shaken, I was bleeding above my left eye, my left knee felt sore like it had been scraped, and I wasn't wearing my glasses anymore for some reason, but nonetheless, I had managed to walk away from it.  Then I saw the person who had been telling me that I needed to get out of the car.  It was a gentleman wearing black eye makeup (kind of like what the band Kiss does) from an event that he had been at earlier from who was also an EMT, and who had witnessed the entire thing.  He also quickly told me that the accident was absolutely not my fault, which I appreciated hearing.  There was also a woman present who had witnessed the accident, who also agreed that I was not at fault.  One of them must have also called 911, because I certainly didn't, but the police and EMS were there pretty quickly.
When EMS arrived, they quickly took care of me, wrapping some gauze around my head for the bleeding, and taking my blood pressure.  Yes, they took my blood pressure.  I'm standing on the side of the road next to my now-wrecked car, visibly shaking from the accident, and then the guy tells me that my blood pressure is "kind of high", coming in at 172/116.  I did not need to be told that.  I'm usually pretty nice, but I just shot back, in a pretty sarcastic tone, "Gee, I wonder why."  He removed the blood pressure cuff from my arm and went away.  Yeah, I just survived a pretty major car accident, got hit by an airbag, had to crawl out the other side of my car, was bleeding from my head, had no glasses, and was shaking.  My blood pressure is high?  No kidding.  I would have been more surprised if it was 120/80 right then rather than some astronomical amount.  I refused transport, feeling that it was unnecessary.  Then the cops got my information, and took my statement.  I also let Elyse know what had happened, and she quickly got an Uber to take her to the scene.
Continue reading…
July 2, 2007, 6:03 AM
I had my first sleep in the new bed last night, and it was okay. The first night in a new bed is never five stars, because one is not used to it. But it's going to be a wonderful relationship, I can tell. The bed is HUGE! This is a big upgrade from what I used to have. I used to have a twin bed from 1988, where the sleeping surface was only about a foot off the ground. This new bed, meanwhile, is what sleeping is all about. It's queen size, and it's got a box spring, a nice, thick mattress, and the sleeping surface is just below hip level.
Problem: I need a table or something to put next to the bed. I currently have this tiny little wooden box next to the bed that's only about a foot or so tall. The bed is tall enough that I can't reach the floor from the bed, so I can't feasibly put like a book and a thing of water on the floor next to the bed. So it seems another Ikea trip is in order to get a bedside table.
Speaking of Ikea, I realize that they're a multinational operation with so many languages spoken, but putting the bed together was a challenge using only the little pictures they showed. One of my neighbors said that you almost have to be a rocket scientist to put Ikea furniture together. But somehow, I made it.
Continue reading…