August 6, 2005, 7:29 PM
How sad, indeed. I lost my "My other car is a Breda" bumper sticker magnet. I think I know how I lost it, though. I believe I lost it when I took my car through the car wash on Friday with the magnet still in place. I noticed it after work on Saturday, after Mom and I went to Home Depot (she met me after work), when I finally got a good look at the back of my car when she drove me back to it, and noticed it was missing – showing an outline of dirt around where the sticker used to be. Mom said that next time I go through a car wash, I need to remove the magnets first. Good idea.
And it's not like the sticker is irreplaceable. I still have the pattern for it, so I'll just have a new one made up. This would also be an opportune time for me to get the "Stand to the right" bumper sticker that I designed, to add to the right side of the car, similar to the Breda sticker. The Breda sticker being on the left was a coincidence. The "stand to the right" sticker being on the right is deliberate. After all, that would be a little hypocritical otherwise, no? The "stand to the right" sticker magnet standing on the left side of my car? No. Still, check it out:

Continue reading…
April 14, 2005, 12:40 AM
In the April 13, 2005 issue of the Washington Post, I found this article about a new high-rise proposed for Rosslyn. This high-rise is significant because it would rise to 484 feet, which is an unknown height for Rosslyn. Currently, the tallest towers in Rosslyn top out at around 300 feet. So this one would certainly be a head above the rest. The proposed location, based on artists' conceptions, places the building right next to Rosslyn Center.
Here's an artists' conception as seen in Thursday's Washington Post: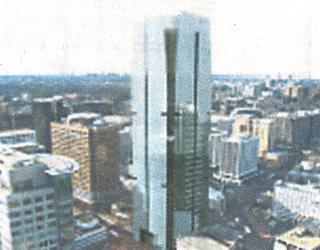 Continue reading…
March 8, 2005, 3:53 AM
Remember this building, which I first showed you in this photo from Rosslyn Center on January 20, which was in the process of being demolished?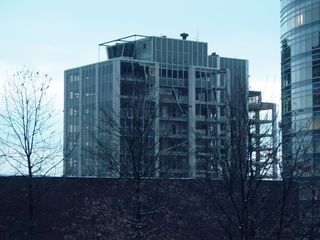 Continue reading…
February 27, 2005, 1:29 AM
This is a quandary, indeed. And one I've been wondering about for quite some time, since it's a puzzlement. I've found a few locations online, including the usually-reliable Emporis that refer to a building called "Rosslyn Center II" that was completed in 2002. It lists the address as 1800 North Moore Street.
I'm wondering just what the deal is with this building. Since a few sources that I've found insist it exists, and according to Emporis, Rosslyn Center II is a 27-story building. So it should be quite obvious on the skyline, particularly from my usual vantage point when I go up there, which is Rosslyn Center, at 1700 North Moore Street. And it should be the tallest thing around, too. Definitely taller than Rosslyn Center, and would also be taller than the 24-story 1801 North Lynn Street building, which is the tallest thing around that I can find.
In fact, considering the similarities in height and age for 1801 North Lynn Street, and the alleged Rosslyn Center II building at 1800 North Moore Street, I wonder if Emporis or someone got some things mixed up, and that 1801 North Lynn Street is what they meant. Since that building was completed in 2002. I remember when that building went up, and have a photo of it as a steel frame somewhere…
Either way, it's one of those things that makes me wonder. Since I know my way around Rosslyn to an extent, having explored it by foot a bit.
Continue reading…