Fodder for America's Funniest Home Videos?
December 22, 2005, 8:24 PM
I went up to the Washington DC area once again on Wednesday, and all in all, I had a good day.
The daytime took me all around the Metro doing railfan stuff. I rode the entire length of the system in Virginia, going from Vienna to Rosslyn to Franconia-Springfield, to King Street, to Huntington, and then into Washington via the Fenwick Bridge. While I was at it, by the way, I also rode the entire length of the Yellow Line all at once, riding from Huntington to Mt. Vernon Square. I also checked out the new entrance at King Street, which opens out onto Commonwealth Avenue. It's nice and new and such, and still harmonizes with the original part of the station, which opened in 1983.
I spent the late afternoon, which is bad for urban photography due to dark shadows cast by buildings (but great if you can avoid it – same goes for early morning), at Dupont Circle and also Union Station. Dupont Circle was basically a photography thing – in, photograph, back out. Then at Union Station, I got a phone call from Mom: "Where did you go today?" This is where we realized that I forgot to tell Mom where I was going. Told Dad, but not Mom. Oops. So I filled her in.
Then after Union Station, I went back into Virginia with a transfer to the Yellow Line. I find it's a far less stressful ride if, when transferring to the Yellow Line from Gallery Place-Chinatown and ultimately heading towards Virginia, you first ride up to Mt. Vernon Square, and then catch the next Yellow to Huntington. It takes a few extra minutes, but I've never seen Mt. Vernon Square crowded like it gets at some stations, and you have your pick of the seats, since the train's just beginning its run. Then the rest of the seats fill up at Gallery Place-Chinatown. Still, a seat over the bridge on a crowded train is better than no seat over the bridge on a crowded train.
So I rode to Crystal City. Not bad. I had a bit more time than I planned, and so I explored around a bit. Crystal City has made a number of changes since I first went over there. They've been working on improving their streetscape, moving away from various 1960s concepts of urban development and moving towards more traditional urban development, having such things as (heaven forbid) storefronts on the street. The buildings, as well as the Underground, also dumped the old building names and now use traditional street addresses. For instance, "Crystal Square 4" is now known as "241 18th Street". And this address is what is listed on signage now. The old "Crystal Square" name is nowhere to be found.
And after that, I went to Pentagon City, and from there, quickly out to Pentagon Row. Previously, I'd done Pentagon Row after the mall, but switched it after realizing on a few occasions that the ice rink was closing as I was arriving. So I did the ice rink first. And let me tell you – I had more fun than I think I've ever had over there. Mind you, I don't skate. I watch and I photograph. But the crowd this time was friendlier than most, and just as well – a good number of them were falling all over themselves on the ice. I actually caught a few falls on camera, including this one where two people took a spill together: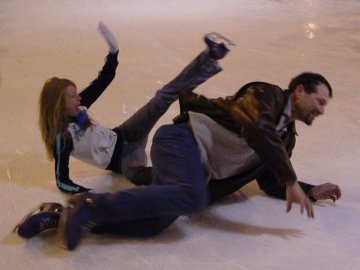 And don't worry – they weren't hurt, and were laughing about it the whole time. Nonetheless, I'm glad they're okay. I also got a number of other falls as movies. Still, if only my Big Mavica were more video camera and less still camera. I could very easily have submitted it to America's Funniest Home Videos. Regardless, I was amused.
And in the end, I got home early! I caught the train to Vienna earlier than usual, and so I made all my return-trip time points (points along the way where I expect to be at a given time) roughly 40 minutes earlier than usual. Not bad. And I still made my usual stops. Doing the whole drive as a single long-haul would drive me crazy. I need to stop periodically. So all in all, a fun time was had by all.