Urban Demolition… I found out what's going in the old building's place.
March 8, 2005, 3:53 AM
Remember this building, which I first showed you in this photo from Rosslyn Center on January 20, which was in the process of being demolished?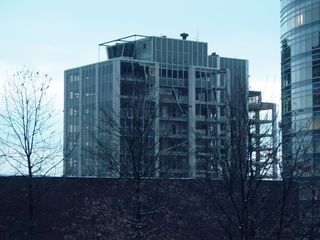 Well, I can't tell you what the status of the demolition is now, since it's been almost a month since I was last in the Washington DC area (weather plus the surgery have kept me at home). But I can tell you it's going to definitely be different than what's in the process of going away. Look at this illustration from Trizec: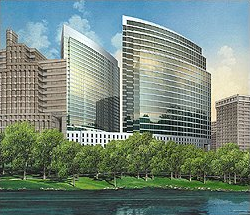 All I know is that it's definitely going to be something when it's finished. Also, compare that to the existing RCA Building next to it (see my Urban Comparison photo set to see a photo of the RCA Building), which is that boxy-looking building in the far right of the photo. The old building was roughly the same height as the RCA Building. This new one, as you can see, is going to blow it out of the water.
Now I'm not saying that the new building isn't going to be a gorgeous-looking building. I'm just saying that it's going to definitely alter Rosslyn's skyline. You know you can see Rosslyn's skyline from the National Mall, too. It's going to definitely be interesting to see this going up.