A photo set update for you now…
November 23, 2006, 2:13 AM
Every so often, as you know, I like to give updates on photo sets, like when things have changed. I think the most notable update has to be in my Afton Mountain photo set, where the Skyline Parkway Motel was torched ten months after I did the set.
This time, though, it's a DC area update. You remember when I did Urban Demolition? That showed 1117 North 19th Street in the process of being demolished. Then when I did If These Streets Could Talk about a month and a half later, the site was simply a hole in the ground. The most recent update on that site that I provided was in Part 2 of my Year In Review photo set. There, it was still mostly a hole in the ground, but new structural elements were starting to take shape.
Now, check this out: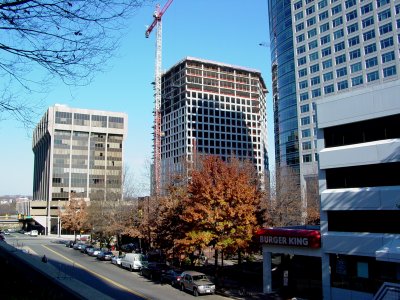 As you can see, the new Waterview building is going to be pretty tall, and as I see no flag (to indicate that they've topped out the building), I presume it's still growing. That will be some building when it's done. It's definitely going to dwarf the RCA building next to it, and I believe it's also going to make 1801 North Lynn Street, which is immediately to the right of the new Waterview building, look somewhat small, though not as much as RCA. Rosslyn Center (where I took this photo from) and the Rosslyn Twin Towers are too far away to be made to look small by comparison.