A look at Lakeside dining past…
June 23, 2022, 12:56 PM
While I was rounding up all of the material for the photo set about Zane Showker Hall, I dug through a lot of old photos of JMU in order to make sure that I had captured all of the relevant material.  Generally speaking, whenever I'm doing a photo set for Life and Times that requires rounding up historical photos or otherwise tells a story that is not in chronological, such as Staunton Mall, which included photos taken over multiple days and also a hefty dose of new material, presented in a very different order than it was originally shot, after I gather it all into a work folder, I sort it all out by subject and place the subjects in the order that I intend to present them.  In the case of a smaller, non-chronological set like Showker or Staunton Mall, I will usually write and place photos at the same time.  Compare to a travelogue photo set like Toronto or North Carolina, where I will do all of the writing first, and then add photos only after the entire narrative has been written.  Regardless of how it's assembled, though, after I complete the first draft, I will typically start cutting things out, as I tend to load things on pretty heavily in my first draft.  Sometimes, I'm cutting things out that are extraneous to the story.  Other times, I'm trimming the number of photos down to a more manageable amount.
When I was doing the Showker photo set, I originally planned to include photos of some of the dining attractions that were around the building, and actually did a decent amount of writing related to them.  One thing that I planned to include was a little bit about Mrs. Green's, which was a dining operation in nearby Chandler Hall.  I also planned to include some discussion of a small food truck that JMU operated in the mornings in front of Showker that I called the Chuckwagon.  I ended up cutting both of those, but for different reasons.  As far as Mrs. Green's went, I originally opted to include it because it was in Chandler Hall, which was demolished to make way for Hartman Hall – thus it was something of a "before" for Hartman Hall.  However, considering that I only spent about fifteen minutes in Hartman Hall, tops, it came off as extraneous.  So I cut it, which created a tighter photo set.  For the bit about the Chuckwagon, I realized that I was devoting a large chunk of space to what was essentially a failed test concept, and it had very little to do with the subject other than its being parked in front of Showker.  Ultimately, it took the discussion off on a pretty long tangent, and so in order to keep it on subject, it was removed.  And for a photo set that was primarily about architecture, anything not about architecture just didn't fit.
These two bits were cut fairly late in the process, after final photos had been selected and edited, but before final assembly of the set.  Considering the advanced state of completion that both were in before I cut them, I decided to move them to the Journal.  After all, they were somewhat related to each other, and would make a decent subject on their own merit.  I also consider that move to have taken the photo set full circle.  The Showker photo set was originally imagined as a Journal entry, but then, in realizing that it would need to be in a much bigger format than a Journal entry typically does in order to properly cover it, I moved it to Life and Times.  So the fact that pieces of the photo set ended up back in the Journal, which is where things originally started, means that we've come all the way around.
Mrs. Green's is the dining service that most people will probably remember.  It was located in Chandler Hall, which was a dormitory building.  Chandler was unusual as far as dorms went, because it had a public portion and a private portion.  Part of the first floor and the basement were open to the public, and those areas were able to be secured separately from the dorm portion, which was always locked.  The first floor contained a computer lab, while the basement contained the Shenandoah Room, which is where Mrs. Green's operated during the lunchtime hours during the week.  The Shenandoah Room was also available for events outside of Mrs. Green's operating hours.  There was also an evening option in Chandler called Lakeside Express.  However, I know nothing about Lakeside Express beyond its mere existence, since I never went there in my entire time at JMU.  I typically was never in that part of campus during its operating hours, and they did not accept meal punches.  Chandler Hall was demolished in 2018 in order to make way for Hartman Hall, and the Chandler name was moved to the dorm that was previously known as Potomac Hall, on the far side of Interstate 81.
I photographed Mrs. Green's on February 22, 2001: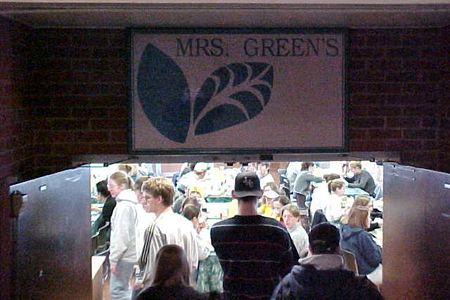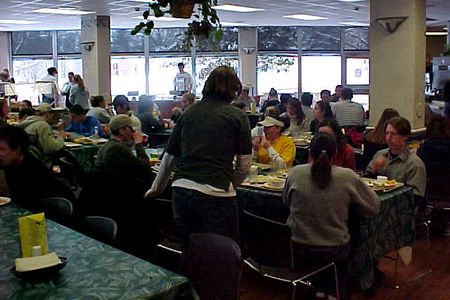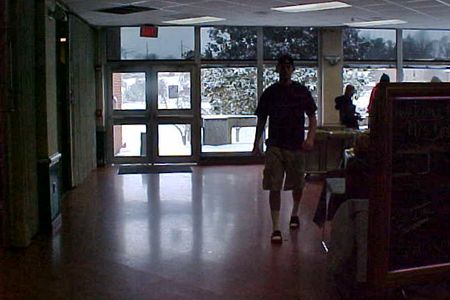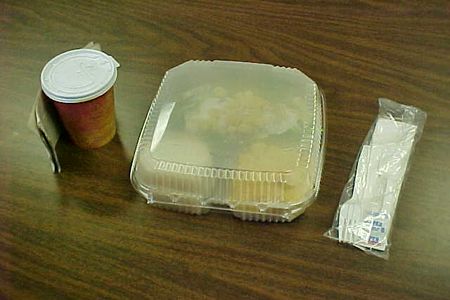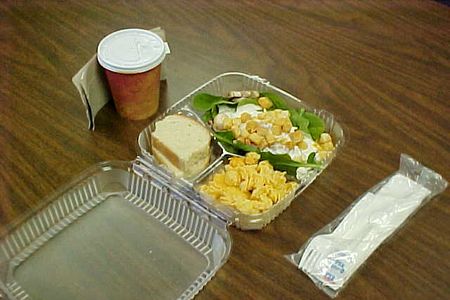 I always enjoyed going to Mrs. Green's, as it was very different from the other offerings on campus.  Because it was so different, I often looked forward to going there.  There is now once again a dining facility in that part of campus called Lakeside Cafe, which I believe is located inside of Hartman Hall.  Based on a photo that I've seen of it, this new facility is no Mrs. Green's.
By the way, some of you who have followed this site for a long time may remember some of these shots of Mrs. Green's from a photo set called Zane Showker Hall: The Ghost Town, which I retired from the site in the spring of 2005.  A number of photos taken that day were used in the new photo set about Zane Showker Hall.
And then there was the thing that I called the Chuckwagon.  That was JMU's first attempt at a food truck, introduced in the spring 2001 semester.  It was a modified Cushman utility vehicle, and operated in front of Zane Showker Hall and Godwin Hall.  Here it is, in front of Showker: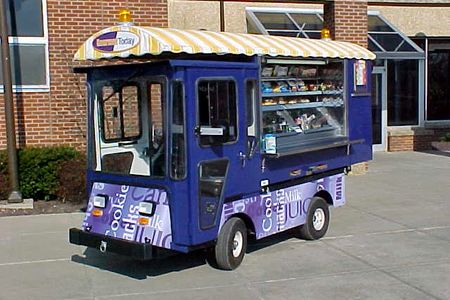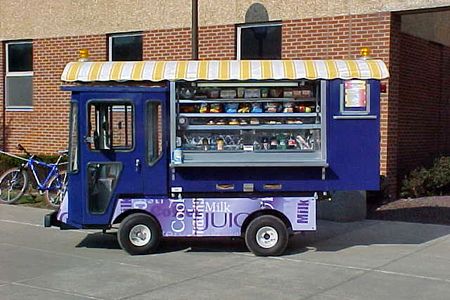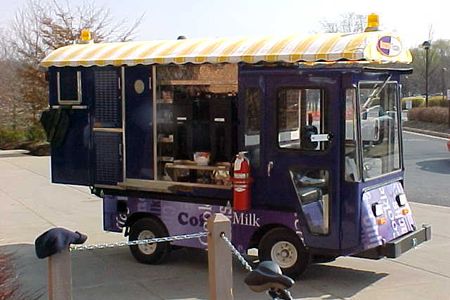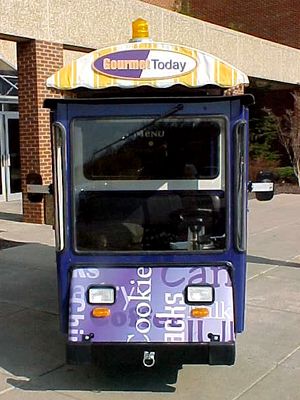 The Chuckwagon.  The sign on the front said "Gourmet Today", but absolutely no one ever called it that, even in official communications.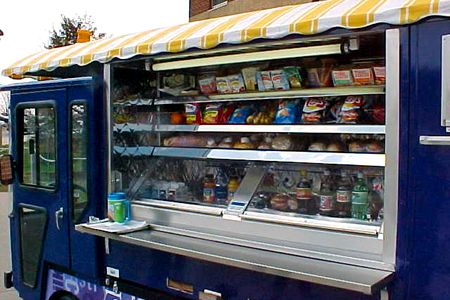 Chilled food on the left side.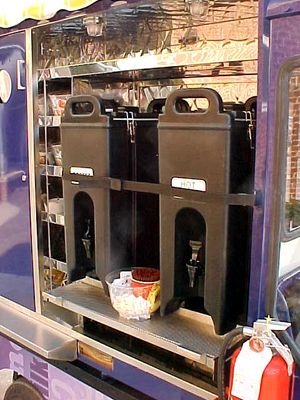 Hot beverages on the right side.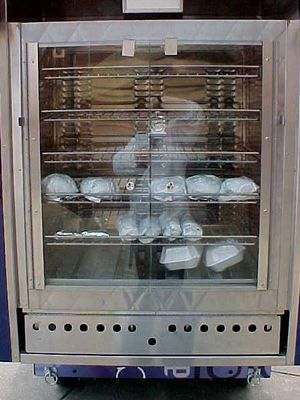 Hot foods in a unit on the rear.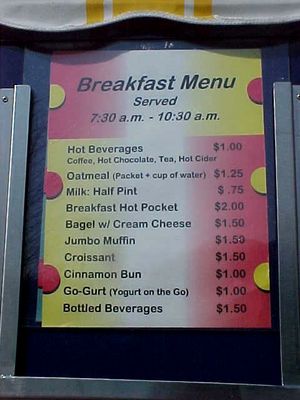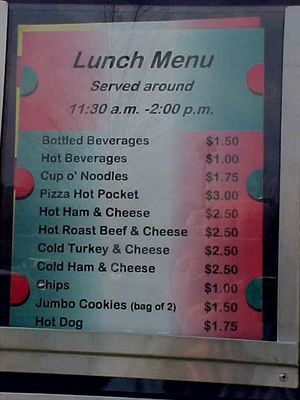 Breakfast and lunch menus, along with their prices.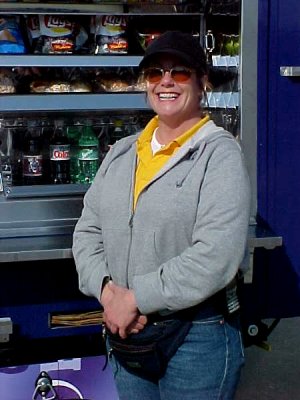 The lady who ran the Chuckwagon.  She was really nice, and we talked quite a bit as I was heading to class.
And as far as I know, I'm about the only one who ever documented it.  I could find nothing else about it other than my materials.  Those of you who have followed this site for a long time probably remember when I wrote about it back in 2001.  I expressed some optimism about it at the time, saying, "All in all, I think the chuckwagon is a great idea, and will be a success, and we should see it around JMU for a long time to come."  Apparently, the optimism that I had expressed in the original article was misplaced, as the Chuckwagon didn't even last to the end of the semester before it was discontinued.
If I were to guess why the Chuckwagon did poorly, I would suggest that it had a lot to do with the state of technology at the time.  This food stand was not set up to accept any kind of card payments, making it a cash-only operation.  Credit cards did not have the same level of market penetration that they have now in this sort of business, so that part wasn't as much of a concern for me.  However, the Chuckwagon also did not have the ability to take payments via JAC card (i.e. the student ID card), which would have allowed payments out of students' dining dollar or Flex accounts.  Considering that there was no wireless networking on campus at that time, I suspect that they were unable to accept JAC cards because there was no network jack on the outside of Showker.  This was not unique to Showker, however, as most other buildings on campus were not so equipped, either.
I loved the Chuckwagon, but since I rarely had cash, I couldn't patronize them as often as I might have if they had accepted payment via JAC card.  After all, I was your typical broke college student.  Cash was very hard to come by.  However, I had a meal plan that came with a whole ton of dining dollars, and those were only accessible via JAC card.  So I was unfortunately locked out of it for the most part, and I imagine that a lot of other people were as well.  It was a shame, too, especially when you consider that the lake area at that time was something of a food desert in the mornings, as the food options at that hour were quite limited compared to other parts of campus.  The nearest dining facilities were PC Dukes and D-Hall, which were pretty far away from Showker, and the Mister Chips convenience store was also a decent walk away.  A food option in that part of campus during breakfast hours would have been a good thing.
In going through the photos of the Chuckwagon, I started to wonder whether this sort of operation would succeed in today's environment.  Nowadays, wireless communication is far more advanced than it was in 2001, credit cards are now accepted practically everywhere, plus food trucks that serve amazing food are far more common nowadays, though I admit that this thing was more akin to a mobile convenience store than a proper food truck, as no food was prepared on board.  In any event, I imagine that I would have probably been a more frequent patron of the Chuckwagon if I had been able to pay electronically.  Might it have succeeded in today's environment?  If it was done right, I think that it very well could.
All in all, I hope that you enjoyed the photo set comparing Zane Showker Hall to its past self, and I hope that you also enjoyed this view into past food options on campus from my college days.