My glasses make me feel so fine…
May 4, 2023, 9:38 PM
It's funny how things work sometimes.  For 22 years, I had one pair of glasses and wore that pair every day.  The glasses varied over the years, going from nearly round in 2001, and slowly becoming more and more square as I upgraded in 2005, 2008, and 2010.  Then in 2016, I switched from wire rims to plastic.  But even with that change, I still only had one pair with my current prescription, and kept old pairs as spares.  I mean, glasses were expensive, ya know?
Then a couple of things happened.  First, I discovered Zenni Optical, after Elyse got an extra pair of glasses from them that were branded by FaZe Clan.  This ensured that she would have an extra pair after she had her own glasses emergency when were on a trip back in 2021 (her old glasses came apart in a way that wasn't fixable while we were outbound), and it also meant that she could now rotate between pairs.
Then, last October, my glasses were destroyed by the airbag when the original HR-V got totaled back in October.  The following day, I practically turned the house upside down looking for my old pairs of glasses, and I couldn't find any of them.  I don't know what happened to them, but they were nowhere to be found.  Go figure.  The day after that, I went and got new glasses made at LensCrafters, so that I would be back in business on that front, getting an updated prescription for glasses with a slightly updated design.  I initially got single vision lenses in order to have glasses in an hour, since I was going on that trip to Tennessee, and needed to be able to see right away.
After we got back from Tennessee, I got the lenses upgraded to progressives, because that's what you have to do when you're mature like me.  When I was talking to the guy at LensCrafters to get measured for progressives, I made sure to get the pupillary distance from him, so that I could "get a cheap spare pair on Zenni".  He gladly gave it to me and explained how it needed to be entered in.  Cool.  I ordered the progressive lenses for the glasses that I already had from LensCrafters, and then I ordered a spare pair later from Zenni, in blue.  The Zenni glasses showed up first, before the new lenses from LensCrafters did, so I set the Zenni glasses aside, since the idea was that this was a spare pair, and I didn't want to get used to progressives on a cheap pair, when my LensCrafters glasses cost me several hundred dollars (under the assumption that "more expensive" means "better").
When my progressives showed up, they just popped the old lenses out and popped the new ones in, and everything was good.  It took me a few days to get used to progressive lenses vs. single vision, but I eventually figured it all out.  I then tried on the Zenni pair, and it fit well, and I noticed that the progressive lens was slightly different in the way that it faded between strengths.  But it was a good pair of glasses overall, and if anything ever happened to my real glasses, I knew where they were, and I wouldn't be left in the lurch with no glasses.  So that was the status quo for a while, with my wearing my real glasses on a regular basis, and the Zenni pair as a spare.
Then I decided to order another pair from Zenni, this time in red, because when I had tried out glasses in 2016, I really liked that burgundy pair, but I didn't feel bold enough to commit to burgundy at that time, especially since glasses were pricey, and I would be wearing them every single day.  So, at that time, I got black.  But with Zenni, I could get a pair of progressives for around $60.  That price made me feel a bit more free to experiment, since it wasn't a major financial commitment like the ones from LensCrafters or VisionWorks had been.  Plus this was in addition to my "real" glasses, and not something that I would have to wear all the time, so if it didn't work out so well, lesson learned, and they can take a place as a spare.
(Oh, and before we get any further, just know that I am not in any sort of affiliate program, and therefore, I do not make money off of any purchases that you might make.)
Then with my new red pair, I decided to take them with me on that trip to New York that I did in January as something of a test.  For that trip, I left my real glasses at home.  I was pleasantly surprised to find that the Zenni lenses that cost $60 were much better than the LensCrafters ones that cost $300.  That got the wheels turning.  So I tried another experiment at the end of February: let's randomly wear one of the Zenni pairs to work and see how that does compared to my real glasses.  One thing that I always had difficulty with on my real glasses was seeing down the platform at stations like Pentagon City, where the platforms are on the right side of the train, and the operator services the station from their seat.  Turning my head would put my line of sight in the reading or peripheral areas, which made it difficult to see down the platform at those stations.  With the Zenni pair and its slightly different layout, I could see much better down the platforms.  Excellent.  I ended up wearing those the entire rest of the week.  What surprised me, though, is that no one at work commented that my glasses had changed from black to red.  I would have thought that people would notice, but they didn't.  Then the following week, I wore the blue pair to work all week.  Then I had the idea to get a few more pairs in different colors.  I ended up getting three more pairs, in black, teal, and clear, for a total of five pairs of Zenni glasses.  The first time that a colleague noticed the change was when I wore the teal pair, and they were someone who also wears different glasses.
So here they all are: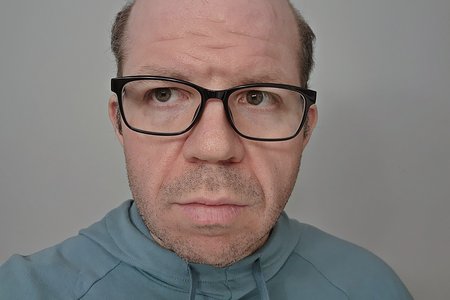 Black glasses, in a selfie at home.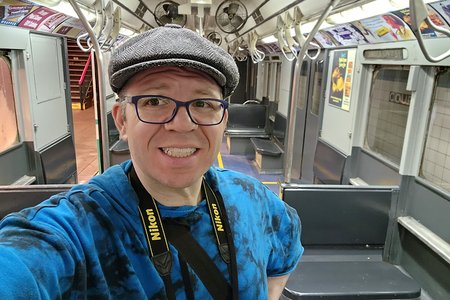 Blue glasses, taken at the Transit Museum in New York.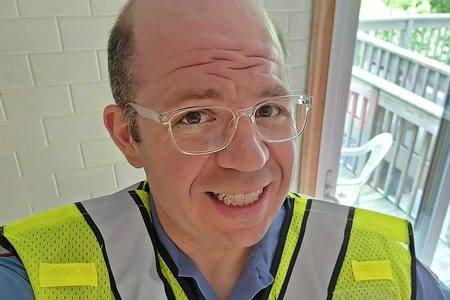 Clear glasses, in a before-work selfie.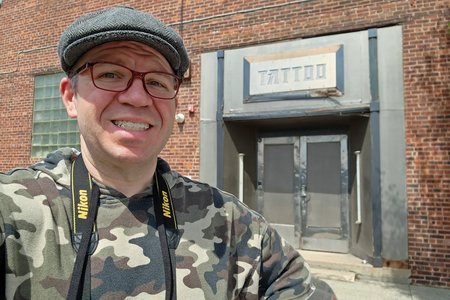 Red glasses, in front of the Ink Master shop.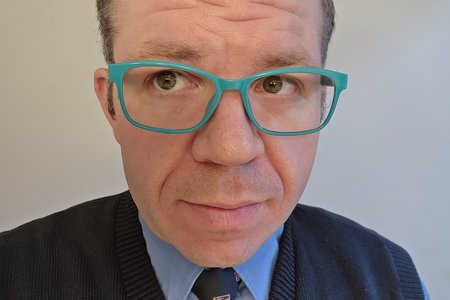 Teal glasses, in another before-work selfie.
I usually rotate through all of them over the course of a week, wearing each pair one day in the workweek.
So there you go, I suppose.  I never thought that I would be one of those people who has a fleet of glasses that they rotate through on a regular basis, but now I am.  But it makes glasses fun, and adds some variety in things where I had no variety before.  And also, I will never be caught without glasses again, because even if one of these gets wrecked – for whatever reason – I have more in reserve, ready to go, so no going around without glasses for a time, and no more emergency visits to the optician to get fitted for new glasses because I have none.
Now, the real question is, when my prescription inevitably changes again, will I do this all over again?  We'll see, but that's for a future me to decide.