Walking through Afton Mountain…
March 20, 2023, 8:38 PM
From March 15-17, Elyse and I did another trip down to Augusta County, and we had a good time overall.  This was typical for these sorts of trips, in that we stayed at Hotel 24 South in Staunton, did stuff, and also visited my parents.  This was supposed to have been the trip where my parents' Scion xB, which I've been driving since late October, went back to my parents to stay, but due to a delay in my new car's arrival, it ended up being a pretty conventional trip.
On the middle day of our trip, we got together with our friends Evan and Andrew, and we visited the Blue Ridge Tunnel.  For those not familiar, the Blue Ridge Tunnel is a former railroad tunnel that was built in 1858, and was used by various railroads until 1944, when the tunnel was abandoned in favor of a new tunnel constructed nearby, which is still used by railroads today.  I had first learned about the Blue Ridge Tunnel when I was in high school, but while I knew that it existed as an abandoned tunnel, I never knew exactly where it was.  Otherwise, I probably would have sought it out and explored it.  In late 2020, the tunnel reopened as a rail trail, and the public was invited to hike the tunnel.  Elyse and I had it on our list of things that we wanted to do, and since our friends wanted to do it, this seemed like a perfect opportunity.  We all parked at the east trailhead, which is off of Route 6 on the Nelson County side of the mountain.  I got my DSLR and my tripod, and we were off.  We all hiked out to the tunnel together, but then when we got to the tunnel, Elyse, Evan, and Andrew hiked it more or less straight through, while I used the tripod with my DSLR to get some photos of the tunnel itself.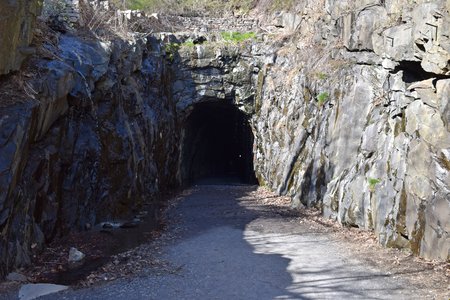 East portal.  The east portal had a lot of water dripping down from the opening as well as flowing out of it.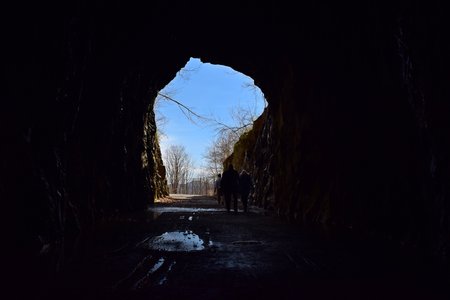 View from just inside the east portal of the tunnel, facing out.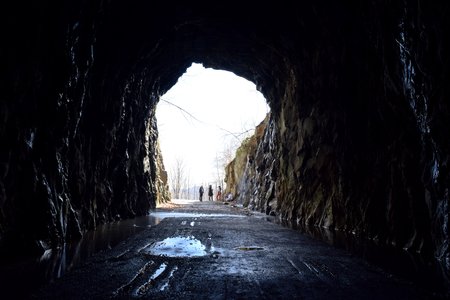 Similar angle as above, but longer exposure.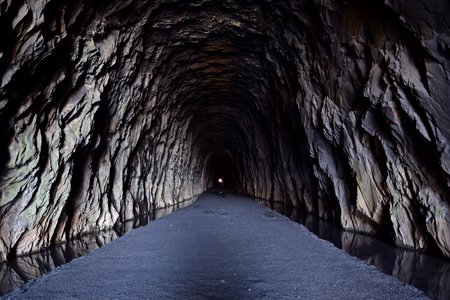 Interior of the tunnel.  The west portal is visible in the distance.  Note the bare rock.  Closer to the west portal, the tunnel was lined with brick, but it was bare rock nearer to the east portal.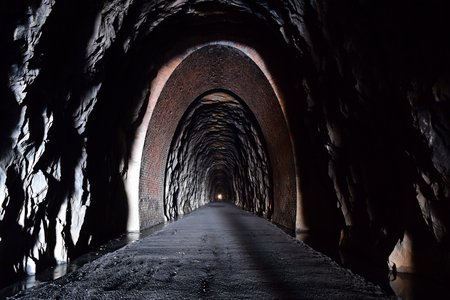 Then there was this random section of brick in what was otherwise long stretches of bare rock.  Go figure.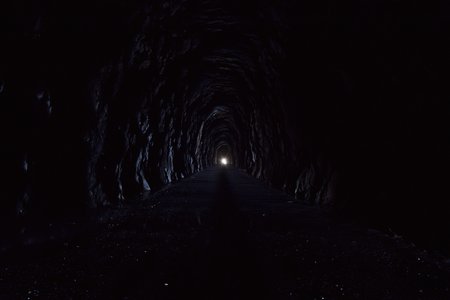 I took this photo from fairly deep in the tunnel, and put some heavy processing on it later.  I was pleased with how it came out, but deep in the tunnel, it was largely too dark to photograph much of anything except for a lot of darkness.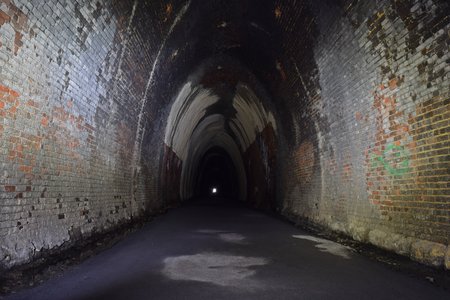 Brick-lined tunnel near the west portal.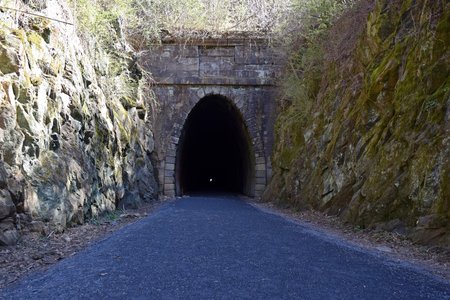 The west portal of the tunnel, with a bunch of nice stonework around it.  This is the side that I had seen in old photographs of the tunnel back when I was in school.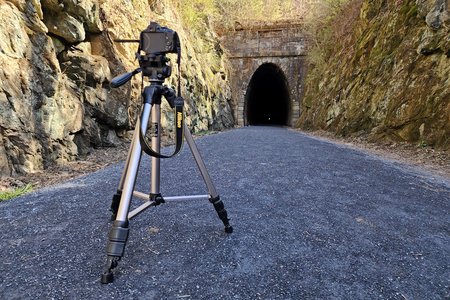 My DSLR is set up to photograph the tunnel portal.  Note that the legs of the tripod are not extended.  I often find myself using the tripod at its shortest when I'm doing tunnels and such, because I like the lower angle, which makes it look less like I'm just standing and photographing everything at eye level.  Plus it's much easier to carry that way.  I did it this way when I shot the Wilkes Street Tunnel last month.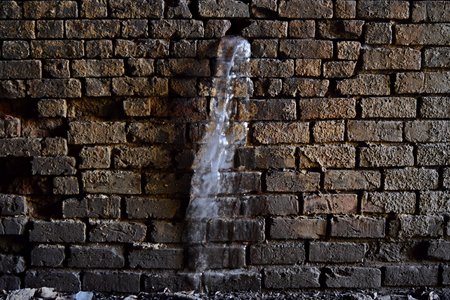 A stream of ice originating from the brick lining of the tunnel.  There was a lot of ice in the tunnel, both on the walls and hanging from the ceiling, and there were remnants of former icicles and other bits of ice on the ground.  Despite that it was in the sixties outside on this particular day, it was still quite cold in the tunnel.  Wearing my jacket on this hike was a very wise idea.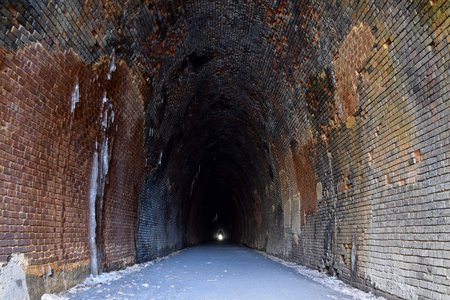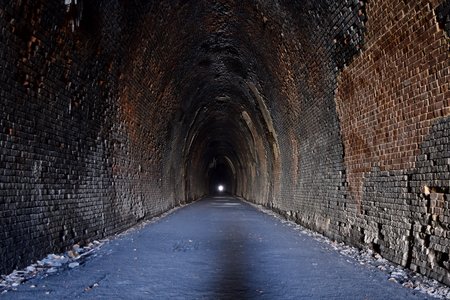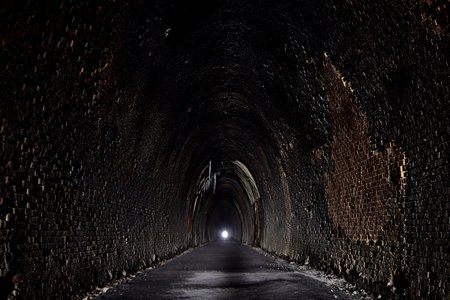 Looking down the tunnel from the west portal, with the east portal in the distance.
Then I also had these two "blooper" photos from the shoot that somewhat pleased and/or amused me: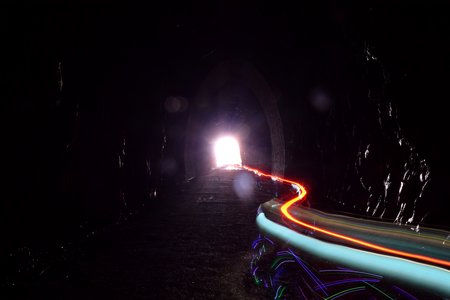 This was a crappy shot because of some lens flares as well as some shmutz on the lens, but I did like the light streak during this thirty-second exposure.  The light streak came from a kid riding a bicycle with a lot of lights on it through the tunnel.  The kid initially stopped before reaching my tripod, and I thanked him for stopping, thinking that he was going to wait until my shot was done.  But then he continued on.  I figured that the shot was ruined as soon as he moved into the shot, but I did like the look.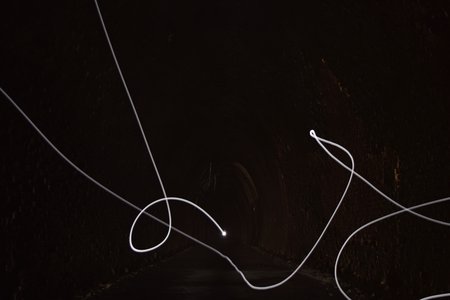 This was an accidental shot that I decided not to wait for.  It was a long exposure image where I had accidentally started the exposure with the remote, but then after a couple of seconds, I picked up the tripod and started walking.  That led to the east portal's leaving a streak on the image as I carried it along.
I'd say that a fun time was had by all.  This marks the third time that I've gone through Afton Mountain rather than over it, as I've been through the newer tunnel next to the Blue Ridge Tunnel twice before when taking Amtrak's Cardinal train from DC to Staunton back in 2011 and 2012.  This adventure with the tunnel also gives me some ideas for when I eventually photograph the Rays Hill and Sideling Hill tunnels in Pennsylvania, which are also now part of a trail, and which are also unlit.  It gives me ideas about what sort of lighting equipment that I want to bring, both for photography and for general seeing.  I did okay here with my phone light, but those Pennsylvania Turnpike tunnels are bigger and darker.  Definitely need good lighting for that.
Meanwhile, there's other stuff that I want to photograph in this area, and hopefully I'll get to it sooner rather than later.