A train ride with far more excitement than you might expect…
September 19, 2012, 9:21 PM
This is also why, when I'm traveling on a public mode of transportation, the idea is to leave early so that I can be at the boarding location in plenty of time, just in case anything goes wrong in the process.  Today was one of those days where something went wrong.  I described it as a "clusterf—", and I think that was putting it nicely.
First of all, though, to set things up: I'm in Stuarts Draft right now, and I went there on Amtrak's westbound Cardinal.  To get there, my plan was to take the 51 from my house to Glenmont, and then take the Red Line to Union Station. Initially, things went well.  I caught the same 51 that I usually get to go to work, and caught my Red Line train.
And then things went downhill from there.
The Red Line was having a power problem on Track 2 at Brentwood Yard.  Thus they had to single track through the yard, during morning rush hour.  Whenever you hear "single tracking" and "rush hour" in the same sentence, by the way, that's never a good sign.  So at Glenmont, we sat for several minutes before we started the run – much longer than usual.  Then we proceeded to Wheaton and held again.  No hold at Forest Glen.  Then we held for about ten minutes each at Silver Spring and Takoma.
And then things got worse.  There was a second power problem on the Red Line at Van Ness-UDC, with single tracking over there, too.  Lovely.  By this point, Metro was telling people in the e-alerts to consider taking the Green Line.  That's when you know it's bad.  With two areas of single tracking, I bailed at Fort Totten and took the Green Line.
My plan was to take the Green Line to Gallery Place and then take a bus to Union Station.  That actually worked quite well.  I took the Green Line to the X2 bus: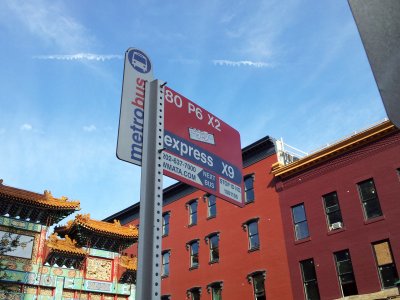 I took that to North Capitol Street and H Street NW.  That got me pretty close to Union Station.  But then a D6 bus came, going right to Union Station.  Why not.  But I got dropped off right in front of Union Station.  I could handle that.
So that turned what I expected to be a 90 minute lead for the train into a 20 minute lead.
Then the Amtrak train ride was actually pretty uneventful.  I had a wonderful conversation with the person sitting in the seat next to mine, a girl named Natasha, who lived in New York City and was traveling to Charlottesville to visit a friend.  She had never seen Virginia by train before, so she really enjoyed the view.
After my seatmate got off in Charlottesville, our train went through Crozet, and then through the Blue Ridge Tunnel, which goes through the mountain at approximately Rockfish Gap.  Then we traveled through Waynesboro: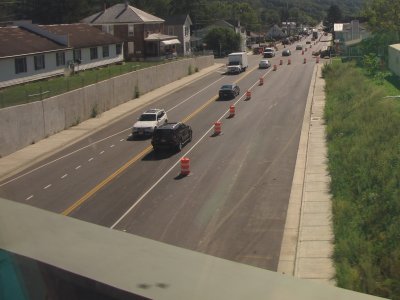 Delphine Avenue.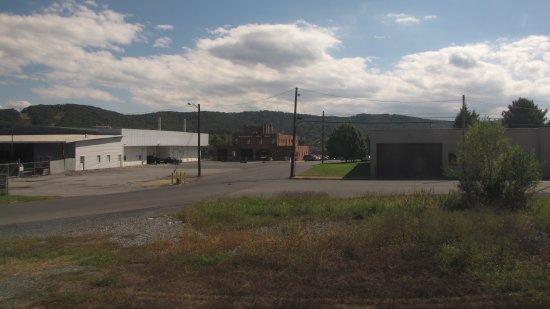 Wayne Avenue.  The fire department building is the brick building in the center photo, and the white building to the left is the former Moore's building.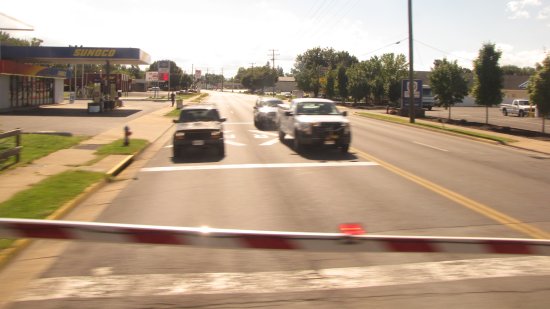 Poplar Avenue, looking towards Main Street.
And then we reached Staunton.  I'm here!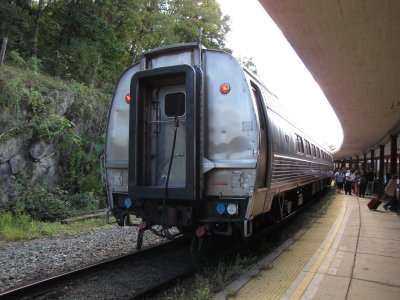 The last Amfleet coach on our train, at Staunton.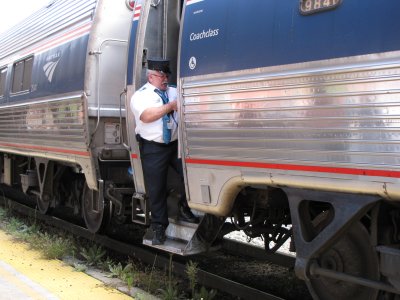 The conductor stands in the door as the train begins to leave Staunton Amtrak station.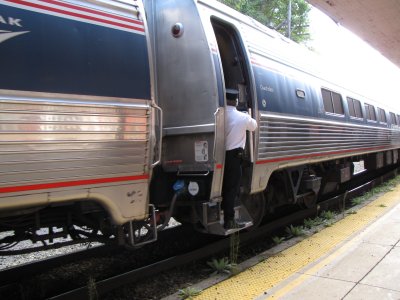 The train leaves Staunton station.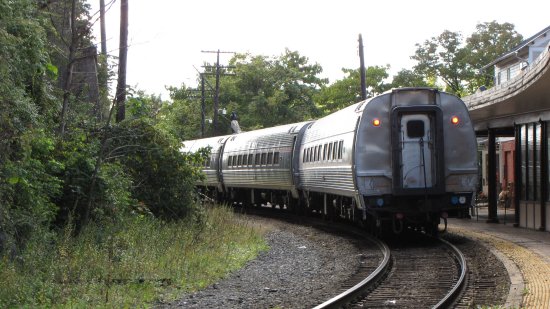 The Cardinal departs.  Next station, Clifton Forge…
Mom picked me up at a coffee shop near the train station, and we went home.
Then later on, Mom, Dad, Sis, Chris, and I went to Massaki in Staunton.  Massaki is a Japanese steakhouse where they cook the food in front of you.  I've been there once before, and enjoyed it as I did before.  They really put on quite a show, and when they asked whether we wanted to sit at the tables or at the bar, I said, "We want to see the show."  This time, though, I got a movie of the onion volcano:
Then tomorrow, we're going to Natural Bridge.  In 20 years in this area, we've been to the wax museum at Natural Bridge, and I've been to Foamhenge, but never to the bridge itself.  Should be fun.