My trip to Stuarts Draft… via Amtrak!
September 27, 2011, 10:41 PM
So this is actually a Video Journal entry. And here it is:
Basically, the short version of the video is this: "Hey, I'm doing this in the car and you can see me!", my Amtrak ride down to Staunton on the Cardinal, coffee in Staunton, dinner in Waynesboro, Sis and Chris coming to town, breaking the Internet, visiting my ex-Walmart store and also Stuarts Draft Middle School, hanging out with Bergit in Charlottesville, going back to Washington at the crack of dawn, driving Mom's Scion home and how easy it is to speed in it, crowding on Metro, being fully scandalized by Mom's somehow getting a poster of the men without their shirts on at Champps at Pentagon Row, then meeting the Atlanta Braves at Champps, where they were eating dinner next to us (and making their rookies dress like women – scandalized again!), being a passenger in the Scion again, and then getting together with my friend Kim.
I think I like this front-facing camera, though this isn't the most flattering view of me in the world. I've lost 68 pounds in the last six months, but this is just not a great angle because it makes my face look huge (and it really doesn't look like that in real life). Must work on this angle a little bit, though, because the look-at-me-while-I'm-driving concept is a good one, but I think I need to work on getting the angle right, because this isn't it.
So there you go.
And now here are the pictures that I promised…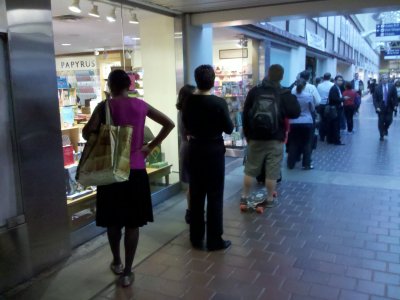 This line leads to the Starbucks Coffee store at Union Station. No way in hell will you find me waiting in that line for a cup of overpriced coffee. Someone on the Twitter, when I posted this pic, commented that the line usually only takes 15 minutes. I commented back that 15 minutes is still too long for overpriced coffee. There's also a McDonald's on the same level at the end of the station. Their coffee is probably better, and the line's probably shorter, too.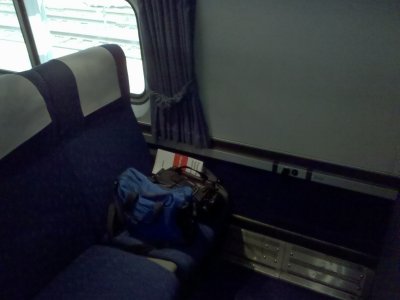 Worst seat in the house – no window, and no tray. But it's okay, because I only spent about fifteen minutes – total – actually sitting in that seat. I spent the rest of the time in the lounge car, where I worked on Schumin Web.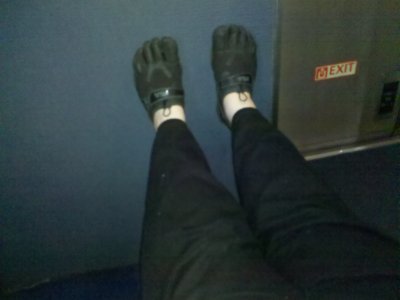 There is, however, a certain benefit to being up in the bulkhead seat. Feet up! Ah, yeah…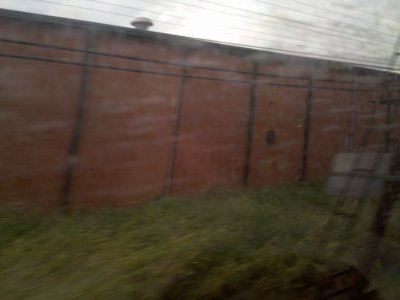 This is the back of Roses in Waynesboro, which I had never seen before. It was very strange seeing Waynesboro by train, after going through the mountain (not over it). The Cardinal follows the Buckingham Branch through that area, and so we first went over the bridge with the mural under it, past downtown Waynesboro, past Roses, past Poplar Avenue, and then off into Augusta County towards Fishersville. As we were arriving in Staunton, I got to see the Staunton watering can from the railroad bridge.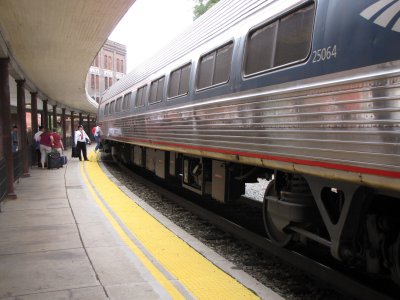 And welcome to Staunton.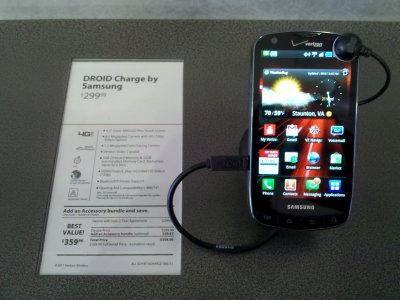 Then after coffee, Mom and I went to the Verizon store in Staunton and did my cell phone upgrade. I now have a Droid Charge by Samsung. This is a much better phone than the old one, though I'm still figuring out what everything does.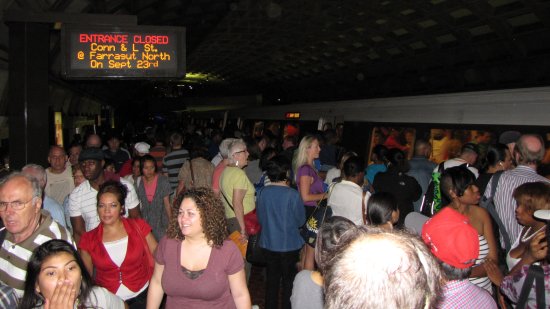 Back in DC on Saturday, I have to say, this was unfortunate. All Red Line train service was on the Shady Grove side through the downtown area due to construction at Farragut North, and I'd never seen such crowding at Metro Center. Such is what happens when you have a number of big events going on in DC and Metro is single-tracking. Arrrgh…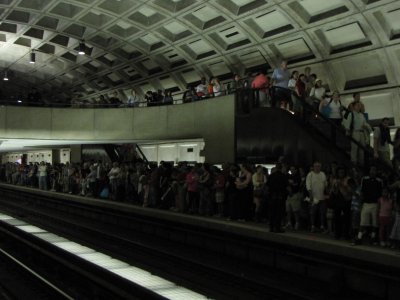 Then at Smithsonian, it was even worse. Look at this crowd going onto the Vienna/Franc-Springd side of the station. The crowd was backed up all the way to the faregates, and they actually weren't letting people in. Seriously.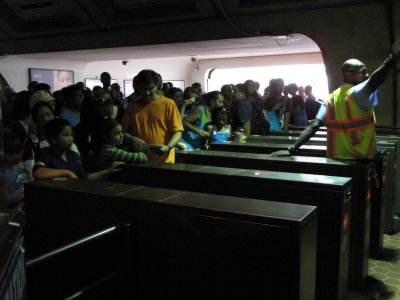 Yeah, they weren't letting anyone in until the crowd had cleared. Meanwhile, there was no crowd on the New Carrollton/Largo side. Nonetheless, Mom and I walked to L'Enfant Plaza to catch the train, since neither one of us felt like dealing with that mess.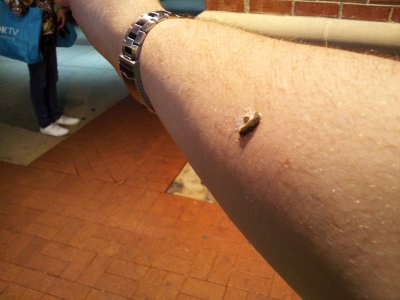 Then as Mom and I left Champps at Pentagon Row (where we met the Atlanta Braves), a bunch of birds flew overhead, and this was the result. Gross. Some bird graduated from bird school just then, I'm sure, as it passed the final exam on how to take a dump on a human from the air. Stupid bird. But the folks at Modern Day Spa at Pentagon City Mall were more than happy to let me use their restroom to clean my arm off.
So there you go, I suppose. Fun trip. Meanwhile, I wonder how many people would just about give their left arm to meet the Atlanta Braves, while I met them by chance, but otherwise wouldn't know them if I fell over them because I'm not into baseball. Seriously, I didn't even quite believe them at first when they said that they were the Atlanta Braves, and confirmed it with the staff. Champps is a sports bar, so they should know, and they confirmed that yes, it really was the Braves.