I went out in search of places with harbors…
April 13, 2013, 5:54 PM
And this is the rest of the photo stuff that I did while I was on my vacation a little more than a week ago.  I wanted to do something related to water on my vacation, as I had already done snow and Stuarts Draft, suburban places, urban places, and mountainous areas.  The early plans for this involved a trip up to New Jersey to do this, but I determined that New Jersey was more than I wanted to pull off, owing to the other trips.  One day, perhaps, I'll do the Jersey shore.  Stepping down from New Jersey, I thought about day tripping it out to Ocean City or Rehoboth Beach, but realized that if I was going to go all that way, I might as well just go to New Jersey.  That brought me to looking at Maryland locations that didn't involve going over the Bay Bridge.  I narrowed it down to Baltimore and Annapolis, and then decided that with two days available, why not do both?  So I did.  I went to Annapolis on Thursday, April 4, and Baltimore on Friday, April 5.  Not bad.
In going to Annapolis, I was kind of surprised at what I encountered.  I knew that Annapolis was a smaller town as state capitals went, but exactly how small it was surprised me.  Realize that every state capital that I had been in or through (Little Rock, Richmond, Boston, Providence) has been its own metropolitan area.  Annapolis reminded me of Staunton, Virginia with a harbor on it.  It was a cute town, for sure.
By the time I did Annapolis, I had done a lot of photography.  By my accounting, by the time I set foot in Annapolis, I had taken 1,971 photos.  So I had pressed the shutter button quite a bit.  I wasn't that interested in doing a cohesive photo set, though if I ended up getting a cohesive photo set out of it, that would be a plus.  Honestly, I was just looking to see what caught my interest and looked interesting to photograph.  What I ended up doing was wandering through the downtown area a bit, wandering around the harbor, and then going around the Maryland State House.  I had a good time, photographing signs, architectural details, birds, some boats, and (of course) fire alarms.  I feel as though I probably took more fire alarm photos in Annapolis than I did anywhere else on my two week vacation.  The reason was that in Annapolis, unlike in other cities that I photographed, a lot of buildings had fire alarm notification appliances on their exteriors.  Most were just bells, but I did spot one horn/strobe on the exterior of a jewelry store.
So here's a sampling of what I saw in Annapolis…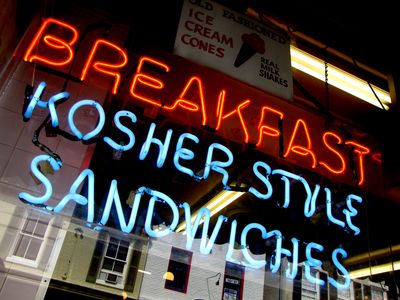 Neon sign in the window of a restaurant.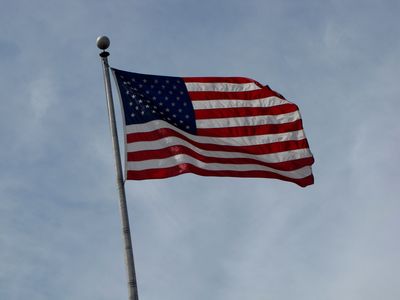 American flag flying near the harbor.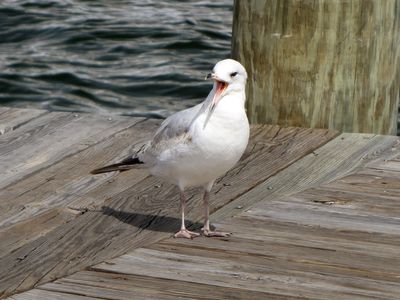 Bird on a dock, with its mouth open.  It looks to me like it's saying, "Hey, Bill!  It's over here!"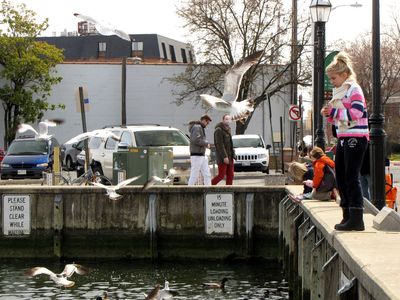 A child throws bread into the water for the birds, who go after the free food.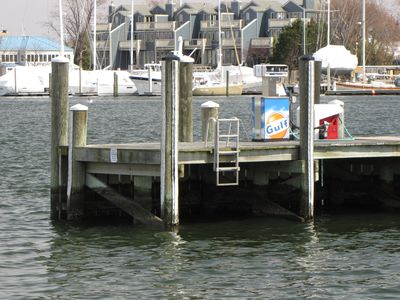 Gas pump on a dock, for fueling boats.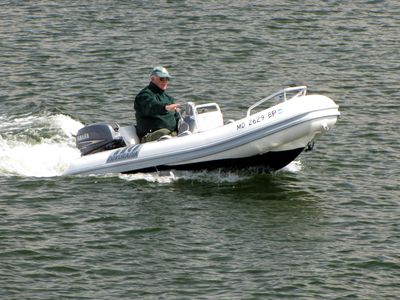 A man drives a powerboat down the harbor, seen from near the Compromise Street bridge.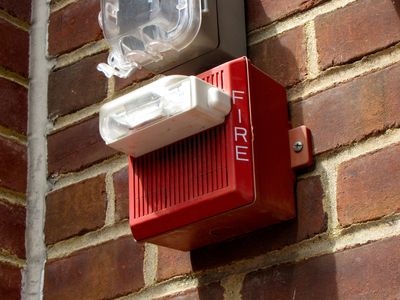 This is the aforementioned fire alarm horn/strobe.  It's a Wheelock MT with a horizontal strobe (different from my MT), on the exterior of La Belle Cezanne Jewelers.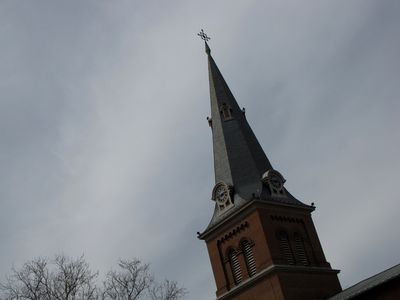 Steeple of St. Anne's Episcopal Church.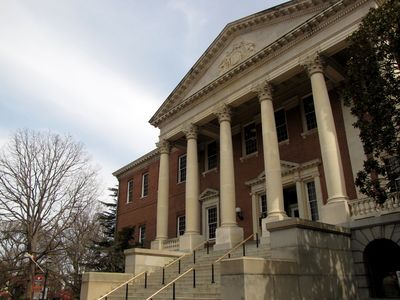 Front entrance of the Maryland State House.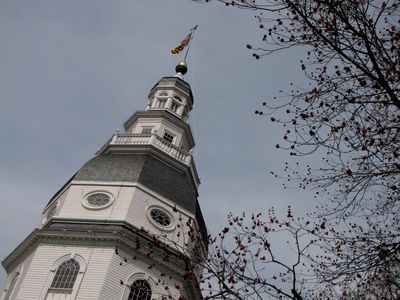 Maryland State House dome.  I got a bunch of pictures of the dome, but none of them were ones that I thought looked amazing.  This was the least bad in a field of stinkers.  Maybe I'm just not getting it from the right vantage point.
Now that I have seen the downtown area of Annapolis up close and gotten something of a feel for the layout and atmosphere of the town, I could definitely make something out of this area for Schumin Web.  I should come back here during the summer.  I could also have some fun doing nighttime photography around Annapolis.  It might just work!
I got finished in Annapolis right around 3:00.  For those familiar with DC area traffic, that's not a good time to travel on account of evening rush hour.  My return trip would take me on the Beltway, and I wasn't in the mood for tackling that.  So I went over to Annapolis Mall for a few hours to kind of pass the time.  Annapolis Mall, for those not familiar, is a very large single-level shopping mall – largest in Maryland, in fact.  It's apparently an important mall for retail chains, as most places there have invested a lot of money in keeping their store designs up to date.  Compare this to many smaller malls, where store chains haven't renovated or otherwise updated their locations in decades (Staunton Mall is a good example of this).  The mall has two very distinct sections.  There's an older part with a lot of skylights, and there's a newer part that has no skylights and a sloped ceiling.  Biggest difference that I've noticed is that you can get pretty good cell phone reception in the older part of the mall, but the newer part of the mall is like being in a cave.  Almost no cell reception in there.  Good luck trying to check your Facebook on that side of the mall.
But that's not to say I didn't have fun over there.  I had a lot of fun in Brookstone.  I decided to play with a few of their massage stuff.  Along with the obligatory full-body massage in their big massage chair, I also tried the other massage chair that has a built-in sound system.  So I tried it out with my phone.  I played a few selections from The Rock-afire Explosion on there, specifically their covers of "I've Got a Feeling" and various Monkees songs.  Then I also played with a few head-mounted massage devices.  First device that I tried was a head massager.  That fits over the top of your head like a hat.  Its job is to massage your head.  However, I have a big head, and the pressure it put on my head was uncomfortable.  This is the face I made while this thing was running: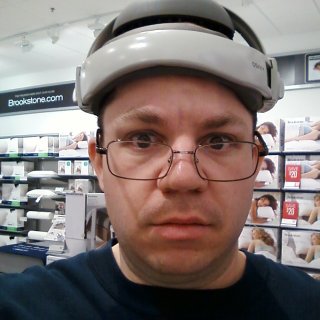 I don't know if the word that you want to use for this is "surprised" or "terrified", but it certainly felt as though it was going to pop the top of my head off.  And as fun as that sounds, I wasn't in the mood for that on this particular evening.  Then the other head-mounted massage tool that I tried to test was an eye massager.  It looked like this: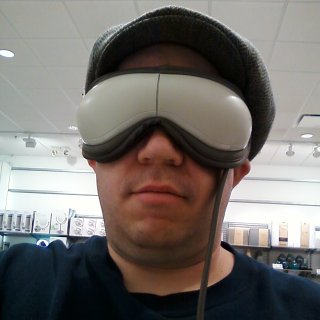 Ummm, yeah.  That looks classy.  And the bloody thing didn't even work.  I guess all of the other people goofing off in a shopping mall got to it before me, and killed it.
So all in all, not a bad time in Annapolis.  Then I'll share Baltimore in a separate post.