July 5, 2009, 9:38 AM
So I went bowling for the first time in seven years on Friday with Matthew Tilley at Bowl America in Sterling, and we had FUN. We each bowled three games. Matthew, who used to bowl in a bowling league, scored way better than me, but that wasn't the point. The point was having fun.
However, "fun" required having the correct ball. I know I use a 16-pound bowling ball, but the fingering was wrong on the first ball I picked up, and after hitting zero pins my first two frames, I realized that I couldn't be that bad – it had to be the ball. So it was back to the ball racks for me, and I found a different ball. With a different ball, my game greatly improved immediately. Thus it was the ball.
We also came up with fun train names to put into the scoring system. I was Breda 3287AC, and Matthew was Rohr 1299.
In playing the three games, you could tell that I was getting back into it slowly but surely. At the end of the first game, my score was pretty bad, like 50-something. Then on the second game, I did a little better, knocking down a few spares, and then in the last game, I finally nailed a strike (yaaaaay!), though I still didn't break 100.
Continue reading…
August 23, 2008, 4:21 PM
Indeed, I a fun time was had by all at our all-staff retreat. One of the fun parts of it is that I maintained an open-Kodak policy. Anyone who wanted to fire off some photos on my camera was welcome to do so, and so we had a number of photographers over the course of the day. We had a catered lunch together, we hung out and socialized a bit, and we went on a three-mile-or-so hike. Check it out…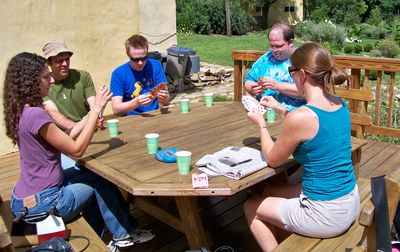 A number of us, including myself, played a few hands of Spades out on the deck.
Continue reading…
June 9, 2008, 3:06 PM
I went to Splashdown Waterpark on Sunday to beat the heat. And at that I was successful. I spent five hours in their Lazy River, and I didn't give a moment's thought to how hot of a day it was. I'd guess I put a lot of miles on one of their inner tubes, and had a great time doing absoluely nothing but lounging around in the water. But oh, let me tell you… I am so sunburned.
Of course, it's not like I didn't put sunscreen on. I did. But I think it was part a poor initial application of the sunscreen, plus the fact that I didn't reapply at all over the course of the day. The reason I believe I put the sunscreen on poorly is because it was such a hot day. I drove down to Manassas with the A/C on, but then once I got out in the heat, I started sweating. And that made the sunscreen quite difficult to apply. Then of course, I knew I would get a sunburn on part of my back – there was a section that I couldn't reach, and so I figured that would get burned, and took that into account.
But I didn't expect what I got – burned on my face, both arms all the way up, my entire back, my shoulders, and part of my legs. There's also a line on my arm where I had the key to the rental locker. And I got the classic swimsuit tan – burned except for the area that the suit was covering. I knew I should have thought better about wearing that thong (kidding!). But seriously, I am burned. And it hurts like hell. I need to go get some Solarcaine and some aloe and go to town on it.
Was the sunburn worth it? It might hurt a bit, but you know, I had a great time, so, yeah, it was worth it. At least it's not like the burn I got on my head when we protested the Nazis. That time, I got cooked so well that it was oozing something. Nothing's oozing this time. But the burned area is a lot bigger. But it was still worthwhile. Ah, yeah.
Hopefully it will be mostly better by Thursday, because that's the day my mother and sister show up. My sister is back from Chicago for a week, and we're going to have a great Thursday and Friday in DC. And I'm being a wonderful host, agreeing to suffer through being dragged through all these little designer clothing boutiques, because that's what she wants to do. I much prefer going through Georgetown with a rowdy black bloc, but for my sister, we'll shop. I'll find the chair in these stores where the men sit looking miserable and park myself there. Seriously, in Chicago at the Talbots store on the Magnificent Mile, there was a cluster of chairs in the corner where all the men were sitting, and all of them looked absolutely miserable. Poor men.
August 26, 2007, 10:49 PM
I went to Splashdown Waterpark in Manassas today, and took advantage of their after-3:00 pricing, where rather than spend $13.00 for all day, I spent $7.00 for about four hours' worth of time there. And that's fine by me, since I really just needed a little while to play in the water. And it's not like this is a huge production to go, either. It's close enough to where I can go about any time I want.
Not like when I would go to Water Country USA, where I would have to leave the house early and drive three-plus hours to go to Williamsburg, including going through Richmond. Then more than $30 to get through the gate, and another $10 or so to park the car. And all that just to spend more time in line than in the water.
So Splashdown is close, it's cheap, and so what has it got inside? Well, it's a relatively small waterpark, but it's got that lazy-river feature that I like so much. Seriously, give me an inner tube, stick me in that lazy river, and I'm happy. And for only seven bucks this close by, I don't feel guilty for skipping the big slides, which are okay, but aren't really my thing. And parking is free. Big plus. So I'm happy with the place, and they'll probably see me there again, though it probably won't be this season, because their last day before closing for the season is Labor Day. I regret not checking out Splashdown Waterpark earlier, because this was fun.
The only major downside is that I leave there smelling like sunscreen and chlorine, but it's unavoidable, as it comes with the turf.
Then afterwards, I took a more circuitous route back than I normally would, in order to surprise my friend Matthew Tilley at the place where he works. It was a slow day there, and he was putting back returns, so we got a chance to, like, talk about whatever for a few minutes. That was fun. He was so surprised to see me.
So all in all, I guess you can say I had a fun weekend. And I got the rest of the main body of the Web site finished.