So the fun in the water and the sun went quite well…
July 28, 2009, 7:54 PM
Let me tell you something… I had fun this past weekend, spending plenty of time outdoors and in the water. Saturday involved a tubing trip along the Shenandoah River with my coworkers, and then Sunday I went to Splashdown Waterpark with a few Anons. Not a bad time. And no horrible sunburn, either.
Saturday was an honest to goodness road trip, since we went out to Luray. And I managed to do just fine crossing the Blue Ridge Mountains at Thornton Gap. And then the water was awesome, though the river was a lot shallower than I expected. Previously, I had always gone tubing on the James River in Rockbridge County, and it was always at least four feet deep, if not mistaken. The Shenandoah River at its shallowest was less than a foot deep. Kinda hard for the tubes to go over, but somehow, we managed. And the water shoes problem was taken care of by my wearing my Crocs. They worked well enough, though I did manage to kick one off at one point. But thankfully, Crocs float, so I retrieved it with little difficulty.
Meanwhile, my coworkers amused me. Usually, when we go for drinks as coworkers, we get, you know, good beer. However, for the river, most of my coworkers had Pabst Blue Ribbon, which, if I'm not mistaken, is like one of the cheapest beers on the face of the Earth. So there you go, I suppose.
And then while on the river, we encountered a storm. That storm is actually what's depicted in the photo feature right now. It seemed to come up from out of nowhere, as all of a sudden, we heard some very mild thunder and got significant wind and rain. Some people actually got out of the water briefly to ride it out, but most just continued on. After all, the storm would pass, and it did, and just in case more came up later, the best way to avoid it was to just finish the course. And so we did.
And just to give you an idea of how the wind and rain was, observe: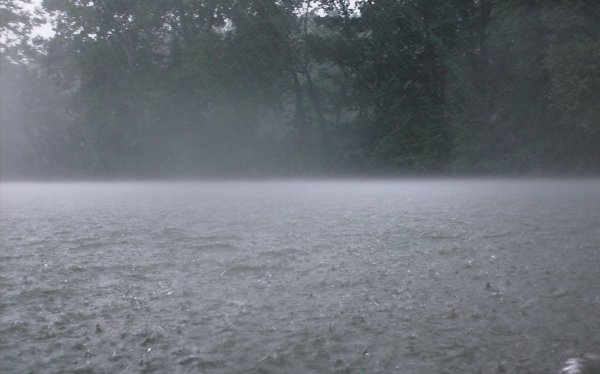 As you can see, the rain is coming down at a 55-degree angle due to the wind. Not the most fun, but it passed.
Then on the way home, we were treated to lots of lightning, as storms were brewing along Route 211. I took Meredith and Jorge back from the river, and we were witness to a good amount of it. The most memorable lightning was not long after we crossed Thornton Gap. Never before had I seen lightning go up. This lightning, which appeared yellow-orange in color, started at the ground, rose up to the clouds, and then spread outwards in the clouds. My reaction to the spectacle was unprintable, but it was quite a sight.
And we eventually made it back. Look for a Life and Times photo set a little later on that more completely documents the tubing trip.
Then Sunday, a few Anons and I got together for a trip to Splashdown Waterpark in Manassas. That was a lot of fun, as we hit every slide in the park at least once, spent plenty of time in the lazy river, and also swam around the pool. Splashdown is kind of unique as waterparks go for having, along with everything else, a conventional swimming pool. The reason can be traced back to the park's history, though. See, Splashdown Waterpark started out as a conventional community pool. Then the facility was later expanded into a full waterpark. And I'm glad they did, because it's nice to be able to hit up a good waterpark fairly nearby and not have to drive for hours and hours. And the price is quite nice for what you get.
And I came out unscathed, save for a very mild sunburn, and a little road rash from striking the bottom of the splash pool at the end of one of the water slides due to my losing the tube mid-slide. Basically, I fell off the tube on a hard curve, and decided that rather than fight to get back on the tube while sliding down at high speed, I'd just let go. Thus I went first, and the tube followed. And at the end of the slide, without the tube, I scraped the bottom of the pool with my elbow. That hurt, but it will heal.
So all in all, I had a fun weekend. Next weekend is a little calmer, though I am going railfanning on Metro with my friend Patrick on Sunday. That ought to be fun, since I don't believe Patrick's seen all that much of the system, and certainly hasn't been to all the terminals yet, though I'm not sure yet what parts of the system we'll cover.