September 21, 2016, 10:04 AM
It's always amazing how some things never change.  Back on August 25, Elyse and I were photographing trains at the MARC station in Gaithersburg.  After the train departed, I captured this photo of a flurry of people walking across the tracks before the gates went up: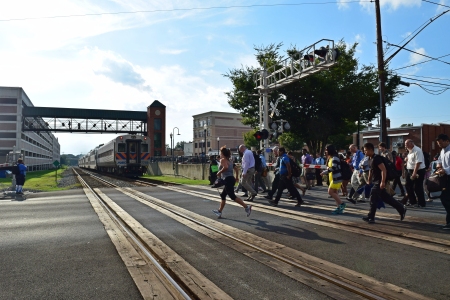 Continue reading…
February 28, 2016, 2:44 PM
So I finally got a new camera, with its arriving at the beginning of this month.  I got a Nikon D5300, and got a zoom lens along with it, as well as a new camera bag (i.e. I'm not going to use Big Mavica's old bag anymore).  I didn't test a D5300 when I tested a whole bunch of cameras with Elyse, because it wasn't available.  But I tested a number of different models around it.  While this one did everything that most SLRs do, this one also had a fliparound screen like the D5500 that I tested, but being an earlier model, didn't have the price tag of the D5500.  It also had built-in GPS, which I find extremely useful, and that none of the cameras that I tested earlier had.
In case you weren't aware, I contribute quite a bit to Panoramio.  You know how you see photos in Google Earth and Google Maps?  Panoramio is how a lot of those photos make their way in there.  You upload photos, and then you tag the location on a map.  The problem comes when I'm shooting a lot of photos in an area that I may not be very familiar with.  I'm talking about things like my trip to Richmond in 2013, various trips to Chicago, High Rock, and the like.  In those cases, the way I would typically shoot photos would be to take whatever photos with my real camera, and then grab my cell phone and take a quick reference shot.  The reason for this was that the phone had GPS, but my real camera didn't.  That worked well enough, but it created extra work both onsite and in post-production.  Onsite, I had to take an extra photo with a different camera, and ensure that GPS had gotten a lock on the position.  Then in post-production, I had to coordinate the two photos, reading the tag on one photo in order to manually place the photo that's actually getting published in the right spot.  If it sounds like a pain, it's because it is.  Now that my real camera has GPS on it as well, everything has a location tag on it, which makes my life that much easier.
Also, since it's come up before, a point of clarification: just because the camera has onboard GPS does not mean that the camera will give you directions.  GPS is a network of satellites operated by the United States government that provides location and time information to users with a GPS receiver.  It is not inherently a navigation system, though the way most people talk about it, you would think that it was.  Just thought I'd put that out there.
Continue reading…
September 28, 2014, 1:58 PM
Two weeks ago, I went up to Baltimore with my friend Elyse.  We went for the Star Spangled 200 celebration, and wandered around the city a bit.  And most importantly, I rode public transportation in Baltimore for the first time.  MTA Maryland is a very different beast from Metro.  MTA has buses, and MTA has trains, and there's also a Circulator-type service.  But the details are quite different.  Elyse and I started out at Cromwell station in Glen Burnie, which is out by BWI.  That's light rail.  DC doesn't have light rail, as you know.  There's a streetcar system coming in DC, but it's not here yet.  Then there's a heavy rail system, i.e. the Metro Subway, which we also rode.  That's more like what I'm used to.  We also rode the Charm City Circulator, which is a free bus service that travels around the city, separate from the regular MTA buses (which we didn't get to ride).  And owing to cooperation between MTA Maryland and Metro, my SmarTrip card worked in Baltimore.
Most surprising was that the fares for the light rail were basically on the honor system.  You bought your ticket at the machine, and then you just got on.  No faregates, no fareboxes, no nothing.  In my case, I loaded an MTA pass onto my SmarTrip.
So this was what I saw on my first ride on the Baltimore Light Rail: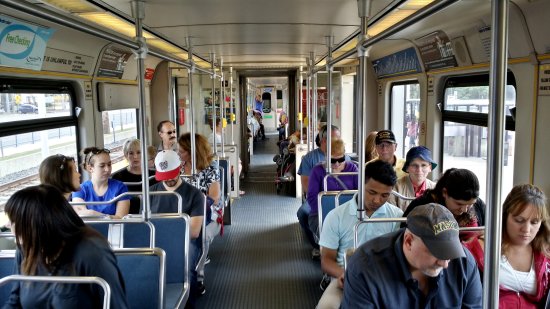 Continue reading…