No longer a Baltimore transit virgin…
September 28, 2014, 1:58 PM
Two weeks ago, I went up to Baltimore with my friend Elyse.  We went for the Star Spangled 200 celebration, and wandered around the city a bit.  And most importantly, I rode public transportation in Baltimore for the first time.  MTA Maryland is a very different beast from Metro.  MTA has buses, and MTA has trains, and there's also a Circulator-type service.  But the details are quite different.  Elyse and I started out at Cromwell station in Glen Burnie, which is out by BWI.  That's light rail.  DC doesn't have light rail, as you know.  There's a streetcar system coming in DC, but it's not here yet.  Then there's a heavy rail system, i.e. the Metro Subway, which we also rode.  That's more like what I'm used to.  We also rode the Charm City Circulator, which is a free bus service that travels around the city, separate from the regular MTA buses (which we didn't get to ride).  And owing to cooperation between MTA Maryland and Metro, my SmarTrip card worked in Baltimore.
Most surprising was that the fares for the light rail were basically on the honor system.  You bought your ticket at the machine, and then you just got on.  No faregates, no fareboxes, no nothing.  In my case, I loaded an MTA pass onto my SmarTrip.
So this was what I saw on my first ride on the Baltimore Light Rail: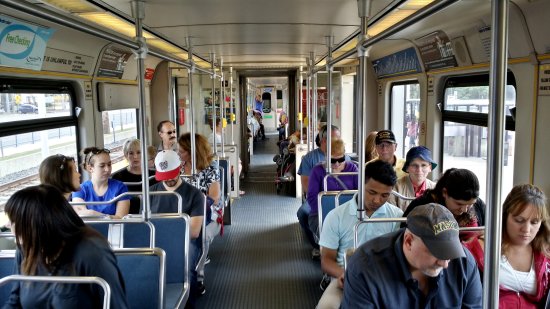 The car emptied out near the Inner Harbor, as a lot of the activities were at the Inner Harbor, plus there was an Orioles game later.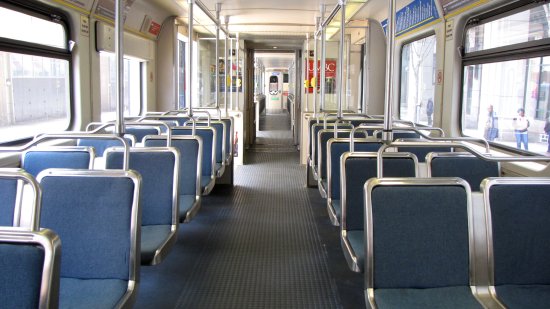 This is LRV 5011, an articulated light rail vehicle.  We rode up to Lexington Market, where we transferred to the Metro Subway.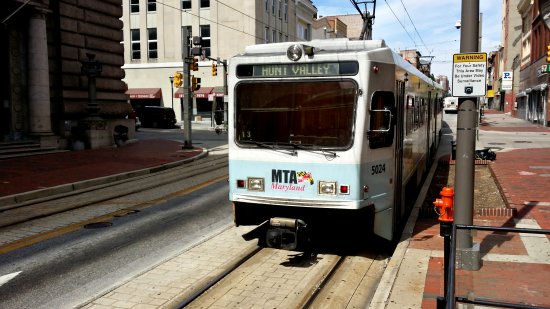 Our LRV departs Lexington Market, photographed from the wheelchair access platform.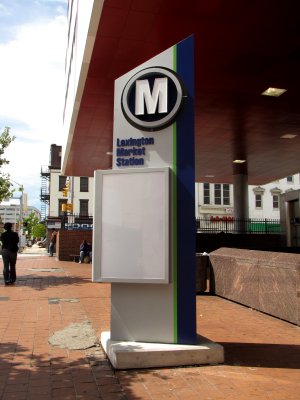 Sign for Lexington Market on the Metro Subway.  An "M" at the top of a sign is something that I'm used to.  We rode the train from here to Penn-North.

Our train departs Penn-North.  I hadn't heard DC choppers like that in several years, since Metro sent the last of the 3000-Series railcars out for rehab in 2008.

We then turned around and took another train to Charles Center, where we exited the system.

Our train departs Charles Center. Elyse has no cell phone service (neither did I).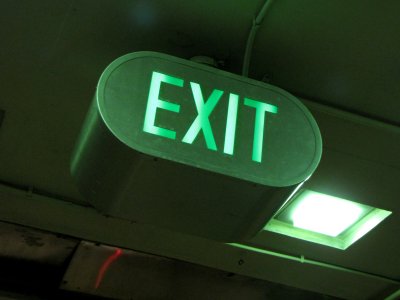 Exit sign at Charles Center.  That's certainly an unusual shape.
Leaving Charles Center, we wandered around the Inner Harbor a bit.  We stopped by the Transamerica Tower, the grounds of which were one of the designated viewing areas for the Blue Angels' show, which was occurring over Baltimore.  I took a moment to photograph the building, in what seemed like perfect lighting: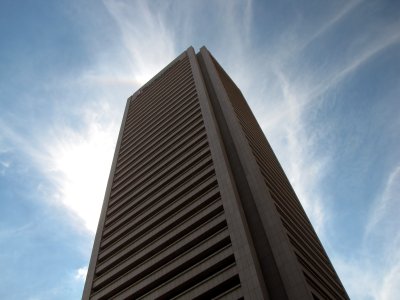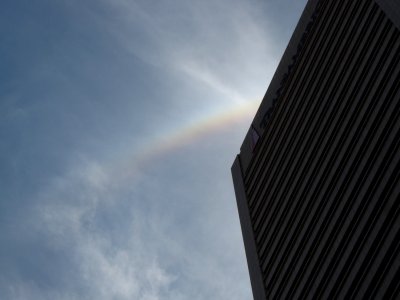 On that note, I had never seen a rainbow on a mostly clear day like this.  It was short and high up in the sky.
Then we took the Charm City Circulator up to Fells Point, where the HMS Argyll was open for public tours: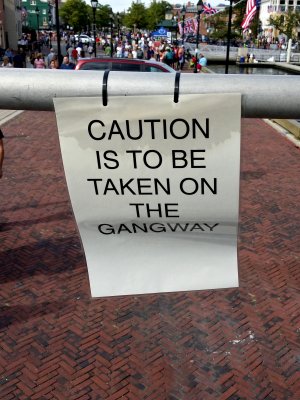 The phrasing of this sign, cable-tied to the gangway railing, struck Elyse and me as being very British.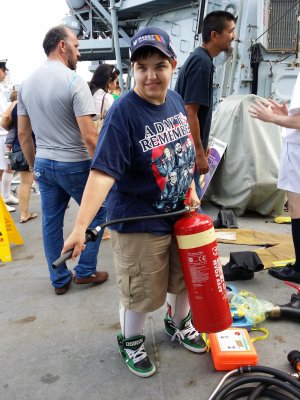 Elyse poses for a photo with one of the fire extinguishers on the deck.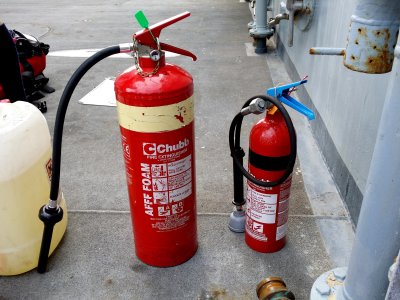 Two Chubb-brand fire extinguishers.  The larger extinguisher on the left uses foam, while the smaller extinguisher uses carbon dioxide.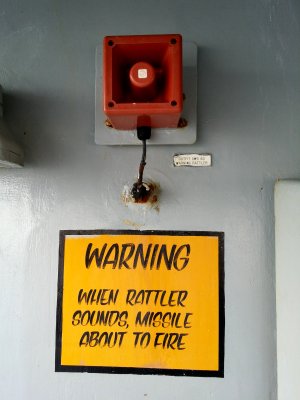 According to the sign, this is an outfit GWS 60 warning rattler, used to notify sailors that a missile is about to be fired.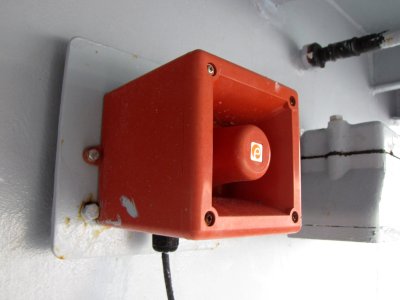 Closer view of the rattler (I would call it a horn).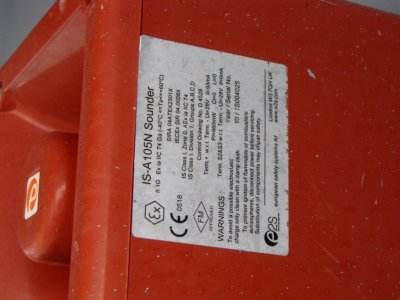 Label on the warning rattler, which is an E2S IS-A105N sounder.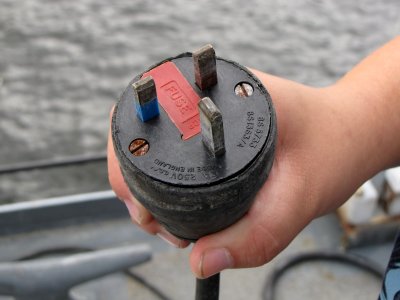 UK-style electrical plug.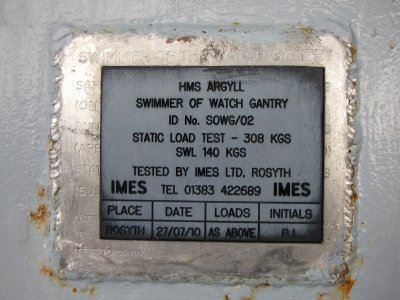 Plate for the swimmer of watch gantry, this one apparently replacing an earlier one.
After we left the Argyll, we went up to the top of the Admiral Fell Inn, where was a roof deck.  There, we watched the Blue Angels for a few minutes: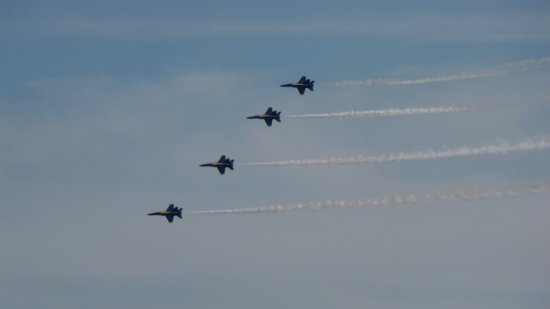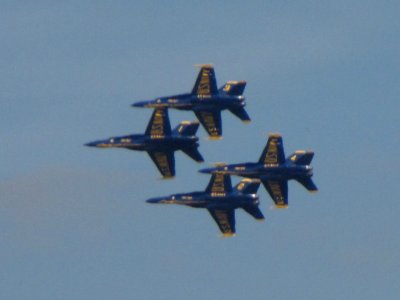 Next to the Admiral Fell, Elyse and I spotted this: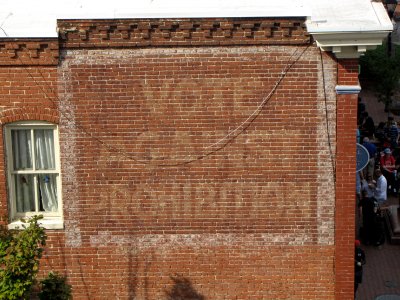 This sign reads "VOTE AGAINST PROHIBITION" and is located on the side of a building at Shakespeare and Broadway, a sign that Fells Point has been a bar district for a very long time.
Leaving the Admiral Fells, we headed up Broadway, encountering a man playing a saxophone made out of PVC pipe:
Elyse and I were both quite impressed.  In doing some research later, I found out that this man is William Emerson, better known as "Abu the Flutemaker", who makes many musical instruments out of various found objects.
We had lunch at Hot Tomatoes, which is on Broadway in Fells Point, which sells New York-style pizza.  We each had a slice, which was big and greasy – to the point where I couldn't handle it manually.  I used a fork.  It was great pizza, and it's definitely worth going to again, but for takeout, as I'm not sure if I'd want to eat in again.  They had several stand-up tables around, but only one chair, which, after walking around for several hours, was not enough, as we both wanted to sit.  The restrooms were also quite cramped.  I'd recommend that they invest in a couple more chairs for the low table that you can't stand up at so that patrons can sit.
After lunch, Elyse wanted to show me Johns Hopkins Hospital.  I'd never been there, and I was told that the architecture of the older section was quite striking.  However, getting there was something of a challenge.  We first waited at a Charm City Circulator stop on Broadway, and were surprised to find out that despite the existence of a sign, and a bunch of us waiting for the bus there, that was no longer an active Charm City Circulator stop.  Veolia, get on top of this and pull that sign down if it's no longer an active stop.  Then the next bus to come by, after we found an active stop, was full.  And the Charm City Circulator was not on the list of routes that the Transit App showed, possibly because it was privately operated, rather than being run by MTA Maryland.  So after waiting for a while, we ended up walking towards Shot Tower station via President Street.  We ended up finally catching up with a Green Route bus for Charm City Connector on the way there, and so we took that out to Johns Hopkins.  Good.
And for those of you who are wondering, no, I don't know my way around Baltimore very well.  I can get some places without difficulty, but for most places, I still need navigation.  And that's just because I don't go up to Baltimore very much.
We arrived at Johns Hopkins during the "Golden Hour", where the sun hits the buildings just so, and so I saw this: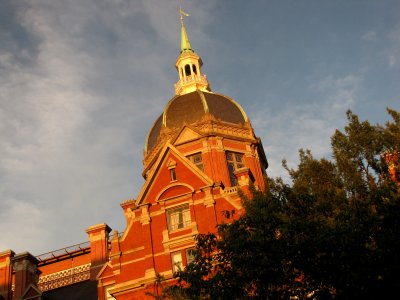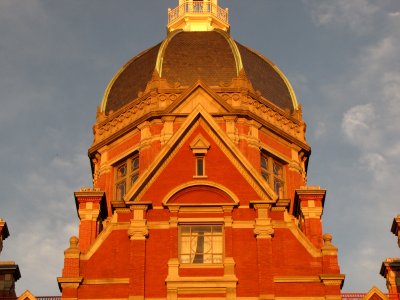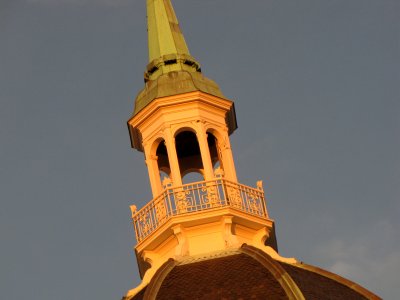 Then Elyse took me inside, showing me the area where she once stayed for something or other.  From that high location, we had a great view of the sunset over Baltimore: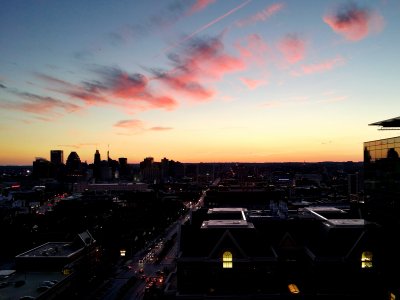 Then from there, we headed back into the Metro Subway at its eastern terminus, and rode to State Center, and I got one more train video:
From there, we walked two blocks to the Cultural Center light rail stop, and rode that to Convention Center (the train was short-turning).  Then we got another train to take us the rest of the way back to Cromwell.
Arriving at Cromwell, we were in the mood for food, as it was now 9:00 in the evening.  The only food that we could find right around Cromwell station was a McDonald's, which can be summed up in one word: yuck.  We ended up taking something of the driving tour around parts of Baltimore that I'd never been in before, eventually Route 40 and taking that into Catonsville, where we had dinner at the Double T Diner, which is a diner chain in the Baltimore area.  Not a bad meal.  I'd go back there again.
And then after dinner, we were done.  I dropped Elyse off at her house, and then headed home.  Now that I've seen and ridden on Baltimore transit, though, I think I need to explore this system, which is relatively close to me, some more.  Should be fun.