This raid was a small one, yes, but it was still plenty of fun…
July 13, 2009, 8:44 PM
I don't know what it is, but it seems that there's something about July that makes for low turnout at raids. Last year's July raid, Spy vs. Sci, also generated a small turnout, though that was attributable to the diversion of much energy from the global raid to the Over 9000 Anon March, which was being held the following weekend. This time, though… who knows.
The theme for the July raid was supposed to be "Tiny Tyrants", referring to Religious Technology Center head David Miscavige, whom newspapers recently reported as having a tendency to use violence as a means of managing people, and who is somewhat short in stature, measuring a mere 5'5″ – somewhat short as American men go. However, in practice, that idea got thrown out the window, and we just did a general anti-Scientology raid. After all, in the year and a half that we've been doing this, we've generated a fair amount of signage, and these once again were put to good use.
Meanwhile, I did my own costume a bit differently this time around. As you may know, I usually wear a zentai to raids during the summer months. This one was no exception, but surprise – I had a new zentai this time around. Usually, I wear a black zentai with eye holes in the hood. This new one was bright green, and is more pure in its form, containing a completely blank face – no eye holes. That caused a considerable limitation in my vision, but it definitely made for a new and different raid experience. And I'd practiced ahead of time, walking around the house with the hood up, so I wouldn't look like a complete fool navigating the sidewalks around the Org with spandex over my eyes. Yes, you can see through the zentai's hood, but only mildly well. I'll have to take a photo from inside the hood some time so you can see what I mean.
So all in all, we had a spirited bunch, we had fun, and photos were less plentiful than usual (wearing the zentai hood up precludes taking photos), but we really enturbulated.
First of all, though, this was my costume this time around: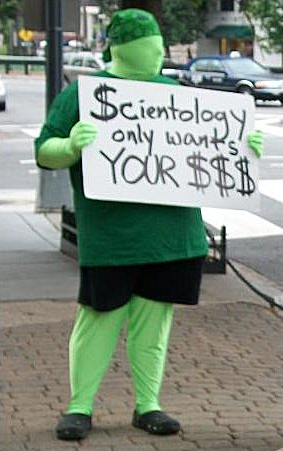 Photo: Colimarm
As you can see, I looked pretty sharp in green. I've used the "Scientology only wants your $$$" sign before, at a flash raid in April, but this time around, I kept the sign in my spandex-covered fingers practically the entire time.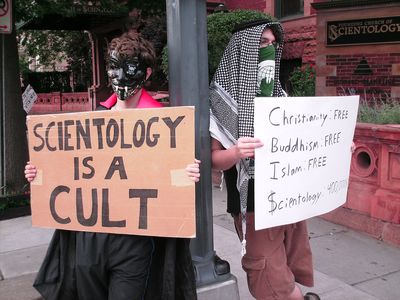 Enturbulating on the corner. We usually try to keep that corner covered at all times, since it's a rather high-traffic area.
Meanwhile, considering that HT and Ron Jeremy had been physically assaulted right in front of the Org, our sidewalk chalking this time around emphasized that. To that end, Enturb drew a box around the front steps of the Org. Inside the box was designated the "hitting zone", where our Anons were assaulted. Outside the box was designated the "no hitting zone", where hitting was expressly prohibited.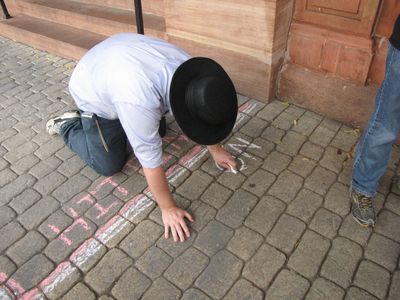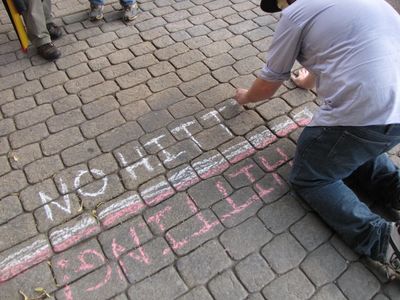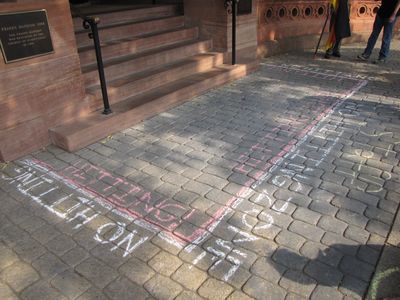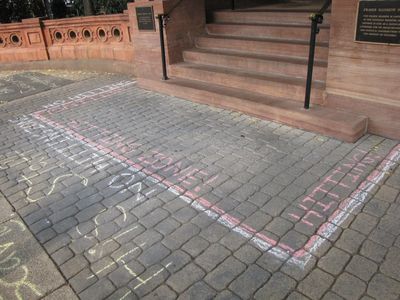 Deep within the "no hitting zone", MaidofWin and JB worked the cars.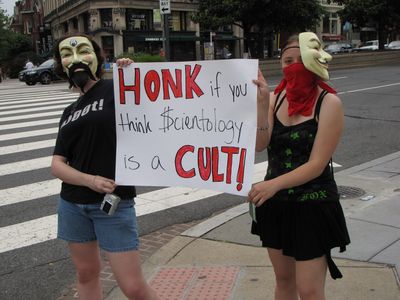 It should be noted that I also primarily worked the cars this time around, and due to my being taller than JB and MaidofWin, we got some serious message coverage on the vehicles.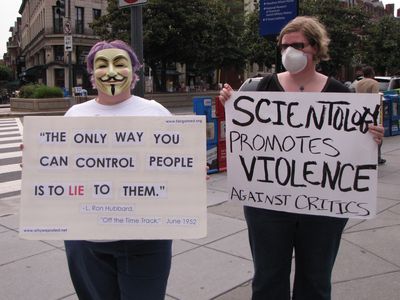 Purple Hair Anon and an Anon from Australia carry signs on the triangle.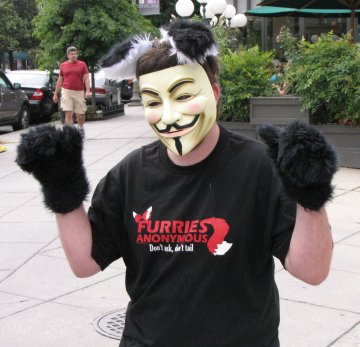 Lantern, meanwhile, dressed like a furry to an extent.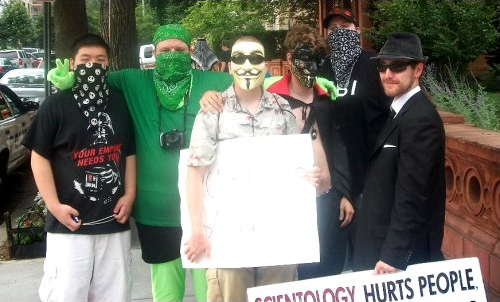 Photo: Colimarm
Group photo, with a bunch of us posing in our masks outside the Org. I am shown here in my "alternate" mask. When I wasn't wearing the zentai hood, I simply wore a second green bandanna to maintain the "anonymous" look.
Additionally, for those who aren't familiar, they're currently filming a season of The Real World in DC, and the house is only a block away from the Org. Some of the participants in the DC version of the show went past our raid, so who knows – you might just see us on national television whenever the show airs. Look for a bunch of geeks in masks.
And that was basically the raid. Afterwards, we went to Bailey's, which was six different flavors of awesome as always, though the place was absolutely hopping, due to a boxing event on pay-per-view that night. Good thing we made reservations. And then on the way back to Maryland, JB and I had to contend with baseball riders, as I got to see Metro run their short-haul Green Line trains. There, they start their run at Navy Yard as Green Line trains, go as far as Mt. Vernon Square, and then return to Navy Yard without passengers to quickly grab another load of baseball fans.
One thing I took from this raid was the confidence that I could manage fairly well in a zentai without eye holes, which opens the door for more interesting costuming in the future. Sure, my distance vision was pretty poor (though part of that can be blamed on general nearsightedness), but the close-up vision was fairly good, though it's not like I could read anything in the suit. It was also quite an odd experience interacting with people with the hood up. I could make out generally where they were, but saw no faces while interacting with passers-by. Having restricted vision like that also really causes you to rely on your other four senses, hearing in particular. And of course, while the hood was up, my world was a lime green color. Everything was green. I don't care what color it really was. In my zentai world, it was green. But somehow, I made it work, and I'm definitely pulling that green zentai out again for future raids.