October 30, 2005, 8:30 PM
Yes, we're spelling it out. You see, every time I talk about the C-A-R on here, I have some sort of mishap with the Previa. But let me tell you, though… that car is a trooper, but parts are starting to go. The radio went in 2000. The air conditioning died in 2002. At some point, a panel on the interior of the door broke loose. The cruise control started a slow death in 2002 or so and now only works when it feels like it. I also recently got a crack in the windshield. And as you saw not long ago, I had to do a quick-fix on a wiper blade (which still works like a charm).
And now, I have no heat. Absolutely NO heat. Last time I got heat out of the car was on April 16 of this year, when Sis and I went up to Washington DC for A16, and needed heat (and didn't get heat until halfway up there because we accidentally forgot to switch it over to heat). Then the warmer months came along and I didn't need the heat. Now it's cold again, and I have no heat at all. I really need a new car, but since I can't afford that, I'm going to have to get it repaired. And that means that I'm going to have to call around to find out who will be willing to look at it and such to get it fixed.
And my rule about going to local businesses is that I don't like going some place where everyone who works there is someone I went to high school with. I don't like getting called "buddy" by people I never particularly cared for. I prefer to go some place where the people don't all know me – makes me feel more like a customer.
Continue reading…
January 26, 2005, 8:43 PM
Nope. No high-speed Internet. More 56K. Oh, boy.
Well, not yet. We have to get the cable guy over to make a house call to get it started because they say that something is wrong hardware-wise somewhere along the line. So they're coming on Sunday to fix it and hopefully get it going.
Still, I did buy $300 worth of stuff at Wal-Mart to hook everyone up with it. About half of that equipment is opened and scattered around my room. Some of it's hooked up. Some of it is halfway hooked up. I had to stop when we found out that a house call was needed.
All I have to say is that I'm pleased and upset all at the same time. I'm pleased because I know that it's not a mistake on my part, and that I most likely did it correctly. But then I'm upset because I have to wait for my high-speed Internet, which I'd be hoping to write this Journal entry on this evening.
Somehow, we'll get it all straight in the end, I'm sure.
December 15, 2004, 1:39 AM
This evening I finally appointed moderators for The Schumin Web Community, which is the name for my discussion forum section. However, I didn't publish guidelines for my moderators just yet. So they are without guidance for now. Basically, imagine a Power Rangers scenario. I've given them Morphers, and I've given them Zords. But I've not shown them how to use either one yet.
Power Rangers was the first thing to come to mind for me. It also reminded me of the funniest thing that I'd seen in Power Rangers. First of all, do you know who this guy is in the tube?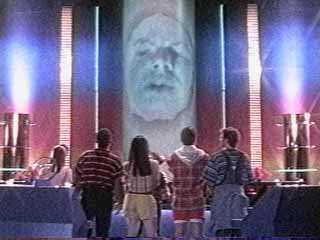 Continue reading…