January 23, 2005, 10:55 PM
I'm amazed to see this in The Washington Post for Sunday, after a friend from the Washington DC area brought it to my attention. The article is entitled "Bible Breaks at Public Schools Face Challenges in Rural Virginia".
The issue is about Staunton Public Schools and a Weekly Religious Education program, where students are pulled out of school for a period of time each week to go off the property to a local church or portable building to have what basically amounts to Sunday school during school hours. Citing higher academic standards, a group of parents have asked the school board to discontinue the program, after Harrisonburg (30 miles to the north) discontinued the program mid-year.
It's interesting to see what various people have to say about the issue. Now take in mind that I live in a "red state". My area is quite conservative. What's amusing, though, is how so many of these so-called "Christians" are showing their true colors. This is the I-don't-care-what-you-think-and-so-go-shove-it attitude. One letter-writer in the Staunton paper, who said that they were originally from Arlington and were speaking against the program, was told by another letter-writer that if they don't like it, then they should go back to Arlington. I think it would be quite appropriate to offer this as a reaction: Jesus Christ…
Continue reading…
July 11, 2004, 10:38 AM
Remember this?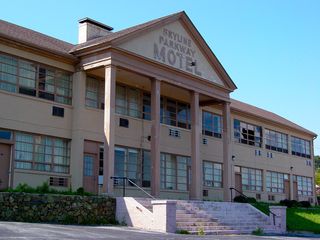 For those of you who don't know, this is the Skyline Parkway Motel, which, along with the Howard Johnson's Restaurant, and the Skyline Parkway Motor Court, I photographed on September 10, 2003 for the Afton Mountain: Victim of Progress photo set.
Things have changed since then.
Continue reading…
May 5, 2004, 12:04 PM
Read this excerpt from a Letter to the Editor published in the May 5 edition of the Staunton News Leader (and I apologize in advance for this):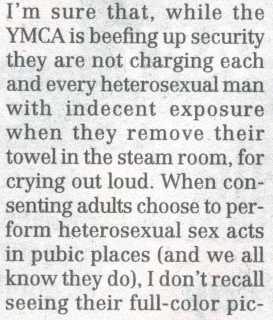 Continue reading…
March 18, 2004, 11:52 PM
As promised, here's some better flamingo photos…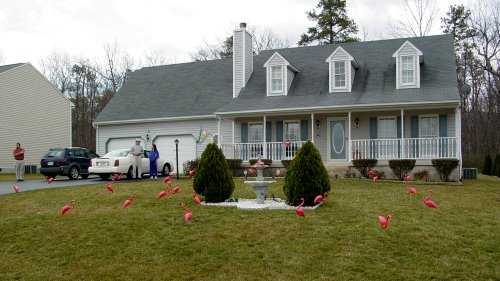 This is the whole yard, as seen from the street. Lots of pink flamingoes, let me tell you.
Continue reading…