It has been twenty years since my trip to England…
June 19, 2018, 12:50 PM
This week marks twenty years since my family went to England.  That trip, from June 14-21, 1998, was our last real family vacation, where we spent about a week doing all of the various touristy things, mostly in the greater London area.
Interestingly, this was a trip that I had been dreading for quite some time.  TWA Flight 800, which went down a few years prior due to what was determined to be a malfunction, was still fresh in my mind, and I was convinced that I was going to die on this flight.  Thus I didn't want to go.  But they made me.  And as things turned out, I got there and back in one piece, but nonetheless, I still am not a fan of flying.  Every little bump, I'm wondering what's going on.  I guess that I'm a bit of a white-knuckle flyer, though I wasn't as a child.  In hindsight, I consider my concern to be rational enough, but I was forgetting that for every incident that makes the news, there are thousands of flights that take off and land uneventfully every day.  It also didn't help that my last flight prior to that, from Dallas-Fort Worth to Fayetteville on American Eagle in 1992, was one where they had aborted the takeoff due to a mechanical issue.  After aborting the takeoff, they parked the plane somewhere to run a test to determine what was wrong.  The test involved the entire plane's shaking violently on the tarmac.  After the shaking stopped, they announced that the problem "had corrected itself".  That was not exactly reassuring.  I would have preferred that they had swapped the plane after that for one where they hadn't told us of any issues.  I wanted off of that plane, but there was nothing that I could do about it.  Every single bump in that flight, I thought, we're going to crash.  Not a good feeling.  I was so glad when we finally were on the ground again at the end of that flight.
In any case, we flew from Charlottesville to Philadelphia aboard US Airways Express, and then flew US Airways flight 98 from Philadelphia to London Gatwick.  The Tube was on strike the week that we were visiting, so we did much of our travel via London black cab.
The first day was basically a rest day.  We were jetlagged and knew it, and so we did a lot of sleeping that day, ate dinner at our hotel the Novotel Waterloo), and then took a walk around the area.
The next day, we spent out and about, going to Piccadilly Circus, and then Trafalgar Square.  Here I am at Trafalgar Square: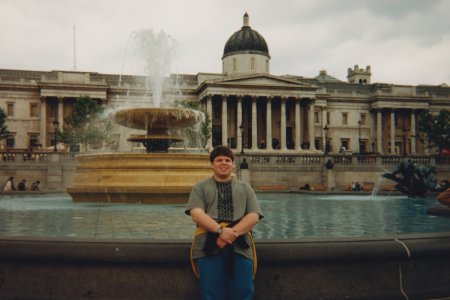 (I still have that shirt, by the way)
While there, we visited the National Gallery, we had lunch at Planet Hollywood, and then we went to SegaWorld, which was housed in the London Trocadero, then an entertainment complex (now under redevelopment to become a hotel).  I remember going there and thinking that this was was one of the sorts of cool things that you can only do in big cities (they certainly didn't have something like this in Stuarts Draft!).  One thing that captivated us was the "rocket" escalator entrance: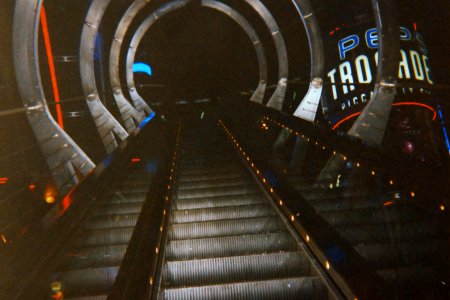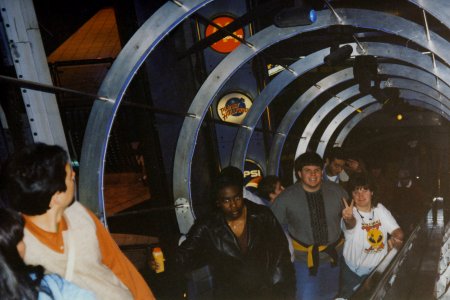 Then inside, we got a photo of Mom in front of Sonic the Hedgehog: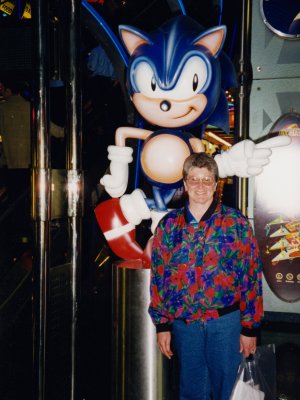 I wonder if our visit to SegaWorld wasn't the most nineties thing that we could have ever done on this trip made in the nineties.  I also discovered pay toilets for the first time at SegaWorld, which was something that we would encounter a few more times on this trip.  I find the idea of pay toilets to be somewhat abhorrent, and I'm glad that they're more or less nonexistent stateside.
We had dinner at an Italian place called La Dolce Vita, about three blocks away from our hotel.  Dad described them as "low-brow restaurant trying to act high-brow.  But it wasn't bad, save for lack of a no-smoking section.  I found them on Google Maps while doing some research for this Journal entry, and was disappointed to find out that they have since closed.
The next day, we took an Evan Evans tour around London, led by Brian: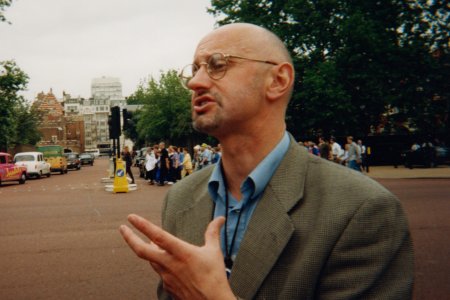 On that tour, we saw Royal Albert Hall, the changing of the guard at Buckingham Palace, we took a boat ride along the River Thames, and then we saw St. Paul's Cathedral and the Tower of London.  A few highlights for you: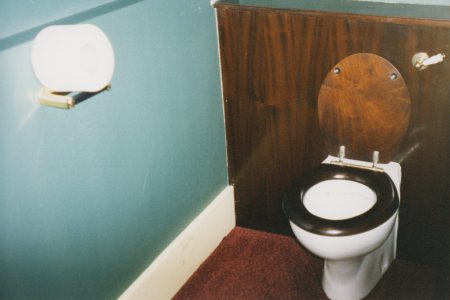 The toilet at the top of Royal Albert Hall.  We were told that this was where the Queen did her business when visiting there.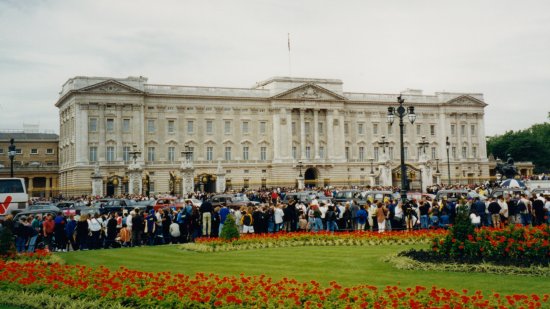 Buckingham Palace.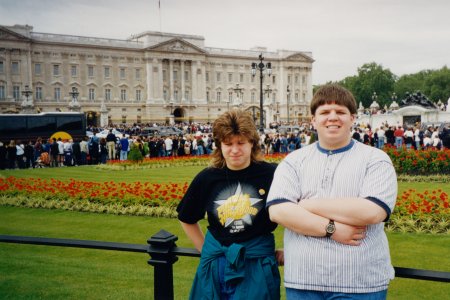 My sister and me in front of Buckingham Palace.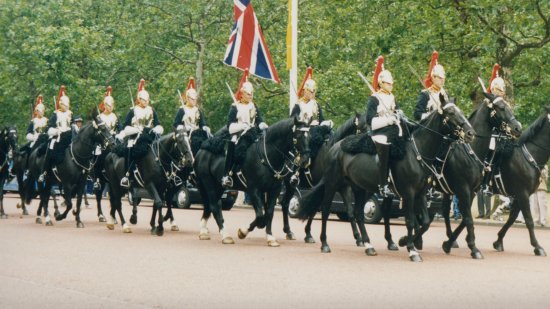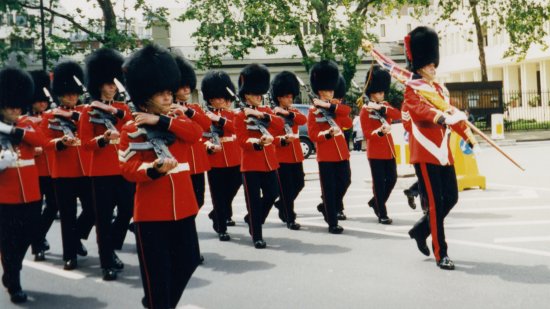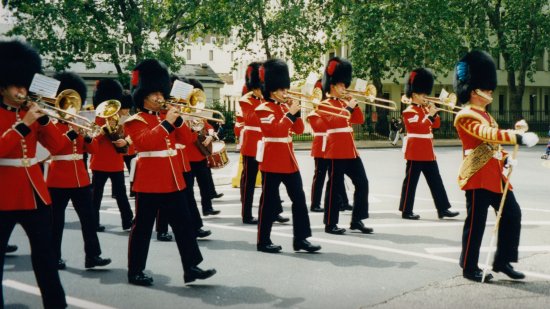 The changing of the guard.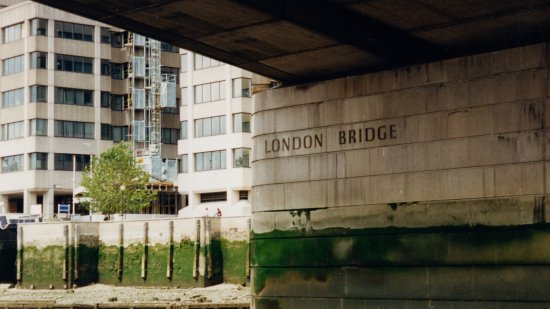 The underside of London Bridge.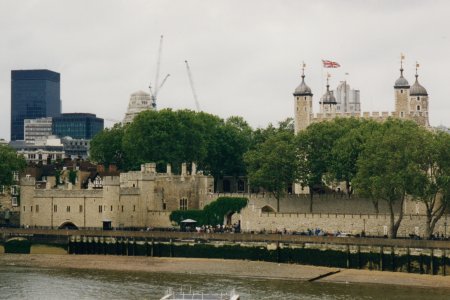 The Tower of London, viewed from our river boat.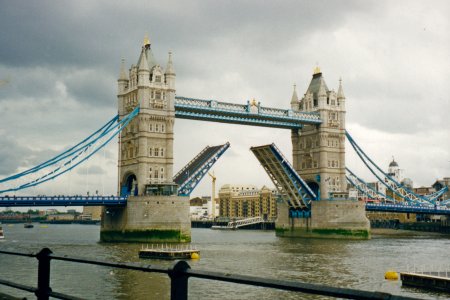 Tower Bridge, with the deck raised in order to allow a boat with a tall mast to pass through.
The tour was over after the Tower of London.  Brian's parting words were, "If you liked the tour, my name is Brian.  If you didn't like the tour, then my name is Tom."
Then the next day, we saw Westminster Abbey:
We also saw part of a session of Parliament.  I remember being surprised about being required to get a pat-down in addition to other airport-style security measures.  The biggest take from our visit to Parliament, though, was running into an American couple from Texas.  They suggested that with one more day left on our trip, that we do something outside of London, in order to see what the rest of England looks like.  The idea is that just seeing London and thinking that you've seen the UK is like just seeing New York City and thinking that you've seen America.  In reality, you've only seen a small part of it that's not necessarily representative of the whole.
On the way back to our hotel, at my request, we stopped for photos with Cleopatra's Needle: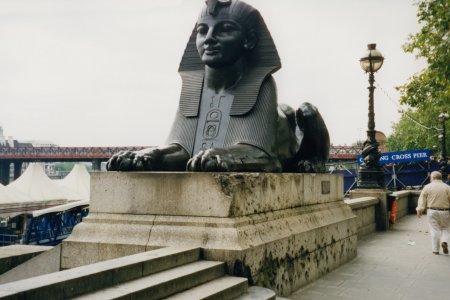 Sphinx next to Cleopatra's Needle.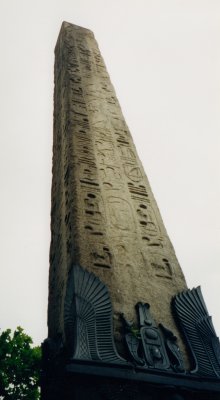 Cleopatra's Needle.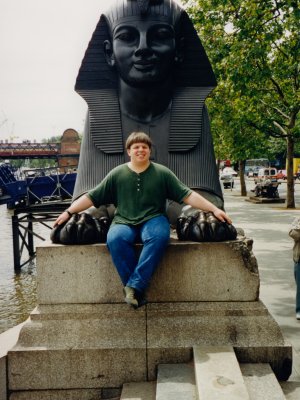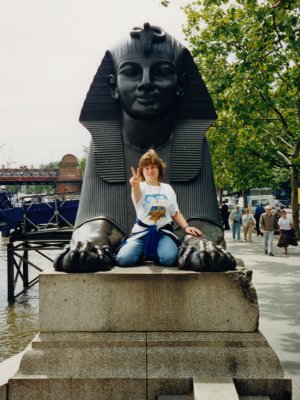 My sister and me, posing with the sphinx.
I was excited to see this, because I had learned about the history behind Cleopatra's Needle in Latin class.  I would later visit the other obelisk when I visited New York City in 2015.
Later that day, we did a walking tour around London, which included, among other things, a visit to The Old Curiosity Shop, "immoralised by Charles Dickens":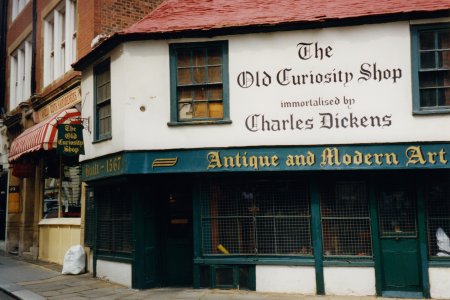 My understanding is that the shop was so named after the release of Dickens' novel, but served as the inspiration for the shop in the book.
Then on our last day in England, we took the Texas couple up on their recommendation and booked another Evan Evans tour.  This one took us to Salisbury Cathedral, Stonehenge, and the Roman Baths.  This was probably my favorite day of the whole trip.  Our tour guide was a gentleman named Paddy.  First stop was Salisbury Cathedral:
We then had lunch at The King's Arms Hotel: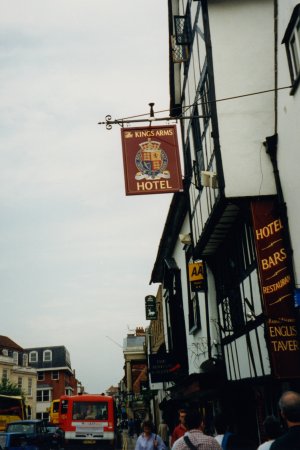 Then we headed to Stonehenge.  That place was busy, with our visiting on the day before the summer solstice.  And here are photos: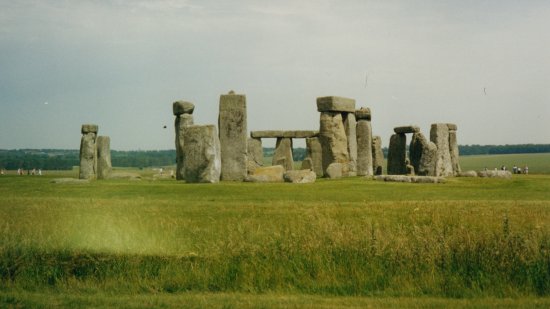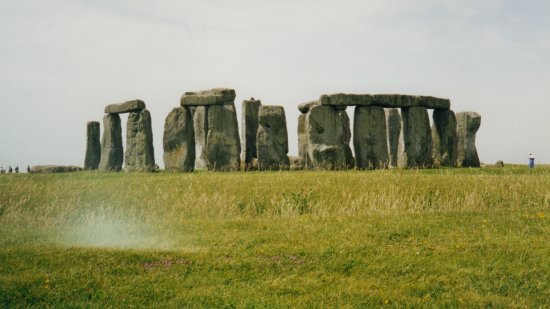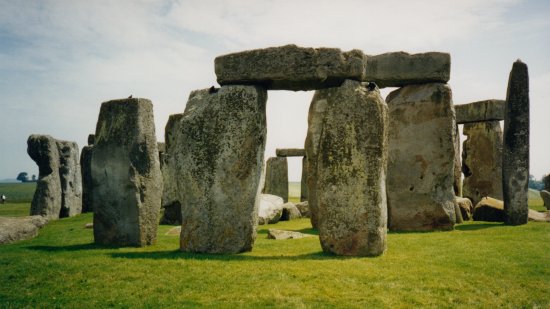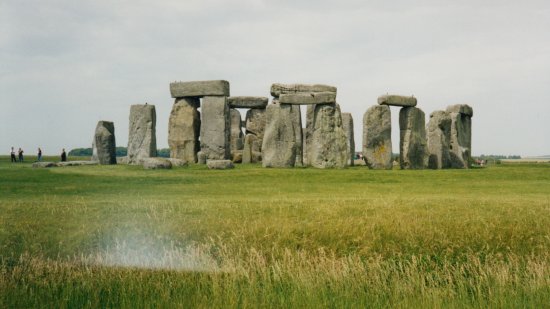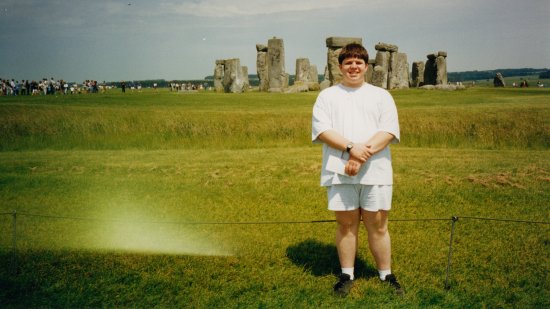 Me posing in front of Stonehenge.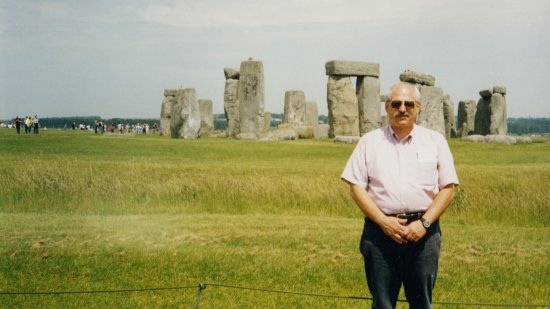 Dad posing in front of Stonehenge.
(I don't know why that light patch is in the corner of all of the Stonehenge photos.  Probably something wrong with the camera that we weren't aware of at the time.)
Then our tour took us to Bath, home of the Roman Baths.  I had previously learned about these in my high school Latin class, so I was excited to see them in person.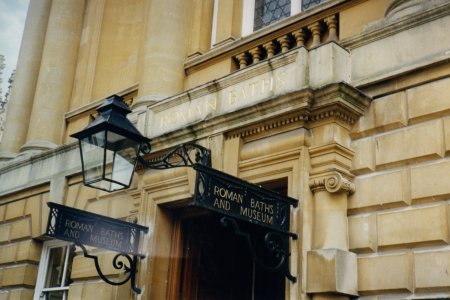 Entrance to the baths.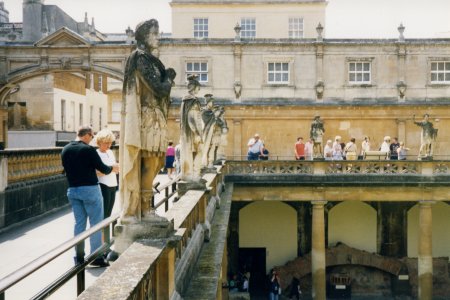 Statue of Julius Caesar, among others.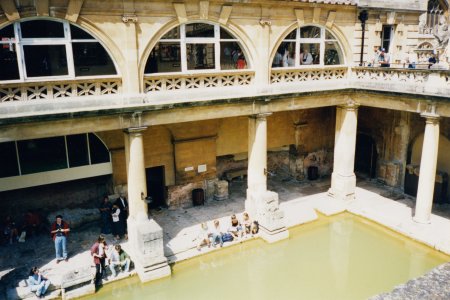 The baths, viewed from above.  As I understand it, the higher tan structures (made of "Bath stone") date from the 1800s, while the structures nearest the bottom are Roman in origin.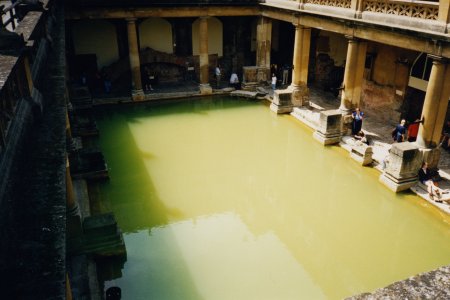 The baths, viewed from above.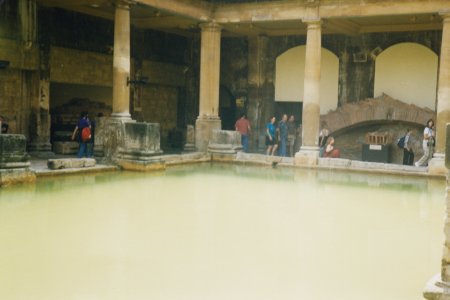 The baths, viewed from the lower level.  I stuck my hand in, and was surprised to find how warm the water was.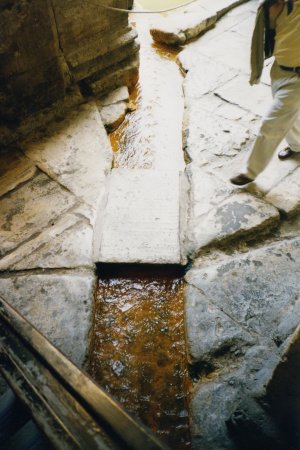 Water channel leading to the baths.
Then we went to the gift shop, where they allowed visitors to sample the mineral water from the hot springs that feed the baths.  Paddy commented, in this beautiful British accent, "Oh, you know that gives you diarrhea."  I gave this mortified look, before Paddy told me that he was joking.  We were flying home the next day, and the last thing that I needed was to spend the whole flight in an airplane bathroom.  I can laugh about it now, though.
Afterwards, we peeked inside Bath Abbey: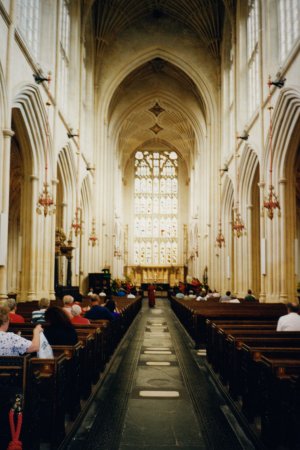 And that was the end of the tour.  From there, the bus took us back to London.
On the last day, we took a walk around the immediate area, walking around Parliament and such.  We found one statue of interest nearby: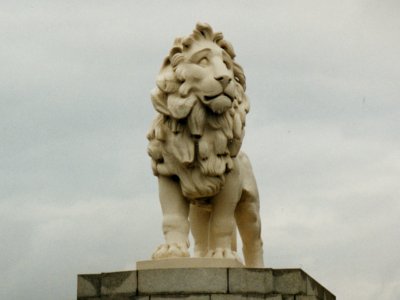 This is the South Bank Lion, also known as the Red Lion.  We found it interesting because unlike most depictions of lions that we had seen, this one was wearing what appeared to be a sad or despairing expression.
Then, returning to the hotel, we got our stuff together, got our ride back to Gatwick, and started our journey home.  For some reason, we had an extra stop going home.  Our international flight was the same as before, going from Gatwick to Philadelphia on flight 99, but then, for some reason, we flew to Pittsburgh from Philadelphia, and got our flight to Charlottesville on US Airways Express from there.  Go figure, but we did get to see the AirMall.  The airline also lost our luggage.  After the flight from Gatwick, we had to claim our bags, go through US customs, and then recheck them, and the airline never sent our bags along.  They delivered them to us the next day.
And that was that.  Not a bad trip by any means.  I'd certainly love to go to England and see it all again now that I'm an adult, and can appreciate it a whole lot more than when I was 17.  When that might happen, though, is anybody's guess.