Lights on the Bay!
December 20, 2013, 3:35 PM
So on Wednesday evening, I got together with my friend Melissa, and we spent much of the afternoon and evening in Annapolis.  We visited the downtown area and Annapolis Mall, we had dinner, and then headed down to Sandy Point State Park, where we saw the "Lights on the Bay" Christmas light display.
In downtown Annapolis, we visited approximately the same area that I explored back in April.  We parked on Main Street, and went down to the harbor, explored around a bit, went up to the traffic circle near the Maryland State House, and then returned to the car.  We were both kind of amused with getting photos of each other, more than anything else.
Case in point: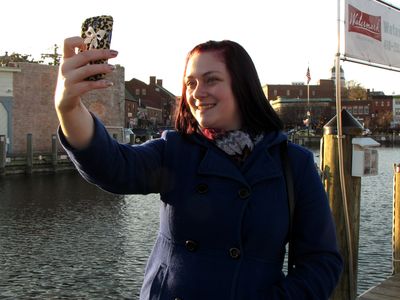 Selfie.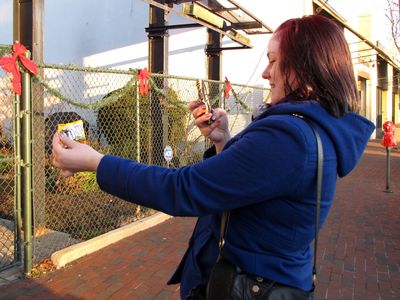 Melissa takes a photo of a bag of M&Ms that she bought.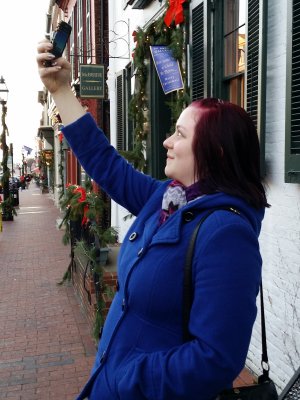 Taking a photo of the Maryland State House dome.
And then Melissa did similarly of me: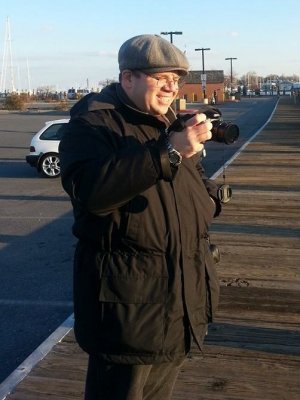 Taking a photo.
At Annapolis Mall, Melissa did some Christmas shopping, while I entertained.  We only got two amusing photos, though: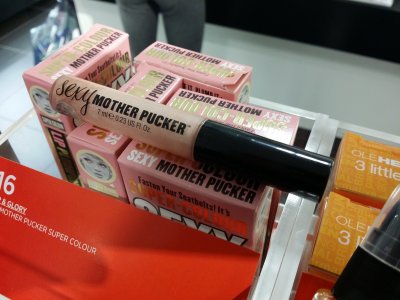 I can't believe that they went there, at the in-store Sephora at JCPenney.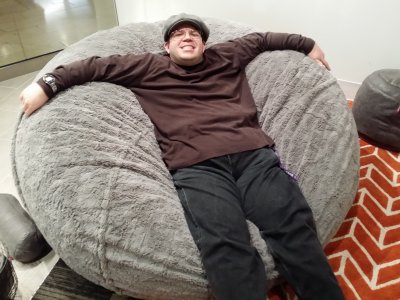 Sinking into a gigantic beanbag chair at LoveSac.  I would totally make this January's splash photo, but considering that December's is a similar photo taken at a Costco, I need to space my beanbags out.
Then we had dinner at a nearby Panera, and headed out to Sandy Point State Park for Lights on the Bay.  For those not familiar, Lights on the Bay is an outdoor lighting display similar to the ZooLights display at the National Zoo, which Melissa and I visited last year.  There are a few differences, though.  First, ZooLights is a walkthrough display, as it's inside an urban zoo.  Lights on the Bay is a drive-through display, set up along the roadways and parking lots.  The theming is different as well.  ZooLights has (not surprisingly) an animal theme, while Lights on the Bay takes a very "Maryland" theme.  And lastly, ZooLights, being at a Smithsonian facility, is open to the public for no charge.  Lights on the Bay is $14 per vehicle.
Right out the gate, however, there was a moment of massive lameness.  I've been to Sandy Point State Park before.  They accept credit cards for payment of admission fees.  When the credit card processing machine has been out of service for whatever reason, they have always waved me through.  Melissa and I arrived with the intention of paying with a credit card (who carries cash anymore?).  The girl working the booth turned us away because they weren't able to take credit cards, telling us how to get to the nearest ATM.  No signs saying that credit cards weren't accepted.  Just the girl telling us to come back with cash.  If we hadn't driven about 40 minutes to get out here, I think we probably would have just left.  So we ended up going down to the 7-Eleven and making a purchase for cash back.
Once got cash and paid the admission, the girl responsible for the earlier lameness continued to be lame, as the suggested that we turn our headlights down to only the parking lights.  I figured that she knew what she was talking about, so I lowered my lights.  Two seconds later: nope.  Not driving with just the parking lights.  Not happening, because not safe.  I would be driving with my high beams on, and they would just have to suck it up.
But once we got past the girl at the gate, the show wasn't bad.  I concentrated on driving, while Melissa took the photos.  And this is some of what we saw…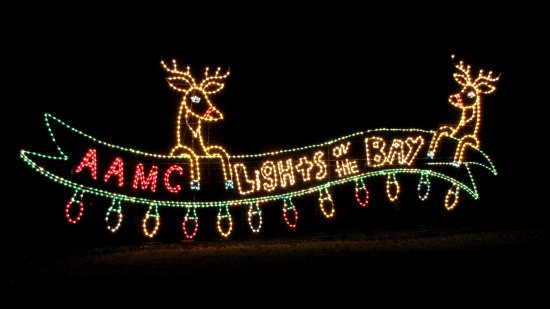 The first display, showing reindeer (with no hind legs, apparently), Christmas lights, and a big banner.  AAMC stands for Anne Arundel Medical Center.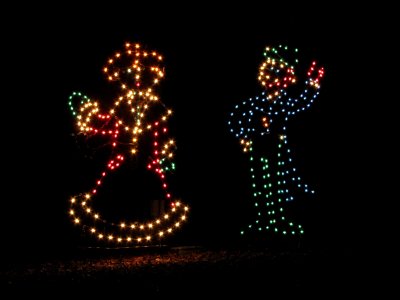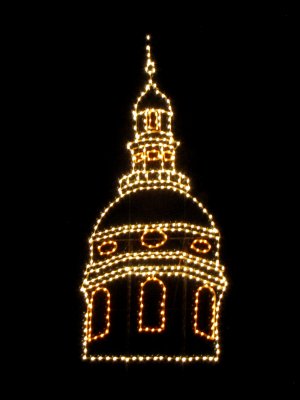 This display is designed to resemble the dome of the Maryland State House.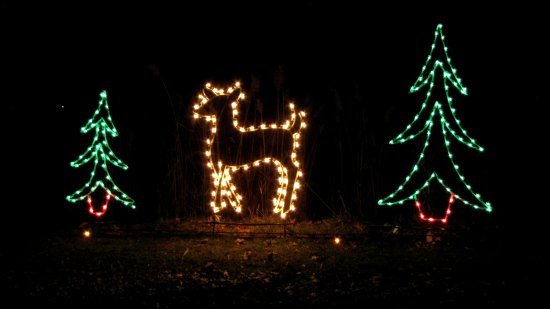 Deer and two trees.  It should be noted, by the way, that we also saw real deer while we were out here.  Deer are a fairly common sight at Sandy Point, as I've spotted them a number of times in the past.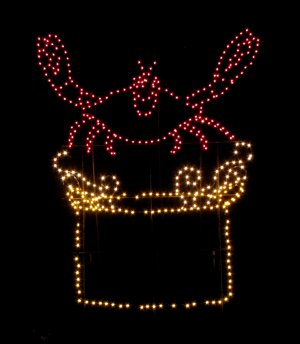 Let me just say that this crab looks way too happy for someone who is about to be boiled to death.  Yes, it is standing over a pot of boiling water, grinning like an idiot.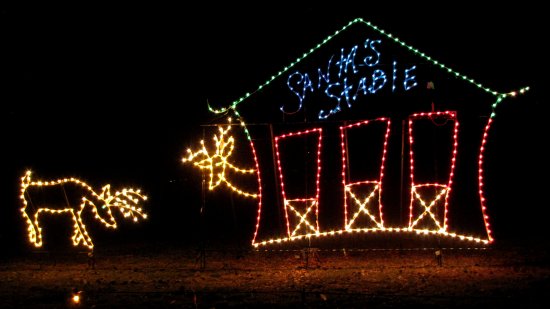 Reindeer stables.  This sort of reminds me of the last frame from a Calvin and Hobbes strip where Hobbes says, "After today, I'll bet Santa takes a shovel to the reindeer stalls to fill your stocking."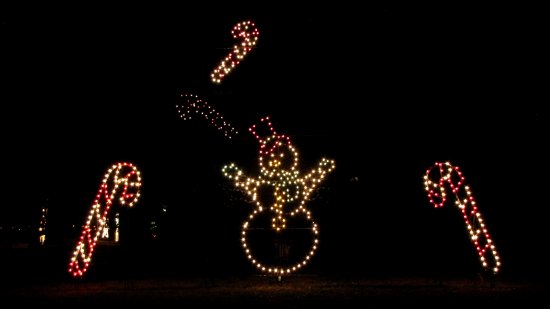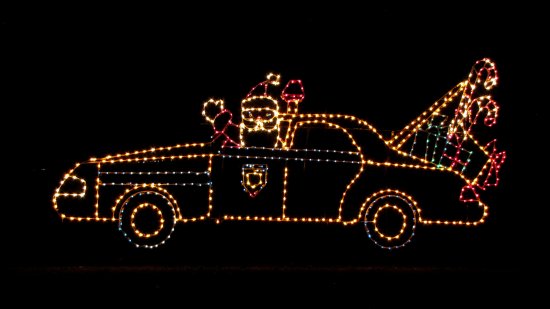 Santa drives a Maryland State Police Crown Victoria loaded with all sorts of Christmas cheer in the trunk.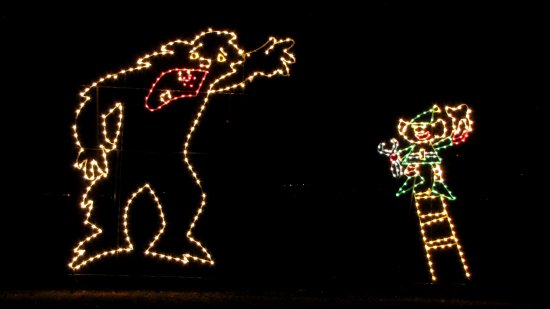 I believe that the character on the left is up for interpretation.  Abominable snowman?  Bigfoot?  Mr. Munch?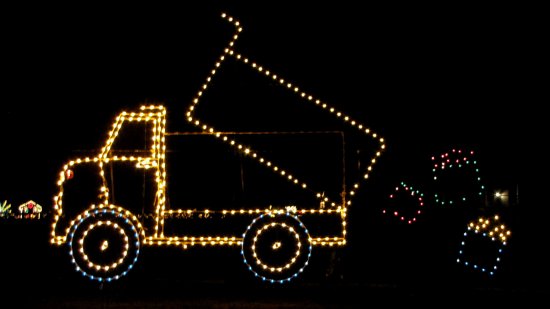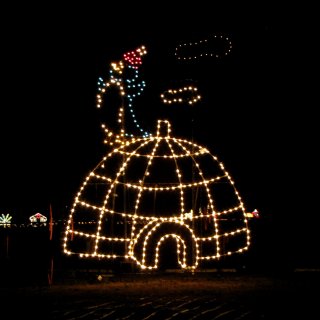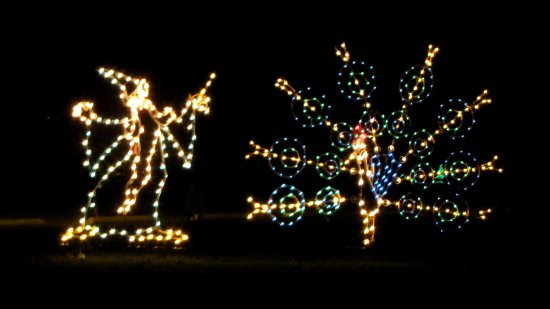 Peacock!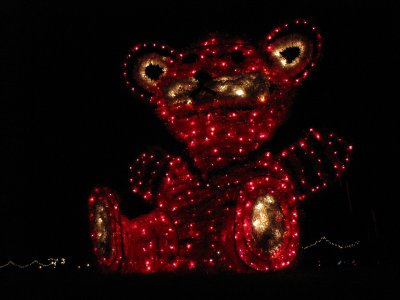 Giant teddy bear!  This was the only light display that had depth to it.  All of the others were flat.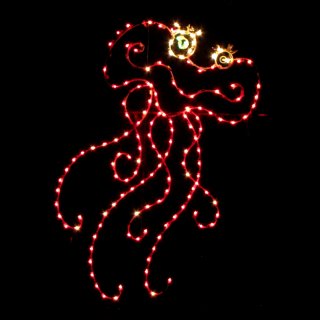 Melissa and I couldn't quite figure out what this was when we first saw it.  Upon later examination, I think that this is supposed to be a jellyfish?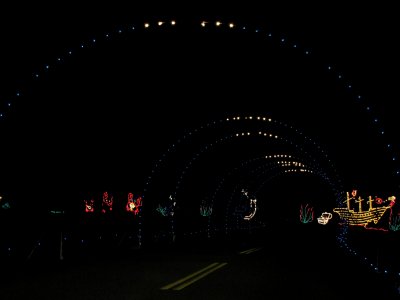 This is one of a few light tunnels that they made along the path.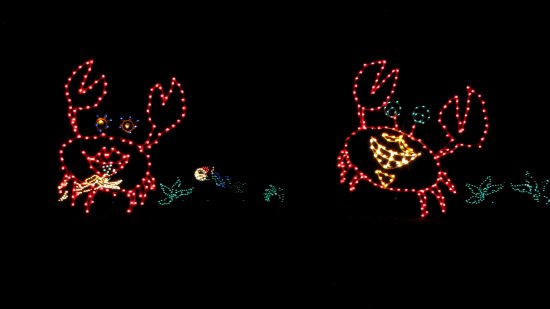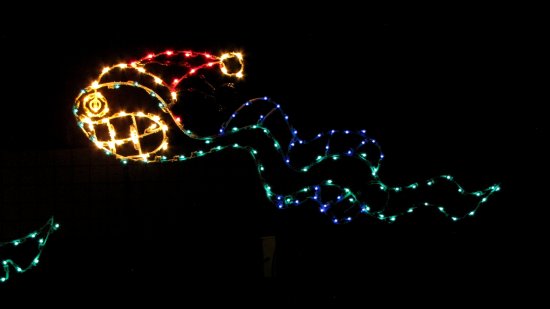 Couldn't quite figure out what this is.  Tadpole?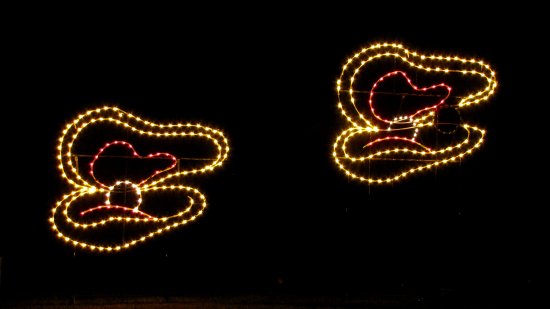 Oysters!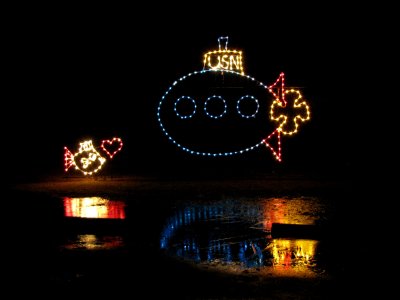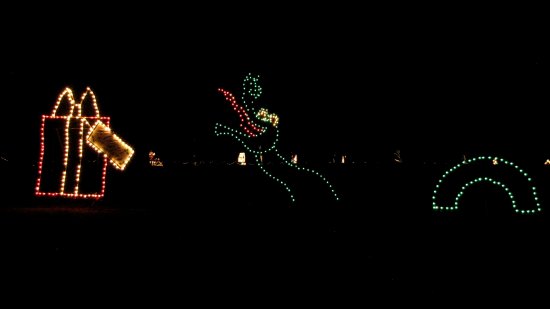 The label on the present says "To Chessie from Santa".  I assume that "Chessie" is the sea monster shown here?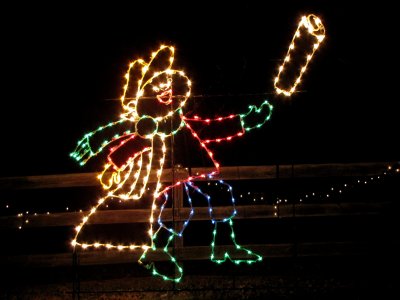 Newspaper carrier!
And there you have it.  Lights on the Bay wasn't too shabby.  Plus Melissa and I had an awesome time in Annapolis.  Fun times!  But that crab smiling as it's about to be boiled to death is a bit disturbing.