Renovations at Union Station!
July 25, 2012, 2:16 PM
This is my traditional posted-from-Club-Acela-at-Union-Station Journal entry, because I'm going to be on a train to Chicago with my mother within the hour.  Should be fun.  However, at Union Station, I was surprised to see a lot of netting and scaffolding in the Main Hall.  Last time I was at Union Station, which was in October for the anti-Walmart demonstration, this wasn't there.  From what I can find, this scaffolding and netting is for ceiling repairs necessitated by damage from the earthquake that happened last August.
In any event, it's pretty neat looking, seeing all of this extra hardware in what is otherwise a very clean looking Main Hall: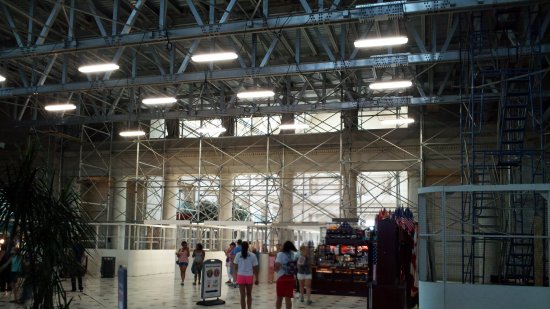 Lights under the scaffolding around the statues on the west side of the Main Hall.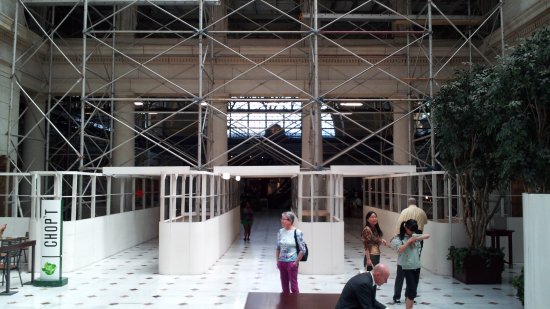 Between the west end of the Main Hall and the main part of the Main Hall.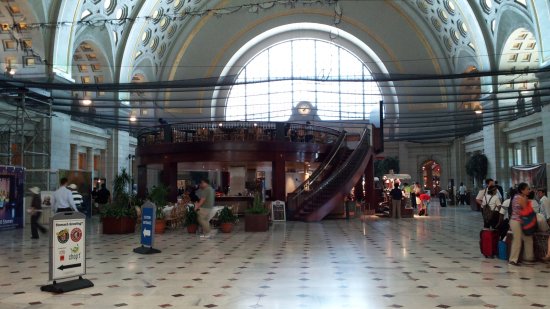 Netting over the Main Hall, including over the restaurant, in a view facing east.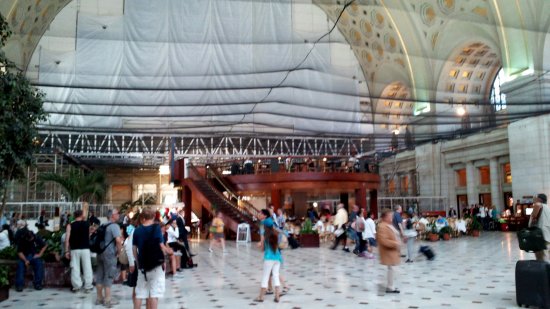 Facing west from the entrance to the East Hall.  Note the large covering hanging from the arch.
Certainly it will look nice when it's all done.  And I realize I don't go to Union Station as much as I used to.  I used to come here all the time, but not so much anymore for whatever reason.  I wore my PIDS shirt to the station, and that was a real hit with the employees.  Everyone was asking me about it.  I so totally need to start selling those.
And then I'm looking forward to our trip to Chicago!  We've got a roomette on the Capitol Limited, and so that ought to be pretty fun.  Maybe I'll do a Video Journal from the train!  Could be fun.