Mom, Sis, and I had a great time…
June 15, 2008, 10:24 PM
I always enjoy when my sister comes back from Chicago. This time, she took a week and went to Stuarts Draft. However, as my own schedule precluded going down to Stuarts Draft, which meant that we didn't get to have a the-four-of-us kind of moment this time around, I still did get to see her. Mom and Sis spent Thursday and Friday in DC with me, so the fun was still had.
First off, Mom and Sis met me Thursday afternoon at the office. Mom knows where my office building is, and so after stashing the car at Wheaton Plaza, she and Sis rode on down to Dupont Circle and met up with me in my office.
Getting back to Wheaton, they got to see how much I had done my restaurant homework for them. See, Mom was displeased in her earlier visits about how little I knew about the restaurant scene where I lived. I could tell you everything about places in Pentagon City and Dupont Circle, but nothing right in the immediate area where I actually live. After all, if I'm going to eat near where I live, I'll just save the money and nuke something at home. But I found a restaurant for us to go to, and in Wheaton, no less. It's called Umbertos, and it's a family-owned restaurant located in this cluster of hispanic-run businesses in between Georgia Avenue and the Wheaton Plaza shopping mall. If you're ever in Wheaton, I highly recommend it.
Then Friday, we headed to Georgetown. Yes, that Georgetown. So after an unexpected shopping trip at the JCPenney in Wheaton Plaza (Mom and Sis seem to be unable to turn down a sale on clothes), we took Metro down to Rosslyn, and then from there, walked over the Key Bridge to Georgetown. Sis's big thing in Georgetown was seeing the Exorcist steps. And here they are: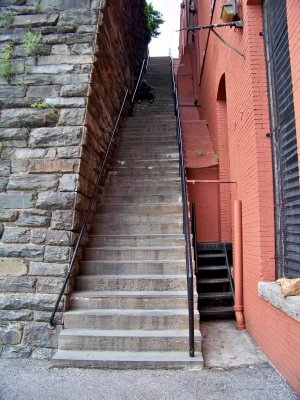 I also took a look at the gas prices at the Exxon station next door: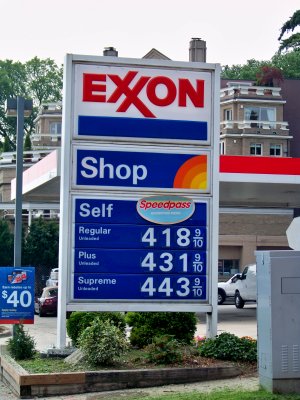 That's really gotta hurt right there, at $4.18 per gallon. At this rate, we'll see five bucks a gallon before the end of the summer. Here's hoping that the oil bubble bursts soon…
Otherwise, though, we had a wonderful time in Georgetown, and I don't think either one of them was prepared for exactly how long Georgetown is. After all, you enter Georgetown via the Key Bridge at roughly 35th Street, Georgetown lasts until 29th Street, and it's still another six blocks to Foggy Bottom-GWU station, at 23rd Street.
Meanwhile, remember that sunburn I got last Sunday? While Mom and Sis were around, it started to ooze. Lovely. Just what I needed. Mom was curious, looked, and told me that yes, it was starting to ooze from both shoulder blades. According to Mom, who's seen worse sunburns on me, I got a second-degree burn in a couple of spots. But we both agreed, the oozing is a good thing. It means that things are really starting to heal, and in fact, the burn has been a lot better since the oozing started (and finished, too, by the way). But with the oozing going on, and all the stuff from that getting on the back of my shirt, I had to change shirts before going to dinner.
Then we worked dinner as something to do on their way out. We parked my car at Wheaton Plaza, then we all rode down to Metro 29 in Arlington. I first went there with Jeff and Isis, and now I got to take the family. We met up with Sis's friend Anne from Virginia Tech (thus we had two people with the same name – Ann and Anne), and we enjoyed ourselves. As with Umberto's in Wheaton, if you're ever in Arlington, I highly recommend Metro 29.
Then after dinner, Mom and Sis dropped me off at West Falls Church station, where I took Metro back to Wheaton and then drove the rest of the way home, and then Mom and Sis went back to Stuarts Draft.
So all in all, we had fun. It's too bad Sis couldn't stay longer, but I know how schedules work sometimes.
Web site: About the Exorcist Steps in Georgetown...
Song: We're no strangers to love/You know the rules and so do I/A full commitment's what I'm thinking of/You wouldn't get this from any other guy/I just wanna tell you how I'm feeling/Gotta make you understand...
Quote: Speaking of stuff, the building in Rosslyn that's being demolished next to Rosslyn Center appears to be down to the curtain wall and the frame. I expect it will disappear soon...