What a fun weekend!
November 25, 2007, 8:38 AM
All in all, I had a fun Thanksgiving weekend in Stuarts Draft, but I'm still very glad to be home again.
Thanksgiving itself involved the usual – turkey, and all the various fixings to go with it, and then falling asleep afterwards.
Then I spent Friday with Katie. We had a blast, as we did anything but shop. We went on the Blue Ridge Parkway for a while, then rode back around to Charlottesville, where we went to the Mellow Mushroom, where we had a vegetarian pizza with a pesto base. Twas awesome.
However, before Katie and I started out, we got a movie of Katie's cat Peabo chasing a laser pointer around…
There was an additional twist to our trip today, too. Katie's mother had gotten a new GPS device during one of the black Friday sales, and so guess what was sitting in the Sable during our trip? That's right – Rosann's GPS device, as Katie and I were testing it out. Nice device, because except for a few remote spots on the Blue Ridge Parkway, it knew exactly where we were, and told us what was ahead. Kind of reminded me of the Clever Devices stop annunciator on some of the buses I ride. The Clever Device announces every available stop, while this thing notifies us of every street we're passing on screen. Then this thing also gives us directions, which we tested, even though I knew where I was going already. Still, it was pretty accurate, even though it sent us some ways I probably wouldn't have gone. To get to the pizza place, it sent us up Fontaine Avenue to Jefferson Park Avenue through UVA Hospital to get there. I would have taken a slightly more northerly route, preferring to take Ivy Road, which turns into University Avenue, to get there. Either way, though, one of these would be handy to have in DC, though I don't exactly want to have to pay that much for a GPS device.
Then on Saturday, I got to see the new Target for the first time. And here it is: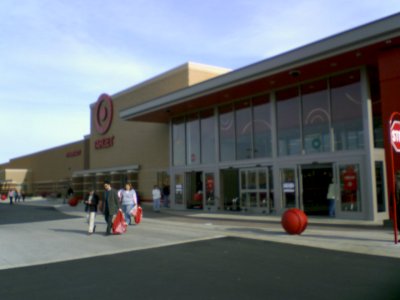 This wasn't exactly anything new, as I've been in Target numerous times before, but I did find it slightly unusual to have it all on one level, since the Target I usually go to in Wheaton is two stories.
And then I went to Wal-Mart, to say hello to everyone, and get a haircut. They took a lot of hair off, considering it had been more than two months since last I got a haircut. And a word of warning to those of you going to Wal-Mart: Don't wear a navy blue shirt into Wal-Mart. Even though I was wearing jeans, I got stopped by some people looking for help. It felt really good to say, "I don't work here," while thinking go find someone who cares to myself. Still, I got to say hello to everyone and that was fun. I also showed a few people I was closer with over there the photo of me in my cheer outfit. They remembered the first time I wore it, as a halloween costume to work. One person was surprised that I was actually wearing it in the streets. I was like, hell, yeah! to that. After all, off the sidewalks and into the streets, no?
I also swung by my old high school for a few quick photos. They replaced the old Simplex alarm system there with one containing System Sensor horns and strobes and Fire-Lite BG-12 pull stations. They also replaced the stairs leading down to the cafeteria with a long ramp. And they also replaced the lettering on the front of the building. I'm not exactly sad that they replaced the old letters, but they took a giant step backwards in readability.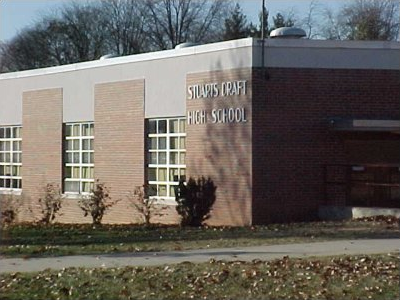 As you can see, the old letters looked a little hokey, but you could easily read them from a distance because they were bright white. Now, onto exhibit two, post-renovations…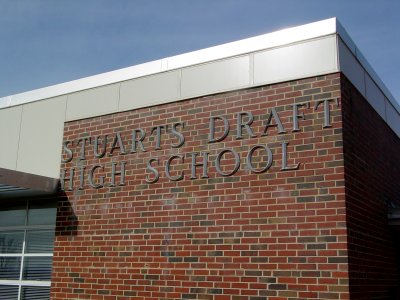 Someone needs to tell whoever planned that about the joys of contrasting colors. These letters do not stand out as much as the old ones do, because they're dark gray on the red brick. Bad idea. They should have stuck with the white. You could read the old letters from the street. You can't even tell these new letters are there at all until you're practically right on top of them, because they just don't stand out.
I also got to talk to someone at Target that I knew who was still going there, and they said it's different, and some of the changes were weird, as I expected. And we both agreed that they probably should have done away with their huge new gymnasium and done more work on the rest of the building. All in all, though, I was pleased that they renovated it, but not how they did it. And while Stuarts Draft High School may not be a dump anymore, I had another feeling: Missing the old "look" – yes, the old building was a dump, but it was our dump.
And then the trip back up to DC was uneventful. It was, however, notable for being the first time since the inauguration that I did a northbound trip in darkness from start to finish. When I did my biweekly DC trips, I would normally start out in darkness, but by the time I got to Mt. Jackson or so, it would be light out. At the most, I'd clear I-81 before it became light out, and it would be light by the time I got all that far on I-66. For the inauguration, I timed things to arrive at Vienna at 5 AM, well before the sun would come out. This time, however, I did the trip in the evening, after the sun had gone down.
So all in all, not bad. Next time I go to Stuarts Draft will be in December, when I go home for Christmas. That's going to be fun, because we're going to Chicago over Christmas to see Sis. That will be fun, since she wasn't able to make it down for Thanksgiving, and won't be able to make it down for Christmas, either. And we've not seen her since August.