Protesting leaves you SO sore…
January 29, 2007, 2:07 AM
Marching around DC for six hours at a relatively fast pace leaves you sore the next day. Specifically, my legs hurt. Whatever muscle runs along the outer sides of the thigh must have gotten quite a workout, because it's aching today. Going down the stairs has been hell. Going up is no problem. Go figure.
Otherwise, I thought it was interesting to read this in this ABC News article:
The rally on the Mall unfolded peacefully, although about 300 protesters tried to rush the Capitol, running up the grassy lawn to the front of the building. Police on motorcycles tried to stop them, scuffling with some and barricading entrances.
I was part of that group of 300-some protesters. And it was quite an event, as this picture attests: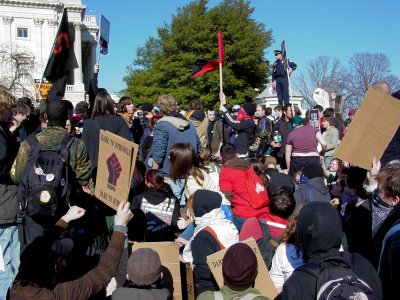 There we are, and based on the orientation of the Capitol in the photo, I'd say we're in Southeast. That's a first, I guess. A protest in Southeast.
And I'd say I really taxed the camera. By 5:00 PM, I had burned through all three of Big Mavica's batteries. I switched to the cell phone after that (I left the protest at 5:00, by the way), and did some regular-DC-trip type photos. One of my first cell phone photos was of the Metro, showing exactly what the crowd looked like at the Archives-Navy Mem'l-Penn Quarter station: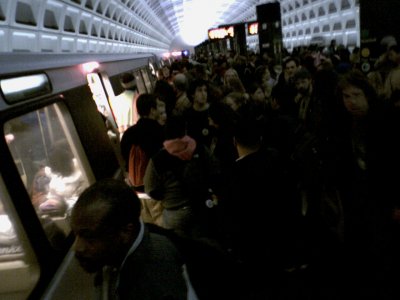 Pretty crowded, if you ask me. But all in all, the day was good. My understanding is that we had 100,000 at the protest, a feeder march from Dupont Circle, and even a rush to the Capitol itself.
My own take was pretty good, too. I got 441 photos with Big Mavica, 17 photos with the cell phone, 50 movies with Big Mavica, and four movies with the cell phone. I also went through ten mini-CDs – an entire spindle in one day. And this was after I had a LOT of trouble with Big Mavica early on. Big Mavica was hanging up on saving images for some reason. Thus I did lose the only shot I got all day of the Rude Mechanical Orchestra, which showed up at Dupont Circle to join us. It went just fine early on, then I started having problems on the first CD. I changed to CD #2 and took a movie. I finished the movie, and the CD immediately said "Not enough disc space", meaning it was allegedly full (though I wasn't convinced it was). So I went to disc #3 and had no problems from there on out save for the expected burn-through of the batteries (which are now recharging).
I also had some trouble recovering images from the same two CDs where I was having problems. On the first CD, it initially said "repairing data" and then "disc error". I tried again. Same problem. Okay. I went to CD #2, and no dice as well. I plugged Big Mavica up to the computer, and managed to get a read on the second disc, but it wouldn't copy. Go figure. I was ultimately able to finalize both CDs, and recovered all the images off of them.
I think that some of the problems were related to the cold we had at the march early on, and some of the problems were related to using a CD camera, like all the jostling it got during the march while it's trying to burn data to the CD. But we managed. Big Mavica's quite a trooper, having made it through the April 22, 2006 protest in heavy rain and not short-circuiting.
And now to write my narrative…
https://files.schuminweb.com/journal/2007/j27-capitol.jpg