The protest was interesting…
January 25, 2007, 2:10 AM
The 2007 State of the Union Address protest next to the Grant statue at the Capitol Reflecting Pool was okay (map here), though it fell below all expectations as far as attendance went.
The protest was sponsored by DAWN and World Can't Wait. The format was two-staged. Before Bush's speech began, speakers spoke from the "stage", which was about three steps higher than the rest of the area. Then when it was time for Bush's speech to start, they turned on a local radio station carrying the speech and played that over the sound system. Attendees were encouraged to react openly and loudly to the speech as they saw fit. And while the speech was going on, David Barrows, dressed as George W. Bush as the devil, acted out the speech.
The protest was less successful than expected, with attendance estimated at around 30 people (compare to an estimated 300 last year). I believe that there are several reasons for this. First of all, it was really cold out. The temperature was in the 20s – that's pretty darn cold. But at least there was no wind. Then access to the location was a bit troublesome. From the south, the nearest Metro station was Federal Center SW, and from the north, the nearest station was Union Station. The obvious station to the uninitiated, Capitol South, was out since it's on the wrong side of the Capitol. I went in from Federal Center SW. That turned out to be a wise decision, though I admit it was a long walk to the venue. Due to security arrangements in place related to Bush's arrival, there were police cars at every corner, with markings for the Metropolitan Police, the Capitol Police, and the Park Police. To get to the reflecting pool from that way, you had to approach the area from 3rd Street SW and then walk around the reflecting pool to reach the Grant statue. That's a long walk in the cold and the dark. But at least it was a clear way in. From the north, you had to deal with the streets being blocked off for Bush's motorcade. People reported having to wait for some twenty minutes before being allowed to cross the street. Then because of the cold, the whole event broke off early.
By the way, speaking of cold, steam-emitting manholes and other grates are our friends on these cold winter nights. They spout warmth from the street and provide a moment of relief from the cold. Check it out: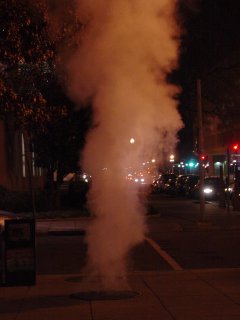 However, for those of us who made it (all thirty of us, tops), the program went well. I got to meet Medea Benjamin for the first time, which was pretty neat. I'd photographed Medea Benjamin once before, last Fourth of July in front of the White House. Medea Benjamin is in this picture all the way to the right, to the right of the woman in the pink headscarf, and to the left of the man in the black shirt. In addition, I got to meet Midge Potts for the first time. You may recall that Midge was arrested and carried off in front of the Supreme Court building back in February 2005 during an anti-torture demonstration. Then during the speech itself, the reactions to Bush were quite spirited.
And now for pictures…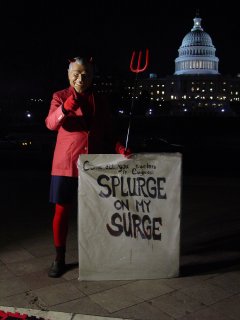 David Barrows dressed up in a rubber Bush mask and certainly made a "devilish" appearance.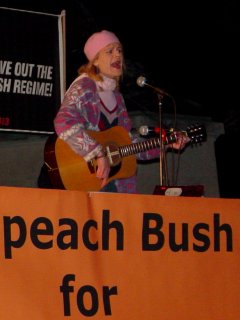 Midge Potts sang and played the guitar.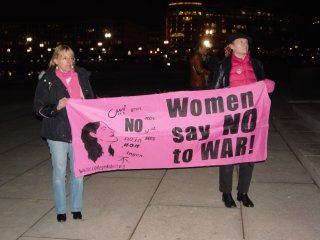 Code Pink had a banner as well. Medea Benjamin is standing at left.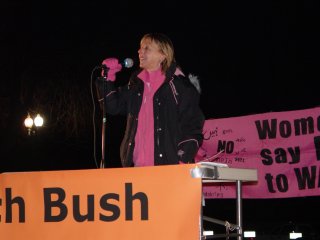 Medea Benjamin took the mic for a bit before Bush began speaking.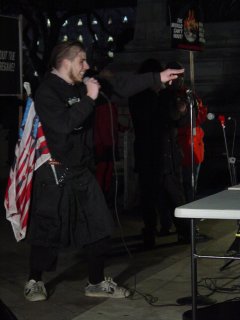 This gentleman spoke and read poetry.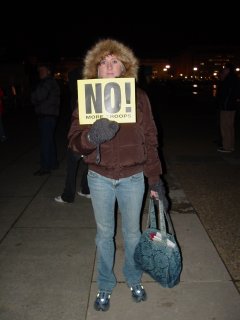 This woman held a sign that said "NO MORE TROOPS".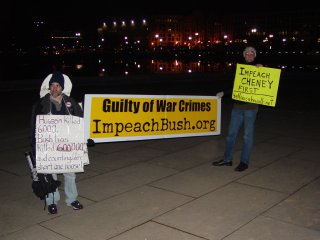 The guy who runs yellowcakewalk.net was also in attendance.
After the rally ended, I ended up walking to Union Station with David (still playing George W. Bush) and Midge. Walking was a wonderful thing. It got the blood flowing again, and I could once again feel my feet, which had become very cold. We also got some warmth by walking over a grate for the Metro that was emitting warm air. David was somewhat uncomfortable about walking over the grate. I was fine with it and appreciative of the warmth. Meanwhile, Midge demonstrated the stability of the grate to David by jumping up and down on it.
We also got a photo of David, still very much in costume, posing with the other side of his sign in front of a row of flares being used to block off a street. Check it out: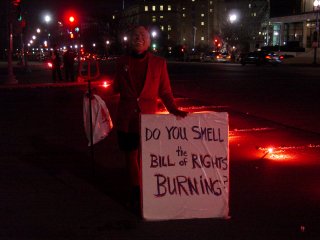 And then at Union Station, David and Midge continued on to their actual destination a little further to the northeast, and I went into Union Station to catch the Metro. I decided to go to Union Station instead of going back to Federal Center for two reasons. First, I could walk with David and Midge. Secondly, I had access to a men's room at Union Station, plus it was a slightly shorter walk from where we were. This was worth having to change trains late at night, which can sometimes entail a lengthy wait. At Federal Center SW, with a longer walk and no readily accessible men's room, it was at least an Orange Line station. But the hell with that, it was cold and I had to go.
When I got to Metro Center, I realized I must have just missed a Vienna-bound Orange Line train when I saw PIDS: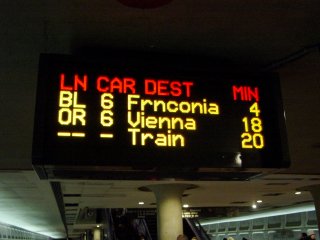 So I made myself comfortable. But at least it was nice and warm on the lower level of Metro Center. And 18 minutes later, there was my train.
Web site: Idealist.org, which the person with the "NO!" sign told me about. Great site, and maybe this will finally help me land a job in DC...
Song: I also uploaded videos of David Barrows acting out the speech to YouTube. Check them out: Bush on the economy, Bush on taxes and spending, Bush on Al Qaeda, Bush on extremists, and Bush on Iraq.
Quote: As a side-note, this was my first trip in more than three years of doing my regular DC outings that I got no Rohr cars whatsoever. For that matter, I didn't see many Rohrs out, either. Who knows. The last time I had a completely Rohr-less trip was August 9, 2003. But every time I thought I was likely to get a Rohr, I got a Breda instead.