July 4, 2006, 3:47 AM
Hey, it's the Fourth of July. That means once again, and for the first year with Dan Tangherlini as General Manager, Metro is running the special July 4 service. So today, Orange goes from Vienna to both New Carrollton and Largo Town Center. Blue Line starts at Huntington (vs. at Franconia-Springfield, aka "FRANC-SPRINGD"), and goes to Rosslyn. Yellow Line goes from Franconia-Springfield to Mt. Vernon Square. Then Red and Green run their regular routes, but will turn back some trains at Silver Spring and Fort Totten, respectively. And then Smithsonian is closed all day.
So all in all, I think I'm going to have a good day. See you when I get back.
July 3, 2006, 8:35 AM
I'm going to say it straight up: I don't like handshakes. And here's why: I don't know where that hand has been, and most people aren't as meticulous about their hand washing as I am. Whenever someone shakes my hand, my first instinct is to find a restroom and re-wash the hand that was shaken. I also have to suppress the urge to smell the hand that they just shook (to see how dirty that hand was) right in front of them, and to wait until after they're out of sight before going into "damage control" mode.
I don't know why it is, but I don't like handshakes for that reason. I don't know whether the person whose hand I'm shaking washed their hands when they last used the restroom, or what that hand has been up to and into since the last time it saw soap.
The reason I mention this is because I was over in Charlottesville on Sunday night, doing some night photography over in the Corner District, which borders the University of Virginia. The bars and restaurants in the Corner are popular places for UVA students to go to get "polluted", shall we say. Now when I'm photographing with the tripod, I'm far more noticeable than when I'm photographing without it, since I take up more sidewalk space, and have to be more stationary as a result. So I get far more attention than otherwise. And the males, some of whom smell of beer, more often than not want to shake my hand. It would be quite rude to say, "I'm not touching that!" and so I just go ahead and shake. And then I feel unclean afterwards.
Continue reading…
July 1, 2006, 6:25 PM
I visited Foamhenge in Natural Bridge today. It was interesting. Realize that Natural Bridge itself is something interesting. It's a little collection of roadside attractions on US 11 in basically the middle of nowhere. There's the natural bridge itself (for which Rockbridge County gets its name), plus there's Natural Bridge Zoo, a wax museum, and probably other stuff I'm not remembering.
But this is Foamhenge: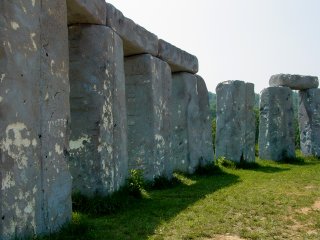 Continue reading…