I now know what happens when you overstay your welcome at the Exeloo…
November 11, 2005, 1:47 AM
I went to Washington on Wednesday, and had fun. I explored around Washington Circle near the Foggy Bottom station, explored a bit around the Friendship Heights station, and also walked through the neighborhood along Connecticut Avenue between the Cleveland Park and Woodley Park-Zoo Metro stations. All in all, it was a relaxing day, and I got some awesome photos.
First of all, Washington Circle. You may recall that I first visited Washington Circle by accident, on my "accidental" DC trip in August. There, I discovered Washington Circle while trying to find my way to I-66 from downtown Washington, and took four laps around the circle in the process. This time, I just took one lap, for photos, all the while amused about my past experience.
Also, despite DC being a large city, it's really a small, small world. At Washington Circle, by pure chance, I ran into someone I'd first met at Dupont Circle on September 24. Here she is then: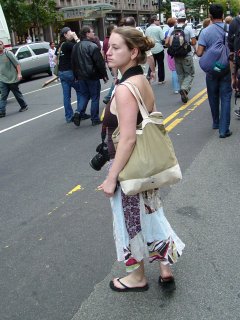 We quickly talked about the protest, about how our photos turned out, and exchanged links and Emails. Fun stuff.
I didn't unexpectedly run into anyone else I knew, though. It would have been funny to have another moment like I had with Jen Jackson from Potomac Hall on J20.
Later on, as it got later in the day, I went to Huntington after Pentagon City, this time with a mission. I was determined to see what happens if you overstay your ten minutes in the Exeloo. So I just kind of stood there watching my watch and holding my camera until ten minutes passed.
So here's what happens: Go in, close the door. Ten minutes pass uneventfully, which is the amount of time they give you to do your business. Then at ten minutes, the time limit light comes on, flashing red. It does that for sixty seconds. Then after that, an ear-splitting alarm goes off, and the door automatically opens. It's really a loud alarm, too, as you can hear it all the way over by the elevator, which is how far I'd gotten before it stopped going off.
And I got a movie of the Exeloo kicking me out. So you will soon be able to hear that ear-splitting alarm in the comfort of your own home. And you could tell I was surprised – the camera jerks for a moment when the alarm starts going off.
Yeah, I'm a geek, standing in the Exeloo for ten minutes just to see what it does when it kicks you out. But hey, someone had to see what it does.
Web site: Sis poses in front of the Exeloo on April 16, after a fun day of protesting and shopping.
Song: Still "Cool Tapes", since I'm writing two entries back-to-back.
Quote: So when does the door open? - What I was thinking when the light was flashing. I didn't know about the alarm, and had hoped it would be something more exciting than just a light. I didn't think it would just "suggest" getting out. The alarm and throwing the door open was more what I was thinking. I figured it would enforce it somehow.