Malcolm X Park: Mission Accomplished
July 7, 2005, 9:48 PM
Yes, I had a very productive time in Washington DC. Though I did get a touch of a late start. But we recovered. I ended up making up the time by hurrying along my Sheetz stop on the way up, plus traffic was lighter than usual going in. Usually I hit a considerable bottleneck from mile 41-45 on eastbound I-66, and this time, while I did encounter traffic (slowed due to construction vehicle movements), it was not as bad as I've seen it. So I was able to breeze right through. I still got to Vienna a touch late, but no problem.
I also finally found some background information on the I-66 construction.
At Vienna, I got a pleasant surprise – a parking spot on the top level, close to the elevator. Usually, and especially since the garage rehabilitation project began, I can only get a parking spot in the North Garage after 10:00, when the guaranteed spaces open up. So that was handy. Also, the rehabilitation work has moved once again, now encompassing the western ramp between levels. How strange it is to have that section closed off now, since that's the ramp I usually use going up and down.
I also found that Metro employees must automatically put out the "LOT FULL" sign without any regard for the lot's actual fullness. I understand we can't count the guaranteed spaces, since those are reserved for permit holders until 10 AM. But the back part of the top level was nearly empty. That's not full if you ask me. But hey, I don't mind a good top-level parking space.
At Vienna, I caught a Rohr to Rosslyn, where I did my Rosslyn thing. That's where I finalize my plans for the day, and read the Express. The plan was to keep my fingers crossed that the weather would hold out, and photograph the lower section of Malcolm X Park.
You may recall that I photographed the upper section of the park back on May 11. I did not photograph the lower level extensively on that day (I only took a few pictures) because the waterworks weren't running. The lower part of Malcolm X Park has a huge tiered fountain and a large reflecting pool, so their operation was essential to a good photo set. With no water on the upper level, all I needed for that was nice weather.
The weather was the big "if" on Wednesday. I'd heard conflicting weather reports for the day. From one reliable source, I heard "partly cloudy". From another reliable source, I heard "mostly cloudy", and from another I heard "storms". The weather turned out to work in my favor, even if it was a little weird how it all turned out. You'll see.
So leaving Rosslyn, I caught another Orange Line train (Rohr as well), and rode to Metro Center. From Metro Center, I got a third consist of Rohrs, and rode to Gallery Place-Chinatown. I was starting to wonder at this point if this was going to be an all-Rohr day for me or something, right after my almost-all-Rohr-and-Breda day last time. It was starting to look like that. From Gallery Place, I caught a Green Line train (a Breda!) to U Street-Cardozo. Heading out of there, I proceeded to Malcolm X Park, with the clouds still hovering overhead. At Malcolm X Park, I walked straight up to the upper level of the park, to figure out a battle plan and take a moment's rest. The fountains were on, which meant it was all-systems-go.
So here's how it worked out for me weather-wise. The clouds are out over the park, but while I'm planning out my coverage of the park, I get a clearing in the clouds! I have bright sunlight! YEAH! I don't know what happened, but something just worked out for me, to provide me a break in the clouds long enough to do my photo set.
So I went ahead and executed my battle plan for the park, which involved making straight lines through the park. I went down the right side of the big waterfall, and visited the statue of Dante on the way down. I then photographed the pool where the big waterfall finishes. From there, I went back up the steps to return to the top of the waterfall. And then back down again on the left side of the fountain. Following that, I took a few more bottom-pool photos, and also some of the fountain and reflecting pool that are separate from everything else. And from there, I swung around to the memorial to James Buchanan, then across to 16th Street, and finally down to a sidewalk at the very front of the park, before exiting via 15th Street.
And as a preview of what you shall see in the photo set, take a look: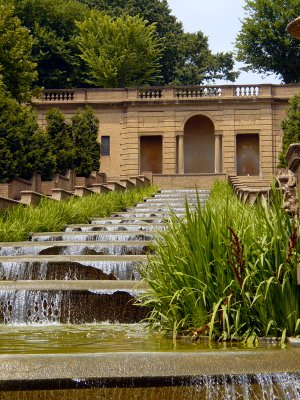 For the photo set, to be released in Photography, I'm going to stitch together the two days' work to make one photo set, noting that it was done on two different days. I do intend on using the "Malcolm X Park" name for the set, over the official name of "Meridian Hill Park".
And Malcolm X Park was my main goal for the day. And it was successful, as evidenced by my photo count for the day. Out of 211 images taken on July 6, 179 of them are of Malcolm X Park.
Now what I have yet to quite figure out is how what is officially named "Meridian Hill Park" got to be known as "Malcolm X Park". The only thing I know about the Malcolm X name for the park is that it was first used during the civil rights era. In doing some research, I found lots about the official name of Meridian Hill Park. That name came about based on Thomas Jefferson's wanting 16th Street to be the location of the prime meridian. But if anyone has information about how Malcolm X's name came to be attached to the park, please let me know!
So after Malcolm X Park, I went back from whence I came, to the U Street-Cardozo Metro station. From there, I rode to Archives-Navy Mem'l, where an enhancement project had recently been completed. From there, I saw a Yellow Line train come in and heard a familiar voice! It was the operator who ran my first rehab ride. So I hopped onto that train, with the intention of saying hello later on.
That train was a consist of rehabs, and I got on Breda 3008. You might recall that Breda 3008-3009 and I have some history already since they became rehabs. They were my second-ever rehab ride back on April 14, 2004, on the Yellow Line. I also encountered that pair on October 17, 2004, when I rode them in to Rosslyn from Vienna as part of a Rehab-Breda-CAF consist on the Orange Line. Far more wheel noise than usual on that trip. Then on January 4, 2005, they were part of a four-car Blue Line train that I boarded (I rode 4058 in front – 3008 and 3009 were the third and fourth cars in that consist). At McPherson Square, we were offloaded, due to brake problems on 3008. At that time, I got a photo of the seats on 3008 flipped up. And then now most recently.
I rode to Mt. Vernon Square, and then when the train came back in, said hello to the operator. She was not taking that train right out, so we got a chance to make conversation. That was fun. When her train arrived, I noticed something wrong: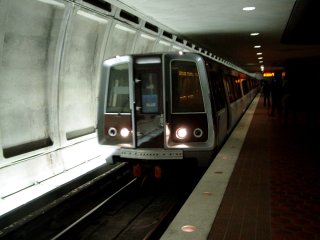 Yes, the "BLUE" sign was in front instead of the "YELLOW" one. Oops. I mentioned it, and it was fixed.
From there, I rode to L'Enfant. I wanted to use the entrance at the Department of Transportation, since I'd never used that entrance before. So I did. From there, I walked along D Street to the entrance at La Promenade. From there, I explored La Promenade far deeper than I had ever explored it before, all the way to the CVS at a far end. And there's still more to see, too.
While down that way, I tried the newest member of the Coca-Cola family: Coca-Cola Zero. And I didn't like it because it tasted like a diet soda (which it basically is).
What's interesting about Coke Zero, though, is that it's a diet version of the Coca-Cola Classic formula – regular Coke. Diet Coke had its own entirely different formula. As naming goes, Coke Zero should be the one carrying the Diet Coke name, since it's basically a diet version of its parent drink. Then what we normally call Diet Coke should carry a new name. Recall that Diet Coke's different formula led to the mid-1980s creation of New Coke, which was a non-diet version of the Diet Coke formula. Of course, New Coke was a complete business fiasco, but that's besides the point. Back to DC!
After having had my Coke Zero, I went back to the train and caught a Blue Line train to Federal Triangle. There, I took a walk through Freedom Plaza, eventually ending up at Metro Center station. There, I caught a Blue Line train around to Pentagon City. That's unusual for me – I usually take the Yellow Line to Pentagon City via the bridge.
At Pentagon City, I did my Pentagon City thing, for the most part. I got my smoothie and my Washington Post, but not first before just kind of wandering around the mall a bit. I went to Brookstone, and I went to America!. Now for those of you who are not familiar, Brookstone is a competitor to Sharper Image. Basically little overpriced gadgets for people who have too much money on their hands (in which case, I highly recommend sending the excess money to me – I can put it to good use). Then America is basically a DC souvenir store, with all kinds of Washington DC and politics-related stuff. America has stores in the Washington DC area, and one at Newark International Airport in Newark, New Jersey.
The newspaper, which I like to read outside near the parking garage, didn't work out so well this time. The reason it didn't work well was for the usual reason it sometimes doesn't work – wind. What's funny is I have no problem reading the paper in the rain because while the area is outside, it's covered. But the wind wreaks havoc with my paper, to the point where I end up spending more effort holding it down than reading it. That's when I fold up the paper and grab up all of my stuff, and take it inside to the food court, where I do what I was doing outside, but inside for a change.
Still, it's interesting. I even did my newspaper-and-smoothie thing outside during the winter. Cooler temperatures don't bother me. Extreme cold, which I had on December 21 and January 20 (though J20 is a whole different can of worms), does bother me a bit, and will force me back inside.
After Pentagon City, I ended up striking up a conversation with a Transit Police officer, and we talked about Metro and such. Very interesting discussion. That went on for a bit – longer than I expected. After that I rode back to Vienna via Rosslyn, and headed home.
Of my usual Metro goals, I accomplished riding all five lines and all four car types. However, this time, due to my extended conversation with the police officer, I did not ride out to a terminal station other than Vienna. A quick run down to Huntington was planned and scrapped, but the conversation was quite worthwhile, since I gained valuable insight on Metro. This was the first trip in a LONG time where I did not ride out to a terminal station. Even on days where I was highly involved in a big event that took the whole day, like J20 or the Million Worker March, I still managed a ride out to a terminal station (in both of those cases, it was a late ride out to Huntington that accomplished that).
Then the way home was interesting. I made my Sheetz stop in Haymarket as usual, and then stopped at the Wal-Mart in Woodstock, where I ultimately bought toothpaste. At Woodstock, they are finally starting the remodel, which will mean replacement of all the floor tile, a new paint job in and out, new fixtures, new signage, and lots of other changes. This particular night, they were still in the very early stages of the remodel. Nothing was painted yet, and the only way you could tell something was going on was that the walls looked kind of bare with some of the signage gone, since the walls were being prepped for painting. The walls had spackle on them to patch the spots where the sign adhesive had pulled off some of the wall. And tonight was the first night working on floor tile. They did a 2000-square-foot section between Garden Center, Pharmacy, HBA, Cosmetics, Jewelry, and Toys.
And guess who was the first to shop on that new tile! ME! That's who! I even got someone to take my picture to commemorate it: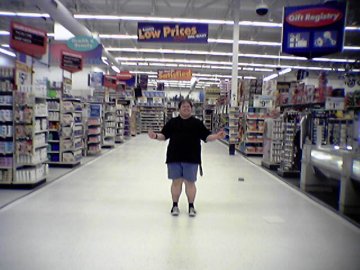 So yeah, there you go. I am officially the first person to shop on the tile laid during the 2005 remodel of Wal-Mart store #2647 in Woodstock, Virginia.
And no, I am not wearing black socks with shorts in that picture. I wear ankle-length socks, and I'm wearing my chucks. The chucks almost completely cover my white socks.
Now Woodstock is usually my last stop on the way home. However, this time I made an extra stop in Harrisonburg. I became fatigued, and used the stop as a perk-me-up (i.e. a reason to get up and walk around), and also to get gas. So I went to the Sheetz on South Main Street in Harrisonburg. There, I ran into this fellow, who lived in Potomac Hall when I was a junior. That was so neat to run into him. I hadn't seen him in so long.
And from Harrisonburg, that was it. Back home, and the trip was over. Did I have fun? Well, would you prefer "heck" or "hell" with your "yeah"? I wouldn't take these trips if I didn't enjoy them, and I certainly wouldn't be working on moving to the DC area if I didn't enjoy the area.