All in all, it was a good trip to Washington!
March 17, 2005, 5:37 PM
My first DC trip since the operation went very well, aside from the two incidents that happened that I told you about in that post I made from the Infoshop.
As I've said on here before, timing during the week is a balancing act, and it also takes a bit of luck. The reason that timing is important is twofold. First off, I can't use an all-day pass before 9:30 during the week. So if I arrive way before that time, if I want to go anywhere, I have to use my SmarTrip and pay full fare. Secondly, there's parking. I like parking in the North Garage at Vienna because it's close to the station, and considering that I usually arrive at Vienna right around when Metro is closing for the evening, I feel more comfortable being closer in. But with it being choice parking, it fills up quickly. So if all the regular parking spaces fill up, I can't park until 10:00 when the reserved spaces open to the public. There have been times when I can slip right into a space. There have been other times when I end up having to circle the garage for 20 minutes waiting for the reserved spaces to open up, since by the time I get there, once you're in the lot or garage, you can't leave without paying by SmarTrip.
On this particular day, Metro had posted a sign outside the North Garage saying that all regular spaces were full, and only reserved parking was available. To me, that's a sign that is really saying to come back at 10:00 for parking.
So I drove around a bit. I explored Vienna and Oakton a little bit. I took Saintsbury Drive past Vaden Drive for the first time past where it changes into Five Oaks Road. Then I turned right onto Blake Lane, which turned into Jermantown Road, which intersects with Chain Bridge Road. From there, I took Chain Bridge until it intersected with Nutley Street. I took Nutley Street to Virginia Center Blvd., which is the access to the Metro station from the north. It was still too early, so I continued. I followed Virginia Center to the end where it reaches a school, and then turned back around and went back up. Then at the intersection with Vaden Drive, I turned left and rode that down to the end and back. Then I took Vaden back to the other end, which is at the Metro parking lot, and turned right onto Saintsbury Drive again. That turned into Five Oaks, and I ended up again going to Blake Lane. This time, however, I turned left. I followed Blake Lane until it reached Arlington Blvd. There, I made a left, and rode that for a while. Then I saw a familiar name – Nutley Street! Since it was about that time, I turned onto Nutley, and then from Nutley back onto Saintsbury and then turn onto Vaden, and then into the North Garage to park. Cool!
That's always the hardest part of the trip – parking. Now the rest is easy. I just got on the train, caught a Breda 4000-series, and rode into Rosslyn, where I always try to read a copy of the Express. Even on January 20, when I arrived at Rosslyn before 6 AM, Rosslyn Center was open, and I got my Express fix.
While I'm at Rosslyn, I also come up with a game plan for the day, turning ideas into reality. This day's game plan was to revisit all three new stations, visit Archives-Navy Memorial-Penn Quarter station, visit the Infoshop, and get some Breda rehab door sounds.
So after Rosslyn, I caught the Blue Line to Largo, another 4000-series Breda, and I was off! Then as I got to Stadium-Armory, I realized that they were putting up the escalator canopies. So I got off and walked around. I photographed both canopies under construction, and those will show up on my Transit Center site. But here's one for now: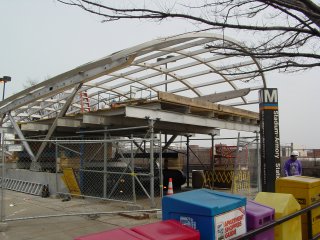 I actually was questioned about my photography by a person in charge with the company putting up the canopy over the C Street entrance (the one further from RFK Stadium). He asked who I was with, to which I replied "Independent". That's my usual response to these kinds of queries. Turns out that he was concerned that I might be documenting safety violations, specifically mentioning "harnesses". Big "HMMMMMMM" there. I never even thought about that. Still, it definitely raises a few eyebrows. It also says a LOT about the attitude of the contractor towards safety. Still, what if I was out documenting safety violations? Not a lot he could do anyway, since it's perfectly legal to photograph from a public street, and everything was in plain view anyway.
But after I was done there, I visited Largo Town Center and Morgan Boulevard as planned. That went without a hitch. Then I turned around and went back into Washington DC. At L'Enfant, I transferred to the Green Line and visited Archives-Navy Memorial-Penn Quarter station (say that ten times fast), which had recently been re-signed for the name change. So we got photos of the new signage not only in the station, but also on the pylon out on the street. On all pylons, both on the street and in the station, they just added the words "Penn Quarter" to it and left the "Archives-Navy Mem'l" part alone. So as a result, "Penn Quarter" is like three shades lighter than the rest. The wall signs in the station were completely replaced. All this will appear on the Transit Center site, of course.
From there, I went to Gallery Place-Chinatown, and got a Red Line train in the direction of Glenmont. I took that to Rhode Island Avenue so I could see what was out at Brentwood Yard, and then turned around there to go back to New York Avenue to get another look at Brentwood. So then I accomplished another objective at New York Avenue – photographing all the new signage that's gone up. I don't even have to tell you where that will be going up, do I? And I'm still amazed that there is NO advertising anywhere that I can find at Largo Town Center, Morgan Boulevard, and New York Avenue.
Leaving New York Avenue, I took the Red Line out to Fort Totten to go to the Infoshop. Yes, I could have taken Red back to Gallery Place and then to Mt. Vernon Square, but I wanted a longer ride, plus spotted some items of interest at Brentwood.
At Brentwood, look what I found, in a good place to photograph: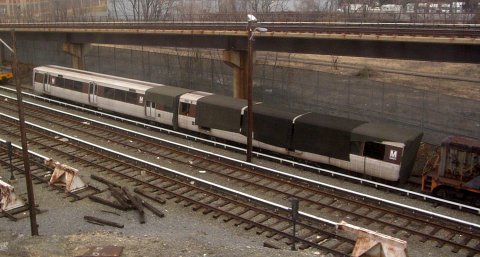 That rail car on the right with all the tarps over it is Rohr 1077, which collided with Breda 4018 on November 3, 2004. I have photos of the accident from the day after.
So then I rode to Fort Totten, and switched to Green. Rode down to Shaw-Howard University, where I headed to the Infoshop. And I told you about what happened on the way there already.
From the Infoshop, I got back to the Metro at Mt. Vernon Square. Rode to Gallery Place, and then to Metro Center, where I got out of the system for a bit. Usually when I get out here, I walk towards Freedom Plaza to just kind of sit for a bit. But instead, I kept going past Freedom Plaza, because outside the Reagan Building I saw a bunch of Mickey Mouse sculptures painted up just like the pandas that were all around Washington last summer. But there were some 75 Mickey sculptures right there outside Federal Triangle. I walked around and looked at all of them. Neat. I'm told, though, that they will not be there long, so it's highly unlikely that I'll be able to get pictures of them. Sorry!
After that, I went over to Pentagon City. That was an adventure in itself. Let me show you this: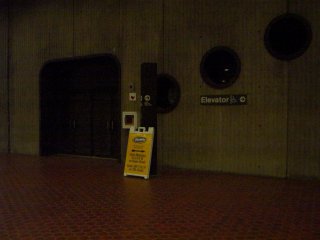 After starting a discussion thread on Metroriders to find out something, I took the information that I got from it, and ran with it. With the help of a lady who saw me looking a little lost, I found the other opening. And here's what it looks like beyond the station's mysterious doors: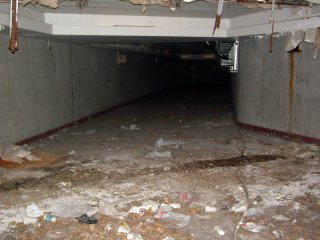 Of course, now that the question of "what" has been answered, the next good question is the question of "why", especially since the regular Metro station entrance is very close by.
After I investigated that, I did my usual Pentagon City thing. As is normally the case this time of year, Pentagon City Mall was just CRAWLING with young people wearing badges – a number of different school groups. A lot of them looked like they were in middle school. So that made it just fun, trying to navigate around all these over-caffeinated tourists. I grabbed a copy of the full Washington Post like I usually do, and went to read it.
I also checked my cell phone and got a major disappointment. I somehow missed a call on my phone from my friend Rose, whom I told about this trip ahead of time. And we'd been hoping to get together at some point. Since I missed her call, our window of opportunity to meet up somewhere lapsed, and so we'll figure out something else. Pentagon City is also when I usually make whatever phone calls I need to make.
After Pentagon City, I hit the Yellow Line towards Huntington to get some rehab sounds. I got them. I also got an unexpected treat: "Please stand clear of the doors! Thank you." I've had that sound from the Rohrs and the classic Bredas since 2001. But not for the CAF and Breda rehab cars. It's a little different, and I think that the lady sounds a little more irritated on the new sound.
The sound: "Please stand clear of the doors! Thank you."
And then on the way back to Vienna after finishing up everything else, I ran into someone from JMU while riding Rohr 1086 who went by the name "Rob Rejjie" (a nickname he uses):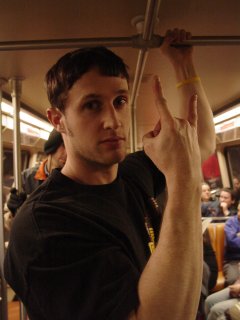 And that was, for the most part, it. I had quite a day. This was a good first trip since the operation, plus in more than a month, since my February 24 trip got snowed out.
Web site: Random Commuter Observations. Puts it very nicely about the throngs of children running around the place.
Song: It Takes Two
Quote: Funny is that with my going to Washington DC so often, and with an eye to moving there soon, I don't consider myself a tourist anymore when I go up there. Most of the stuff I'm thinking about is not anything like a tourist does. I don't go sightseeing. I go exploring, trying to get the lay of the land. The spoken and unspoken rules of Metro etiquette are like second nature to me. Speaking of which, on the day of the inauguration, when it seemed I was the only regular rider in the whole bloody Metro system, I was about the only person properly standing to the right on the escalators. And when I wanted to walk it, I stepped left, and hoofed it, shooing tourists to the right as I'm going along.