August 28, 2007, 3:06 PM
Metro, Metro, Metro, what's going on? As if five smoke and fire incidents on Sunday evening weren't enough, the problems continued yesterday evening, according to Metro and The Washington Post. This time, there was a power failure from Pentagon to Braddock Road on the Blue and Yellow Lines, smoke in the tunnels near Pentagon City, and smoke at U Street-Cardozo caused by an overheated insulator.
It's like Randi Rhodes said. Terrorists aren't going to kill us, because our own aging infrastructure will do us in first. Now in Metro's case, let's see… we've so far had six stationary problems, and one train problem. I've not gotten wind of the car number that had the brake problem, so I can't make a judgement about age, since it could have been a 30-year-old Rohr car, or a fresh-off-the-line Alstom, for all we know. Then for the others, we've had incidents at Mt. Vernon Square, U Street-Cardozo, Farragut North, Huntington, National Airport, and a large chunk of the C Route. Of these, Farragut North is 31 years old, National Airport is 30 years old, Huntington is 24 years old, and Mt. Vernon Square and U Street-Cardozo are both 16 years old. The section of the C Route that was affected was two different ages – from National Airport and on north is 30 years old, and south of National Airport is 24 years old. So this infrastructure is definitely no spring chicken anymore. Metro is also now considered a "mature" system, so one must be mindful of these things. Still, this is not good to have this many incidents happen so close together.
Continue reading…
November 6, 2005, 10:31 PM
I was reading this past Saturday's News Virginian, and an article on the front page of the paper troubled me. The article was called "Dilemma of threats on Internet". Here's a link to the article.
The basic premise of the article was about students' reactions in their own online journals to an incident at Riverheads High School in Augusta County, where a 15-year-old student was given an "indefinite suspension" by school officials for an October 1 entry in his online journal hosted by xanga.com where he contemplated "a massive systematical killing of people at rhs for the soul purpose of saying that i can".
First of all, I will be the first to say that posting such things in a public space (which the Internet basically is) was not the best thing to do. But, to avoid dwelling on should-have-dones in that situation, let's assume that what's done is done. It's posted, and that's all there is to it.
In addition, I do not take issue with the principal's encountering the material in question in the first place. These online journals are accessible to the general public without a password, and thus I consider the principal to be well within his rights to look at these online journals. When someone posts to an online journal that is publicly accessible, including this one, that means that anyone can look at it, and I do mean anyone. To make my point, I had no trouble finding AnothrDmBlnd's Xanga site, whose November 2 entry was the source of one of the comments mentioned in the article.
Continue reading…
September 1, 2005, 11:43 PM
My trip to Washington DC on August 31 was a good trip, though I was expecting some rain to keep me indoors for much of it. If that turned out to be the case, I was going to go explore the Crystal City Underground (by the way, here's an interesting article about Crystal City's future). But it turned out that the weather would hold out for me, and so things went differently.
But on the way, up, I got quite an unpleasant surprise: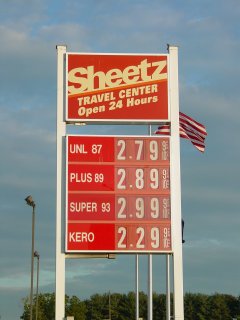 Continue reading…
June 14, 2004, 10:24 PM