January 12, 2006, 6:38 PM
Today, I went to see the Waynesboro Outlet Village for what will likely be the last time. The January 6 issue of the Staunton News Leader ran an article discussing how the Outlet Village will be demolished this summer to make way for a new shopping center.
Let me tell you… the Outlet Village is a "dead mall". When we first moved to this area in 1992, the Waynesboro Outlet Village was alive and full of stores, and most of them were factory outlet stores. Then in the mid-1990s, something changed (I think a management change is what did it), and stores started to leave the Outlet Village, leaving the place in its current form. As of my visit today, there are five stores in operation. Let me name them: Liz Claiborne (which was having a going-out-of-business sale), Paper Factory, Tile Visions, Virginia Metalcrafters, and the Artisans Center of Virginia. All of these stores are isolated from each other in the Outlet Village as far as location goes.
Then there are also a number of non-traditional tenants, as there's a nonprofit computer refurbishing service in one location, as well as One Child at a Time, aka OCAT, in another building. In other words, a few spots are filled up with offices. This is nothing new – I was hired by Borg-Warner Staffing for CFW Information Services (later Telegate) at the Outlet Village. Borg-Warner had offices in 7F. Borg-Warner, like the rest of them, is now gone from that location, having presumably folded up shop there when Telegate closed their Waynesboro call center in April 2002.
Continue reading…
October 10, 2005, 9:57 PM
I finally visited the new Starbucks Coffee in Waynesboro after work today. Yes, that's right. Starbucks in Waynesboro. I never thought of Waynesboro as a Starbucks kind of town, but there you have it. I guess someone thought we were.
So I went over there to check the place out. It was built on a small property, where the old KFC once stood (KFC moved to a bigger property next door and the old building was demolished). It's bigger inside than it looks, too. Going in, I remembered SpinnWebe's parody of my original Wal-Mart photo set, now in Life and Times, and so I ordered a Venti Coffee Frappuccino. So this is what it looked like: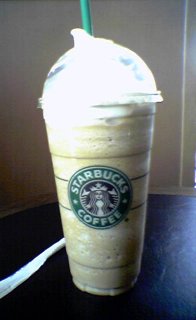 Continue reading…
July 15, 2004, 1:56 PM
First of all, before I start showing you photos, guess who I saw on Tuesday afternoon at Wal-Mart. I saw Mrs. Kucs (pronounced "kooch"), my sixth grade math teacher at Stuarts Draft Middle School. That was a lot of fun. She's retired now, so I don't see her around SDMS when I go visit. Still, Mrs. Kucs was a great teacher. The one phrase that has stayed with me that I learned from Mrs. Kucs was "That will be fifty whacks with a wet noodle!" All in all, great math teacher, and it was great to see Mrs. Kucs again.
Anyway, after seeing Mrs. Kucs as I was leaving work, I headed out to Afton Mountain and then beyond. Going to Afton, I went by way of downtown Waynesboro, because I had a few other photo spots I wanted to hit on the way. For one, the "scar" on the mountain in Waynesboro: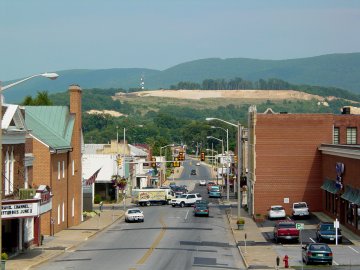 Continue reading…