October 24, 2012, 11:12 PM
So apparently one of my photos has gone viral.  Remember this photo?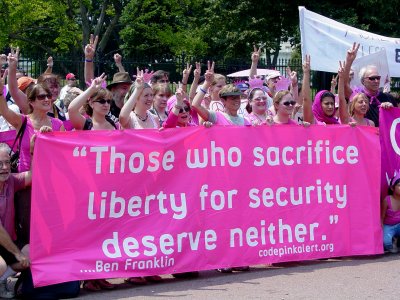 I took this photo on July 4, 2006 in front of the White House.  It first appeared on Schumin Web in a Journal entry posted July 5, 2006 about a trip I made to DC on July 4.  It also ran as the Photo Feature later in the same month.
Continue reading…
April 21, 2007, 1:29 AM
For all of you who post videos on YouTube, may I make a suggestion? If you're going to be posting videos of yourself demonstrating something, please do one of two things. Please either get someone to do the filming for you, or alternately, please use a tripod or something else to put the camera on.
Why? Because people who are demonstrating something with one hand while filming with the other so often produce videos that will make a person seasick. The videos are so often also out of focus because they're too close or moving too fast. Such videos make it hard to follow what's going on, and it takes some of the human element out of a video, since all we see is this disembodied hand.
If I had prepared more thoroughly for this entry, I would have made multiple videos for you of the same basic thing ahead of time to show you what I mean. One where I filmed myself doing something, and the other while having another person film me doing the same task. Then I could have you compare the quality of the two videos.
But you won't get to see this, because I came to this entry utterly unprepared. So let me pick a few videos out of YouTube to demonstrate what I mean in lieu of filming my own demonstration. My apologies up front if any of these videos that I am about to use were made by someone who is familiar with my work and may eventually read this.
Continue reading…