Clearly, I know how to break a drone…
November 24, 2021, 2:54 PM
I haven't mentioned it on here yet because it's discussed in an upcoming photo set, but I got a new drone last month while I was on my trip to North Carolina and Hampton Roads.  My DJI Mavic Mini threw a propeller blade and crashed nearly 400 feet up in the air while I was photographing a shopping mall in Rocky Mount, North Carolina.  I was positioning the drone for my first shots of the mall, and then I noticed a "motor error" message and saw some uncommanded rotation.  Then I saw the view start to tumble, and the connection with the remote dropped.  I was soon able to reestablish contact, and found the drone on the ground, laying on its back in the grass about 500 feet away.  Here's what it looked like when I picked it up: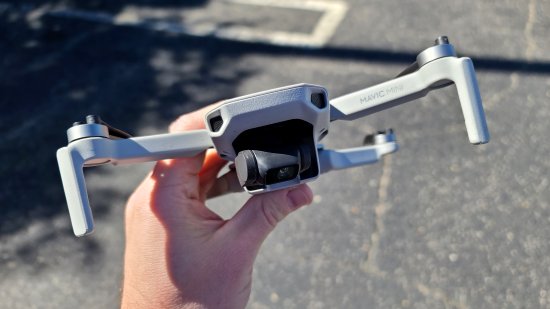 It looked no worse for wear, minus the propeller blade, and the camera was dangling a little bit.  I quickly found why the camera was dangling: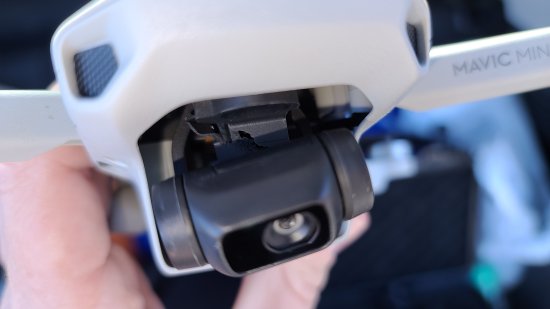 Yep, that'll do it.  Cracked right through the camera mount.  I suppose that's what happens when something falls from nearly 400 feet up.
In any case, I tried to take it for a quick flight to see what would happen, and it skidded around an inch or so above the ground and stopped.  Clearly, it was done.  I ended up buying a better drone later that day, so I was back in business on that front, and then I could figure out what to do with the old drone later.  I ended up sending it to DJI for repair, and they sent me back their own photos: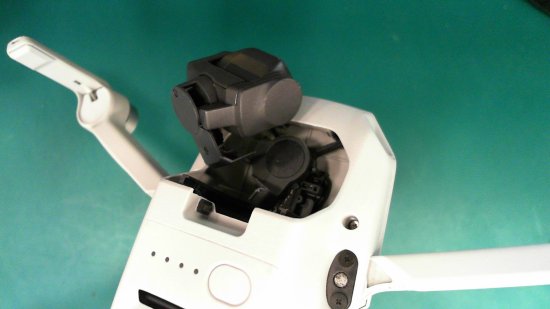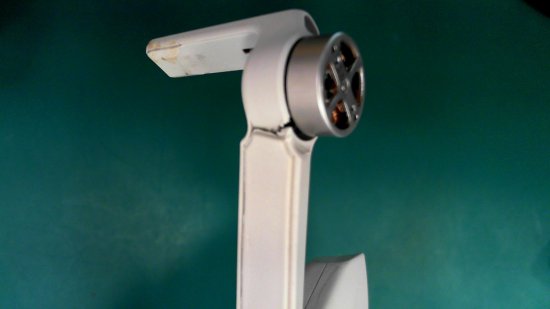 That photo of the gimbal is consistent with what I observed after the crash.  Then I'm surprised that I missed the broken left front arm.  That would explain why it wouldn't fly in Rocky Mount, and also why it failed some test flights that I attempted at home after I attached a spare propeller blade.
Clearly, I know how to break a drone.  I remember the last time I had a drone accident, I had a flyaway while flying in Atlantic City, and it blew four blocks down the street and landed on the roof of Angelo's Fairmount Tavern.  I had to go back two weeks later to retrieve it after the restaurant got it down off of the roof for me.  In that case, I probably could have recovered and flown it back if I had more battery, but it did a forced landing, which is how it ended up at Angelo's.  The left front arm again broke in that case: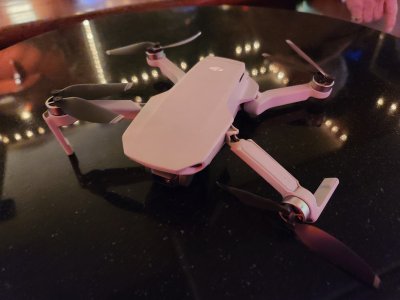 That was another trip to the repair shop right there.  Then there was my first accident, where I accidentally flew up into a tree (I thought I was clear, and wasn't), which caused a motor stall and a crash landing: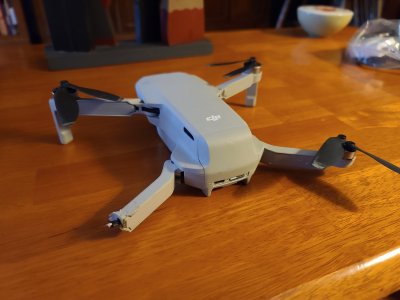 In that case, I severed the left rear motor entirely, so that was the end of that.  The drone won't do anything if it can't communicate with all of its motors.  Woomy had something to say about the first crash: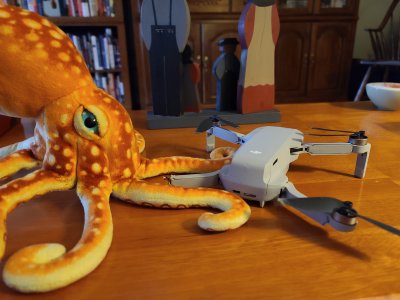 "I don't like that!"
In every case, though, I sent it off to an authorized repair facility, and it came back good as new.  This will be no different, though, now that I have a second, better drone, this will be a secondary vehicle, which works out well enough, because Elyse wants to have one that she flies all her own, so she'll be taking that for a spin from time to time.
Meanwhile, let me show you my new drone: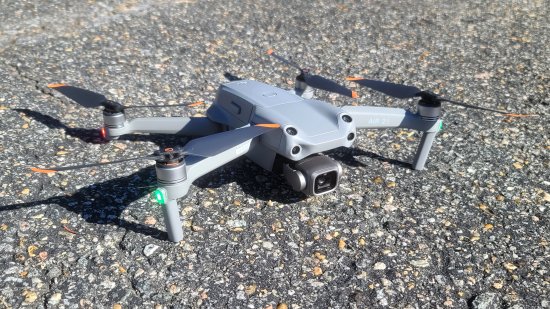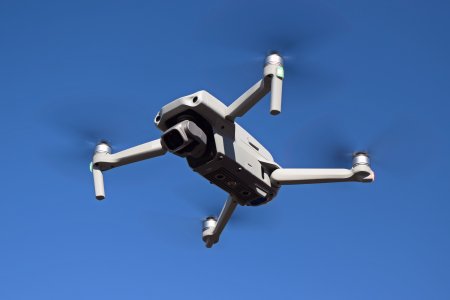 I got a DJI Air 2S, which is the latest and greatest, and is their mid-range entry.  It's bigger, faster, more powerful, and has a better camera than the Mini, but it's not the professional-grade line, the Mavic Pro.  I figure that this will serve me well for a while, as it suits me better than the original, and I think it will go with me where I want to take it (I would frequently hit limits on the Mini because it's a relatively low-end drone).  You may not have realized it, but the photo of the James River Bridge that ran on the front of the site a few weeks ago was taken with the new drone during its second flight.  I've already gotten a bunch of stuff with the new drone in the month that I've had it, and I have more stuff planned in the coming weeks.
And hopefully I don't kill this one the way that I've killed the Mini.  This one, however, has obstacle detection, which would help with an incident like happened with the tree, and the propeller blades attach differently than the Mini's, which should prevent it from throwing a blade mid-flight.  As far as the crash in Atlantic City goes, I'm now a little more conservative about weather conditions, and I bring it back in on the first low-battery warning so as to prevent forced landings.
Meanwhile, stay tuned for that North Carolina/Hampton Roads photo set, which will be out as soon as I finish it (but I don't know when that will be just yet).