I'm pretty sure that I now have the modern equivalent of TXL…
June 1, 2018, 3:50 PM
Over the last month or so, Elyse and I created a network of smart speakers in the house. Elyse has had a Google Home Mini since early January, and I expanded it, first to three, and then to seven speakers when I realized the capabilities of the devices. With speakers throughout the house, we can use the "broadcast" feature as something of a home intercom system, and we've also created speaker groups in order to play music on multiple speakers in various sections of the house, or throughout the entire house. I love these things, because I can, for instance, just ask the system what the weather is, or what time it is, and it will tell me. I can even make phone calls on them and control the lights, though I don't typically use the phone feature because of audio quality issues, and I'm not willing to spend money on the lights at this point in time (but maybe in the future). Right now, I use them most often for music, and for the home intercom function. And then if I ever get various Nest products, I will be able to connect them to the system as well. Pretty neat.
All in all, I can do a lot of things that TXL could do on Today's Special. I can talk to it and it gives me information back, I can place phone calls through it, and I can make it control various building systems. I still don't know how to get it to play "Yo He Ho" at the most inopportune times, though one day I might figure out a way to make it do that. Only thing about this system that I'm not a fan of is that you have to activate it by saying, "Okay, Google," or "Hey, Google." If I could customize the phrases that it responds to, I would make it respond to "TXL", to make it complete. Considering that it does a lot of things that TXL could do on Today's Special, it seems rather fitting.
Those of you who have used the various smart speakers also know that Google has built some Easter eggs in them, like if you ask what the answer is to life, the universe, and everything, it will tell you that the answer is 42. Using custom routines, I built in a couple of Easter eggs of my own, related to Today's Special. I wanted it to respond to "How many size 9 shoes are for sale in the store?" with "There are ten pairs of size 9 shoes for sale," (from "Boxes and Boxes") but for some reason, it couldn't comprehend that one, try as I might.
However, I did get it to do two others:

I ask Google if it is a boy. The response is exactly what you would expect: "I am not a boy. I am a Google Home Mini."

I ask Google if it is a machine. The response is based on TXL's description of herself and her duties from "Hats".
Then later, I did one more:

I ask Google where the plaque is. It responds just like TXL did in "Our Story Part 1".
My apologies to anyone whose phones and/or smart devices I just activated with those videos. And in case anyone is wondering, this is how ridiculous that ski cap looked: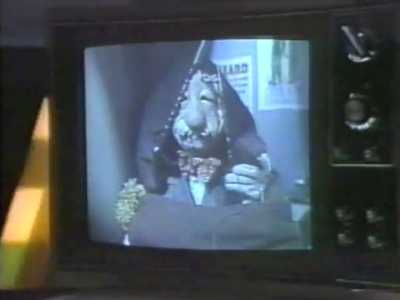 So yes, I totally went there. I couldn't resist programming those into Google. And if I am ever able to change the activation phrase, I will change the Google references to more proper TXL references.
So all in all, I think that I have a good setup here. I also realized just how accustomed I was to having it after a few days at my parents' house, when I couldn't just ask Google about things or use it like a home intercom.