Trying my hand at planespotting…
November 18, 2016, 11:02 AM
On Tuesday, November 16, Elyse and I went down to Gravelly Point in Arlington and photographed airplanes taking off from National Airport.  In the past, I had photographed airplanes casually, usually when I'm over in Rosslyn, i.e. near the airport, while doing other things (the raw photo set for Urban Demolition II is peppered with random airplane and transit photos, if that tells you anything).  However, this was my first dedicated outing for planespotting.
So I put the big lens on my camera and took it out for a spin, putting the camera in sports mode and going to town with it.  My first takeoff, however, left something to be desired: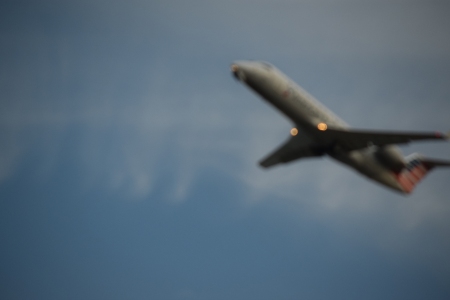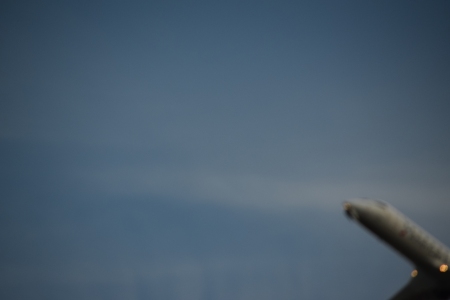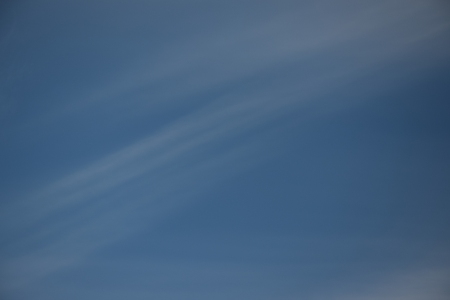 That's a nice photo of the sky, though, don't you think?
Yes, I quickly discovered that this is not something that you should use live mode for.  Out of focus and out of frame.  I usually shoot using the screen rather than the viewfinder, which is a practice that I picked up early on, as neither the original Mavica nor Big Mavica had a viewfinder.  However, when you shoot using the screen in sports mode with my current camera, the screen goes black.  And the result was as you might expect, as I quickly lost track of my subject because I was shooting blind.  Whoooooooooops.
Once I switched to the viewfinder, things started flying far more smoothly.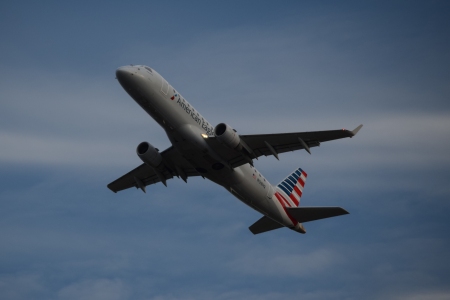 N128HQ, an Embraer 175LR, operated by Republic Airlines for American Eagle.  Formerly painted for US Airways Express.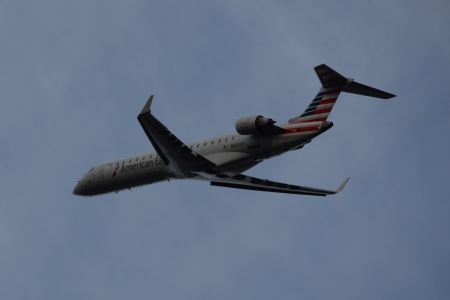 N500AE, a Bombardier CRJ-701ER operated by PSA Airlines.  This plane was always painted for American Eagle, though previously in the old scheme.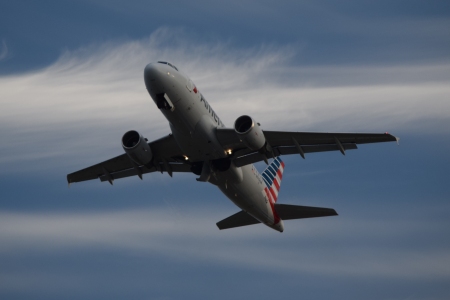 N715UW, an Airbus A319-112 for American Airlines.  Formerly painted in US Airways colors.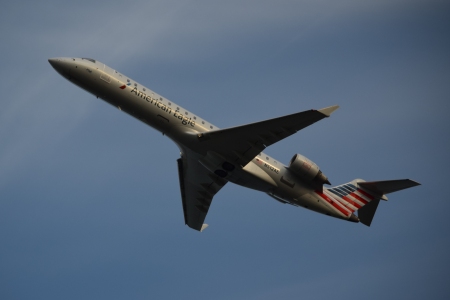 N512AE, another Bombardier CRJ-701ER.  Always painted for American Eagle, though previously in the old scheme.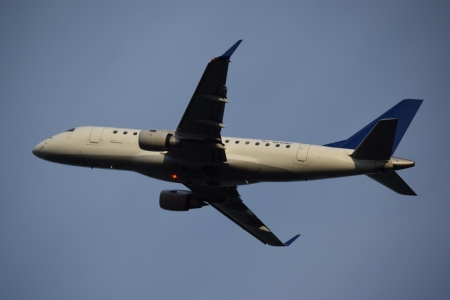 N810MD, an Embraer 170SU, was a blank plane.  According to historical photos on Airliners.net, this plane was previously painted for US Airways Express, but it's been blank for around two years.  Does anyone know why it now carries no branding?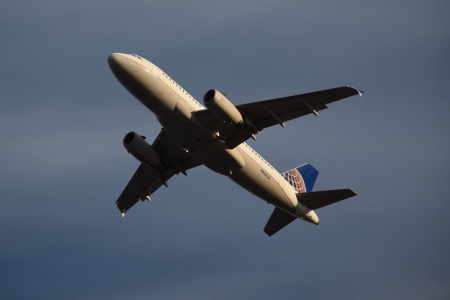 N826UA, an Airbus A319-131 operated by United Airlines.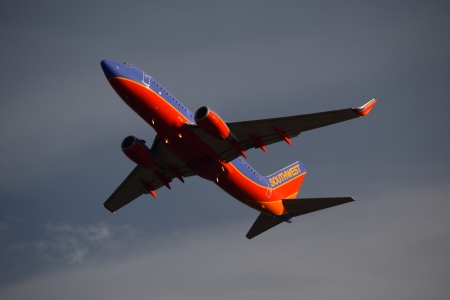 N7812G, a Boeing 737-76N operated by Southwest Airlines.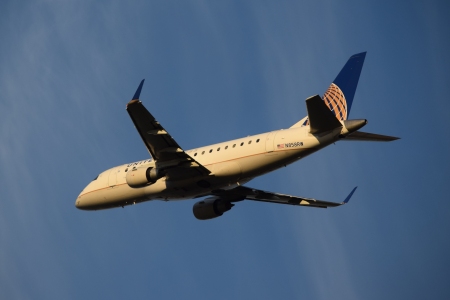 N858RW, an Embraer 170SE operated by Shuttle America for United Express.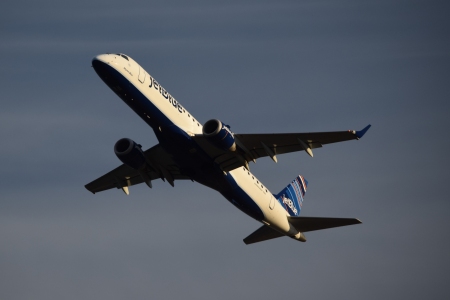 N348JB, an Embraer 190AR operated by JetBlue.
At this point, Elyse and I swapped lenses.  I let her take my big lens for a spin, and I put my regular lens back on.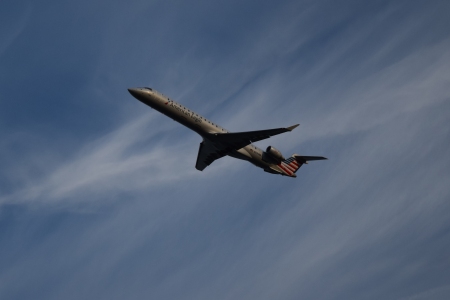 N591NN, an Bombardier CRJ-900LR operated by PSA Airlines for American Eagle.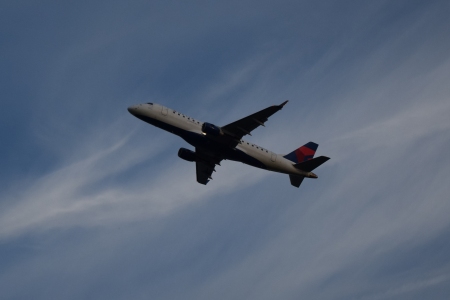 N204JQ, an Embraer 175LR operated by Shuttle America for Delta Connection.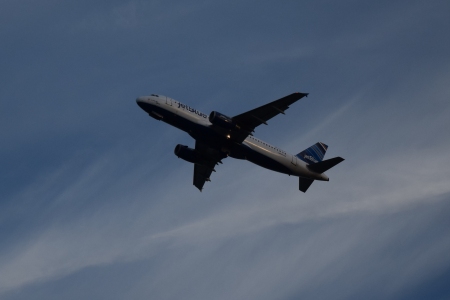 N638JB, an Airbus A320-232 operated by JetBlue.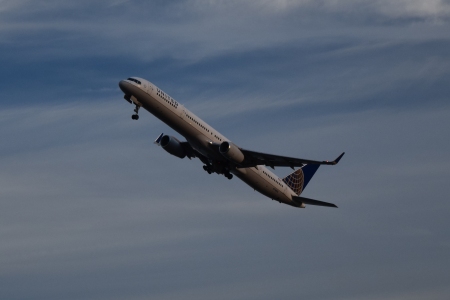 N74856, a Boeing 757-324 operated by United Airlines.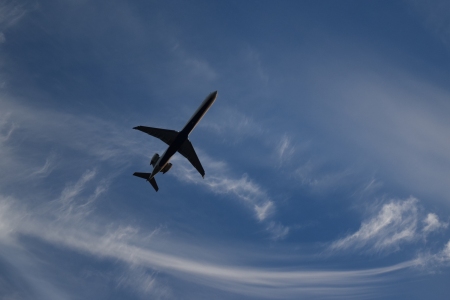 Due to the angle that I photographed this one (more or less directly overhead), I was unable to capture the tail number.  Pretty cool shot, though.  All I can tell you is that this is likely in the Bombardier CRJ family, and it's Delta Connection.
At this point, I was able to get my big lens back from Elyse, and did a little more shooting as we entered the "golden hour".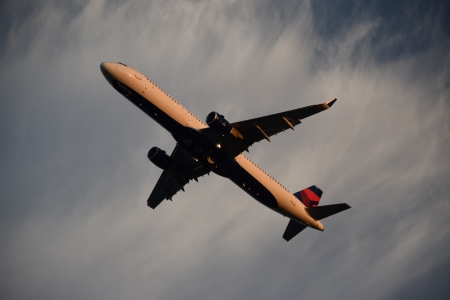 N302DN, an Airbus A321-211 operated by Delta Airlines.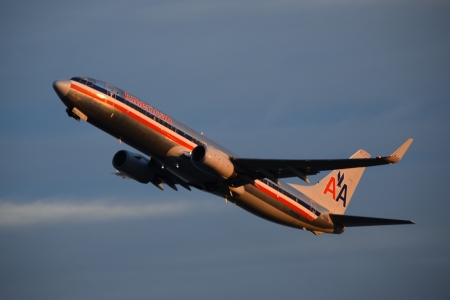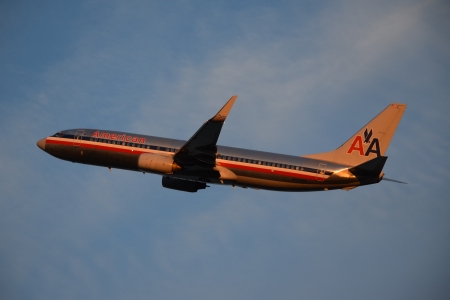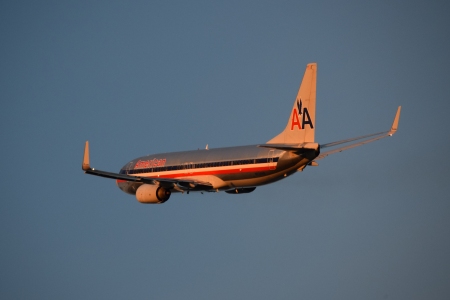 N932AN, a Boeing 737-823, was the big surprise of the day.  After seeing so many airplanes painted in the new American Airlines livery, Elyse and I were quite surprised to find this plane still sporting the older livery, where the aircraft is mostly unpainted.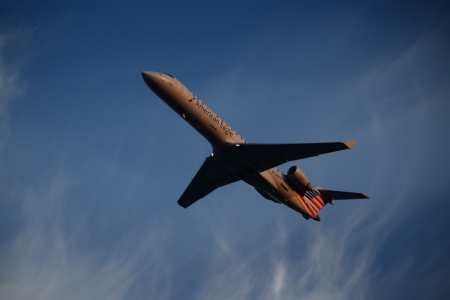 N708PS, a Bombardier CRJ-701ER, operated by PSA Airlines for American Eagle.  Formerly painted for US Airways Express.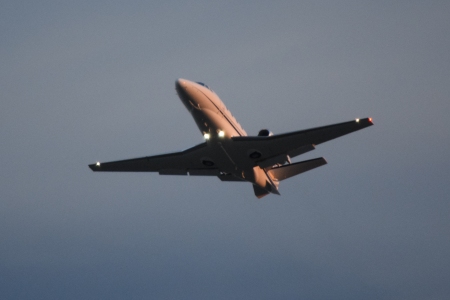 The last plane that we photographed was N560GJ, a Cessna 560XL, which was the only general aviation plane that we spotted taking off the entire time that we were there.
All in all, I'd say that Elyse and I both had a good time.  And the photos didn't come out too badly for an outing where the purpose was not so much about getting gorgeous photos, but about figuring out the technique.
Also, check out Airliners.net when you get a chance.  It's a site where planespotters share their photography, and you can search on the tail numbers to get historic photos of different planes.  That's how I found out some of the historical details for the planes that I photographed.  I captured the tail number in the photos, and then just plugged it into the site.
Meanwhile, it's kind of funny that I had so much fun planespotting and doing some research into all of these planes, because I haven't flown in an airplane since 1999, when I took that trip to Canada.  The last plane that I flew aboard was N911HA, a Dash 8 operated by Piedmont Airlines for US Airways Express, from Philadelphia to Charlottesville.  It's been so long that I'm still surprised when I see the regional carriers using jet aircraft, because the last time I flew, the regional airlines all used turboprop planes.
In any case, I fully intend to do this again, not only at National, but also eventually at BWI and Dulles.