A few more thoughts about "Scott's House"…
April 24, 2016, 8:05 PM
Today, I released the "Scott's House" set in Photography, which covers the visit that Elyse and I made to the former home of Scott Alan Bauer back in March.  While the photo set gave a somewhat dry presentation of what Elyse and I found in the house, the preparation of that set raised a lot of questions that I will likely never get answers to, mostly revolving around the mystery of what exactly happened to this family.
From what I could tell, the house, in its final form, was home to only one person: Scott Bauer himself.  Only the master bedroom contained a bed, one bedroom had no furniture in it to speak of, and the third bedroom had clearly been converted to an office at some point.  In the bedroom-turned-office, some of the paperwork made me think that this home, leading up to its abandonment in late 2002, was not as happy as it once was.  One of the documents was a statement from Howard County social services regarding past due child support.  So it would appear that a divorce had occurred, and things had not been going well since.  Likewise, on an MVA notice, Bauer had insurance and emissions violations regarding his truck.  Makes me wonder if he had major financial problems in his final years at the house.
In any case, what caused Bauer to ultimately abandon the house and all of his belongings, as well as what happened to him afterward, remains a mystery.
On a previous visit to the house, Elyse had salvaged a few photos from the upstairs office.  I scanned them into the computer, providing something of a "slice of life" from a household that more or less just evaporated after 2002.  I don't know if these will help answer any questions regarding what happened to Bauer and his family, but for what they're worth, here they are: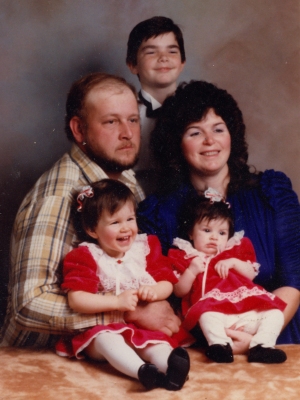 Family portrait, likely from the 1980s.  As far as I can tell from various things I've found, the man with the beard who looks positively miserable is Scott Alan Bauer, the wife's name is Cindy, I couldn't find the boy's name, and the two girls' names are Andrea and Stacie (based on notes on the photos, though I don't know who is who).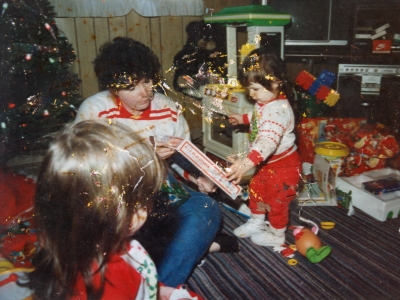 Both girls and possibly the mother, around Christmas, year unknown.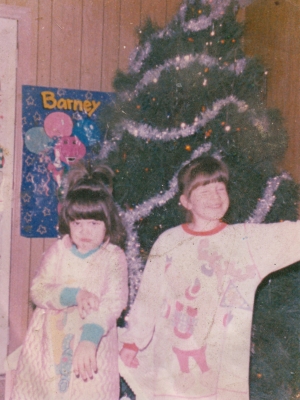 The girls are older in this photo, with "93" written on the back.  Assuming December 1993 based on the presence of the Christmas tree.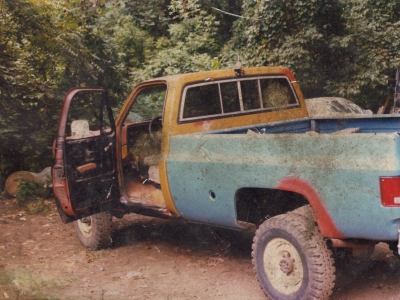 Is this the Ford F-350 that was referenced on the MVA notice?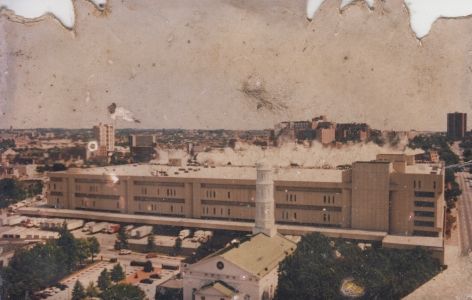 Photo of the USPS facility at 900 East Fayette Street in Baltimore.  I'm not exactly sure where this vantage point is, but it appears to be west of the USPS facility, north of Fayette Street, and slightly south of St. Vincent De Paul Church.
[Update: I was informed by Reddit that this photo was taken from the roof of the Baltimore Police Department, and shows the demolition of Lafayette Courts.]
So in the end, the Scott Alan Bauer story is a mystery.  I don't know what happened and I'll probably never find out for sure, but it certainly does make you think about things.