Cranberry sauce. From a can.
November 26, 2015, 10:09 PM
First of all, I hope that everyone had a happy Thanksgiving.  I certainly did.  Since I have Wednesdays and Thursdays off for the current pick at work, Thanksgiving worked out perfectly, so I went down to Stuarts Draft on Wednesday and came back Thursday.  Not bad.
That said, one of the things that we had with our Thanksgiving dinner was cranberry sauce.  My opinion on cranberry sauce is that if it doesn't look like the can it came out of, it's not cranberry sauce.  Last year, I posted this photo to Instagram, and captioned it thusly: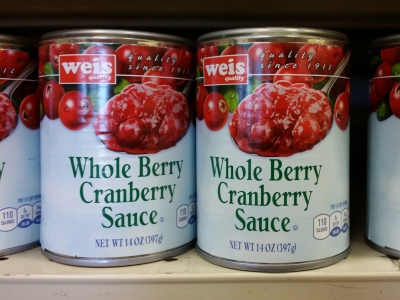 "This is that weird kind of cranberry sauce that doesn't look like the can it came out of."
I'm sure that says something about how we do food in America that people prefer cranberry sauce in that form, and how, as a child, I didn't understand why it was called "sauce" when it resembled Jell-O more than anything I'd come to know as a sauce.  Similarly, I wrote this in 2009 about cranberry sauce when we went up to New Jersey one year:
I remember one year when we went up to New Jersey for Thanksgiving, Uncle Bruce served real cranberry sauce – not the gelatin-like stuff that comes out of the can – and the group actually panned it. The next year, the cranberry sauce looked like the can it came out of, and people just ate it right up.
All of that said, the cranberry sauce at our table looked like the can that it came out of, and I really had fun with "preparing" it.  First, it went into the can opener for its debut: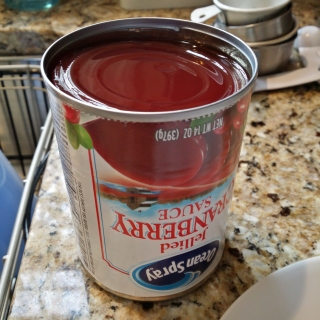 Getting it out of the can was surprisingly easy.  I just shook it gently a few times, and it slid right out: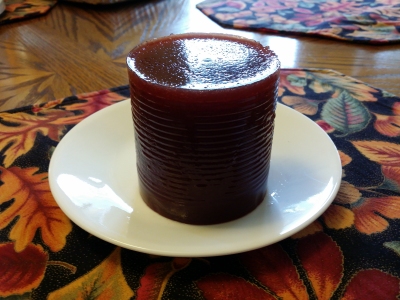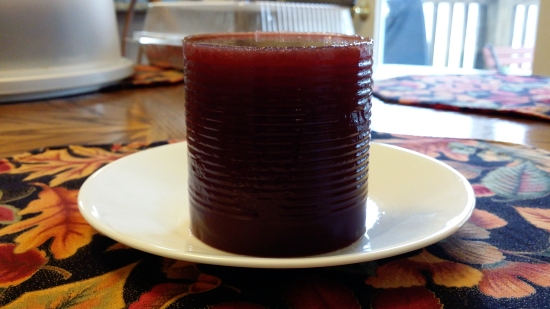 There's something very satisfying about when the cranberry sauce slides out of the can and hits the plate intact like that.  I don't exactly know what it is or how to describe it, but perhaps it's just because I was generally having way too much fun with this.
Then Dad told me that the cranberry sauce needed to be on its side, so I took a knife and fork and gently lowered it to this position: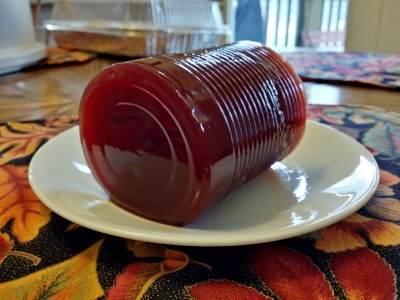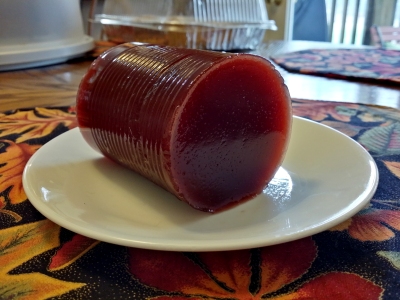 And finally, served: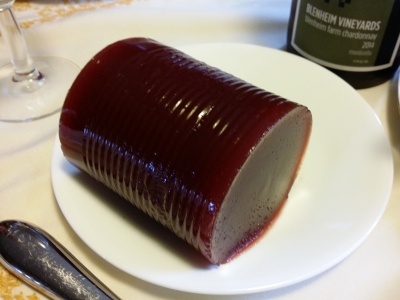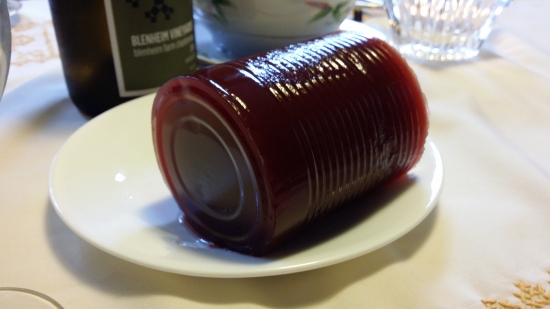 Not bad, if you ask me.  During dinner, I noticed some juices oozing out of one end, and, much to my parents' amusement (because they knew that I'd had way too much fun with it already), I used a fork to tamp down on it slightly, causing the juices to come out a little bit more quickly.  For those keeping track, this is called "playing with your food".
And then eventually, Mom, Dad, and I sliced off parts of the can-shaped dish to eat with dinner, and it tasted like it ought to.
I think half of the appeal of cranberry sauce is the novelty of its looking like the package that it came out of.  The hell with those Jell-O molds.  In the midst of this beautifully-prepared feast, there's that dish containing cranberry-flavored goodness, and still looking like a can.  And it tastes good, too, so it's a win-win, being both entertaining for those easily amused such as myself, as well as tasty.