Google Camera is my new favorite toy…
September 6, 2014, 12:38 PM
I recently went on a trip down to Stuarts Draft to see my parents and sister, as well as my sister's friend Vickey, and I came armed with a new app for my Android device: Google Camera.  If you've never used it before, Google Camera is a camera app that will function as a regular camera plus do a few other things.  Besides shooting regular still photos and videos, it will also do a lens blur effect, it helps in shooting panoramic photos, and it also shoots "photo spheres", also called "spherical panoramas".  That last one is what I took for a spin on this trip.  Those are the ones that I can post on Panoramio, and I believe that they go in as Street View (but don't quote me on that just yet, because they haven't fully propagated to Google Maps/Earth as of this writing).
Shooting them is surprisingly easy.  Here's a screenshot of the app in action, taking a photo sphere at my place: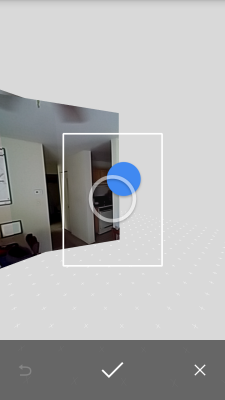 Basically, all you do is put the dot in the circle, and the dot moves after you place it, to show you where to put the camera for the next image.  And you do that all around.  Then when you've gotten all of the shots it needs, it makes a clicking sound, and it starts stitching it all together in the background.  A couple of minutes later, you have a completed photo sphere.  They look like this when they're done: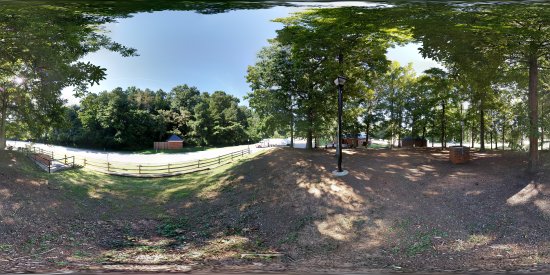 This is the rest area on I-64 westbound near Ivy, at approximately milepost 112, off in a somewhat secluded area.  This is also the first photo sphere that I ever took.  Then when viewed as a sphere, it looks normal, and you can pan all around the image and it looks like Street View.
I've also discovered a few things about the feature.  First of all, it doesn't work very well for items that are close to the camera.  Those get chopped up quite a bit, such as with this image taken near railings, power lines, and a telephone pole in Staunton: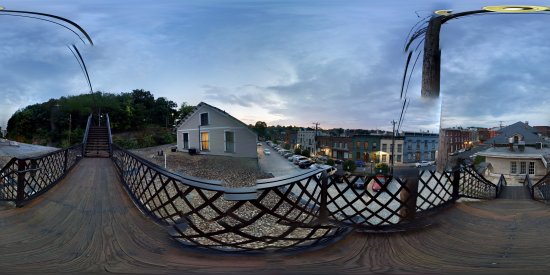 Yeah.  Choppy, even when projected as intended on Panoramio.  Check out that telephone pole.  A few parts of it appear to be floating in the air.  I think it was maybe about four feet in front of me in real life.  The location is here, and I was standing in the corner of that catwalk to the bridge over the railroad track.  And as you can see, it's not nearly as choppy in real life as it is in this photo.
Then on Labor Day, while my mother, sister, and Vickey went to Blacksburg, I took a little road trip to Roanoke and back, playing with photo spheres.  I took Route 11 down to Lexington, Route 60 through Buena Vista and up to the Blue Ridge Parkway, and then took the Parkway all the way to Roanoke.  And I got lots of panoramas: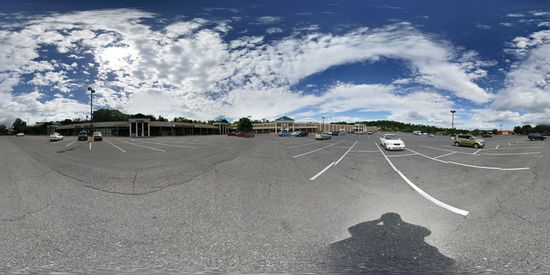 Stonewall Square, in front of Food Lion.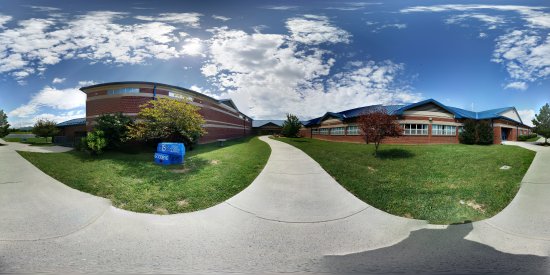 Parry McCluer High School in Buena Vista.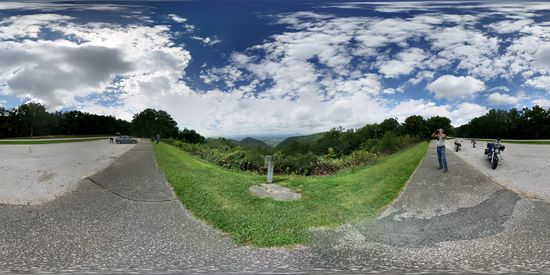 Buena Vista overlook on the Blue Ridge Parkway.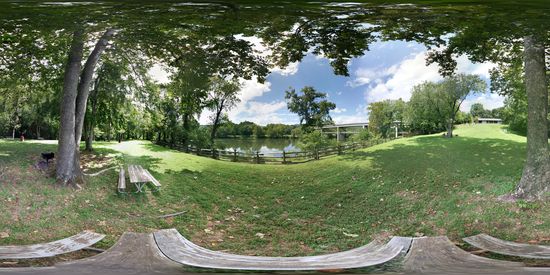 Standing on a picnic table near the James River Visitors' Center and the Harry Flood Byrd Memorial Bridge.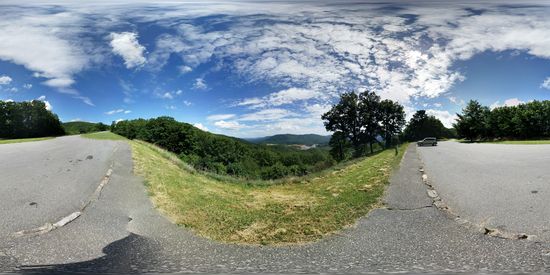 The Quarry overlook.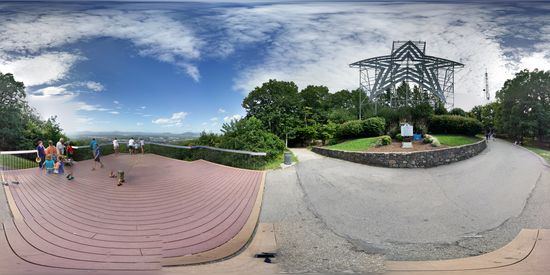 The Roanoke Star and overlook, while standing on a bench.  You can definitely see that people were moving while I was taking this shot, as there are a few cases of disembodied feet, and children with no legs, as they were in a certain position as I was coming by doing one row, and then not there when I was doing another row, or walked into frame later after a row without them in it was already done.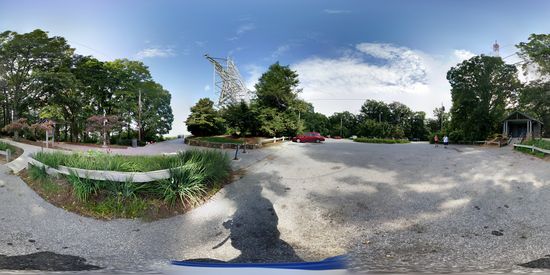 Parking area at the Roanoke Star.  My Power Rangers shirt is visible in the bottom of this panorama.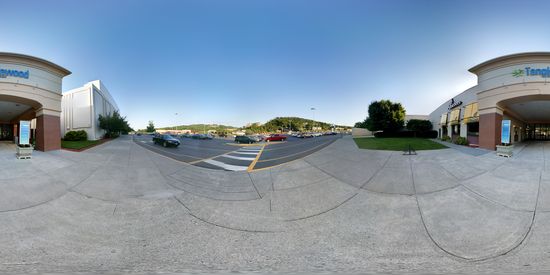 Entrance to Tanglewood Mall, near JCPenney.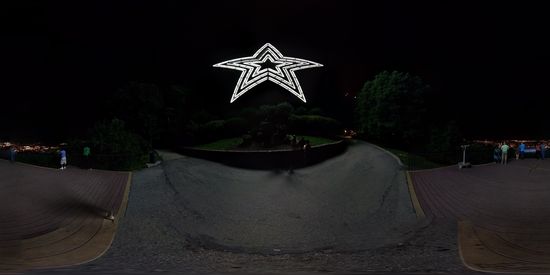 The Roanoke Star, taken from the same bench as before, at night.
So as you can see, I had a fun time.  I'll update you on where and how to see my photo spheres on the map once they propagate through Google's system.  If they show up as Street View, I'll be delighted, because there's nothing more infuriating than this: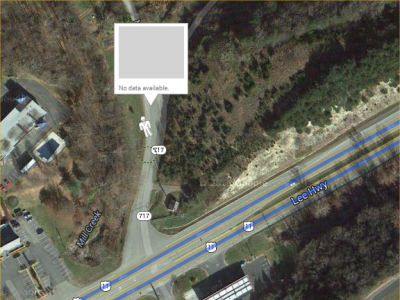 Nothing more infuriating than locating a road that you need to see, and there's no Street View imagery for that area.  Shopping centers are especially a pet peeve of mine.  I'll be trying to verify that the place that I'm looking for is what I'm mapping to, and since Street View usually doesn't go into the shopping center (though it sometimes does), I only get a view from the road, and that's often obstructed by landscaping.
And then on the way out to head back home, I got one more photo sphere, of the Sheetz in Fishersville in early evening: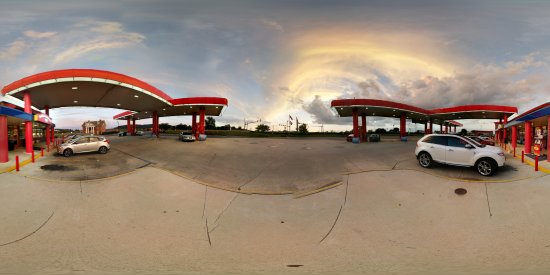 And here it is when projected as intended.  Not bad.  I really love the sky in this one.
So I'll update you when I figure out how all of these panoramas display.  I'm hoping they show up as Street View, but we'll see.  In any case, these are pretty fun to do.  I should take a day some time soon before I start driving and do a bunch of these all over Montgomery County.  Should be fun.