Going back for the first time in 17 years…
June 26, 2014, 10:21 PM
This coming weekend is going to be so much fun.  I'm getting together with my friend Pete, and we're heading down to the Outer Banks of North Carolina, specifically Buxton, for a weekend trip.  For me, this will also be a bit of a throwback to the nineties, as the last time I was down this way was in 1997.  My family went to the Outer Banks five times in the nineties, for a week each time, from 1993-1997.  Back then, we rented Park Place, a house in the Askins Creek neighborhood in Avon.  This time, since this will just be a weekend trip, Pete and I are staying in a hotel for two nights, though I'm going to see about getting a few photos of Park Place on the way down (Avon is the town right before Buxton going south).  I do want to stay in Park Place again one day, though, but that's not going to happen on this trip.
When we used to go down that way as a family, it worked out to where Dad would generally just sun himself on the beach, and Mom, Sis, and I would find ways to entertain ourselves.  The first year, in 1993, all the whole family did was get up, eat, and go down and sit on the beach all day.  That got old quickly by the third day, and Mom realized it.  So on subsequent vacations, while Dad was perfectly content to lay on the beach every day for a week, the rest of us found entertainment elsewhere on the island, as well as spent a couple of days on the beach.  On these outings, we went up the Cape Hatteras Lighthouse a few times, we rode the ferry across Hatteras Inlet, and we did a few other things while Dad chilled out on the beach.
The last time my family went, in 1997, I was a freshly licensed driver, and did the driving that year myself, taking the Previa down to the Outer Banks with my mother and sister.  My father, due to a work schedule conflict that year, had to travel down separately.  That was fun, as it was my first time driving through a tunnel (the Monitor-Merrimac Memorial Bridge Tunnel), among other things.  Still being a relatively inexperienced driver, I remember my being a little nervous while doing the drive down, but I managed.
This trip will be fun for a very different reason: I am now an adult, and traveling with another adult.  Therefore, I get to esperience the Outer Banks as a grownup, rather than as a teen.  Will it be a different experience?  Probably!  For one thing, I never got to experience that which is Brew Thru when we went down as a family.  We certainly drove by some Brew Thru locations on past trips, but we never went to one, for obvious reasons.  It seems really cool, driving through a beer store and getting service from the car.  And since the window on the car is now fully repaired, it's a very feasible proposition.
Another thing: I've never seen the Cape Hatteras Lighthouse since they moved it in 1999.  I remember what the view looked like before, at the original location.  The new location will make the view a very different experience.  It's kind of too bad that we're not staying at Park Place, because you had the greatest view of the lighthouse in the distance from there, and I'd be interested to see how well you can see the lighthouse from there now.
And then since it's Thursday, here are some throwback pictures of past trips to the Outer Banks: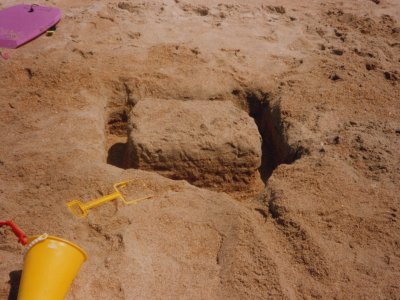 I built this platform in the sand on the first day on the beach.  Look at how square it is.  This was either 1995 or 1996.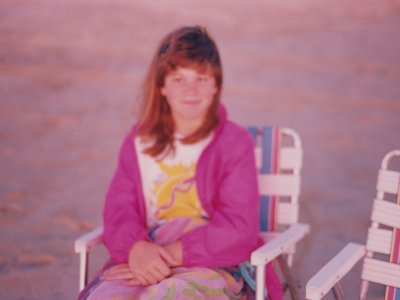 Again in 1995 or 1996, Sis sits in a lawn chair on the beach and watches the sunrise.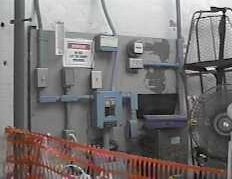 Still from a home video in 1997.  This is the electrical room at the Cape Hatteras Lighthouse, at the top of the stairs.  I want to take lots more pix of this room this weekend.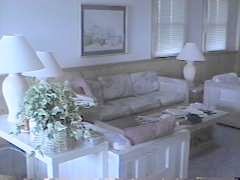 The living room at Park Place, from 1997.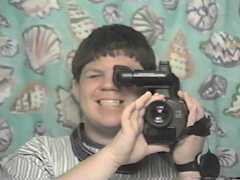 An early selfie, taken in the mirror of the upstairs bathroom at Park Place in 1997.  Yes, that is one of those old camcorders that took the full-size VHS cassettes.  This thing was dated even then, but it did good work.  My parents still have it, though the chance that anyone ever uses it again is exactly zero.
Additionally, I have a new setup for taking photos in the water.  I bought a waterproof enclosure for my point-and-shoot camera in anticipation of this trip.  I tested it with my friend Suzie in the pool this evening, and it works very well (pix from that coming later on).  This will be used for things that I would otherwise have used Duckie (my existing waterproof camera) for, because Duckie only takes great shots in an extremely limited environment, and this is far more flexible.
So there you have it.  This weekend is going to be a lot of fun.  Pix to come!