"A room that big and not a single fire alarm notification appliance?"
June 10, 2014, 1:43 PM
Today on Facebook, a friend of mine posted this picture: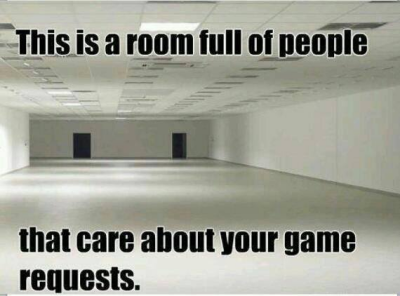 While I agree with the sentiment regarding game requests, that room grated on me.  No fire alarms.  I mean, a room that size ought to have a bunch of them.  My first reaction to this picture was, "A room that big and not a single fire alarm notification appliance?"  After a response back from the friend who posted it, I said, "That room looks naked without notification appliances at regular intervals."
So, I completed the room: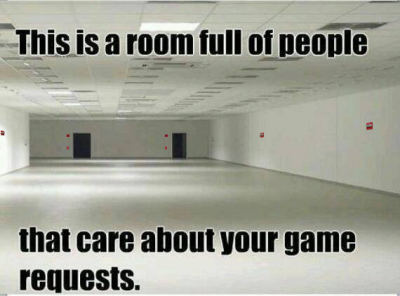 Much better.  For the most part, I gave it Potomac Hall's fire alarm system.  I put Wheelock AS horns and Siemens MS-501 pull stations next to the doors, and then Wheelock RSS strobes elsewhere.  For some reason, this gives me a satisfied feeling.  After all, I was the person who, as a child, would build buildings out of Legos and then put complete (pretend) fire alarm systems in them.
So for those of you who are more knowledgeable about how fire alarm devices should be placed: how did I do?