The Walters Art Gallery and Great Falls…
January 6, 2013, 9:42 PM
So as promised, this is the photos-from-Baltimore-and-Great-Falls post.  Right after Christmas, Mom came up to visit for three days.  We certainly had fun while we were out.  We went out to Montgomery Mall, we went to Baltimore, we went to Arundel Mills, we went to Great Falls, and we had dinner with friends.
Montgomery Mall was pretty much what you would expect.  After-Christmas sales and all that jazz.  Mom did, however, leave me a bit scandalized when she went into Abercrombie and Fitch just to pay the five-cent bag tax to get one of the bags with the picture of the guy with the six-pack abs on it.  I commented: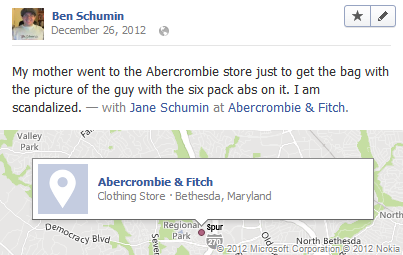 This must somehow be payback for all the times that I may have embarrassed her in the past.  Especially when I brought the little green reusable bags that I take with me to go grocery shopping.
Then Baltimore was fun.  We went to the Walters Art Gallery, where we saw this: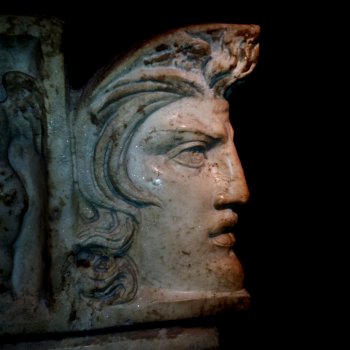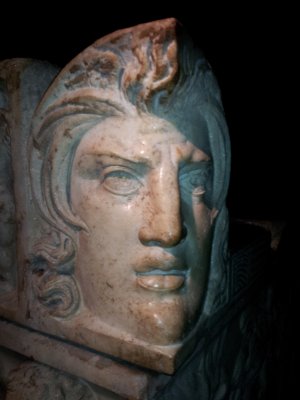 From what I can tell, this sarcophagus is of Roman origin, dating to approximately AD 210.  This is commonly referred to as the "Elvis sarcophagus".  The resemblance between this face and Elvis Presley is pretty remarkable.  Apparently the King had a doppelganger in ancient Rome.  I first saw this in 1997 when I visited the Walters Art Gallery on a field trip in high school, and immediately noticed the resemblance to Elvis, even back then.
Then this is what the whole thing looks like: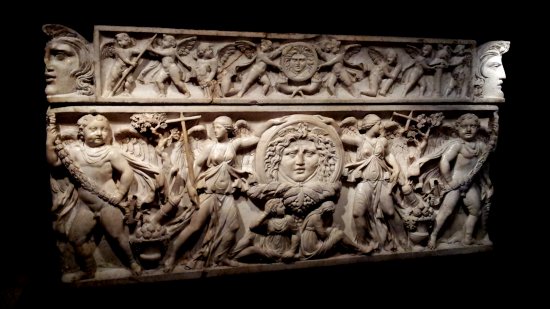 After the Walters Art Gallery, we went over to the Inner Harbor for lunch.  We ended up looking at all of the various ships in the harbor, and then went to Uno's.  Not bad.
Then the next day, we headed over to Great Falls.  The original plan was for us to go to the Maryland side, but upon learning of an accident on Rockville Pike that shut down traffic in both directions (and directly in our path), I made the decision to go to the Virginia side instead.  Just as well, I suppose.  Three overlooks on the Virginia side vs. two on the Maryland side (but who's counting?).  It was pretty cold and windy, though.  But we managed.
And unfortunately, as I mentioned before, my photos didn't look too great.  I feel that I can do better than these.  But this is Great Falls in winter, from the Virginia side: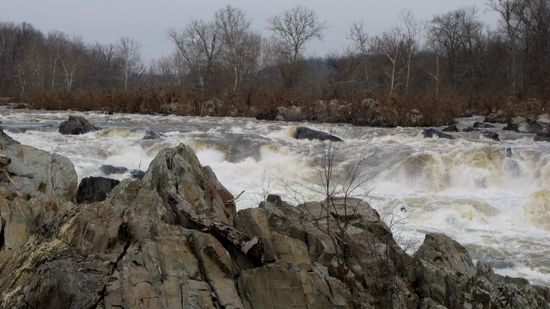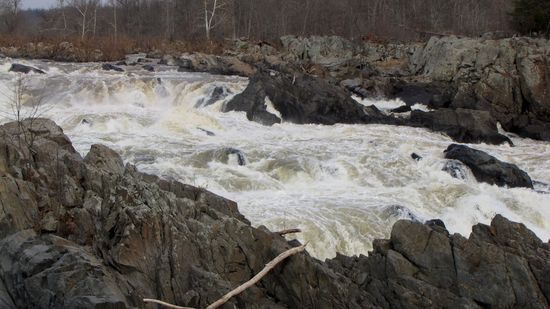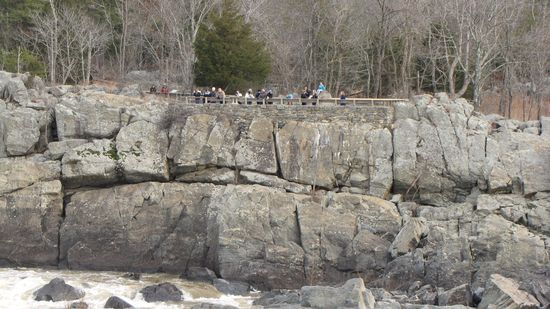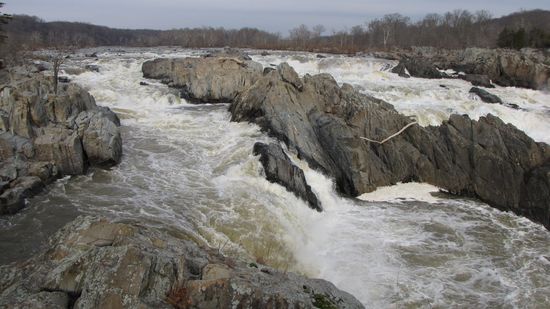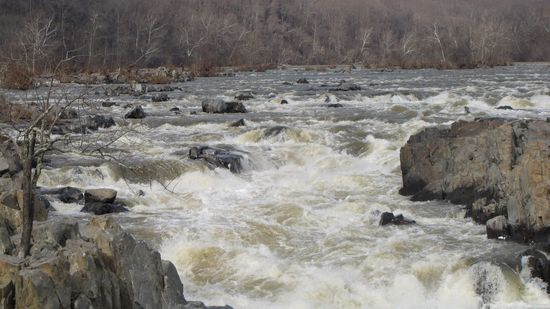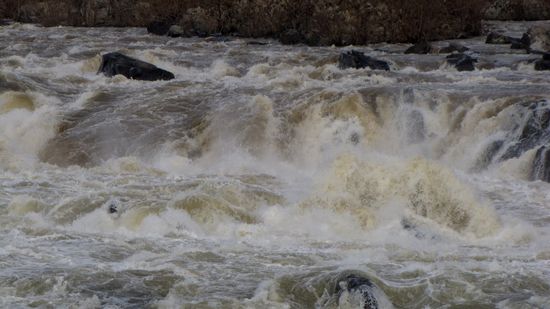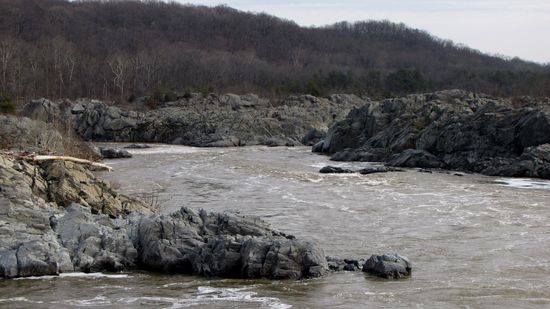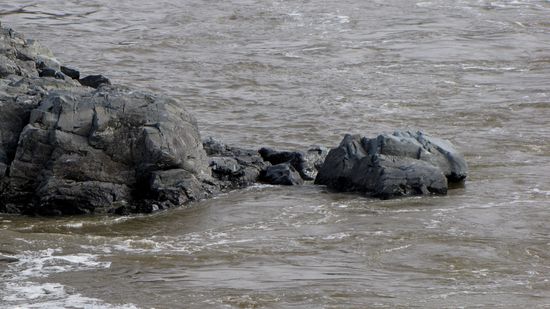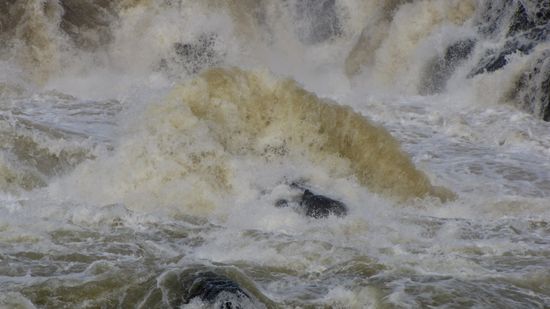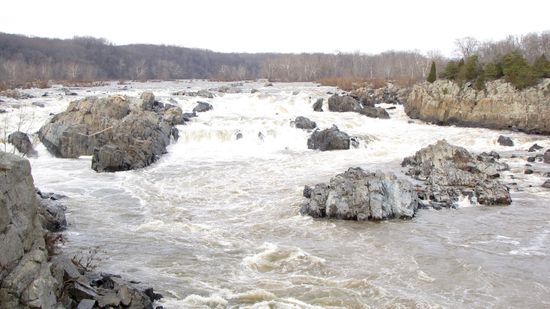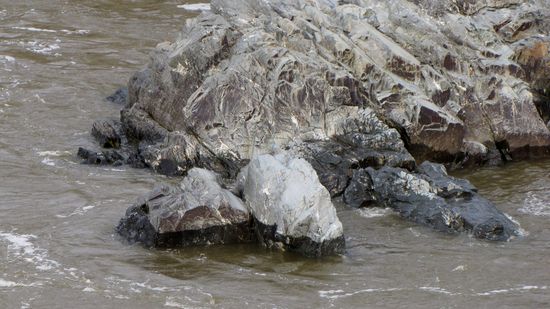 But I have taken steps to improve on my work.  I practiced my technique a bit on the sink, and then I also researched a way to attach filters to my camera.  So for about $25 on Amazon, I got a filter adaptor, a new lens cap, and then four filters: ultraviolet, fluorescent, polarizing, and neutral density (ND8).  So I guess I'll see how all of these things work out.  I'm especially looking forward to using the polarizing filter and the neutral density filter.
Meanwhile, there's a place called Burnt Mills Dam off of Route 29 near the Trader Joe's in Silver Spring (about 15 minutes from my house by car) that's got a manmade waterfall.  In other words, I have a place to practice water photography that's close by.  So hopefully I'll be able to get back to Great Falls after a little practice and get some really stunning shots.  We'll see, I suppose.