Zombie night in Silver Spring!
October 28, 2012, 11:00 PM
So October 27 was the night of the annual Silver Spring Zombie Walk.  Except this year, for various reasons, there was no actual zombie walk through the downtown area of Silver Spring.  It was just zombie night, where there were a bunch of events for kids and adults, but no single, unifying event like in years past.  I knew this going in, and knowing there was no specific zombie walk but rather just a night of zombie-related fun and festivities, I decided to just see what I could see.
Not surprisingly, it was a little bit underwhelming.  I wasn't about to hit the bars and take pictures of adults drinking in zombie costumes.  The best players in last year's zombie walk were the kids, and so I tried to stick to the areas where most of the family entertainment would be held, around Ellsworth Drive, while still getting around the full downtown area a bit.
On Ellsworth Drive, in the "Downtown Silver Spring" development, the younger set was out and about.  Some of them were remarkably scary/creepy specifically because they were kids and looked a little too wholesome to be spattered with blood and looking all undead.  Like these two: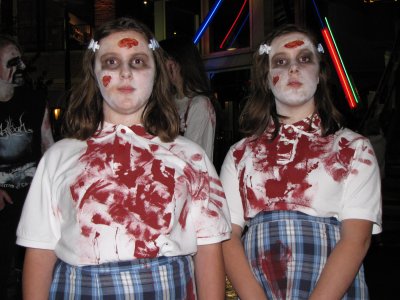 Add the blank expressions to the mix, and you have nightmare fuel right there.  Great costumes, great playing of the part, but still creepy.  Good work.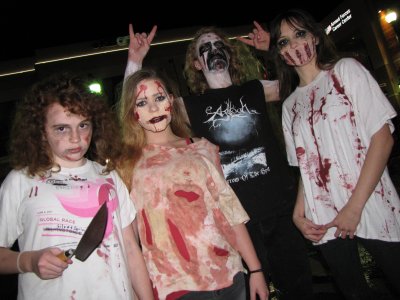 This group had some amazing effects going on.  The girl to the left had words scratched out and changed, the girl next to her had gauze around her mouth, the guy had some pretty awesome makeup, and the girl to the far right had fashioned a grille out of gauze that she wore over her mouth.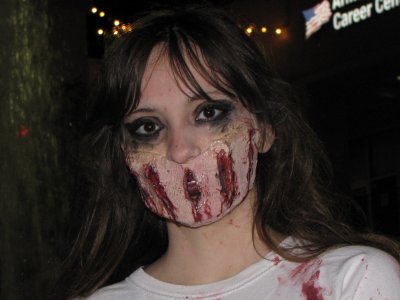 Detail of the gauze grille.  That was pretty weird looking.  Turns out that she could speak clearly in it (I initially thought she would be horribly muffled, or sealed in enough to make talking impossible), but she just had to be careful not to move too hard for fear of losing the rig.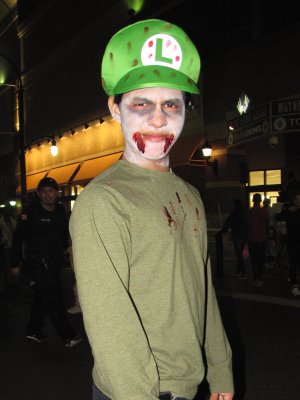 Zombie Luigi.  And yes, zombie Luigi kicks his legs when he jumps, too.  Yes, I asked.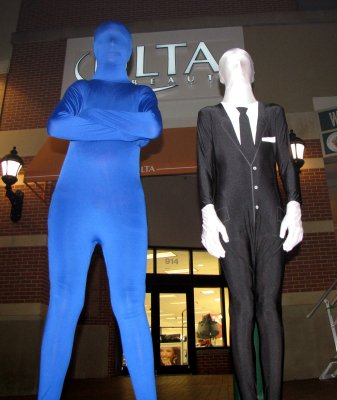 Apparently these two didn't quite get the memo?  It was "zombie", not "zentai".  Still, it's become quite common to go to an event and have some people in a zentai suit.  And here are the zentai folks for this event.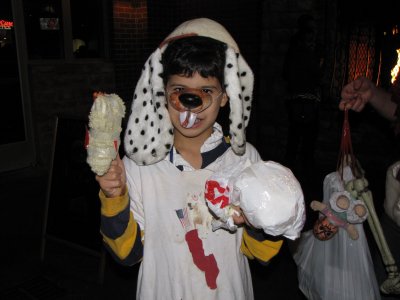 This costume reminded me, in a weird way, of a zombie version of Chuck E. Cheese.  It also reminded me of this picture from a Showbiz Pizza nostalgia group I'm part of on Facebook, showing Billy Bob holding the severed head of Chuck E. Cheese (Concept Unification is still something of a sore spot).  I'm probably reading far too much into this, but it amused me.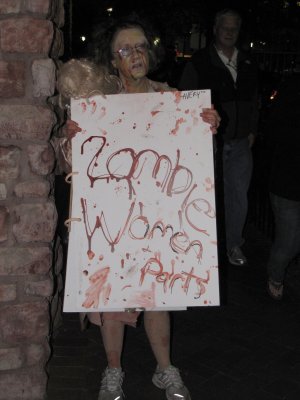 "Zombie Women Parts", based on Mitt Romney's "binders full of women" remark.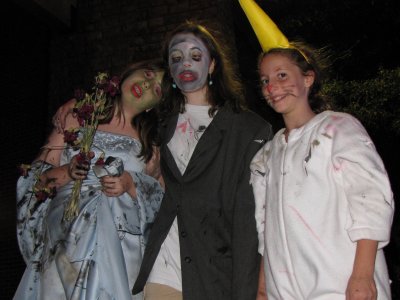 This was another case of innocent zombie faces having that extra creepiness factor, as one girl wore something like a prom dress while fully dressed in zombie paint.
Going south on Georgia Avenue from Ellsworth Drive, I saw how the adults did their zombie thing.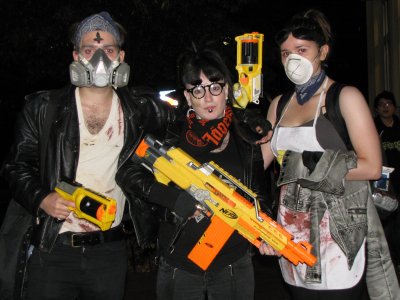 Zombie hunters.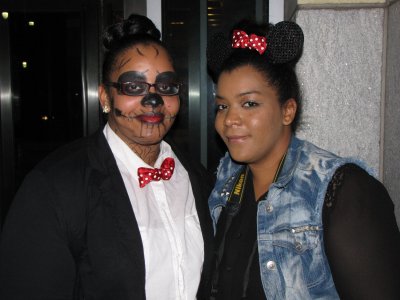 At right you have Minnie Mouse, and then at left is, according to them, dead Minnie Mouse.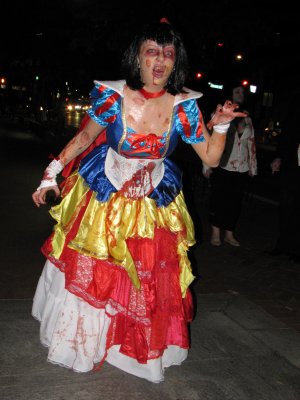 Zombie Snow White.  This is apparently what the "Sleeping Death" looks like without the "Sleeping" part.  And then reanimated.  I used a cell phone photo of this Snow White zombie on the Main Page.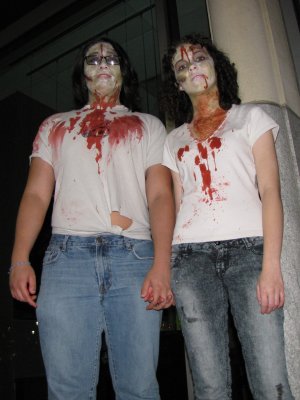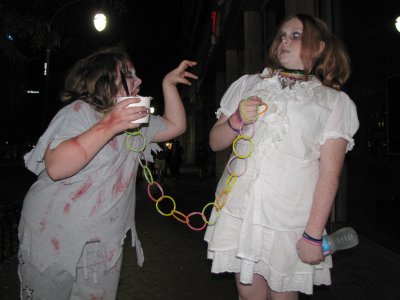 It was rare to find kids south of Ellsworth Drive, but these two kids were there, with their mother.  The zombie on the left was on a glow stick leash, led by the one on the right.  And apparently the zombie on the right is terrified by the one on the left…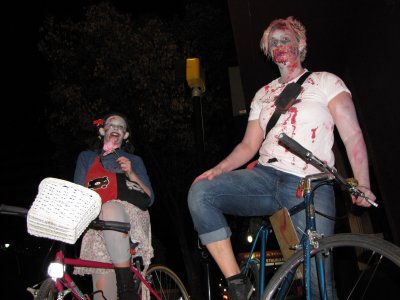 Zombies on bikes.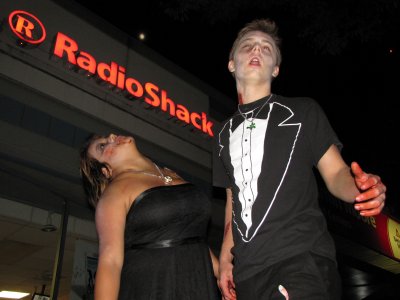 Zombie prom couple.  As you can tell, I was really getting into doing upward shots this particular evening.
I eventually found my way over to Piratz Tavern, where I had one of their signature cocktails ("666" in this case).  And I don't care what Jon Taffer says – I love Piratz Tavern as Piratz Tavern, and not some corporate-themed monstrosity.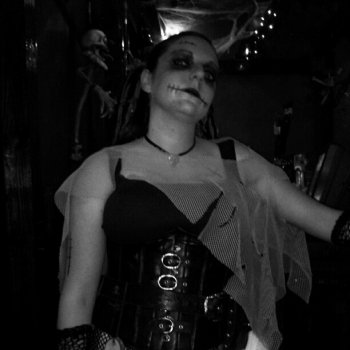 And before I left Piratz, I got a photo of Saber, one of the bartenders, as a pirate zombie.
After leaving Piratz, I headed back to Ellsworth Drive.  Things were less busy over there, but not too shabby nonetheless.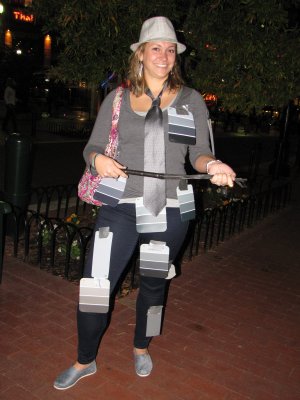 She went as "Fifty Shades of Grey", which I've heard described as "mommy porn".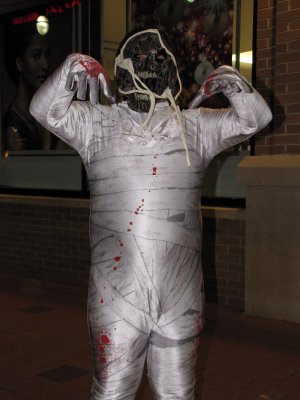 A child went as a zombie mummy.  I believe that this outfit is a zentai suit printed with a bandage pattern on it, with the hood part down.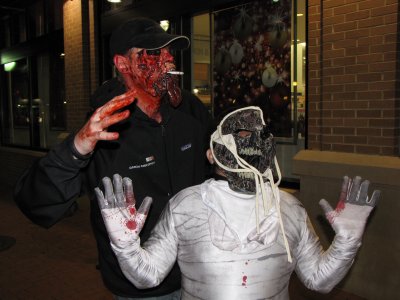 Zombie mummy meets zombie cigarette man.  Could almost see him moaning, "Nicotine!" instead of "Brains!"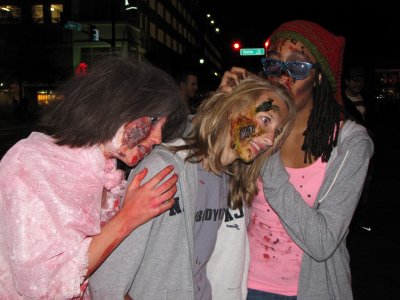 Over by the ice rink, two zombies eating the brain out of another zombie's head.
So there you have it.  I found it a little bit underwhelming compared to last year's event.  The turnout seemed less, but I'm not sure if this is because most of the crowd was inside the various restaurants and bars vs. out on the street (I only went into Piratz), because there was no formal zombie walk as in years past, or because the threat of a hurricane looming off the east coast and expected to hit Washington in a couple of days kept people home.  I'm not sure.  Personally, I'm rooting for a full-blown zombie walk again for next year, and I hope that everything that needs to come together for that to come to pass happens.  Otherwise, it's just hitting the bars while dressed as zombies – not a proper zombie event.