"I may love the rain, but I… I sure don't like that!"
July 19, 2012, 10:34 PM
What a crazy storm.  This would be a good time to snap, clap, and chuckle, that's for sure.  The wind wasn't that big on this one, but the rain was very heavy, and the thunder and lightning was pretty much constant.  Not the occasional interruption – pretty much one right after the other.
So while all this was going on, what did I do?  I grabbed the camera and the tripod, and set them up on the balcony for some photos.  I set them up pretty far back on the balcony, for that matter, since I'll be darned if I'm going to lose another camera to rain.  I set myself up even further, as I was standing inside, reaching out the door to manipulate the camera's controls.  I'm not getting hit by lightning for this.  So the pictures I got weren't exactly the greatest, but I had never shot lightning before, either.  So this isn't exactly like those photos of lightning (like this one) that you see in books and such.  I don't know how to take those photos, plus I don't usually have the opportunity to practice these sorts of things.  The photos did sort of surprise me, though, mainly because of the amount of light that I caught with the long exposure shots.  Note that these photos were taken roughly between 9:45 and 10:00 at night.
And here they are: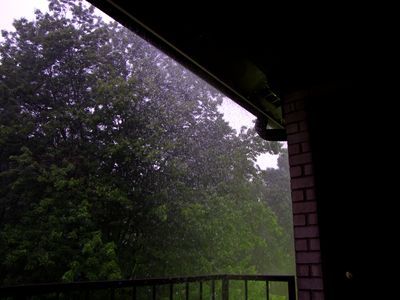 Rain coming off the gutters.  Whenever it rains really hard, the gutter over my balcony gets overwhelmed, and water starts coming really heavily out of one particular spot.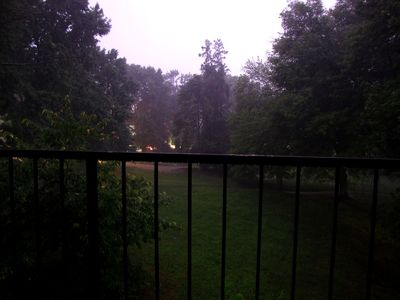 View from my balcony.  Notice how bright it is.  That brightness is from the lightning.  It was dark out, but the lightning, coupled with the long exposure, makes it look like it was daylight out under mostly cloudy skies.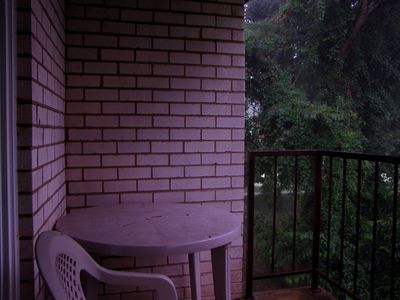 Balcony and balcony furniture.  The lighting quality of this photo reminds me of stuff that I've done with Duckie, since photos from that camera have a slight red tint to them.  But like the other shots, that is all lightning.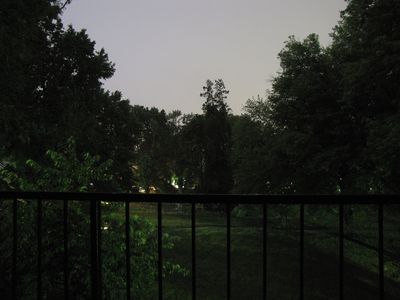 After having adjusted the exposure settings, this is what I got.  Now it looks a little more like nighttime, but again, that sky lighting is all lightning.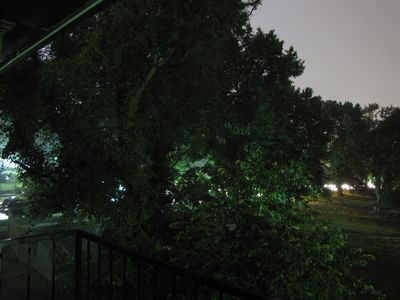 Lightning still lighting up the sky.  The rain was starting to subside by this point.
And if you don't believe me when I say that this was taken at night, here's a video taken at the same time:
By the way, the loud water sound you hear on the audio is the aforementioned cascade off the gutter.
So there you go.  I should see if I can improve in getting lightning shots, so that way maybe I can get those cool lightning shots one day.